Abstract
Several in vitro DNA microarray studies have shown the importance of nuclear factor (erythroid-derived 2)-like 2 (Nrf2) in skin sensitization. Nevertheless, the exact in vivo role of the Nrf2-Keap1 pathway during the induction of skin sensitization remains unknown. To study the function of Nrf2, a local lymph node assay was performed in wild-type and Nrf2-deficient mice using 2,4-dinitrochlorobenzene. The Nrf2-deficient mice show a more pronounced response, indicating that Nrf2 is involved in dampening the induction of skin sensitization.
Access options
Buy single article
Instant access to the full article PDF.
USD 39.95
Price includes VAT (USA)
Tax calculation will be finalised during checkout.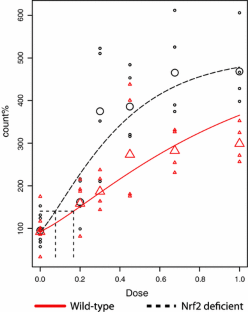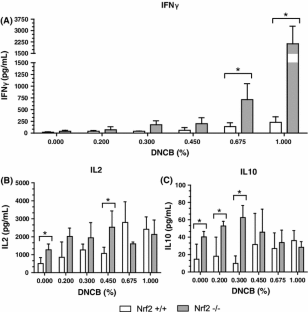 References
Ade N, Leon F, Pallardy M, Peiffer JL, Kerdine-Romer S, Tissier MH, Bonnet PA, Fabre I, Ourlin JC (2009) HMOX1 and NQO1 genes are upregulated in response to contact sensitizers in dendritic cells and THP-1 cell line: role of the Keap1/Nrf2 pathway. Toxicol Sci 107:451–460

Basketter D, Kolle SN, Schrage A, Honarvar N, Gamer AO, van Ravenzwaay B, Landsiedel R (2012) Experience with local lymph node assay performance standards using standard radioactivity and nonradioactive cell count measurements. J Appl Toxicol 32:590–596

Chan K, Lu R, Chang JC, Kan YW (1996) NRF2, a member of the NFE2 family of transcription factors, is not essential for murine erythropoiesis, growth, and development. Proc Natl Acad Sci U S A 93:13943–13948

Emter R, Ellis G, Natsch A (2010) Performance of a novel keratinocyte-based reporter cell line to screen skin sensitizers in vitro. Toxicol Appl Pharmacol 245:281–290

Esser PR, Wolfle U, Durr C, von Loewenich FD, Schempp CM, Freudenberg MA, Jakob T, Martin SF (2012) Contact Sensitizers Induce Skin Inflammation via ROS Production and Hyaluronic Acid Degradation. PLoS ONE 7:e41340

Johansson H, Lindstedt M, Albrekt AS, Borrebaeck CA (2011) A genomic biomarker signature can predict skin sensitizers using a cell-based in vitro alternative to animal tests. BMC Genomics 12:399

Kim HJ, Barajas B, Wang M, Nel AE (2008) Nrf2 activation by sulforaphane restores the age-related decrease of T(H)1 immunity: role of dendritic cells. J Allergy Clin Immunol 121:1255–1261

Kim J, Cha YN, Surh YJ (2010) A protective role of nuclear factor-erythroid 2-related factor-2 (Nrf2) in inflammatory disorders. Mutat Res 690:12–23

Listopad J, Asadullah K, Sievers C, Ritter T, Meisel C, Sabat R, Docke WD (2007) Heme oxygenase-1 inhibits T cell-dependent skin inflammation and differentiation and function of antigen-presenting cells. Exp Dermatol 16:661–670

Martin SF, Esser PR, Weber FC, Jakob T, Freudenberg MA, Schmidt M, Goebeler M (2011) Mechanisms of chemical-induced innate immunity in allergic contact dermatitis. Allergy 66:1152–1163

Natsch A (2010) The Nrf2-Keap1-ARE toxicity pathway as a cellular sensor for skin sensitizers–functional relevance and a hypothesis on innate reactions to skin sensitizers. Toxicol Sci 113:284–292

Python F, Goebel C, Aeby P (2009) Comparative DNA microarray analysis of human monocyte derived dendritic cells and MUTZ-3 cells exposed to the moderate skin sensitizer cinnamaldehyde. Toxicol Appl Pharmacol 239:273–283

Rushworth SA, MacEwan DJ, O'Connell MA (2008) Lipopolysaccharide-induced expression of NAD(P)H:quinone oxidoreductase 1 and heme oxygenase-1 protects against excessive inflammatory responses in human monocytes. J Immunol 181:6730–6737

Slob W (2002) Dose-response modelling of continuous endpoints. Toxicol Sci 66:298–312

van der Veen JW, Pronk TE, van Loveren H, Ezendam J (2012) Applicability of a keratinocyte gene signature to predict skin sensitizing potential. Toxicol In Vitro, Ahead of print

Vandebriel RJ, Pennings JL, Baken KA, Pronk TE, Boorsma A, Gottschalk R, Van Loveren H (2010) Keratinocyte gene expression profiles discriminate sensitizing and irritating compounds. Toxicol Sci 117:81–89
Acknowledgments
We acknowledge Ilse Tonk for her expertise in the benchmark dose approach. Dirk Elberts and Tanja Schouten are acknowledged for their technical assistance in breeding the mice and performing the dissections. We thank Dr. S Werner and Dr. T Ramadan of the Institute of Cell biology in Zurich for their generous gift of the Nrf2-deficient mice. The Dutch Ministry of Health, Welfare and Sports and the Netherlands Genomics Initiative/Netherlands Organization for Scientific Research (NWO) (grant no: 050-060-510) are acknowledged for funding this work.
About this article
Cite this article
van der Veen, J.W., Gremmer, E.R., Vermeulen, J.P. et al. Induction of skin sensitization is augmented in Nrf2-deficient mice. Arch Toxicol 87, 763–766 (2013). https://doi.org/10.1007/s00204-012-0976-2
Received:

Accepted:

Published:

Issue Date:
Keywords
Skin sensitization

LLNA

Nrf2-deficient

In vivo