Abstract
A 20-kDa Kunitz-type trypsin-chymotrypsin inhibitor, Bauhinia purpurea trypsin inhibitor (BPLTI), has been isolated from the seeds of B. purpurea L. by using liquid chromatography procedures that involved ion exchange chromatography on Sp-Sepharose and Mono S and gel filtration on Superdex 75. BPLTI demonstrated protease inhibitory activities of 7226 BAEE units/mg and 65 BTEE units/mg toward trypsin and α-chymotrypsin, respectively. BPLTI was relatively thermal (0–60°C) and pH (3–10) stable and its activity could be decreased by dithiothreitol treatment. BPLTI exhibited a wide spectrum of anti-proliferative and pro-apoptotic activities especially on human hepatocellular carcinoma Hep G2 cells. However, it was devoid of a significant antiproliferative effect on immortal human hepatic WRL 68 cells. We show here that BPLTI stimulates apoptosis in Hep G2 cells, including (1) evoking DNA damage including the production of chromatin condensation and apoptotic bodies; (2) induction of cell apoptosis/necrosis; (3) mitochondrial membrane depolarization; and (4) increasing the production of cytokines. Taken together, our findings show for the first time that purified protease inhibitor from B. purpurea L. seeds is a promising candidate for the treatment of human hepatocellular carcinoma.
Access options
Buy single article
Instant access to the full article PDF.
US$ 39.95
Tax calculation will be finalised during checkout.
Subscribe to journal
Immediate online access to all issues from 2019. Subscription will auto renew annually.
US$ 119
Tax calculation will be finalised during checkout.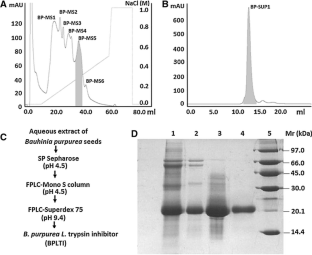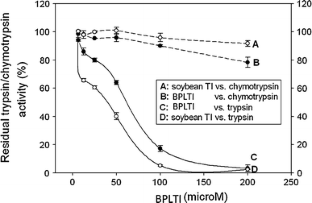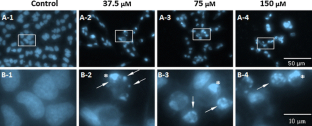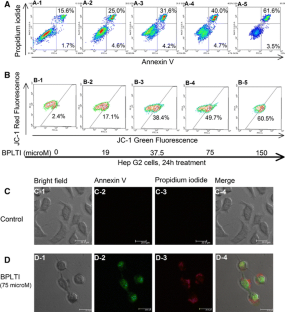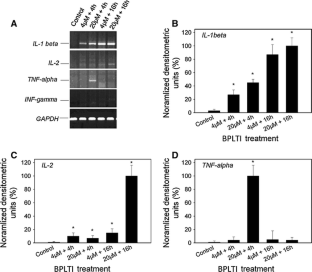 Abbreviations
BPLTI:

Bauhinia purpurea L. trypsin inhibitor

DTT:

Dithiothreitol

BAEE:

N-α-benzoyl-l-arginine ethyl ester

BTEE:

N-benzoyl-l-tyrosine ethyl ester
References
Amendola R, Bellini A, Cervelli M et al (2005) Direct oxidative DNA damage, apoptosis and radio sensitivity by spermine oxidase activities in mouse neuroblastoma cells. Biochim Biophys Acta 1755(1):15–24

Androutsopoulos V, Arroo RR, Hall JF, Surichan S, Potter GA (2008) Antiproliferative and cytostatic effects of the natural product eupatorin on MDA-MB-468 human breast cancer cells due to CYP1-mediated metabolism. Breast Cancer Res 10(3):R39

Araujo AP, Hansen D, Vieira DF et al (2005) Kunitz-type Bauhinia bauhinioides inhibitors devoid of disulfide bridges: isolation of the cDNAs, heterologous expression and structural studies. Biol Chem 386(6):561–568

Bhattacharyya A, Babu CR (2009) Purification and biochemical characterization of a serine proteinase inhibitor from Derris trifoliata Lour seeds: insight into structural and antimalarial features. Phytochemistry 70(6):703–712

Bjellqvist B, Hughes GJ, Pasquali C et al (1993) The focusing positions of polypeptides in immobilized pH gradients can be predicted from their amino acid sequences. Electrophoresis 14(10):1023–1031

Boonphong S, Puangsombat P, Baramee A, Mahidol C, Ruchirawat S, Kittakoop P (2007) Bioactive compounds from Bauhinia purpurea possessing antimalarial, antimycobacterial, antifungal, anti-inflammatory, and cytotoxic activities. J Nat Prod 70(5):795–801

Cheung JY, Ong RC, Suen YK et al (2005) Polyphyllin D is a potent apoptosis inducer in drug-resistant HepG2 cells. Cancer Lett 217(2):203–211

Cheung AH, Wong JH, Ng TB (2009a) Musa acuminata (Del Monte banana) lectin is a fructose-binding lectin with cytokine-inducing activity. Phytomedicine 16(6–7):594–600

Cheung AK, Lung HL, Ko JM et al (2009b) Chromosome 14 transfer and functional studies identify a candidate tumor suppressor gene, mirror image polydactyly 1, in nasopharyngeal carcinoma. Proc Natl Acad Sci USA 106(34):14478–14483

Cummings J, Ward TH, Ranson M, Dive C (2004) Apoptosis pathway-targeted drugs–from the bench to the clinic. Biochim Biophys Acta 1705(1):53–66

de Oliveira C, Santana LA, Carmona AK et al (2001) Structure of cruzipain/cruzain inhibitors isolated from Bauhinia bauhinioides seeds. Biol Chem 382(5):847–852

de Souza AF, Torquato RJ, Tanaka AS, Sampaio CA (2005) Cloning, expression and characterization of Bauhinia variegata trypsin inhibitor BvTI. Biol Chem 386(11):1185–1189

Di Ciero L, Oliva ML, Torquato R et al (1998) The complete amino acid sequence of a trypsin inhibitor from Bauhinia variegata var candida seeds. J Protein Chem 17(8):827–834

Di Fazio P, Schneider-Stock R, Neureiter D et al (2010) The pan-deacetylase inhibitor panobinostat inhibits growth of hepatocellular carcinoma models by alternative pathways of apoptosis. Cell Oncol 32(4):285–300

Ee KY, Zhao J, Rehman AU, Agboola SO (2009) Purification and characterization of a Kunitz-type trypsin inhibitor from Acacia victoriae Bentham seeds. J Agric Food Chem 57(15):7022–7029

Fang EF, Ng TB (2011a) Bitter gourd (Momordica charantia) is a cornucopia of health: a review of its credited antidiabetic, Anti-HIV, and antitumor properties. Curr Mol Med 11:417–435

Fang EF, Ng TB (2011b) Ribonucleases of different origins with a wide spectrum of medicinal applications. Biochim Biophys Acta 1815(1):65–74

Fang EF, Lin P, Wong JH, Tsao SW, Ng TB (2010a) A lectin with anti-HIV-1 reverse transcriptase, antitumor, and nitric oxide inducing activities from seeds of Phaseolus vulgaris cv extralong autumn purple bean. J Agric Food Chem 58(4):2221–2229

Fang EF, Wong JH, Bah CS, Lin P, Tsao SW, Ng TB (2010b) Bauhinia variegata var variegata trypsin inhibitor: from isolation to potential medicinal applications. Biochem Biophys Res Commun 396(4):806–811

Fang EF, Wong JH, Lin P, Ng TB (2010c) Biochemical characterization of the RNA-hydrolytic activity of a pumpkin 2S albumin. FEBS Lett 584(18):4089–4096

Fang EF, Wong JH, Ng TB (2010d) Thermostable Kunitz trypsin inhibitor with cytokine inducing, antitumor and HIV-1 reverse transcriptase inhibitory activities from Korean large black soybeans. J Biosci Bioeng 109(3):211–217

Fang EF, Hassanien AA, Wong JH, Bah CS, Soliman SS, Ng TB (2010e) Purification and modes of antifungal action by Vicia faba cv. Egypt trypsin inhibitor. J Agric Food Chem 58(19):10729–10735

Fang EF, Pan WL, Wong JH, Chan YS, Ye XJ, Ng TB (in press) A new Phaseolus vulgaris lectin induces selective toxicity on human liver carcinoma Hep G2 cells. Arch Toxicol. http://www.ncbi.nlm.nih.gov/pubmed/21445585

Gawehn K, Grassl M (eds) (1974) Methods of enzymatic analysis. Academic Press, New York

Grise F, Bidaud A, Moreau V (2009) Rho GTPases in hepatocellular carcinoma. Biochim Biophys Acta 1795(2):137–151

Hwang JT, Ha J, Park IJ et al (2007) Apoptotic effect of EGCG in HT-29 colon cancer cells via AMPK signal pathway. Cancer Lett 247(1):115–121

Jatwa R, Kar A (2009) Amelioration of metformin-induced hypothyroidism by Withania somnifera and Bauhinia purpurea extracts in Type 2 diabetic mice. Phytother Res 23(8):1140–1145

Kraut J (1977) Serine proteases: structure and mechanism of catalysis. Annu Rev Biochem 46:331–358

Kusui K, Yamamoto K, Konami Y, Osawa T (1991) cDNA cloning and expression of Bauhinia purpurea lectin. J Biochem 109(6):899–903

Lau CPY (2003) The six common Bauhinia species in Hong Kong porcupine, vol 28. Department of Ecology & Biodiversity, The University of Hong Kong, Hong Kong

Lau CPY, Ramsden L, Saunders RMK (2005) Hybrid origin of "Bauhinia blakeana" (Leguminosae: Caesalpinioideae), inferred using morphological, reproductive, and molecular data. Am J Bot 92(3):525–533

Lei HY, Chang CP (2007) Induction of autophagy by concanavalin A and its application in anti-tumor therapy. Autophagy 3(4):402–404

Lin P, Ng TB (2008) Preparation and biological properties of a melibiose binding lectin from Bauhinia variegata seeds. J Agric Food Chem 56(22):10481–10486

Losso JN (2008) The biochemical and functional food properties of the bowman-birk inhibitor. Crit Rev Food Sci Nutr 48(1):94–118

Lu Z, Zhang C, Zhai Z (2005) Nucleoplasmin regulates chromatin condensation during apoptosis. Proc Natl Acad Sci USA 102(8):2778–2783

Maestre I, Jordan J, Calvo S et al (2003) Mitochondrial dysfunction is involved in apoptosis induced by serum withdrawal and fatty acids in the beta-cell line INS-1. Endocrinology 144(1):335–345

Mak CY, Cheung KS, Yip PY, Kwan HS (2008) Molecular evidence for the hybrid origin of Bauhinia blakeana (Caesalpinioideae). J Integr Plant Biol 50(1):111–118

Mehta SL, Simlot MM (1982) An acid stable trypsin-chymotrypsin inhibitor from horse gram (Dolichos biflorus). J Biosci 4(3):295–306

Miyata S, Miyagi Y, Koshikawa N et al (1998) Stimulation of cellular growth and adhesion to fibronectin and vitronectin in culture and tumorigenicity in nude mice by overexpression of trypsinogen in human gastric cancer cells. Clin Exp Metastasis 16(7):613–622

Mok TS, Wu YL, Thongprasert S et al (2009) Gefitinib or carboplatin-paclitaxel in pulmonary adenocarcinoma. N Engl J Med 361(10):947–957

Nakahata AM, Bueno NR, Rocha HA et al (2006) Structural and inhibitory properties of a plant proteinase inhibitor containing the RGD motif. Int J Biol Macromol 40(1):22–29

Narayan P, Mentzer RM Jr, Lasley RD (2001) Annexin V staining during reperfusion detects cardiomyocytes with unique properties. Am J Physiol Heart Circ Physiol 281(5):H1931–H1937

Navarro MV, Vierira DF, Nagem RA, de Araujo AP, Oliva ML, Garratt RC (2005) Crystallization and preliminary X-ray analysis of a novel Kunitz-type kallikrein inhibitor from Bauhinia bauhinioides. Acta Crystallogr Sect F Struct Biol Cryst Commun 61(Pt 10):910–913

Nemunaitis J, Vukelja SJ, Richards D et al (2006) Phase I trial of PT-100 (PT-100), a cytokine-inducing small molecule, following chemotherapy for solid tumor malignancy. Cancer Invest 24(6):553–561

Okamoto M, Gohda H, Ohe G et al (2000a) Cytokine-inducing activity and antitumor effect of a liposome-incorporated interferon-gamma-inducing molecule derived from OK-432, a streptococcal preparation. J Immunother 23(1):94–103

Okamoto M, Ohe G, Oshikawa T et al (2000b) Purification and characterization of cytokine-inducing protein of seed extract from Aeginetia indica L., a parasitic plant. Immunopharmacology 49(3):377–389

Oliva ML, Andrade SA, Batista IF et al (1999) Human plasma kallikrein and tissue kallikrein binding to a substrate based on the reactive site of a factor Xa inhibitor isolated from Bauhinia ungulata seeds. Immunopharmacology 45(1–3):145–149

Oliva ML, Andrade SA, Juliano MA et al (2003) Kinetic characterization of factor Xa binding using a quenched fluorescent substrate based on the reactive site of factor Xa inhibitor from Bauhinia ungulata seeds. Curr Med Chem 10(13):1085–1093

Parlati F, Lee SJ, Aujay M et al (2009) Carfilzomib can induce tumor cell death through selective inhibition of the chymotrypsin-like activity of the proteasome. Blood 114(16):3439–3447

Pinto LS, Nagano CS, Oliveira TM et al (2008) Purification and molecular cloning of a new galactose-specific lectin from Bauhinia variegata seeds. J Biosci 33(3):355–363

Ramos Vda S, Silva Gde S, Freire MG, Machado OL, Parra JR, Macedo ML (2008) Purification and characterization of a trypsin inhibitor from Plathymenia foliolosa seeds. J Agric Food Chem 56(23):11348–11355

Rawlings ND, Morton FR, Kok CY, Kong J, Barrett AJ (2008) MEROPS: the peptidase database. Nucleic Acids Res 36:D320–D325

Sangorrin MP, Folco EJ, Martone CM, Sanchez JJ (2001) Purification and characterization of a proteinase inhibitor from white croaker skeletal muscle (Micropogon opercularis). Int J Biochem Cell Biol 33(7):691–699

Silva JA, Damico DC, Baldasso PA et al (2007) Isolation and biochemical characterization of a galactoside binding lectin from Bauhinia variegata candida (BvcL) seeds. Protein J 26(3):193–201

Sumikawa JT, Nakahata AM, Fritz H, Mentele R, Sampaio MU, Oliva ML (2006) A Kunitz-type glycosylated elastase inhibitor with one disulfide bridge. Planta Med 72(5):393–397

Takada H, Kawabata Y, Arakaki R et al (1995) Molecular and structural requirements of a lipoteichoic acid from Enterococcus hirae ATCC 9790 for cytokine-inducing, antitumor, and antigenic activities. Infect Immun 63(1):57–65

Tao Q, Chan AT (2007) Nasopharyngeal carcinoma: molecular pathogenesis and therapeutic developments. Expert Rev Mol Med 9(12):1–24

Topic A, Alempijevic T, Milutinovic AS, Kovacevic N (2009) Alpha-1-antitrypsin phenotypes in adult liver disease patients. Ups J Med Sci 114(4):228–234

Veltri S, Smith JW 2nd (1996) Interleukin 1 trials in cancer patients: a review of the toxicity, antitumor and hematopoietic effects. Stem Cells 14(2):164–176

Whiteman M, Rose P, Siau JL et al (2005) Hypochlorous acid-mediated mitochondrial dysfunction and apoptosis in human hepatoma HepG2 and human fetal liver cells: role of mitochondrial permeability transition. Free Radic Biol Med 38(12):1571–1584

Wu AM, Wu JH, Liu JH, Singh T (2004) Recognition profile of Bauhinia purpurea agglutinin (BPA). Life Sci 74(14):1763–1779

Zakaria ZA, Wen LY, Abdul Rahman NI, Abdul Ayub AH, Sulaiman MR, Gopalan HK (2007) Antinociceptive, anti-inflammatory and antipyretic properties of the aqueous extract of Bauhinia purpurea leaves in experimental animals. Med Princ Pract 16(6):443–449
Acknowledgments
We thank Dr. Carol P. Y. Lau, Prof. Lawrence Ramsden, and Prof. Richard M. K. Saunders from School of Biological Sciences, The University of Hong Kong, for their kind support of this project.
Conflict of interest
The authors declare no conflict of interest.
Electronic supplementary material
Below is the link to the electronic supplementary material.
About this article
Cite this article
Fang, E.F., Bah, C.S.F., Wong, J.H. et al. A potential human hepatocellular carcinoma inhibitor from Bauhinia purpurea L. seeds: from purification to mechanism exploration. Arch Toxicol 86, 293–304 (2012). https://doi.org/10.1007/s00204-011-0751-9
Received:

Accepted:

Published:

Issue Date:
Keywords
Bauhinia purpurea L.

Trypsin inhibitor

Liver cancer

Cytokine

Apoptosis