Abstract
In a safety study, Cape Griffon vultures (Gyps coprotheres) were dosed with ketoprofen at single doses of ~1 mg/kg (n = 5) and 5 mg/kg (n = 11). No toxicity was reported in the 1 mg/kg group, with the AUCinf, Vz and Cl being 10.42 μg/ml h, 0.37 l/kg and 0.10 l/h kg, respectively. Toxicity occurred in the 5 mg/kg group, with 7 of the 11 birds dying. Clinical signs of toxicity included depression, loss of appetite and apparent coma. Animals died within 48 h of dosing. The AUCinf, Vz and Cl in the birds that survived were 52.26 μg/ml h, 0.45 l/kg and 0.10 l/h kg, respectively. The AUCinf, Vz and Cl in the birds those died were 207.90 μg/ml h, 0.26 l/kg and 0.02 l/h kg, respectively. Based on the increase in the AUCinf and Cmax in the birds that died, we surmise that toxicity resulted from saturation of the metabolic process. While the exact metabolic pathway remains unknown in these vultures, we believe that toxicity may be due to pharmacogenomic differences in the cytochrome P450 pathway.
This is a preview of subscription content, log in to check access.
Access options
Buy single article
Instant access to the full article PDF.
US$ 39.95
Tax calculation will be finalised during checkout.
Subscribe to journal
Immediate online access to all issues from 2019. Subscription will auto renew annually.
US$ 119
Tax calculation will be finalised during checkout.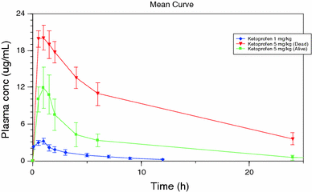 References
Bornemann LD, Min BH, Crews T, Rees MC, Blumenthal HP, Colburn W, Patel IH (1985) Dose dependant pharmacokinetics of midazolam. Eur J Clin Pharmacol 29:91–95

Burke A, Smyth E, FitzGerald GA (2006) Analgesic-antipyretic agents; pharmacotherapy of gout. In: Brunton LL, Lazo JS, Parker KL (eds) Goodman and Gilman's the pharmacological basis of therapeutics, 11th edn. McGraw-Hill Companies, USA, pp 671–715

Court MH, Greenblatt DJ (1997) Molecular basis for deficient acetoaminophen glucuronidation in cats. Biochem Pharmacol 53:1041–1047

Cuthbert R, Parry-Jones J, Green RE, Pain DJ (2007) NSAIDs and scavenging birds: potential impacts beyond Asia's critically endangered vultures. Biol Lett 3:90–93

Galati G, Tafazoli S, Sabzevari O, Chan TS, O'Brien PJ (2002) Idiosyncratic NSAID drug induced oxidative stress. Chem Biol Interact 142:25–41

Graham JE, Kollias-Baker C, Craigmill AL, Thomasy SM, Tell LA (2005) Pharmacokinetics of ketoprofen in Japanese quail (Coturnix japonica). J Vet Pharmacol Ther 28(4):399–402

Green RE, Taggart MA, Senacha KR, Raghavan B, Pain DJ, Jhala Y, Cuthbert R (2007) Rate of decline of the oriental white-backed vulture population in India estimated from a survey of diclofenac residues in carcasses of ungulates. PLoS ONE 2:e686

Grubb NG, Rudy DW, Brater DC, Hall SD (1999) Stereoselective pharmacokinetics of ketoprofen and ketoprofen glucoronide in end-stage renal disease; evidence for a 'futile cycle' of elimination. Br J Clin Pharmacol 48:494–500

Kumar A (2006) Diclofenac for veterinary use. Letter to all state drug controllers from the drug controller general (India) F.No. 18-03/2006-DC

Lascelles DX, Court MH, Hardie EM, Robertson SA (2007) Nonsteroidal anti-inflammatory drugs in cats: a review. Vet Anaesth Analg 34:228–250

Lees P (2009) Analgesics, antiinflammatory, antipyretic drugs. In: Riviere JE, Papich MG (eds) Veterinary pharmacology and therapeutics, 9th edn. Wiley, USA, pp 457–492

Lobenberg R, Amidon GL (2000) Modern bioavailability, bioequivalence and biopharmaceutics classification system. New scientific approaches to international regulatory standards. Eur J Pharm Biopharm 50:3–12

Mahmud T, Scott DL, Bjarnason I (1996) A unifying hypothesis for the mechanism of NSAID related gastrointestinal toxicity. Ann Rheum Dis 55:211–213

Naidoo V, Swan GE (2009) Diclofenac toxicity in Gyps vulture is associated with decreased uric acid excretion and not renal portal vasoconstriction. Comp Biochem Physiol C Comp Pharmacol Toxicol 149:269–274

Naidoo V, Duncan N, Bekker L, Swan G (2007) Validating the domestic fowl as a model to investigate the pathophysiology of diclofenac in Gyps vultures. Environ Toxicol Pharmacol 24:260–266

Naidoo V, Wolter K, Cromarty AD, Bartels P, Bekker L, McGaw L, Taggart MA, Cuthbert R, Swan GE (2008a) The pharmacokinetics of meloxicam in vultures. J Vet Pharmacol Ther 31:128–234

Naidoo V, Diekmann M, Wolters K, Swan GE (2008b) Establishment of selected baseline blood chemistry and hematologic parameters in captive and wild-caught African white-backed vultures (Gyps africanus). J Wildl Dis 44:649–654

Naidoo V, Wolter K, Cuthbert R, Duncan N (2009) Veterinary diclofenac threatens Africa's endangered vulture species. Regul Toxicol Pharmacol 53:205–208

Naidoo V, Wolter K, Cromarty D, Diekmann M, Duncan N, Meharg AA, Taggart MA, Venter L, Cuthbert R (2010) Toxicity of non-steroidal anti-inflammatory drugs to Gyps vultures: a new threat from ketoprofen. Biol Lett. doi:10.1098/rsbl.2009.0818

Oaks JL, Gilbert M, Virani MZ, Watson RT, Meteyer CU, Rideout BA, Shivaprasad HL, Ahmed S, Chaudhry MJ, Arshad M, Mahmood S, Ali A, Khan AA (2004) Diclofenac residues as the cause of vulture population decline in Pakistan. Nature 427:630–633

Pollock C, Carpenter JW, Antinoff N (2005) Nonsteroidal antiinflammatory drugs used in birds. In: Carpenter JW (ed) Exotic animal formulary, 3rd edn. Elsevier Saunders, St. Louise, pp 220–222

Prakash V, Green RE, Pain DJ, Ranade SP, Saravanan S, Prakash N, Venkitachalam R, Cuthbert R, Rahmani AR, Cunningham AA (2007) Recent changes in populations of resident Gyps vultures in India. J Bombay Nat Hist Soc 104:129–135

Rattner BA, Whitehead MA, Gasper G, Meteyer CU, Link WA, Taggart MA, Meharg AA, Pattee OH, Pain DJ (2008) Apparent tolerance of Turkey vultures (Cathartes aura) to the non-steroidal anti-inflammatory drug diclofenac. Environ Toxicol Chem 27:2341–2345

Rodrigues AD (2005) Impact of CYP2C9 genotype on pharmacokinetics: are all cyclooxygenase inhibitors the same? Drug Metab Dispos 33:1567–1575

Swan G, Naidoo V, Cuthbert R, Green RE, Pain DJ, Swarup D, Prakash V, Taggart M, Bekker L, Das D, Diekmann J, Diekmann M, Killian E, Meharg A, Patra RC, Saini M, Wolter K (2006a) Removing the threat of diclofenac to critically endangered Asian vultures. Plos Biol 4:e66

Swan GE, Cuthbert R, Quevedo M, Green RE, Pain DJ, Bartels P, Cunningham AA, Duncan N, Meharg AA, Oaks JL, Parry-Jones J, Shultz S, Taggart MA, Verdoorn G, Wolter K (2006b) Toxicity of diclofenac to Gyps vultures. Biol Lett 2:279–282

Taggart M, Senacha KR, Green RE, Cuthbert R, Jhala YV, Meharg AA, Mateo R, Pain DJ (2009) Analysis of nine NSAIDs in ungulate tissues available to critically endangered vultures in India. Environ Sci Technol 43:4561–4566

Thummel KE, O'Shea D, Paine MF, Shen DD, Kunze KL, Perkins JD, Wilkinson GR (1996) Oral first-pass elimination of midazolam involves both gastrointestinal and hepatic CYP3A-mediated metabolism. Clin Pharmacol Ther 59:491–502
Acknowledgments
Ethics approval was obtained from the Animal Use and Care Committee of the University of Pretoria. The study was also approved by Gauteng Nature Conservation (GDACE) in accordance with the National Biodiversity Act.
About this article
Cite this article
Naidoo, V., Venter, L., Wolter, K. et al. The toxicokinetics of ketoprofen in Gyps coprotheres: toxicity due to zero-order metabolism. Arch Toxicol 84, 761–766 (2010). https://doi.org/10.1007/s00204-010-0521-0
Received:

Accepted:

Published:

Issue Date:
Keywords
Ketoprofen

Vulture conservation

Diclofenac

Cape Griffon vulture

NSAID