Abstract
ortho-Phthalaldehyde (OPA) has been used as a safe alternative disinfectant instead of glutaraldehyde; however, recently some adverse effects of OPA were reported in patients and medical professions. We examined the acute toxicity of OPA in male ICR mice injected with 0.125–0.5% OPA and killed some animals 1 day after a single OPA injection, and others 1 or 13 days after two OPA injections 5 days apart. Hematology, blood cell counts, specific antibody production, organ weights, hepatic enzymes, hepatic histopathology and gene expression of cytochrome P450 (CYP) mRNA in liver were examined. Single OPA injections elevated leukocyte counts, the proportion of neutrophils, alanine aminotransferase (ALT) and aspartate aminotransferase (AST). Two OPA injections dose-dependently increased leukocyte counts, the proportion of neutrophils, ALT and AST, and decreased alkaline phosphatase. Leukocyte counts and proportions of neutrophils normalized 13 days after the second of two injections. However, both ALT and AST remained high in mice given higher OPA doses. Significant increased liver-to-body weight ratio and mild hepatic lesions were observed. Gene expression of CYP1a1 and CYP2e1 revealed a tendency of up-regulation 1 day after two OPA injections. However, expression of these genes was then down-regulated 13 days after OPA injections. OPA induced specific IgE and IgG significantly in the sera, suggesting that OPA acts as a hapten. Overall, OPA caused acute inflammation and acted as a haptenic allergen, although it caused only mild liver injury. Such evidence suggested that careful washing and prevention of exposure were needed after OPA disinfection of medical instruments.
Access options
Buy single article
Instant access to the full article PDF.
USD 39.95
Price excludes VAT (USA)
Tax calculation will be finalised during checkout.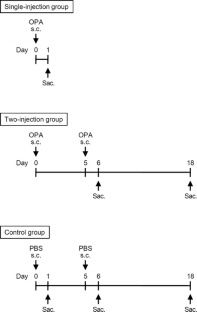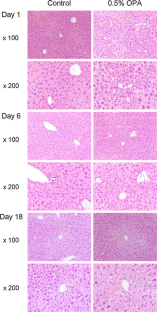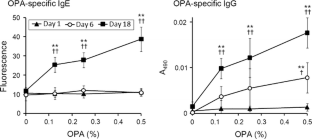 References
Abdulla FR, Adams BB (2007) Ortho-phthalaldehyde causing facial stains after cystoscopy. Arch Dermatol 143:670

Ballantyne B, Jordan SL (2001) Toxicological, medical and industrial hygiene aspects of glutaraldehyde with particular reference to its biocidal use in cold sterilization procedures. J Appl Toxicol 21:131–151

Bessey OB, Lowry OH, Brock MJ (1946) A method for the rapid determination of alkaline phosphatase with five cubic millimeters of serum. J Biol Chem 164:321–329

Cabaud P, Leeper R, Wroblewski F (1956) Colorimetric measurement of serum glutamic oxaloacetic transaminase. Am J Clin Pathol 26:1101–1105

Choudhary D, Jansson I, Stoilov I, Sarfarazi M, Schenkman JB (2005) Expression patterns of mouse and human CYP orthologs (families 1–4) during development and in different adult tissues. Arch Biochem Biophys 436:50–61

Curran AD, Burge PS, Wiley K (1996) Clinical and immunologic evaluation of workers exposed to glutaraldehyde. Allergy 51:826–832

Fairley KJ, Howell MD, Tomazic-Jezic VJ, Leakakos T, Truscott W, Meade BJ (2004) Augmented latex-specific IgE antibody response in BALB/c mice upon concurrent exposure to natural rubber latex proteins with glutaraldehyde. Cutan Ocul Toxicol 23:303–320

Franchi A, Franco G (2005) Evidence-based decision making in an endoscopy nurse with respiratory symptoms exposed to the new ortho-phthalaldehyde (OPA) disinfectant. Occup Med 55:575–578

Fujita H, Ogawa M, Endo Y (2006) A case of occupational bronchial asthma and contact dermatitis caused by ortho-phthalaldehyde exposure in a medical worker. J Occup Health 48:413–416

Haenisch B, Gilsbach R, Bönisch H (2008) Neurotrophin and neuropeptide expression in mouse brain is regulated by knockout of the norepinephrine transporter. J Neural Transm 115:973–982

Hasegawa G, Morinaga T, Ishihara Y (2009) ortho-Phthalaldehyde enhances allergen-specific IgE production without allergen-specific IgG in ovalbumin-sensitized mice. Toxicol Lett 185:45–50

Karmen A (1955) A note on the spectrophotometry assay of glutamic-oxaloacetic transaminase in human blood scrum. J Clin Invest 34:131–133

Monshouwer M, McLellan RA, Delaporte E, Witkamp RF, van Miert AS, Renton KW (1996) Differential effect of pentoxifylline on lipopolysaccharide-induced downregulation of cytochrome P450. Biochem Pharmacol 52:1195–1200

Ohtawa M, Ichimoto S, Nakaki R, Sugimoto K (2001) Absorption and excretion of [14C] ortho-phthalaldehyde following intratracheal and oral administration to male rat. Jpn Pharmacol Ther 29:611–621

Sokol WN (2004) Nine episodes of anaphylaxis following cystoscopy caused by Cidex OPA (ortho-phthalaldehyde) high-level disinfectant in 4 patients after cytoscopy. J Allergy Clin Immunol 114:392–397

Streckenbach SC, Alston TA (2003) Perioral stains after ortho-phthalaldehyde disinfection of echo probes. Anesthesiology 99:1032

Suzukawa M, Komiya A, Koketsu R, Kawakami A, Kimura M, Nito T, Yamamoto K, Yamaguchi M (2007) Three cases of ortho-phthalaldehyde-induced anaphylaxis after laryngoscopy: detection of specific IgE in serum. Allergol Int 56:313–316

Venticinque SG, Kashyap VS, O'Connell RJ (2003) Chemical burn injury secondary to intraoperative transesophageal echocardiography. Anesth Analg 97:1260–1261

Wagner BD, McManus GJ (2003) Enhancement of the fluorescence and stability of o-phthalaldehyde-derived isoindoles of amino acids using hydroxypropyl-β-cyclodextrin. Anal Biochem 317:233–239

Wang BY, Li QX, Li J, Xie XF, Ao Y, Ai YX (2009) Hepatotoxicity and gene expression down-regulation of CYP isozymes caused by renal ischemia/reperfusion in the rat. Exp Toxicol Pathol 61:169–176
Acknowledgments
The authors thank Mr C.W.P. Reynolds, of the International Medical Communications Center, Tokyo Medical University, for his careful revision of the English text of this manuscript.
About this article
Cite this article
Morinaga, T., Hasegawa, G., Koyama, S. et al. Acute inflammation and immunoresponses induced by ortho-phthalaldehyde in mice. Arch Toxicol 84, 397–404 (2010). https://doi.org/10.1007/s00204-010-0512-1
Received:

Accepted:

Published:

Issue Date:

DOI: https://doi.org/10.1007/s00204-010-0512-1
Keywords