Abstract
Glyphosate is a herbicide widely used to kill weeds both in agricultural and non-agricultural landscapes. Its reproductive toxicity is related to the inhibition of a StAR protein and an aromatase enzyme, which causes an in vitro reduction in testosterone and estradiol synthesis. Studies in vivo about this herbicide effects in prepubertal Wistar rats reproductive development were not performed at this moment. Evaluations included the progression of puberty, body development, the hormonal production of testosterone, estradiol and corticosterone, and the morphology of the testis. Results showed that the herbicide (1) significantly changed the progression of puberty in a dose-dependent manner; (2) reduced the testosterone production, in semineferous tubules' morphology, decreased significantly the epithelium height (P < 0.001; control = 85.8 ± 2.8 μm; 5 mg/kg = 71.9 ± 5.3 μm; 50 mg/kg = 69.1 ± 1.7 μm; 250 mg/kg = 65.2 ± 1.3 μm) and increased the luminal diameter (P < 0.01; control = 94.0 ± 5.7 μm; 5 mg/kg = 116.6 ± 6.6 μm; 50 mg/kg = 114.3 ± 3.1 μm; 250 mg/kg = 130.3 ± 4.8 μm); (4) no difference in tubular diameter was observed; and (5) relative to the controls, no differences in serum corticosterone or estradiol levels were detected, but the concentrations of testosterone serum were lower in all treated groups (P < 0.001; control = 154.5 ± 12.9 ng/dL; 5 mg/kg = 108.6 ± 19.6 ng/dL; 50 mg/dL = 84.5 ± 12.2 ng/dL; 250 mg/kg = 76.9 ± 14.2 ng/dL). These results suggest that commercial formulation of glyphosate is a potent endocrine disruptor in vivo, causing disturbances in the reproductive development of rats when the exposure was performed during the puberty period.
Access options
Buy single article
Instant access to the full article PDF.
US$ 39.95
Tax calculation will be finalised during checkout.
Subscribe to journal
Immediate online access to all issues from 2019. Subscription will auto renew annually.
US$ 119
Tax calculation will be finalised during checkout.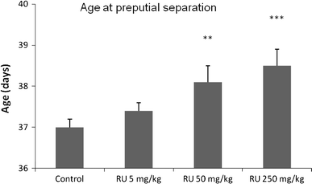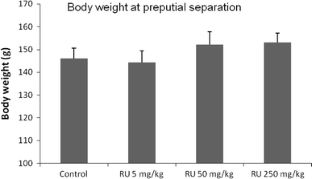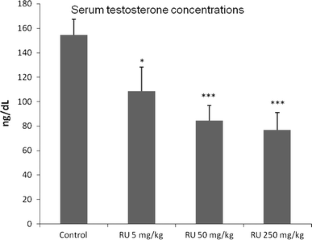 References
Abreu CH Jr, Muraoka T, Lavorante AF (2003) Relationship between acidity and chemicals properties of Brazilian soils. Sci Agric 60:337–343

Akingbemi BT (2005) Estrogen regulation of testicular function. Reprod Biol Endocrinol 3:1–13

Atanassova NN, Walker M, McKinnel C, Fisher JS, Sharpe RM (2005) Evidence that androgens and oestrogens, as well follicle stimulating hormone, can alter Sertoli cell number in the neonatal rat. J Endocrinol 184:107–117

Benachour N, Sipahutar H, Moslemi S, Gasnier C, Travert C, Seralini GE (2007) Time and dose-dependent effects of Roundup on human embryonic and placental cells. Arch Environ Contam Toxicol 53:126–133

Benedetti AL, Vituri CD, Trentin AG, Domingues MAC, Alvarez-Silva M (2004) The effects of sub-chronic exposure of Wistar rats to the herbicide Glyphosate-Biocarb. Toxicol Lett 153:227–232

Brausch JM, Smith PN (2007) Toxicity of three polyethoxylated tallowamine surfactant formulations to laboratory and field collected fairy shrimp, Thamnocephalus platyurus. Arch Environ Contam Toxicol 52:217–221

Caron KM, Soo SC, Wetsel WC, Stocco DM, Clark BJ, Parker KL (1997) Target disruption of the mouse gene encoding esteroidogenic acute regulatory protein provides insights into congenital lipoid adrenal hyperplasia. Proc Natl Acad Sci USA 94:11540–11545

Cerdeira AL, Gazziero DLP, Duke SO, Matallo MB, Spadotto CA (2007) Review of potential environmental impacts of transgenic glyphosato-resistent soybean in Brazil. J Environ Sci Health B 42:539–549

Clementi M, Tiboni GM, Causin R, Rocca CL, Maranghi F, Raffagnato F, Tenconi R (2008) Pesticides and fertility: an epidemiological study in Northeast Italy and review of the literature. Reprod Toxicol 26:13–18

Colborn T, Dumanoski D, Meyers JP (1996) Our stolen future: are we threatening our fertility, intelligence and survival? A scientific detective story. Ed Dutton, New York

Cox C, Surgan M (2006) Unidentified inert ingredients in pesticides: implications for human and environmental health. Environ Health Perspect 114:1803–1806

Curwin BD, Hein MJ, Sanderson WT, Nishioka MG, Reynolds SJ, Warm EM, Alavanja MC (2005) Pesticide contamination inside farm and nonfarm homes. J Occup Environ Hyg 2:357–367

Curwin BD, Hein MJ, Nishioka SandersonWT, MG ReynoldsSJ, Warm EM, Alavanja MC (2007) Urinary pesticide concentrations among children, mothers and fathers living in farm and non-farm households in Iowa. J Occup Environ Hyg 51:53–55

Dallegrave E, Mantese FD, Oliveira RT, Andrade AJ, Dalsenter PR, Langeloh A (2007) Pre- and postnatal toxicity of the commercial glyphosate formulation in Wistar rats. Arch Toxicol 81(9):665–673

Epand RM (2006) Cholesterol interactions of proteins with membrane domains. Prog Lipid Res 45:279–294

FAO and WHO (2004) Pesticides residues in food. Toxicological evaluations. Available via http://www.who.int/ipcs/publications/jmrp/draft_impr_2004_monograph.pdf. Accessed 14 July 2007

Foster WG, Neal MS, Han MS, Dominguez MM (2008) Environmental contaminants and human infertility: hypothesis or cause for concern? J Toxicol Environ Health 11:162–176

Getenga ZM, Kengara FO (2004) Mineralization of glifosate in compost-amended soil under control conditions. Bull Environ Contam Toxicol 72:266–275

Goldsborough LG, Brown DJ (1993) Dissipation of glyphosate and aminomethylphosphonic acid in water and sediments of boreal forest. Environ Toxicol Chem 12:1139–1147

Goyal HO, Robateou A, Braden TD, Williams CS, Srivastava KK, Ali K (2003) Neonatal estrogen exposure of male rats alters reproductive functions at adulthood. Biol Reprod 68:2081–2091

Hafez ESE, Hafez B (2000) Reproduction in farm animals. Ed Lippincott Williams & Wilkins, Philadelphia

Haney RL, Senseman SA, Hons FM (2002) Bioremediation and biodegradation: effect of Roundup ultra on microbial activity and biomass from selected soils. J Environ Qual 31:730–735

Hayes WJ, Laws ER (1991) Handbook of pesticide toxicology. Academic Press, San Diego

Lu FC (1995) A review of the acceptable daily intakes of pesticides assessed by WHO. Regul Toxicol Pharmacol 21:352–364

Marc J, Mulner-Lorillon O, Boulben S, Hureau D, Durand G, Bellé R (2002) Pesticide Roundup provokes cell division dysfunction at the level of CDK1/cyclin B activation. Chem Res Toxicol 15:326–331

Norman AW, Litwack G (1997) Hormones. Academic Press, California

Ojeda SR, Urbanski HF (1994) Puberty in the rat. In: Knobil E, Neill JD (eds) The physiology of reproduction. Raven Press, New York

Oliveira AG, Telles LF, Hess RA, Mahecha GAB, Oliveira CA (2007) Effects of the herbicide Roundup on the epididymal region of drakes Anas platyrhynchos. Reprod Toxicol 23:182–191

Parker RM (2006) Testing for reproductive toxicity. In: Hood RD (ed) Developmental and reproductive toxicology. Taylor and Francis, New York

Peixoto F (2005) Comparative effects of the Roundup and glyphosate on mitochondrial oxidative phosphorylation. Chemosphere 61:1115–1122

Richard S, Moslemi S, Sipahutar H, Benachour N, Seralini G (2005) Differential effects of glyphosate and Roundup on human placental cells. Environ Health Perspect 113:716–720

Roeleveld N, Bretveld R (2008) The impact of pesticides on male fertility. Curr Opin Obstet Gynecol 20:229–233

Romano RM, Romano MA, Moura MO, Oliveira CA (2008) A exposição ao glifosato-Roundup causa atraso no início da puberdade em ratos machos. Braz J Vet Res Anim Sci 45:481–487

Scott FG (2005) Developmental biology. London: Ed Sinauer. Available via http://www.ncbi.nlm.nih.gov. Accessed 14 Oct 2008

Silva MD, Peralba MCR, Mattos MLT (2003) Determinação do glifosato e ácido aminometilfosfônico em águas superficiais do Arroio Passo do Pilão. Pest: Ecotox e Meio Amb 13:19–28

Solomon GM, Schettler T (2000) Environment and health: endocrine disruption and potential human health implications. Can Med Assoc J 163:1471–1476

Stoker TE, Parks LG, Gray LE, Cooper RL (2000) Endocrine-disrupting chemicals: pubertal exposures and effects on sexual maturation and thyroid function in the male rat. A focus on the EDSTAC recommendations. Endocrine disrupting screening and testing advisory committee. Crit Rev Toxicol 30:197–252

Tsui MTK, Chu LM (2003) Aquatic toxicity of glyphosate-base formulations: comparison between different organisms and the effects of environmental factors. Chemosphere 52:1189–1197

Walsh LP, McCormick C, Martin C, Stocco DM (2000) Roundup inhibits steroidogenesis by disrupting steroidogenic acute regulatory (StAR) protein expression. Environ Health Perspect 108:769–776

Williams GM, Kroes R, Munro IC (2000) Safety evaluation and risk assessment of the herbicide Roundup and its active ingredient, glyphosate, for humans. Regul Toxicol Pharmacol 31:117–165
Acknowledgments
The authors would like to thank the Brazilian National Council of Scientific and Technological Development for financial support of this research (Edital MCT/CNPq 02/2006-Universal/process 471651/2006-0), the CAPES (Coordenação de Aperfeiçoamento de Pessoal de Nível Superior) for scholarship.
About this article
Cite this article
Romano, R.M., Romano, M.A., Bernardi, M.M. et al. Prepubertal exposure to commercial formulation of the herbicide glyphosate alters testosterone levels and testicular morphology. Arch Toxicol 84, 309–317 (2010). https://doi.org/10.1007/s00204-009-0494-z
Received:

Accepted:

Published:

Issue Date:
Keywords
Glyphosate

Roundup

Endocrine disruption

Prepubertal exposure

Testosterone

Testicular morphology