Abstract
Perfluorooctanesulfonamides, such as N-ethyl perfluorooctanesulfonamidoethanol (N-EtFOSE), are large scale industrial chemicals but their disposition and toxicity are poorly understood despite significant human exposure. The hypothesis that subacute exposure to N-EtFOSE, a weak peroxisome proliferator, causes a redox imbalance in vivo was tested using the known peroxisome proliferator, ciprofibrate, as a positive control. Female Sprague–Dawley rats were treated orally with N-EtFOSE, ciprofibrate or corn oil (vehicle) for 21 days, and levels of N-EtFOSE and its metabolites as well as markers of peroxisome proliferation and oxidative stress were assessed in serum, liver and/or uterus. The N-EtFOSE metabolite profile in liver and serum was in good agreement with reported in vitro biotransformation pathways in rats and the metabolite levels decreasing in the order perfluorooctanesulfonate ≫ perfluorooctanesulfonamide ~ N-ethyl perfluorooctanesulfonamidoacetate ≫ perfluorooctanesulfonamidoethanol ~ N-EtFOSE. Although N-EtFOSE treatment significantly decreased the growth rate, increased relative liver weight and activity of superoxide dismutases (SOD) in liver and uterus (total SOD, CuZnSOD and MnSOD), a metabolic study revealed no differences in the metabolome in serum from N-EtFOSE-treated and control animals. Ciprofibrate treatment increased liver weight and peroxisomal acyl Co-A oxidase activity in the liver and altered antioxidant enzyme activities in the uterus and liver. According to NMR metabolomic studies, ciprofibrate treated animals had altered serum lipid profiles compared to N-EtFOSE-treated and control animals, whereas putative markers of peroxisome proliferation in serum were not affected. Overall, this study demonstrates the biotransformation of N-EtFOSE to PFOS in rats that is accompanied by N-EtFOSE-induced alterations in antioxidant enzyme activity.
This is a preview of subscription content, log in to check access.
Access options
Buy single article
Instant access to the full article PDF.
US$ 39.95
Price includes VAT for USA
Subscribe to journal
Immediate online access to all issues from 2019. Subscription will auto renew annually.
US$ 199
This is the net price. Taxes to be calculated in checkout.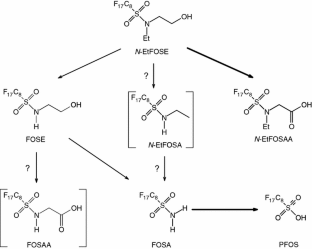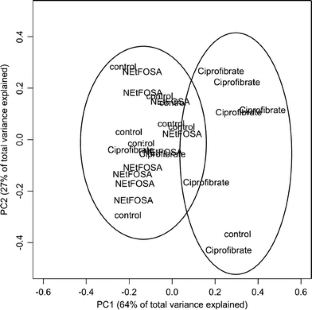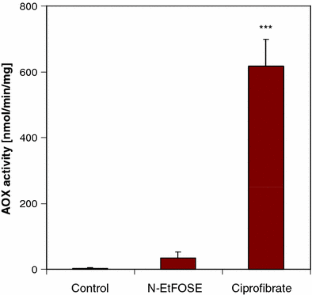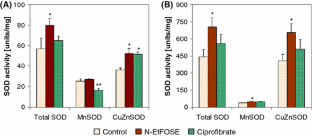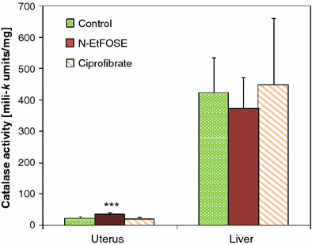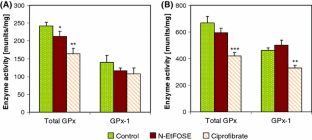 References
Aebi H (1984) Catalase in vitro. In: Packer L (ed) Methods in enzymology. Academic Press, Dublin, pp 121–126

Ala-Korpela M (2008) Critical evaluation of 1H NMR metabonomics of serum as a methodology for disease risk assessment and diagnostics. Clin Chem Lab Med 46:27–42. doi:10.1515/CCLM.2008.006

Anderson ME (1985) Tissue glutathione. In: Greenwald R (ed) Methods for oxygen radical research. CRC Press, Boca Raton, pp 317–323

Arrendale RF, Stewart JT, Manning R, Vitayavirasuk B (1989) Determination of GX 071 and its major metabolite in rat blood by cold on-column injection capillary GC/ECD. J Agric Food Chem 37:1130–1135. doi:10.1021/jf00088a069

Austin ME, Kasturi BS, Barber M, Kannan K, MohanKumar PS, MohanKumar SM (2003) Neuroendocrine effects of perfluorooctane sulfonate in rats. Environ Health Perspect 111:1485–1489

Beers RF, Sizer IW (1952) A spectrophotometric method for measuring the breakdown of hydrogen peroxide by catalase. J Biol Chem 195:133–140

Berthiaume J, Wallace KB (2002) Perfluorooctanoate, perflourooctanesulfonate, and N-ethyl perfluorooctanesulfonamido ethanol; peroxisome proliferation and mitochondrial biogenesis. Toxicol Lett 129:23–32. doi:10.1016/S0378-4274(01)00466-0

Borges T, Peterson RE, Pitot HC, Robertson LW, Glauert HP (1993) Effect of the peroxisome proliferator perfluorodecanoic acid on the promotion of two-stage hepatocarcinogenesis in rats. Cancer Lett 72:111–120. doi:10.1016/0304-3835(93)90019-6

Calafat AM, Wong LY, Kuklenyik Z, Reidy JA, Needham LL (2007) Polyfluoroalkyl chemicals in the U.S. population: data from the National Health and Nutrition Examination Survey (NHANES) 2003–2004 and comparisons with NHANES 1999–2000. Environ Health Perspect 115:1596–1602

Case MT, York RG, Christian MS (2001) Rat and rabbit oral developmental toxicology studies with two perfluorinated compounds. Int J Toxicol 20:101–109. doi:10.1080/10915810151115236

Chen L-C, Borges T, Glauert HP, Knight SAB, Sunde RA, Schramm H, Oesch F, Chow CK, Robertson LW (1990) Modulation of selenium-dependent gluthathione peroxidase by perfluorodecanoic acid in rats: effect of dietary selenium. J Nutrition 120:298–304

Chen H, Huang C-y, Wilson MW, Lay LT, Robertson LW, Chow CK, Glauert HP (1994) Effect of the peroxisome proliferators ciprofibrate and perfluorodecanoic acid on hepatic cell proliferation and toxicity in Sprague–Dawley rats. Carcinogenesis 15:2847–2850. doi:10.1093/carcin/15.12.2847

Coen M, Lenz EM, Nicholson JK, Wilson ID, Pognan F, Lindon JC (2003) An integrated metabonomic investigation of acetaminophen toxicity in the mouse using NMR spectroscopy. Chem Res Toxicol 16:295–303. doi:10.1021/tx0256127

Connor SC, Hodson MP, Ringeissen S, Sweatman BC, McGill PJ, Waterfield CJ, Haselden JN (2004) Development of a multivariate statistical model to predict peroxisome proliferation in the rat, based on urinary 1H-NMR spectral patterns. Biomarkers 9:364–385. doi:10.1080/13547500400006005

Cui L, Zhou Q-f, Liao C-y, Fu J-j, Jiang G-b (2009) Studies on the toxicological effects of PFOA and PFOS on rats using histological observation and chemical analysis. Arch Environ Contam Toxicol 56:338–349. doi:10.1007/s00244-008-9194-6

Curran I, Hierlihy SL, Liston V, Pantazopoulos P, Nunnikhoven A, Tittlemier S, Barker M, Trick K, Bondy G (2008) Altered fatty acid homeostasis and related toxicologic sequelae in rats exposed to dietary potassium perfluorooctanesulfonate (PFOS). J Toxicol Environ Health A 71:1526–1541. doi:10.1080/15287390802361763

Delaney J, Hodson MP, Thakkar H, Connor SC, Sweatman BC, Kenny SP, McGill PJ, Holder JC, Hutton KA, Haselden JN, Waterfield CJ (2005) Tryptophan-NAD+ pathway metabolites as putative biomarkers and predictors of peroxisome proliferation. Arch Toxicol 79:208–223. doi:10.1007/s00204-004-0625-5

Era S, Harada KH, Toyoshima M, Inoue K, Minata M, Saito N, Takigawa T, Shiota K, Koizumi A (2009) Cleft palate caused by perfluorooctane sulfonate is caused mainly by extrinsic factors. Toxicology 256:42–47. doi:10.1016/j.tox.2008.11.003

Fromme H, Tittlemier SA, Völkel W, Wilhelm M, Twardella D (2009) Perfluorinated compounds—exposure assessment for the general population in western countries. Int J Hyg Environ Health 212:239–270

Giesy JP, Kannan K (2001) Global distribution of perfluorooctane sulfonate in wildlife. Environ Sci Technol 35:1339–1342. doi:10.1021/es001834k

Glauert HP, Srinivasan S, Tatum VL, Chen LC, Saxon DM, Lay LT, Borges T, Baker M, Chen LH, Robertson LW (1992) Effects of the peroxisome proliferators ciprofibrate and perfluorodecanoic acid on hepatic cellular antioxidants and lipid peroxidation in rats. Biochem Pharmacol 43:1353–1359. doi:10.1016/0006-2952(92)90513-I

Goel SK, Lalwani ND, Reddy JK (1986) Peroxisome proliferation and lipid peroxidation in rat liver. Cancer Res 46:1324–1330

Guruge KS, Yeung LWY, Yamanaka N, Miyazaki S, Lam PKS, Giesy JP, Jones PD, Yamashita N (2006) Gene expression profiles in rat liver treated with perfluorooctanoic acid (PFOA). Toxicol Sci 89:93–107. doi:10.1093/toxsci/kfj011

Hammer TA, Sandvik AK, Waldum HL (1998) Potentiating hypergastrinemic effect by the peroxisome proliferator ciprofibrate and omeprazole in the rat. Scand J Gastroenterol 33:595–599. doi:10.1080/00365529850171855

Haughom B, Spydevold O (1992) The mechanism underlying the hypolipemic effect of perfluorooctanoic acid (PFOA), perfluorooctane sulphonic acid (PFOSA) and clofibric acid. Biochim Biophys Acta 1128:65–72

Hu Wy, Jones PD, DeCoen W, King L, Fraker P, Newsted J, Giesy JP (2003) Alterations in cell membrane properties caused by perfluorinated compounds. Comp Biochem Physiol C Toxicol Pharmacol 135C:77–88

Hu W, Jones PD, Celius T, Giesy JP (2005) Identification of genes responsive to PFOS using gene expression profiling. Environ Toxicol Pharmacol 19:57–70. doi:10.1016/j.etap.2004.04.008

Huang C-y, Wilson MW, Travis Lay L, Chow CK, Robertson LW, Glauert HP (1994) Increased 8-hydroxydeoxyguanosine in hepatic DNA of rats treated with the peroxisome proliferators ciprofibrate and perfluorodecanoic acid. Cancer Lett 87:223–228. doi:10.1016/0304-3835(94)90226-7

Kannan K, Corsolini S, Falandysz J, Fillmann G, Kumar KS, Loganathan BG, Mohd MA, Olivero J, Van Wouwe N, Yang JH, Aldous KM (2004) Perfluorooctanesulfonate and related fluorochemicals in human blood from several countries. Environ Sci Technol 38:4489–4495. doi:10.1021/es0493446

Kärrman A, Mueller JF, van Bavel B, Harden F, Toms LM, Lindström G (2006a) Levels of 12 perfluorinated chemicals in pooled australian serum, collected 2002–2003, in relation to age, gender, and region. Environ Sci Technol 40:3742–3748. doi:10.1021/es060301u

Kärrman A, van Bavel B, Järnberg U, Hardell L, Lindström G (2006b) Perfluorinated chemicals in relation to other persistent organic pollutants in human blood. Chemosphere 64:1582–1591. doi:10.1016/j.chemosphere.2005.11.040

Kissa E (2001) Fluorinated surfactants and repellents (Surfactant Science Series, vol 97). Marcel Dekker, New York

Lau C, Thibodeaux JR, Hanson RG, Rogers JM, Grey BE, Stanton ME, Butenhoff JL, Stevenson LA (2003) Exposure to perfluorooctane sulfonate during pregnancy in rat and mouse. II: postnatal evaluation. Toxicol Sci 74:382–392. doi:10.1093/toxsci/kfg122

Lau C, Anitole K, Hodes C, Lai D, Pfahles-Hutchens A, Seed J (2007) Perfluoroalkyl acids: a review of monitoring and toxicological findings. Toxicol Sci 99:366–394. doi:10.1093/toxsci/kfm128

Lawrence RA, Burk RF (1976) Glutathione peroxidase activity in selenium-deficient rat liver. Biochem Biophys Res Commun 71:952–958. doi:10.1016/0006-291X(76)90747-6

Lehmler H-J (2005) Synthesis of environmentally relevant fluorinated surfactants—a review. Chemosphere 58:1471–1496. doi:10.1016/j.chemosphere.2004.11.078

Lehmler H-J, Xie W, Bothun GD, Bummer PM, Knutson BL (2006) Mixing of perfluorooctanesulfonic acid (PFOS) potassium salt with dipalmitoyl phosphatidylcholine (DPPC). Colloids Surf B 51:25–29. doi:10.1016/j.colsurfb.2006.05.013

Lehmler H-J, Rao VVVNSR, Nauduri D, Vargo JD, Parkin S (2007) Synthesis and structure of environmentally relevant perfluorinated sulfonamides. J Fluor Chem 128:595–607. doi:10.1016/j.jfluchem.2007.01.013

Lei R, Wu C, Yang B, Ma H, Shi C, Wang Q, Wang Q, Yuan Y, Liao M (2008) Integrated metabolomic analysis of the nano-sized copper particle-induced hepatotoxicity and nephrotoxicity in rats: a rapid in vivo screening method for nanotoxicity. Toxicol Appl Pharmacol 232:292–301. doi:10.1016/j.taap.2008.06.026

Liu C, Yu K, Shi X, Wang J, Lam PKS, Wu RSS, Zhou B (2007) Induction of oxidative stress and apoptosis by PFOS and PFOA in primary cultured hepatocytes of freshwater tilapia (Oreochromis niloticus). Aquat Toxicol 82:135–143. doi:10.1016/j.aquatox.2007.02.006

Lowry OH, Rosebrough NJ, Farr L, Randall RJ (1951) Protein measurement with the Folin phenol reagent. J Biol Chem 193:265–275

Luebker DJ, Hansen KJ, Bass NM, Butenhoff JL, Seacat AM (2002) Interactions of fluorochemicals with rat liver fatty acid-binding protein. Toxicology 176:175–185. doi:10.1016/S0300-483X(02)00081-1

Maestri L, Negri S, Ferrari M, Ghittori S, Fabris F, Danesino P, Imbriani M (2006) Determination of perfluorooctanoic acid and perfluorooctanesulfonate in human tissues by liquid chromatography/single quadrupole mass spectrometry. Rapid Commun Mass Spectrom 20:2728–2734. doi:10.1002/rcm.2661

Maloney EK, Waxman DJ (1999) trans-Activation of PPARα and PPARγ by structurally diverse environmental chemicals. Toxicol Appl Pharmacol 161:209–218. doi:10.1006/taap.1999.8809

Manning RO, Bruckner JV, Mispagel ME, Bowen JM (1991) Metabolism and disposition of sulfluramid, a unique polyfluorinated insecticide, in the rat. Drug Metab Dispos 19:205–211

Martin MT, Brennan RJ, Hu W, Ayanoglu E, Lau C, Ren H, Wood CR, Corton JC, Kavlock RJ, Dix DJ (2007) Toxicogenomic study of triazole fungicides and perfluoroalkyl acids in rat livers predicts toxicity and categorizes chemicals based on mechanisms of toxicity. Toxicol Sci 97:595–613. doi:10.1093/toxsci/kfm065

Nakayama K, Iwata H, Tao L, Kannan K, Imoto M, Kim E-Y, Tashiro K, Tanabe S (2008) Potential effects of perfluorinated compounds in common cormorants from Lake Biwa, Japan: an implication from the hepatic gene expression profiles by microarray. Environ Toxicol Chem 27:2378–2386. doi:10.1897/07-614.1

Nicholson JK, Lindon JC, Holmes E (1999) "Metabonomics": understanding the metabolic responses of living systems to pathophysiological stimuli via multivariate statistical analysis of biological NMR spectroscopic data. Xenobiotica 29:1181–1189. doi:10.1080/004982599238047

Nicholson JK, Connelly J, Lindon JC, Holmes E (2002) Innovation: Metabonomics: a platform for studying drug toxicity and gene function. Nat Rev Drug Discov 1:153–161. doi:10.1038/nrd728

O'Brien TM, Wallace KB (2004) Mitochondrial permeability transition as the critical target of N-acetyl perfluorooctane sulfonamide toxicity in vitro. Toxicol Sci 82:333–340. doi:10.1093/toxsci/kfh244

O'Brien ML, Spear BT, Glauert HP (2005) Role of oxidative stress in peroxisome proliferator-mediated carcinogenesis. Crit Rev Toxicol 35:61–88. doi:10.1080/10408440590905957

Olsen GW, Church TR, Miller JP, Burris JM, Hansen KJ, Lundberg JK, Armitage JB, Herron RM, Medhdizadehkashi Z, Nobiletti JB, O'Neill EM, Mandel JH, Zobel LR (2003a) Perfluorooctanesulfonate and other fluorochemicals in the serum of American Red Cross adult blood donors. Environ Health Perspect 111:1892–1901

Olsen GW, Hansen KJ, Stevenson LA, Burris JM, Mandel JH (2003b) Human donor liver and serum concentrations of perfluorooctanesulfonate and other perfluorochemicals. Environ Sci Technol 37:888–891. doi:10.1021/es020955c

Olsson U, Sundberg C, Andersson K, De Pierre JW (1993) Further studies on the involvement of selenium in peroxisome proliferation in rat liver. Comparison of effects of clofibric acid and perfluorooctanoic acid and the pharmacokinetics of [14C]clofibrate. Biochem Pharmacol 46:1805–1810. doi:10.1016/0006-2952(93)90586-L

Panaretakis T, Shabalina IG, Grander D, Shoshan MC, DePierre JW (2001) Reactive oxygen species and mitochondria mediate the induction of apoptosis in human hepatoma HepG2 cells by the rodent peroxisome proliferator and hepatocarcinogen, perfluorooctanoic acid. Toxicol Appl Pharmacol 173:56–64. doi:10.1006/taap.2001.9159

Paul AG, Jones KC, Sweetman AJ (2009) A first global production, emission, and environmental inventory for perfluorooctane sulfonate. Environ Sci Technol 43:386–392. doi:10.1021/es802216n

Peden-Adams MM, EuDaly JG, Dabra S, EuDaly A, Heesemann L, Smythe J, Keil DE (2007) Suppression of humoral immunity following exposure to the perfluorinated insecticide sulfluramid. J Toxicol Environ Health A 70:1130–1141. doi:10.1080/15287390701252733

Poosch MS, Yamazaki RK (1986) Determination of peroxisomal fatty acyl-CoA oxidase activity using a lauroyl-CoA-based fluorometric assay. Biochim Biophys Acta 884:585–593

Probst RJ, Lim JM, Bird DN, Pole GL, Sato AK, Claybaugh JR (2006) Gender differences in the blood volume of conscious Sprague–Dawley rats. J Am Assoc Lab Anim Sci 45:49–52

Rosen MB, Abbott BD, Wolf DC, Corton JC, Wood CR, Schmid JE, Das KP, Zehr RD, Blair ET, Lau C (2008) Gene profiling in the livers of wild-type and PPARa-null mice exposed to perfluorooctanoic acid. Toxicol Pathol 36:592–607. doi:10.1177/0192623308318208

Schnellmann RG (1990) The cellular effects of a unique pesticide sulfluramid (N-ethylperfluorooctane sulfonamide) on rabbit renal proximal tubules. Toxicol In Vitro 4:71–74. doi:10.1016/0887-2333(90)90012-I

Schnellmann RG, Manning RO (1990) Perfluorooctane sulfonamide: a structurally novel uncoupler of oxidative phosphorylation. Biochim Biophys Acta 1016:344–348. doi:10.1016/0005-2728(90)90167-3

Seacat AM, Thomford PJ, Hansen KJ, Olsen GW, Case MT, Butenhoff JL (2002) Subchronic toxicity studies on perfluorooctanesulfonate potassium salt in cynomolgus monkeys. Toxicol Sci 68:249–264. doi:10.1093/toxsci/68.1.249

Seacat AM, Thomford PJ, Hansen KJ, Clemen LA, Eldridge SR, Elcombe CR, Butenhoff JL (2003) Sub-chronic dietary toxicity of potassium perfluorooctanesulfonate in rats. Toxicology 183:117–131. doi:10.1016/S0300-483X(02)00511-5

Sheikh K, Camejo G, Lanne B, Halvarsson T, Landergren MR, Oakes ND (2007) Beyond lipids, pharmacological PPARα activation has important effects on amino acid metabolism as studied in the rat. Am J Physiol Endocrinol Metab 292:E1157–E1165. doi:10.1152/ajpendo.00254.2006

Shipley JM, Hurst CH, Tanaka SS, DeRoos FL, Butenhoff JL, Seacat AM, Waxman DJ (2004) Trans-activation of PPARα and induction of PPARα target genes by perfluorooctane-based chemicals. Toxicol Sci 80:151–160. doi:10.1093/toxsci/kfh130

Sohlenius AK, Eriksson AM, Hogstrom C, Kimland M, DePierre JW (1993) Perfluorooctane sulfonic acid is a potent inducer of peroxisomal fatty acid beta-oxidation and other activities known to be affected by peroxisome proliferators in mouse liver. Pharmacol Toxicol 72:90–93. doi:10.1111/j.1600-0773.1993.tb00296.x

Spitz DR, Oberley LW (1989) An assay for superoxide dismutase activity in mammalian tissue homogenates. Anal Biochem 179:8–18. doi:10.1016/0003-2697(89)90192-9

Spliethoff HM, Tao L, Shaver SM, Aldous KM, Pass KA, Kannan K, Eadon GA (2008) Use of newborn screening program blood spots for exposure assessment: declining levels of perluorinated compounds in New York State infants. Environ Sci Technol 42:5361–5367. doi:10.1021/es8006244

Starkov AA, Wallace KB (2002) Structural determinants of fluorochemical-induced mitochondrial dysfunction. Toxicol Sci 66:244–252. doi:10.1093/toxsci/66.2.244

Takacs ML, Abbott BD (2007) Activation of mouse and human peroxisome proliferator-activated receptors (α, β/δ, γ) by perfluorooctanoic acid and perfluorooctane sulfonate. Toxicol Sci 95:108–117. doi:10.1093/toxsci/kfl135

Thibodeaux JR, Hanson RG, Rogers JM, Grey BE, Barbee BD, Richards JH, Butenhoff JL, Stevenson LA, Lau C (2003) Exposure to perfluorooctane sulfonate during pregnancy in rat and mouse. I: Maternal and prenatal evaluations. Toxicol Sci 74:369–381. doi:10.1093/toxsci/kfg121

Tittlemier SA, Pepper K, Seymour C, Moisey J, Bronson R, Cao X-L, Dabeka RW (2007) Dietary exposure of Canadians to perfluorinated carboxylates and perfluorooctane sulfonate via consumption of meat, fish, fast foods, and food items prepared in their packaging. J Agric Food Chem 55:3203–3210. doi:10.1021/jf0634045

Tomy GT, Tittlemier SA, Palace VP, Budakowski WR, Braekevelt E, Brinkworth L, Friesen K (2004) Biotransformation of N-ethyl perfluorooctanesulfonamide by rainbow trout (Onchorhynchus mykiss) liver microsomes. Environ Sci Technol 38:758–762. doi:10.1021/es034550j

Uchiyama M, Mihara M (1978) Determination of malonaldehyde precursor in tissues by thiobarbituric acid test. Anal Biochem 86:271–278. doi:10.1016/0003-2697(78)90342-1

Vanden Heuvel JP, Thompson JT, Frame SR, Gillies PJ (2006) Differential activation of nuclear receptors by perfluorinated fatty acid analogs and natural fatty acids: a comparison of human, mouse, and rat peroxisome proliferator-activated receptor-α, -β, and -γ, liver X receptor-β, and retinoid X receptor-α. Toxicol Sci 92:476–489. doi:10.1093/toxsci/kfl014

Viant MR (2007) Revealing the metabolome of animal tissues using 1H nuclear magnetic resonance spectroscopy. In: Weckwerth W (ed) Metabolomics: methods and protocols. Humana Press Inc., Totowa, pp 229–246

Viant MR, Lyeth BG, Miller MG, Berman RF (2005) An NMR metabolomic investigation of early metabolic disturbances following traumatic brain injury in a mammalian model. NMR Biomed 18:507–516. doi:10.1002/nbm.980

Vitayavirasuk B, Bowen JM (1999) Pharmacokinetics of sulfluramid and its metabolite desethylsulfluramid after intravenous and intraruminal administration of sulfluramid to sheep. Pestic Sci 55:719–725

Wallace KB, Luebker DJ, Butenhoff JL, Seacat AM (2001) Perfluorooctane sulfonate and 2-(N-ethylperfluorooctanesulfonamido)-ethyl alcohol are peroxisome proliferators in rats, but not guinea pigs. Toxicologist 60:1657

Wilson MW, Lay LT, Chow CK, Tai H-H, Robertson LW, Glauert HP (1995) Altered hepatic eicosanoid concentrations in rats treated with the peroxisome proliferators ciprofibrate and perfluorodecanoic acid. Arch Toxicol 69:491–497. doi:10.1007/s002040050203

Xie W, Kania-Korwel I, Bummer PM, Lehmler H-J (2007) Effect of potassium perfluorooctanesulfonate, perfluorooctanoate and octanesulfonate on the phase transition of dipalmitoylphosphatidylcholine (DPPC) bilayers. Biochim Biophys Acta 1768:1299–1308. doi:10.1016/j.bbamem.2007.02.003

Xu L, Krenitsky DM, Seacat AM, Butenhoff JL, Anders MW (2004) Biotransformation of N-ethyl-N-(2-hydroxyethyl)perfluorooctanesulfonamide by rat liver microsomes, cytosol, and slices and by expressed rat and human cytochromes P450. Chem Res Toxicol 17:767–775. doi:10.1021/tx034222x

Xu L, Krenitsky DM, Seacat AM, Butenhoff JL, Tephly TR, Anders MW (2006) N-Glucuronidation of perfluorooctanesulfonamide by human, rat, dog, and monkey liver microsomes and by expressed rat and human UDP-glucuronosyltransferases. Drug Metab Dispos 34:1406–1410. doi:10.1124/dmd.106.009399

Yahia D, Tsukuba C, Yoshida M, Sato I, Tsuda S (2008) Neonatal death of mice treated with perfluorooctane sulfonate. J Toxicol Sci 33:219–226. doi:10.2131/jts.33.219

Zheng L, Dong G-H, Jin Y-H, He Q-C (2009) Immunotoxic changes associated with a 7-day oral exposure to perfluorooctanesulfonate (PFOS) in adult male C57BL/6 mice. Arch Toxicol. doi:10.1007/s00204-008-0361-3
Acknowledgments
We thank Brett A. Wagner, Garry R. Buettner and The University of Iowa ESR Facility for invaluable support and Rama Rao V.V.V.N.S. for the synthesis of the perfluorooctanesulfonamides. The work was supported by a grant from the University of Iowa Center for Health Effects of Environmental Contamination (CHEEC). Additional support was provided by grants ES05605, ES013661 and ES012475 from the National Institute of Environmental Health Sciences, NIH, and by the Kentucky Agricultural Experiment Station. DRS and MCC were supported by NIH P30-CA086862.
Conflict of interest statement
The authors declare that they have no conflict of interest.
Electronic supplementary material
Below is the link to the electronic supplementary material.
About this article
Cite this article
Xie, W., Wu, Q., Kania-Korwel, I. et al. Subacute exposure to N-ethyl perfluorooctanesulfonamidoethanol results in the formation of perfluorooctanesulfonate and alters superoxide dismutase activity in female rats. Arch Toxicol 83, 909–924 (2009). https://doi.org/10.1007/s00204-009-0450-y
Received:

Accepted:

Published:

Issue Date:
Keywords
Metabolomics

Perfluorooctanesulfonamides

Perfluorooctanesulfonate

Peroxisomal acyl Co-A oxidase

Superoxide dismutase