Abstract
One hypothesis for the etiology of cell damage arising from iron overload is that its excess selectively affects mitochondria. Here we tested the effects of acute iron overload on liver mitochondria isolated from rats subjected to a single dose of i.p. 500 mg/kg iron–dextran. The treatment increased the levels of iron in mitochondria (from 21 ± 4 to 130 ± 7 nmol/mg protein) and caused both lipid peroxidation and glutathione oxidation. The mitochondria of iron-treated rats showed lower respiratory control ratio in association with higher resting respiration. The mitochondrial uncoupling elicited by iron-treatment did not affect the phosphorylation efficiency or the ATP levels, suggesting that uncoupling is a mitochondrial protective mechanism against acute iron overload. Therefore, the reactive oxygen species (ROS)/H+ leak couple, functioning as a mitochondrial redox homeostatic mechanism could play a protective role in the acutely iron-loaded mitochondria.
Access options
Buy single article
Instant access to the full article PDF.
US$ 39.95
Tax calculation will be finalised during checkout.
Subscribe to journal
Immediate online access to all issues from 2019. Subscription will auto renew annually.
US$ 119
Tax calculation will be finalised during checkout.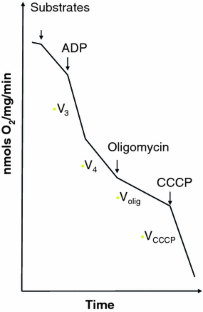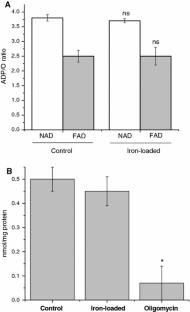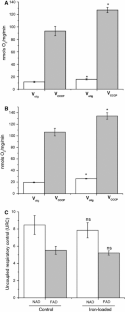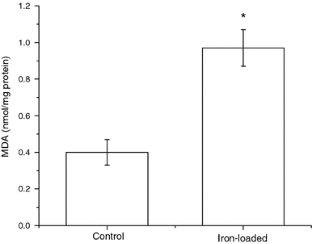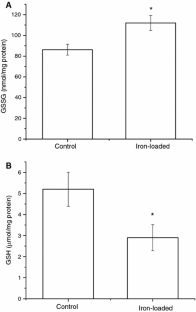 References
Arsenijevic D, Onuma H, Pecqueur C, Raimbault S, Manning BS, Miroux B, Copulan E, Alves-Guerra MC, Goubern M, Surwit R, Bouillaud F, Richard D, Collins S, Ricquier D (2000) Disruption of the uncoupling protein-2 gene in mice reveals a role in immunity and reactive oxygen species production. Nat Genet 26:435–439

Bartfay WJ, Butany J, Lehotay DC, Sole MJ, Hou D, Bartfay E, Liu PP (1999) A biochemical, histochemical, and electron microscopic study on the effects of iron-loading on the hearts of mice. Cardiovasc Pathol 8:305–314

Brookes PS (2005) Mitochondrial H(+) leak and ROS generation: an odd couple. Free Radic Biol Med 38:12–23

Brumby PE, Massey V (1967) Determination of nonheme iron, total iron and copper. Methods Enzymol 10:463–474

Buege JA, Aust SD (1978) Microsomal lipid peroxidation. Methods Enzymol 52:302–310

Burkitt MJ, Gilbert BC (1989) The control of iron-induced oxidative damage in isolated rat-liver mitochondria by respiration state and ascorbate. Free Radic Res Commun 5:333–344

Chambers DR, Gibson TE, Bindman L, Guillou PJ, Herbert WJ, Mayes PA, Poole TB, Wade AJ, Wood RKS (1992) Guidelines on the handling and training of laboratory animals. Potters bar. Universities Federation for Animal Welfare, UK

Chance B, Sies H, Boveris A (1979) Hydroperoxide metabolism in mammalian organs. Physiol Rev 59:527–605

Du G, Mouithys-Mickalad A, Sluse FE (1998) Generation of superoxide anion by mitochondria and impairment of their functions during anoxia and reoxygenation in vitro. Free Radic Biol Med 25:1066–1074

Galleano M, Farre SM, Turrens JF, Puntarulo S (1994) Resistance of rat kidney mitochondrial membranes to oxidation induced by acute iron overload. Toxicology 88:141–149

Gornall AG, Bardawill CJ, David MM (1949) Determination of serum proteins by means of biuret reaction. J Biol Chem 177:751–766

Halliwell B, Gutteridge JMC (1990) Role of free radicals and catalytic metal ions in human disease: an overview. Methods Enzymol 186:1–88

Halliwell B, Gutteridge JMC (1992) Biologically relevant metal ion dependent hydroxyl radical generation. An update. FEBS Lett 307:108–112

Harris WR (2002) Iron chemistry. In: Templeton DM (ed) Molecular and cellular iron transport. Marcel Dekker, New York

Hershko C, Link G, Cabantchik I (1998) Pathophysiology of iron overload. Ann NY Acad Sci 850:191–201

Hinkle PC, Horstman LL (1971) Respiration-driven proton transport in submitochondrial particle. J Biol Chem 246:6024–6028

Hissin PJ, Hilf R (1976) A fluorometric method for determination of oxidized and reduced glutathione in tissues. Anal Biochem 74:214–226

Huang XP, O'Brien PJ, Templeton DM (2006) Mitochondrial involvement in genetically determined transition metal toxicity I. Iron toxicity. Chem Biol Interact 163:68–76

Kaplan RS, Pedersen PL (1983) Characterization of phosphate efflux pathways in rat liver mitochondria. Biochem J 212:279–288

Lemasters JJ, Hackenbrock CR (1976) Continuous measurement and rapid kinetics of ATP synthesis in rat liver mitochondria, mitoplasts and inner membrane vesicles determined by firefly-luciferase luminescence. Eur J Biochem 67:1–10

Masini A, Ceccarelli D, Giovannini F, Montosi G, Garuti C, Pietrangelo A (2000) Iron-induced oxidant stress leads to irreversible mitochondrial dysfunctions and fibrosis in the liver of chronic iron dosed gerbils: the effect of silybin. J Bioenerget Biomembr 32:175–182

Masini A, Ceccarelli D, Trenti T, Corongiu FP, Muscatello U (1989) Perturbation in liver mitochondrial Ca2+ homeostasis in experimental iron overload: a possible factor in cell injury. Biochim Biophys Acta 1014:133–140

Mitchell P (1961) Coupling of phosphorylation to electron and hydrogen transfer by chemiosmotic type of mechanism. Nature 191:144–146

Murphy MP, Echtay KS, Blaikie FH, Asin-Cayuela J, Cocheme HM, Green K, Buckingham JA, Taylor ER, Hurrell F, Hughes G, Miwa S, Cooper CE, Svistunenko DA, Smith RAJ, Brand MD (2003) Superoxide activates uncoupling proteins by generating carbon-centered radicals and initiating lipid peroxidation. J Biol Chem 278:48534–48545

Navarro A, Boveris A (2007) The mitochondrial energy transduction system and the aging process. Am J Physiol Cell Physiol 292:C670–C686

Navet R, Mouithys-Mickalad A, Douette P, Sluse-Goffart CM, Jarmuszkiewicz W, Sluse FE (2006) Proton leak induced by reactive oxygen species produced during in vitro anoxia/reoxygenation in rat skeletal muscle mitochondria. J Bioenerget Biomembr 38:23–32

Pardo Andreu GL, Delgado R, Núñez-Sellés AJ, Vercesi AE (2006) Dual mechanism of mangiferin protection against iron-induced damage to 2-deoxyribose and ascorbate oxidation. Pharmacol Res 53:253–260

Pardo Andreu GL, Cavalheiro RA, Naal Z, Vercesi AE, Curti C (2007) Fe(III) shifts the mitochondria permeability transition-eliciting capacity of mangiferin to organelle's protection. J Pharmacol Exp Ther 320:646–653

Pardo Andreu GL, Barrios MF, Curti C, Hernández I, Merino N, Lemus Y, Martinez I, Riaño A, Delgado R (2008) Protective effects of Mangifera indica L extract (Vimang), and its major component mangiferin, on iron-induced oxidative damage to rats serum and liver. Pharmacol Res 57:79–86

Pietrangelo A, Borella F, Casalgrandi G, Montosi G, Ceccarelli D, Gallesi D, Giovannini F, Masini A (1995) Antioxidant activity of silybin in vivo during long-term iron overload in rats. Gastroenterology 109:1941–1949

Reynafarje B, Costa LE, Lehninger ALJ (1985) O2 solubility in aqueous media determined by a kinetic method. Anal Biochem 145:406–418

Vatassery GT, DeMaster EG, Lai JCK, Smith WE, Quach HT (2004) Iron uncouples oxidative phosphorilation in brain mitochondria isolated from vitamin E-deficient rats. Biochim Biophys Acta 1688:265–273

Vidal-Puig AJ, Grujic D, Zhang CY, Hagen T, Boss O, Ido Y, Szczepanik A, Wade J, Mota V, Cortright R, Muoio DM, Lowell BB (2000) Energy metabolism in uncoupling protein 3 gene knockout mice. J Biol Chem 275:16258–16266
Acknowledgments
This work was partially supported by FAPESP, Brasil and by a postgraduate fellowship from the "Red de Macrouniversidades de América Latina y el Caribe". It is devoted to the memory of Dr. Rizette Ávila González.
About this article
Cite this article
Pardo Andreu, G.L., Inada, N.M., Vercesi, A.E. et al. Uncoupling and oxidative stress in liver mitochondria isolated from rats with acute iron overload. Arch Toxicol 83, 47 (2009). https://doi.org/10.1007/s00204-008-0322-x
Received:

Accepted:

Published:
Keywords
Iron overload

Mitochondria

Oxidative stress

Reactive oxygen species (ROS)

Uncoupling