Abstract
The production of alcoholic and non-alcoholic rosé wines using Saccharomyces cerevisiae var. boulardii probiotic yeast is described in this study for the first time. Before and after fermentation and distillation, the volatile acidity, lactic, and malic acid levels were evaluated for S. cerevisiae var. boulardii. These contents were compared to those obtained with a standard S. cerevisiae EC-1118 yeast. We measured the levels of gluconic acid and free amino nitrogen in the musts. After fermentation and distillation, yeast viability was assessed as a function of time (0, 15 days, 3 months, and 6 months), both at ambient temperature (25 ± 0.5 °C) and refrigerator temperature (4 ± 0.5 °C). The outcomes revealed that the rosé wine made with S. cerevisiae var. boulardii had the same values and preliminary sensory characteristics as other commercial wines made with S. cerevisiae EC-1118. The S. cerevisiae var. boulardii yeast successfully survived the high alcohol level produced during fermentation and vacuum distillation. The study also revealed that this unique rosé wine retains its probiotic viability for at least 6 months when stored at room temperature or in the refrigerator, making it a suitable candidate for large-scale production where long storage intervals are required by both producers and consumers.
Access options
Buy single article
Instant access to the full article PDF.
USD 39.95
Price excludes VAT (USA)
Tax calculation will be finalised during checkout.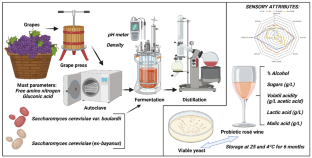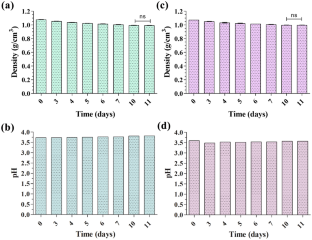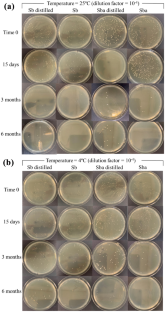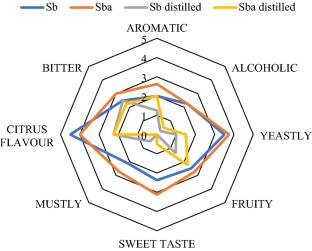 Data availability
All data generated or analyzed during this study are included in this published article.
References
Amerine M (2020) Wine-Fermentation. Britannica. https://www.britannica.com/topic/wine/Fermentation. Accessed 21 Jul 2022

Amerine MA, Kunker RE (1968) Micobiology of winemaking. Annu Rev Microbiol 22:323–358. https://doi.org/10.1146/annurev.mi.22.100168.001543

Berg R, Bernasconi P, Fowler D, Gautreaux M (1993) Inhibition of Candida albicans translocation from the gastrointestinal tract of mice by oral administration of Saccharomyces boulardii. J Infect Dis 168:1314–1318. https://doi.org/10.1093/infdis/168.5.1314

Boro N, Borah A, Sarma RL, Narzary D (2022) Beer production potentiality of some non-Saccharomyces yeast obtained from a traditional beer starter emao. Braz J Microbiol 53:1515–1531. https://doi.org/10.1007/s42770-022-00765-7

Burin VM, Gomes TM, Caliari V et al (2015) Establishment of influence the nitrogen content in musts and volatile profile of white wines associated to chemometric tools. Microchem J 122:20–28. https://doi.org/10.1016/j.microc.2015.03.011

Capece A, Romaniello R, Pietrafesa A et al (2018) Use of Saccharomyces cerevisiae var. boulardii in co-fermentations with S. cerevisiae for the production of craft beers with potential healthy value-added. Int J Food Microbiol 284:22–30. https://doi.org/10.1016/j.ijfoodmicro.2018.06.028

Castro-Muñoz R (2019) Pervaporation-based membrane processes for the production of non-alcoholic beverages. J Food Sci Technol 56:2333–2344

Cerpa-Calderón FK, Kennedy JA (2008) Berry integrity and extraction of skin and seed proanthocyanidins during red wine fermentation. J Agric Food Chem 56:9006–9014. https://doi.org/10.1021/jf801384v

Ciani M, Morales P, Comitini F et al (2016) Non-conventional yeast species for lowering ethanol content of wines. Front Microbiol 7:642

Czerucka D, Dahan S, Mograbi B et al (2000) Saccharomyces boulardii preserves the barrier function and modulates the signal transduction pathway induced in enteropathogenic Escherichia coli-infected T84 cells. Infect Immun 68:5998–6004. https://doi.org/10.1128/IAI.68.10.5998-6004.2000

Deed RC, Fedrizzi B, Gardner RC (2017) Influence of fermentation temperature, yeast strain, and grape juice on the aroma chemistry and sensory profile of sauvignon blanc wines. J Agric Food Chem 65:8902–8912. https://doi.org/10.1021/acs.jafc.7b03229

Dutraive O, Benito S, Fritsch S et al (2019) Effect of sequential inoculation with non-saccharomyces and saccharomyces yeasts on riesling wine chemical composition. Fermentation 5:79. https://doi.org/10.3390/fermentation5030079

Grangeteau C, Roullier-Gall C, Rousseaux S et al (2017) Wine microbiology is driven by vineyard and winery anthropogenic factors. Microb Biotechnol 10:354–370. https://doi.org/10.1111/1751-7915.12428

Jolly NP, Varela C, Pretorius IS (2014) Not your ordinary yeast: non-Saccharomyces yeasts in wine production uncovered. FEMS Yeast Res 14:215–237

Karen M, Yuksel O, Akyürek N et al (2010) Probiotic agent Saccharomyces boulardii reduces the incidenceof lung injury in acute necrotizing pancreatitis induced rats. J Surg Res 160:139–144. https://doi.org/10.1016/j.jss.2009.02.008

Khatri I, Tomar R, Ganesan K et al (2017) Complete genome sequence and comparative genomics of the probiotic yeast Saccharomyces boulardii. Sci Rep 7:371. https://doi.org/10.1038/s41598-017-00414-2

Khoo HE, Azlan A, Tang ST, Lim SM (2017) Anthocyanidins and anthocyanins: colored pigments as food, pharmaceutical ingredients, and the potential health benefits. Food Nutr Res 61:1361779

Martí M, Frígols B, Serrano-Aroca Á (2018) Antimicrobial characterization of advanced materials for bioengineering applications. J vis Exp. https://doi.org/10.3791/57710

Masneuf-Pomarède I, Bely M, Marullo P et al (2010) Reassessment of phenotypic traits for Saccharomyces bayanus var. uvarum wine yeast strains. Int J Food Microbiol 139:79–86. https://doi.org/10.1016/j.ijfoodmicro.2010.01.038

Mira de Orduña R (2010) Climate change associated effects on grape and wine quality and production. Food Res Int 43:1844–1855. https://doi.org/10.1016/j.foodres.2010.05.001

Mulero-Cerezo J, Briz-Redón Á, Serrano-Aroca Á (2019) Saccharomyces cerevisiae var. boulardii: valuable probiotic starter for craft beer production. Appl Sci. https://doi.org/10.3390/app9163250

Murat ML, Tominaga T, Saucier C et al (2003) Effect of anthocyanins on stability of a key odorous compound, 3-mercaptohexan-1-ol, in Bordeaux rosé wines. Am J Enol Vitic 54:135–138

Padilla B, Gil JV, Manzanares P (2016) Past and future of non-Saccharomyces yeasts: from spoilage microorganisms to biotechnological tools for improving wine aroma complexity. Front Microbiol 7:411

Ramírez-Cota GY, López-Villegas EO, Jiménez-Aparicio AR, Hernández-Sánchez H (2021) Modeling the ethanol tolerance of the probiotic yeast Saccharomyces cerevisiae var. boulardii CNCM I-745 for its possible use in a functional beer. Probiotics Antimicrob Proteins 13:187–194. https://doi.org/10.1007/s12602-020-09680-5

Samoticha J, Wojdyło A, Chmielewska J, Nofer J (2019) Effect of different yeast strains and temperature of fermentation on basic enological parameters, polyphenols and volatile compounds of aurore whitewine. Foods 8:599. https://doi.org/10.3390/foods8120599

Senkarcinova B, Graça Dias IA, Nespor J, Branyik T (2019) Probiotic alcohol-free beer made with Saccharomyces cerevisiae var. boulardii. LWT 100:362–367. https://doi.org/10.1016/J.LWT.2018.10.082

Surawicz CM, McFarland LV, Greenberg RN et al (2000) The search for a better treatment for recurrent clostridium difficile disease: use of high-dose vancomycin combined with Saccharomyces boulardii. Clin Infect Dis 31:1012–1017. https://doi.org/10.1086/318130

Takaya M, Matsumoto N, Yanase H (2002) Characterization of membrane bioreactor for dry wine production. J Biosci Bioeng 93:240–244. https://doi.org/10.1016/S1389-1723(02)80021-4

Vilela-Moura A, Schuller D, Mendes-Faia A et al (2011) The impact of acetate metabolism on yeast fermentative performance and wine quality: reduction of volatile acidity of grape musts and wines. Appl Microbiol Biotechnol 89:271–280
Funding
This research was funded by the Fundación Universidad Católica de Valencia San Vicente Mártir by means of Grant Nº 2020-231-006UCV.
Ethics declarations
Conflict of interest
The authors declare no competing interests.
Additional information
Communicated by Yusuf Akhter.
Publisher's Note
Springer Nature remains neutral with regard to jurisdictional claims in published maps and institutional affiliations.
Rights and permissions
Springer Nature or its licensor (e.g. a society or other partner) holds exclusive rights to this article under a publishing agreement with the author(s) or other rightsholder(s); author self-archiving of the accepted manuscript version of this article is solely governed by the terms of such publishing agreement and applicable law.
About this article
Cite this article
Mulero-Cerezo, J., Tuñón-Molina, A., Cano-Vicent, A. et al. Alcoholic and non-alcoholic rosé wines made with Saccharomyces cerevisiae var. boulardii probiotic yeast. Arch Microbiol 205, 201 (2023). https://doi.org/10.1007/s00203-023-03534-8
Received:

Revised:

Accepted:

Published:

DOI: https://doi.org/10.1007/s00203-023-03534-8
Keywords