Abstract
Honeybee products have been among important consumer products throughout history. Microbiota has attracted attention in recent years due to both their probiotic value and industrial potential. Fructophilic lactic acid bacteria (FLAB), whose field of study has been expanding rapidly in the last 20 years, are among the groups that can be isolated from the bee gut. This study aimed to isolate FLAB from the honeybees of two different geographic regions in Turkey and investigate their probiotic, metabolic and anti-quorum sensing (anti-QS) potential. Metabolic properties were investigated based on fructose toleration and acid and diacetyl production while the probiotic properties of the isolates were determined by examining pH, pepsin, pancreatin resistance, antimicrobial susceptibility, and antimicrobial activity. Anti-QS activities were also evaluated with the Chromobacterium violaceum biosensor strain. Two FLAB members were isolated and identified by the 16S rRNA analysis as Fructobacillus tropaeoli and Apilactobacillus kunkeei, which were found to be tolerant to high fructose, low pH, pepsin, pancreatin, and bile salt environments. Both isolates showed anti-QS activity against the C. violaceum biosensor strain and no diacetyl production. The daily supernatants of the isolates inhibited the growth of Enterococcus faecalis ATCC 29212 among the selected pathogens. The isolates were found resistant to kanamycin, streptomycin, erythromycin, and clindamycin. In the evaluation of the probiotic potential of these species, the negative effect of antibiotics and other chemicals to which honeybees are directly or indirectly exposed draws attention within the scope of the "One Health" approach.
Graphical abstract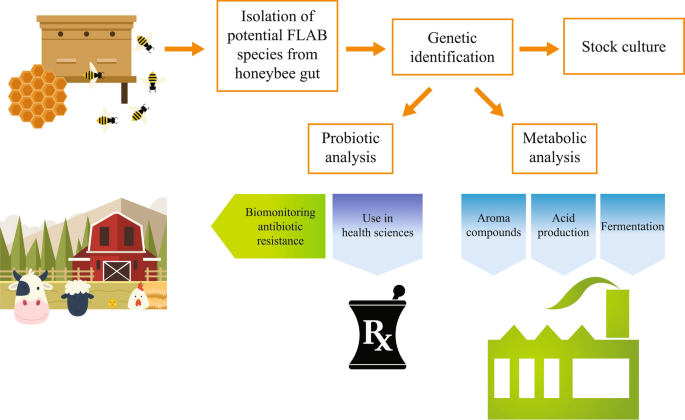 This is a preview of subscription content,
to check access.
Access this article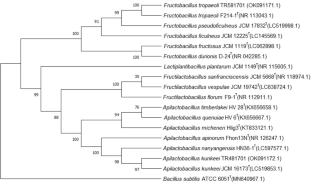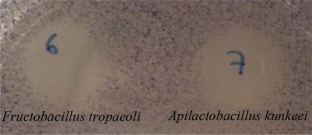 Data availability
The datasets generated during and/or analyzed during the current study are available from the corresponding author on reasonable request.
References
Basa B, Belay W, Tilahun A, Teshale A (2016) Review on medicinal value of honeybee products: apitherapy. Adv Biol Res 10(4):236–247. https://doi.org/10.5829/idosi.abr.2016.10.4.10529

Berríos P, Fuentes JA, Salas D, Carreño A, Aldea P, Fernández F, Trombert AN (2018) Inhibitory effect of biofilm-forming Lactobacillus kunkeei strains against virulent Pseudomonas aeruginosa in vitro and in honeycomb moth ( Galleria mellonella) infection model. Benef Microbes 9:257–268. https://doi.org/10.3920/BM2017.0048

Bonilla-Rosso G, Engel P (2018) Functional roles and metabolic niches in the honey bee gut microbiota. Curr Opin Microbiol 43:69–76

Borycka-Kiciak K, Banasiewicz T, Rydzewska G (2017) Butyric acid–a well-known molecule revisited. Przeglad gastroenterologiczny 12(2):83

Charteris WP, Kelly PM, Morelli L, Collins JK (1998) Development and application of an in vitro methodology to determine the transit tolerance of potentially probiotic Lactobacillus and Bifidobacterium species in the upper human gastrointestinal tract. J Appl Microbiol 84:759–768. https://doi.org/10.1046/j.1365-2672.1998.00407.x

Daisley BA, Chmiel JA, Pitek AP, Thompson GJ, Reid G (2020) Missing microbes in bees: how systematic depletion of key symbionts erodes immunity. Trends Microbiol 28:1010–1021. https://doi.org/10.1016/j.tim.2020.06.006

De Baere S, Eeckhaut V, Steppe M, De Maesschalck C, De Backer P, Van Immerseel F, Croubels S (2013) Development of a HPLC–UV method for the quantitative determination of four short-chain fatty acids and lactic acid produced by intestinal bacteria during in vitro fermentation. J Pharmaceut Biomed 80:107–115. https://doi.org/10.1016/j.jpba.2013.02.032

Del Re B, Sgorbati B, Miglioli M, Palenzona D (2000) Adhesion, autoaggregation and hydrophobicity of 13 strains of Bifidobacterium longum. Lett Appl Microbiol 31(6):438–42. https://doi.org/10.1046/j.1365-2672.2000.00845.x

Ebrahimi M, Sadeghi A, Rahimi D, Purabdolah H, Shahryari S (2021) Postbiotic and anti-aflatoxigenic capabilities of Lactobacillus kunkeei as the potential probiotic lab isolated from the natural honey. Probiotics Antimicrob Proteins 13:343–355. https://doi.org/10.1007/s12602-020-09697-w

Edwards CG, Haag KM, Collins MD (1998) Identification and characterization of two lactic acid bacteria associated with sluggish/stuck fermentations. Am J Enol Vitic 49:445–448

Endo A, Salminen S (2013) Honeybees and beehives are rich sources for fructophilic lactic acid bacteria. Syst Appl Microbiol 36:444–448. https://doi.org/10.1016/j.syapm.2013.06.002

Endo A, Irisawa T, Futagawa-Endo Y, Sonomoto K, Itoh K, Takano K et al (2011) Fructobacillus tropaeoli sp. nov., a fructophilic lactic acid bacterium isolated from a flower. Int J Syst Evol Microbiol 61:898–902. https://doi.org/10.1099/ijs.0.023838-0

Endo A, Irisawa T, Futagawa-Endo Y, Takano K, Du Toit M, Okada S, Dicks LMT (2012) Characterization and emended description of lactobacillus kunkeei as a fructophilic lactic acid bacterium. Int J Syst Evol Microbiol 62:500–504. https://doi.org/10.1099/ijs.0.031054-0

Endo A, Maeno S, Tanizawa Y, Kneifel W, Arita M, Dicks L, Salminen S (2018) Fructophilic lactic acid bacteria, a unique group of fructose-fermenting microbes. Appl Environ Microbiol 84:1–14. https://doi.org/10.1128/AEM.01290-18

Erdönmez D, Rad AY, Aksöz N (2018) Anti-quorum sensing potential of antioxidant quercetin and resveratrol. Brazilian Arch Biol Technol 61:1–9. https://doi.org/10.1590/1678-4324-2017160756

Filannino P, di Cagno R, Addante R, Pontonio E, Gobbetti M (2016) Metabolism of fructophilic lactic acid bacteria isolated from the Apis mellifera L. bee gut: Phenolic acids as external electron acceptors. Appl Environ Microbiol 82:6899–6911. https://doi.org/10.1128/AEM.02194-16

Filannino P, Di Cagno R, Tlais AZA, Cantatore V, Gobbetti M (2019) Fructose-rich niches traced the evolution of lactic acid bacteria toward fructophilic species. Crit Rev Microbiol 45:65–81. https://doi.org/10.1080/1040841X.2018.1543649

Girotti S, Ghini S, Ferri E, Bolelli L, Colombo R, Serra G et al (2020) Bioindicators and biomonitoring: honeybees and hive products as pollution impact assessment tools for the Mediterranean area. Euro-Mediterranean J Environ Integr 5:1–16. https://doi.org/10.1007/s41207-020-00204-9

Haga A, Isoe M, Yamaki A, Kimura Y (2021) Fermented product and production method therefor. US 2021(10,933,101):B2

ICH (2014) CPMP/ICH/381/95 - ICH harmonised tripartite guideline - Validation of Analytical Procedures: Text and Methodology Q2(R1). https://www.ema.europa.eu/en/ich-q2r2-validation-analytical-procedures#document-history---revision-1-section

King N (1948) A modification of the Voges-Proskauer test for rapid colorimetric determination of acetylmethylcarbinol plus diacetyl in the butter cultures. Dairy Indust 13(9):860–878

Kumar S, Stecher G, Li M, Knyaz C, Tamura K (2018) MEGA X: Molecular evolutionary genetics analysis across computing platforms. Mol. Biol. Evol 35:1547–1549. https://doi.org/10.1093/molbev/msy096

Lima ET, Andreatti Filho RL, Okamoto AS, Noujaim JC, Barros MR, Crocci AJ (2007) Evaluation in vitro of the antagonistic substances produced by Lactobacillus spp. isolated from chickens. Can J Vet Res 71:103–107

Maeno S, Tanizawa Y, Kanesaki Y, Kubota E, Kumar H, Dicks L et al (2016) Genomic characterization of a fructophilic bee symbiont Lactobacillus kunkeei reveals its niche-specific adaptation. Syst Appl Microbiol 39:516–526. https://doi.org/10.1016/j.syapm.2016.09.006

Maeno S, Nishimura H, Tanizawa Y, Dicks L, Arita M, Endo A (2021) Unique niche-specific adaptation of fructophilic lactic acid bacteria and proposal of three Apilactobacillus species as novel members of the group. BMC Microbiol 21:1–14. https://doi.org/10.1186/s12866-021-02101-9

Mahefarisoa KL, Simon Delso N, Zaninotto V, Colin ME, Bonmatin JM (2021) The threat of veterinary medicinal products and biocides on pollinators: a One Health perspective. One Heal. https://doi.org/10.1016/j.onehlt.2021.100237

Maragkoudakis PA, Zoumpopoulou G, Miaris C, Kalantzopoulos G, Pot B, Tsakalidou E (2006) Probiotic potential of Lactobacillus strains isolated from dairy products. Int Dairy J 16(3):189–199. https://doi.org/10.1016/j.idairyj.2005.02.009

Martínez FG, Moreno-Martin G, Pescuma M, Madrid-Albarrán Y, Mozzi F (2020) Biotransformation of selenium by lactic acid bacteria: formation of seleno-nanoparticles and seleno-amino acids. Front Bioeng Biotechnol 8:1–17. https://doi.org/10.3389/fbioe.2020.00506

Matsuura D, Asama T, Motoki H, Tatefuji T, Hashimoto K (2014) Novel lactic acid bacterium having Iga production promoting activity and use thereof. US 2014(0363880):A1

Neveling DP, Endo A, Dicks LMT (2012) Fructophilic Lactobacillus kunkeei and Lactobacillus brevis isolated from fresh flowers, bees and bee-hives. Curr Microbiol 65:507–515. https://doi.org/10.1007/s00284-012-0186-4

Olofsson T, Vasquez A (2016) Bacteria isolated from fresh honey or the honey producing tract of honey bees. US 2016(9.282,761):B2

Pachla A, Wicha M, Ptaszyńska AA, Borsuk G, Trokenheim ŁŁ, Małek W (2018) The molecular and phenotypic characterization of fructophilic lactic acid bacteria isolated from the guts of Apis mellifera L. derived from a Polish apiary. J Appl Genet 59:503–514. https://doi.org/10.1007/s13353-018-0467-0

Piva S, Giacometti F, Marti E, Massella E, Cabbri R, Galuppi R, Serraino A (2020) Could honey bees signal the spread of antimicrobial resistance in the environment? Lett Appl Microbiol 70:349–355. https://doi.org/10.1111/lam.13288

Quigley TP, Amdam GV, Harwood GH (2019) Honey bees as bioindicators of changing global agricultural landscapes. Curr Opin Insect Sci 35:132–137. https://doi.org/10.1016/j.cois.2019.08.012

Reif JS (2011) Animal sentinels for environmental and public health. Public Health Rep 126:50–57. https://doi.org/10.1177/00333549111260S108

Ruiz Rodríguez LG, Aller K, Bru E, De Vuyst L, Hébert EM, Mozzi F (2017) Enhanced mannitol biosynthesis by the fruit origin strain Fructobacillus tropaeoli CRL 2034. Appl Microbiol Biotechnol 101:6165–6177. https://doi.org/10.1007/s00253-017-8395-1

Ruiz Rodríguez LG, Mohamed F, Bleckwedel J, Terán LC, Hébert EM, Mozzi F, Raya RR (2020) Exploring the genome of Fructobacillus tropaeoli CRL 2034, a fig-origin strain that produces high levels of mannitol from fructose. Curr Microbiol 77:2215–2225. https://doi.org/10.1007/s00284-020-02102-3

Rychen G, Aquilina G, Azimonti G, Bampidis V, de Bastos M, L, Bories G, et al (2018) Guidance on the characterisation of microorganisms used as feed additives or as production organisms. EFSA J 16:1–24. https://doi.org/10.2903/j.efsa.2018.5206

Sakandar HA, Kubow S, Sadiq FA (2019) Isolation and in-vitro probiotic characterization of fructophilic lactic acid bacteria from Chinese fruits and flowers. LWT 104:70–75. https://doi.org/10.1016/j.lwt.2019.01.038

Snauwaert I, Papalexandratou Z, De Vuyst L, Vandamme P (2013) Characterization of strains of Weissella fabalis sp. nov. and Fructobacillus tropaeoli from spontaneous cocoa bean fermentations. Int J Syst Evol Microbiol 63:1709–1716. https://doi.org/10.1099/ijs.0.040311-0

Sornplang P, Piyadeatsoontorn S (2016) Probiotic isolates from unconventional sources: a review. J Anim Sci Technol 58:1–11. https://doi.org/10.1186/s40781-016-0108-2

Sugiyama K, Iijima K, Yoshino M, Dohra H, Tokimoto Y, Nishikawa K et al (2021) Nicotinamide mononucleotide production by fructophilic lactic acid bacteria. Sci Rep 11:1–8. https://doi.org/10.1038/s41598-021-87361-1

Tamura K, Nei M (1993) Estimation of the number of nucleotide substitutions in the control region of mitochondrial DNA in humans and chimpanzees. Mol Biol Evol 10:512–526

The European Committee on Antimicrobial Susceptibility Testing. Breakpoint tables for interpretation of MICs and zone diameters. Version 11.0, 2021. http://www.eucast.org.

Uğraş S (2017) Isolation, identification and characterization of probiotic properties of bacterium from the honey stomachs of Yigilca honeybees in Turkey. Turkish J Entomol 41(3):253–261. https://doi.org/10.16970/ted.74860

Vasileva T, Bivolarski V, Michailova G, Salim A, Rabadjiev Y, Ivanova I, Iliev I (2017) Glucansucrases produced by fructophilic lactic acid bacteria Lactobacillus kunkeei H3 and H25 isolated from honeybees. J Basic Microbiol 57:68–77. https://doi.org/10.1002/jobm.201600332

Vergalito F, Testa B, Cozzolino A, Letizia F, Succi M, Lombardi SJ et al (2020) Potential application of Apilactobacillus kunkeei for human use: evaluation of probiotic and functional properties. Foods 9(11):1535. https://doi.org/10.3390/foods9111535

World Health Organization (WHO), World Organisation for Animal Heath (OIE) & Food and Agriculture Organization of the United Nations (FAO) (2019) Taking a multisectoral, one Health approach: a tripartite guide to addressing zoonotic diseases in countries. WHO, Geneva, Switzerland; OIE, Paris, France; FAO, Rome, Italy, p 166. https://www.who.int/publications/i/item/9789241514934. Accessed 1 July 2019

Zhang D, Hu H, Rao Q, Zhao Z (2011) Synergistic effects and physiological responses of selected bacterial isolates from animal feed to four natural antimicrobials and two antibiotics. Foodborne Pathog Dis 8(10):1055–1062. https://doi.org/10.1089/fpd.2010.0817

Zheng J, Wittouck S, Salvetti E, Franz CMAP, Harris HMB, Mattarelli P et al (2020) A taxonomic note on the genus Lactobacillus: Description of 23 novel genera, emended description of the genus Lactobacillus beijerinck 1901, and union of Lactobacillaceae and Leuconostocaceae. Int J Syst Evol Microbiol 70:2782–2858. https://doi.org/10.1099/ijsem.0.004107
Funding
The authors declare that no funds, grants, or other financial support were received for this study.
Ethics declarations
Competing interests
The authors have no relevant financial or non-financial interest to disclose.
Additional information
Communicated by Erko Stackebrandt.
Publisher's Note
Springer Nature remains neutral with regard to jurisdictional claims in published maps and institutional affiliations.
Supplementary Information
Below is the link to the electronic supplementary material.
About this article
Cite this article
Simsek, D., Kiymaci, M.E., Tok, K.C. et al. Investigation of the probiotic and metabolic potential of Fructobacillus tropaeoli and Apilactobacillus kunkeei from apiaries. Arch Microbiol 204, 432 (2022). https://doi.org/10.1007/s00203-022-03000-x
Received:

Revised:

Accepted:

Published:

DOI: https://doi.org/10.1007/s00203-022-03000-x
Keywords