Abstract
In the process of studying the diversity of Xylariales in China, three species owning characteristics of Graphostromataceae were observed in China. Morphology of the described species with illustrations and their phylogeny based on regions of internal transcribed spacers (ITS), the second-largest subunit of the RNA polymerase II (RPB2), β-tubulin (TUB2) and α-actin (ACT) are provided. Two new species and one new record from China are identified. Morphologically, Biscogniauxia glaucae sp. nov. differs from B. atropunctata var. maritima, B. citriformis var. macrospora, B. fuscella and B. mediterranea by its stromata with raised margins, clear outlines, punctate ostioles openings and ascospores which are equilateral with broadly rounded ends, a straight spore-length germ slit on the more concave side, lacking appendages and sheathes. Graphostroma guizhouensis is identified as a new species based on the multi-gene phylogenetic tree. Camillea broomeana with scanning electron microscope description of ascospores is illustrated as a new record from China. Cryptostroma is proposed in Graphostromataceae based on molecular data. Vivantia is accepted in Graphostromataceae based on its morphological characteristics and Nodulisporiurn anamorphs which are similar to those of Biscogniauxia.
Access options
Buy single article
Instant access to the full article PDF.
US$ 39.95
Tax calculation will be finalised during checkout.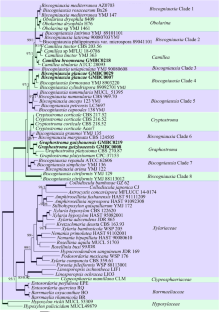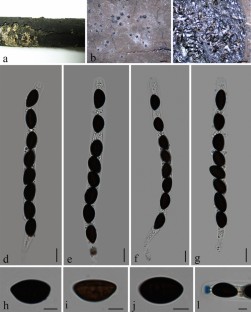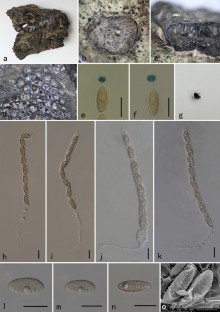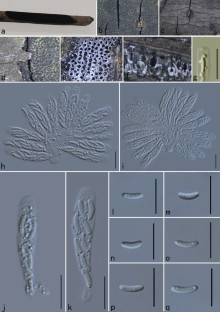 References
Ariyawansa H, Hyde DK, Jayasiri S, Buyck B, Thilini Chethana KW, Dai DQ, Dai YC, Daranagama DA, Jayawardena RS, Lücking R, Ghobad-Nejhad M et al (2015) Fungal diversity notes 111–252—taxonomic and phylogenetic contributions to fungal taxa. Fungal Divers 75(1):27–274. https://doi.org/10.1007/s13225-015-0346-5

Barr ME, Rogers JD, Ju YM (1993) Revisionary studies in the calosphaeriales. Mycotaxon 48:529–535

Bills GF, Victor GM, Jesús M, Gonzalo P, Jacques F, Derek P, Stadler M, Maria-Jose F (2012) Hypoxylon pulicicidum sp. nov. (Ascomycota, Xylariales), a pantropical insecticide-producing endophyte. Plos One 7(10):e46687. https://doi.org/10.1371/journal.pone.0046687

Carbone I, Kohn LM (1999) A method for designing primer sets for speciation studies in filamentous ascomycetes. Mycologia 91:553–556. https://doi.org/10.2307/3761358

Chomnunti P, Hongsanan S, Aguirre-Hudson B, Tian Q, Peršoh D, Dhami MK, Alisa AS, Xu JC, Liu XZ, Stadler M, Hyde KD (2014) The sooty moulds. Fungal Divers 66:1–36. https://doi.org/10.1007/s13225-014-0278-5

Crous PW, Wingfield MJ, Schumacher RK, Akulov A, Bulgakov TS, Carnegie AJ, Jurjević Ž, Decock C, Denman S et al (2020) New and Interesting Fungi. 3. Fungal Syst Evol 6(1):157–231. https://doi.org/10.3114/fuse.2020.06.09

Daranagama DA, Camporesi E, Tian Q, Liu XZ, Chamyuang S, Stadler M, Hyde KD (2015) Anthostomella is polyphyletic comprising several genera in Xylariaceae. Fungal Divers 73(1):203–238. https://doi.org/10.1007/s13225-015-0329-6

Daranagama DA, Hyde KD, Sir EB, Thambugala K, Tian Q, Samarakoon MC, Mckenzie E, Jayasiri SC, Tibpromma S, Bhat DJ, Liu XZ, Stadler M (2018) Towards a natural classification and backbone tree for Graphostromataceae, Hypoxylaceae, Lopadostomataceae and Xylariaceae. Fungal Divers 88:1–165. https://doi.org/10.1007/s13225-017-0388-y

Fries EM (1849) Summa vegetabilium scandinaviae. Part 2. Stockholm & Leipzig, Bonnier

Gardes M, Bruns TD (1993) ITS primers with enhanced specificity for basidiomycetes—application to the identification of mycorrhizae and rusts. Mol Ecol 2:113–118. https://doi.org/10.1111/j1365-294X1993tb00005x

Glass NL, Donaldson GC (1995) Development of primer sets designed for use with the PCR to amplify conserved genes from filamentous ascomycetes. Appl Environ Microbiol 61:1323–1330

Gregory PH, Waller S (1951) Cryptostroma corticale and sooty bark disease of sycamore (Acer pseudoplatanus). Trans Br Mycol Soc 34:579

Hall TA (1999) BioEdit: a user-friendly biological sequence alignment editor and analysis program for Windows 95/98/NT. Nucleic Acids Symp Ser 41:95–98

Hsieh HM, Lin CR, Fang MJ, Rogers JD, Fournier J, Lechat C, Ju YM (2010) Phylogenetic status of Xylaria subgenus Pseudoxylaria among taxa of the subfamily Xylarioideae (Xylariaceae) and phylogeny of the taxa involved in the subfamily. Mol Phylogenet Evol 54:957–969. https://doi.org/10.1016/jympev200912015

Jaklitsch WM, Gardiennet VH (2016) Resolution of morphology-based taxonomic delusions: Acrocordiella, Basiseptospora, Blogiascospora, Clypeosphaeria, Hymenopleella, Lepteutypa, Pseudapiospora, Requienella, Seiridium and Strickeria. Persoonia 37:82–105. https://doi.org/10.3767/003158516X690475

Jaklitsch WM, Voglmayr H (2012) Phylogenetic relationships of five genera of Xylariales and Rosasphaeria gen. nov. (Hypocreales). Fungal Divers 52(1):75–98. https://doi.org/10.1007/s13225-011-0104-2

Jeewon R, Hyde KD (2016) Establishing species boundaries and new taxa among fungi: recommendations to resolve taxonomic ambiguities. Mycosphere 7(11):1669–1677. https://doi.org/10.5943/mycosphere/7/11/4

Ju YM, Rogers JD (2001) New and interesting Biscogniauxia taxa, with a key to the world species. Mycol Res 105:1123–1133. https://doi.org/10.1016/s0953-7562(08)61976-0

Ju YM, Rogers JD, San Martín F, Granmoi A (1998) The genus Biscogniauxia. Mycotaxon 66:1–98

Koukol O, Kelnarová I, Černý K (2015) Recent observations of sooty bark disease of sycamore maple in P rague (C zech R epublic) and the phylogenetic placement of Cryptostroma corticale. Forest Pathol 45:21–27. https://doi.org/10.1111/efp.12129

Kuhnert E, Fournier J, Peršoh D, Luangsa-ard JJD, Stadler M (2013) New Hypoxylon species from Martinique and new evidence on the molecular phylogeny of Hypoxylon based on ITS rDNA and β-tubulin data. Fungal Divers 64:181–203. https://doi.org/10.1007/s13225-013-0264-3

Kuo WH, Chen CY, Kuo CH, Goh TK (2018) Some ascomycetes from the alishan national scenic area, Chiayi County. Taiwan Nova Hedwigia 107:531–542. https://doi.org/10.1127/nova_hedwigia/2018/0490

Læssøe T, Rogers JD, Whalley AJS (1989) Camillea, Jongiella and light spored species of Hypoxylon. Mycol Res 93(2):121–155. https://doi.org/10.1016/S0953-7562(89)80111-X

Læssøe T, Scheuer S, Granmoi A (1999) Biscogniauxia granmoi (Xylariaceae) in Europe. Östen z Pilzk 8:139–147

Li QR, Wen TC, Kang JC, Hyde KD (2015) A new species of Collodiscula (Xylariaceae) from China. Phytotaxa 205:187–196. https://doi.org/10.11646/phytotaxa.205.3.6

Liu YL, Whelen S, Hall BD (1999) Phylogenetic relationships among ascomycetes: evidence from an RNA polymerase II subunit. Mol Biol Evol 16:1799–1808. https://doi.org/10.1093/oxfordjournalsmolbeva026092

Liu LL, Long QD, Kang JC, Zhang X, Hyde KD, Shen XC, Li QR (2018) Morphology, and phylogeny of Mycopepon. Mycosphere 9:779–789. https://doi.org/10.5943/mycosphere/9/4/6

Ma XY, Nontachaiyapoom S, Hyde KD, Jeewon R, Doilom M, Chomnunti P, Kang JC (2020) Biscogniauxia dendrobii sp. nov. and B. petrensis from Dendrobium orchids and the first report of cytotoxicity (towards A549 and K562) of B. petrensis (MFLUCC 14–0151) in vitro. S Afr J Bot 134:382–393. https://doi.org/10.1016/j.sajb.2020.06.022

Malysheva EF, Malysheva VF, Kovalenko AE, Gromyko MN, Pimenova EA (2012) The participation of Biscogniauxia maritima (Xylariaceae, Ascomycota) in oak dieback revealed in the Sikhote-Alinsky Nature Reserve. Mikol Fitopatol 46:217–225

Mirabolfathy M, Ju YM, Hsieh HM, Roger JD (2013) Obolarina persica sp nov, associated with dying Quercus in Iran. Mycoscience 54:315–320. https://doi.org/10.1093/sysbio/sys029

Montagne JFC (1855) Cryptogamia guyanensis. Ann Sci Nat 4 Ser Bot 3:91–144

Pažoutová S, Šrůtka P, Holuša J, Chudíčková M, Kolařík M (2010) The phylogenetic position of Obolarina dryophila (Xylariales). Mycol Prog 9:501–507. https://doi.org/10.1007/s11557-010-0658-5

Pirozynski KA (1974) Xenotypa Petrak and Graphostroma gen. nov. segregates from Diatrypaceae. Can J Bot 52:2129–2135

Pouzar Z (1979) Notes on taxonomy and nomenclature of Nummularia (Pyrenomycetes). Czech Mycol 33:207–219

Pouzar Z (1986) A key and conspectus of central European species of Biscogniauxia and Obalarina (Pyrenomycetes). Czech Mycol 40:11

Raimondo ML, Lops F, Carlucci A (2016) Charcoal canker of pear, plum, and quince trees caused by Biscogniauxia rosacearum sp nov in Southern Italy. Plant Dis 100:1813–1822. https://doi.org/10.1094/PDIS-09-15-1037-RE

Rannala B, Yang Z (1996) Probability distribution of molecular evolutionary trees: a new method of phylogenetic inference. J Mol Evol 43:304–311. https://doi.org/10.1007/BF02338839

Rogers JD, Ju YM, Candoussau F (1996) Biscogniauxia anceps comb. nov. and Vivantia guadalupensis gen. et sp. nov. Mycol Res 100:669–674. https://doi.org/10.1016/S0953-7562(96)80196-1

Ronquist F, Teslenko M, van der Mark P, Ayres DL, Darling A, Höhna S, Larget B, Liu L, Suchard MA, Huelsenbeck J (2012) MrBayes 32: efficient Bayesian phylogenetic inference and model choice across a large model space. Syst Biol 61:539–542. https://doi.org/10.1093/sysbio/sys029

Senanayake IC, Maharachchikumbura SSN, Hyde KD, Bhat JD, Jones EBG, McKenzie EHC, Dai DQ, Daranagama DA et al (2015) Towards unraveling relationships in Xylariomycetidae (Sordariomycetes). Fungal Divers 73:73–144. https://doi.org/10.1007/s13225-015-0340-y

Smith GJ, Liew ECY, Hyde KD (2003) The Xylariales: a monophyletic order containing 7 families. Fungal Divers 13:175–208

Stadler M, Kuhnert E, Peroh D, Fournier J (2013) The Xylariaceae as model example for a unified nomenclature following the "One Fungus-One Name" (1F1N) concept. Mycology 4(1):5–21. https://doi.org/10.1080/21501203.2013.782478

Stamatakis A, Hoover P, Rougemont J (2008) A rapid bootstrap algorithm for the RAxML web servers. Syst Biol 75:758–771. https://doi.org/10.1080/10635150802429642

Tulasne LR, Tulasne C (1863) Selecta fungorum. Carpologia 2:363

U'Ren JM, Miadlikowska J, Zimmerman NB, Lutzoni F (2016) Contributions of North American endophytes to the phylogeny, ecology, and taxonomy of Xylariaceae (Sordariomycetes, Ascomycota). Mol Phylogenet Evol 98:210–232. https://doi.org/10.1016/j.ympev.2016.02.010

Vasilyeva LN, Stephenson SL, Miller AN (2007) Pyrenomycetes of the great smoky mountains national park IV Biscogniauxia, Camaropella, Camarops, Camillea, Peridoxylon and Whalleya. Fungal Divers 25:219–231

Vasilyeva L, Li Y, Stephenson S (2009) Some pyrenomycetous fungi new to China. Mycotaxon 109:415–428. https://doi.org/10.5248/109415

Voglmayr H, Beenken L (2020) Linosporopsis, a new leaf-inhabiting scolecosporous genus in Xylariaceae. Mycol Prog 19(3):205–222. https://doi.org/10.1007/s11557-020-01559-7

Voglmayr H, Friebes G, Gardiennet A, Jaklitsch WM (2018) Barrmaelia and Entosordaria in Barrmaeliaceae (fam. nov. Xylariales) and critical notes on Anthostomella -like genera based on multigene phylogenies. Mycol Prog 17:155–177. https://doi.org/10.1007/s11557-017-1329-6

Vu D, Groenewald M, De Vries M, Gehrmann T, Stielow B, Eberhardt U, Al-Hatmi A, Groenewald JZ, Cardinali G, Houbraken J, Boekhout T, Crous PW, Robert V, Verkley GJM (2019) Large-scale generation and analysis of filamentous fungal DNA barcodes boosts coverage for kingdom fungi and reveals thresholds for fungal species and higher taxon delimitation. Stud Mycol 92:135–154. https://doi.org/10.1016/jsimyco201805001

Wendt L, Sir EB, Kuhnert E, Heitkämper S, Lambert C, Hladki AI, Romero AI, Luangsa-ard JJ, Srikitikulchai P, Peršoh D, Stadler M (2018) Resurrection and emendation of the Hypoxylaceae, recognised from a multigene phylogeny of the Xylariales. Mycol Prog 17:115–154. https://doi.org/10.1007/s11557-017-1311-3

White TJ, Bruns T, Lee S, Taylor JW (1990) Amplification and direct sequencing of fungal ribosomal RNA genes for phylogenetics PCR protocols: a guide to methods and applications. Academic Press, San Diego, California, pp 315–322

Wijayawardene NN, Hyde KD, Al-Ani LKT, Tedersoo L, Haelewaters D, Rajeshkumar KC, Zhao RL, Aptroot A et al (2020) Outline of Fungi and fungi-like taxa. Mycosphere 11:1060–1456. https://doi.org/10.5943/mycosphere/11/1/8

Zhang ZF, Liu F, Zhou X, Liu XZ, Liu SJ, Cai L (2017) Culturable mycobiota from Karst caves in China, with descriptions of 20 new species. Persoonia 39:1–31. https://doi.org/10.3767/persoonia20173901
Acknowledgements
This research was supported by the National Natural Science Foundation of China (31960005 and 32000009); the Fund of the Science and Technology Foundation of Guizhou Province ([2020]1Y059); Guizhou Province Ordinary Colleges and Universities Youth Science and Technology Talent Growth Project [2021]154; the Fund of Special Project of Academic New Seedling Cultivation and Innovation Exploration in Guizhou Medical University [2018]5779-64; International Science and Technology Cooperation Base of Guizhou Province ([2020]4101); Guizhou Scientific Plan Project ([2020]4Y220); the Open Fund Program of Engineering Research Center of Southwest Bio-Pharmaceutical Resources, Ministry of Education, Guizhou University No. GZUKEY201606.
Additional information
Publisher's Note
Springer Nature remains neutral with regard to jurisdictional claims in published maps and institutional affiliations.
Communicated by Erko Stackebrandt.
Supplementary Information
Below is the link to the electronic supplementary material.
About this article
Cite this article
Li, Q., Gong, X., Zhang, X. et al. Phylogeny of Graphostromatacea with two new species (Biscogniauxia glaucae sp. nov. and Graphostroma guizhouensis sp. nov.) and new record of Camillea broomeana isolated in China. Arch Microbiol (2021). https://doi.org/10.1007/s00203-021-02574-2
Received:

Revised:

Accepted:

Published:
Keywords
Two new species

Ascomycota

Polyphasic approach

Taxonomy