Abstract
Bifidobacterium longum NCIM 5672 is a probiotic strain isolated from the Indian infant feces. The probiotic efficacy of Bifidobacteria is majorly affected by its acid tolerance. This study determined the probiotic properties and acid-tolerance mechanism of B. longum NCIM 5672 using whole-genome sequencing. The genome annotation is carried out using the RAST web server and NCBI PGAAP. The draft genome sequence of this strain, assembled in 63 contigs, consists of 22,46,978 base pairs, 1900 coding sequences and a GC content of 59.6%. The genome annotation revealed that seven candidate genes might be involved in regulating the acid tolerance of B. longum NCIM 5672. Furthermore, the presence of genes associated with immunomodulation and cell adhesion support the probiotic background of the strain. The analysis of candidate acid- tolerance-associated genes revealed three genes, argC, argH, and dapA, may play an essential role in high acid tolerance in B. longum NCIM 5672. The results of RT-qPCR supported this conclusion. Altogether, the results presented here supply an effective way to select acid-resistant strains for the food industry and provide new strategies to enhance this species' industrial applications and health-promoting properties.
Access options
Buy single article
Instant access to the full article PDF.
USD 39.95
Price includes VAT (USA)
Tax calculation will be finalised during checkout.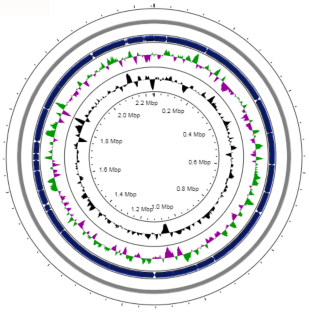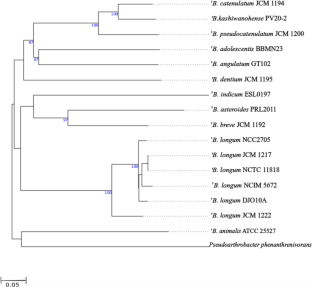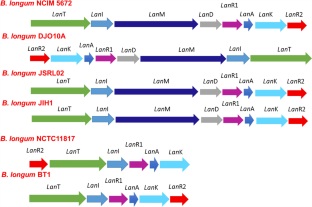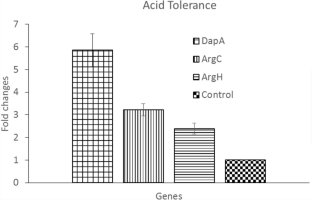 Data availability and material
B. longum NCIM 5672 is patently stored in the National Collection of Industrial Microorganism, Pune, India. The datasets supporting the results of this article are included in the article. The whole-genome sequence of the strain is submitted to Genbank with (primary) accession 'VICA00000000'. Requests to access strains shown in this manuscript should be directed to Dr. Prakash Halami (prakashalami@cftri.res.in).
References:
Achi SC, Halami PM (2019) In vitro comparative analysis of probiotic and functional attributes of indigenous isolates of bifidobacteria. Curr Microbiol 76:304–311. https://doi.org/10.1007/s00284-018-1615-9

Alikhan N-F, Petty NK, Ben Zakour NL, Beatson SA (2011) BLAST ring image generator (BRIG): simple prokaryote genome comparisons. BMC Genomics 12:402. https://doi.org/10.1186/1471-2164-12-402

Aziz RK, Bartels D, Best AA et al (2008) The RAST Server: rapid annotations using subsystems technology. BMC Genomics 9:75. https://doi.org/10.1186/1471-2164-9-75

Baker LMS, Poole LB (2003) Catalytic mechanism of thiol peroxidase from Escherichia coli: sulfenic acid formation and over oxidation of essential cys61. J Biol Chem 278:9203–9211. https://doi.org/10.1074/jbc.M209888200

Barrangou R, Briczinski EP, Traeger LL et al (2009) Comparison of the complete genome sequences of Bifidobacterium animalis subsp. lactis DSM 10140 and bl-04. J Bacteriol. https://doi.org/10.1128/JB.00155-09

Call EK, Klaenhammer TR (2013) Relevance and application of sortase and sortase-dependent proteins in lactic acid bacteria. Front Microbiol. https://doi.org/10.3389/fmicb.2013.00073

Cotter PD, Hill C (2003) Surviving the acid test: responses of gram-positive bacteria to low pH. Microbiol Mol Biol Rev 67(3):429. https://doi.org/10.1128/mmbr.37.3.429-453.2003

de Moreno MA, Levit R, Savoy G, LeBlanc JGJ (2018) Vitamin producing lactic acid bacteria as complementary treatments for intestinal inflammation. Antiinflamm Antiallergy Agents Med Chem 17(1):50–56

Dischinger J, Wiedemann I, Bierbaum G, Sahl H-G (2013) Lantibiotics Handbook of biologically active peptides. Elsevier

Esaiassen E, Hjerde E, Cavanagh JP, Simonsen GS et al (2017) Bifidobacterium bacteremia: clinical characteristics and a genomic approach to assess pathogenicity. J Clin Microbiol 55(7):2234–2248. https://doi.org/10.1128/JCM.00150-17

Galdeano MC, Cazorla SI, Lemme Dumit JM et al (2019) Beneficial effects of probiotic consumption on the immune system. Ann Nutr Metab 74:115–124. https://doi.org/10.1159/000496426

Guindon S, Dufayard J-F, Lefort V et al (2010) New algorithms and methods to estimate maximum-likelihood phylogenies: assessing the performance of PhyML 3.0. Syst Biol 59:307–321. https://doi.org/10.1093/sysbio/syq010

Guo Q, Li S, Xie Y et al (2017) The NAD + -dependent deacetylase, Bifidobacterium longum Sir2 in response to oxidative stress by deacetylating SigH (σH) and FOXO3a in Bifidobacterium longum and HEK293T cell respectively. Free Radic Biol and Med 108:929–939. https://doi.org/10.1016/j.freeradbiomed.2017.05.012

Hao Y, Huang D, Guo H et al (2011) Complete genome sequence of Bifidobacterium longum subsp. longum BBMN68, a new strain from a healthy chinese centenarian. J Bacteriol 193:787–788. https://doi.org/10.1128/JB.01213-10

Huang R, Pan M, Wan C et al (2016) Physiological and transcriptional responses and cross protection of Lactobacillus plantarum ZDY2013 under acid stress. J Dairy Sci 99(2):1002–1010. https://doi.org/10.3168/jds.2015-9993

Hymes JP, Klaenhammer TR (2016) Stuck in the middle: fibronectin-binding proteins in gram-positive bacteria. Front Microbiol. https://doi.org/10.3389/fmicb.2016.01504

Joyce SA, Gahan CGM (2016) Bile acid modifications at the microbe-host interface: potential for nutraceutical and pharmaceutical interventions in host health. Annu Rev Food Sci Technol 7:313–333. https://doi.org/10.1146/annurev-food-041715-033159

Kandola S, Teotia US, Kumar R, Mishra AK, Singh A (2016) Investigation of acid tolerance attribute of various Lactobacillus casei group strains. Indian J Anim Res 50(2):190–193. https://doi.org/10.18805/ijar.9539

Li W, Yang L, Nan W et al (2020) Whole-genome sequencing and genomic-based acid tolerance mechanisms of Lactobacillus delbrueckii subsp. bulgaricus LJJ. Appl Microbiol Biotechnol 104:7631–7642. https://doi.org/10.1007/s00253-020-10788-5

Ligthart K, Belzer C, de Vos WM, Tytgat HLP (2020) Bridging bacteria and the gut: functional aspects of type IV Pili. Trends Microbiol 28:340–348. https://doi.org/10.1016/j.tim2020.02.003

Page AJ, Cummins CA, Hunt M et al (2015) Roary: rapid large-scale prokaryote pan genome analysis. Bioinformatics 31:3691–3693. https://doi.org/10.1093/bioinformatics/btv421

Quigley EMM (2017) Bifidobacterium longum In: the microbiota in gastrointestinal pathophysiology. Elsevier

Reeve BWP, Reid SJ (2016) Glutamate and histidine improve both solvent yields and the acid tolerance response of Clostridium beijerinckii NCP260. J Appl Microbiol 120(5):1271–1281. https://doi.org/10.1111/jam.13067

Rinninella E, Raoul P, Cintoni M et al (2019) What is the healthy gut microbiota composition? a changing ecosystem across age, environment, diet, and diseases. Microorganisms 7:14. https://doi.org/10.3390/microorganisms7010014

Said HM (2011) Intestinal absorption of water-soluble vitamins in health and disease. Biochem J 437:357–372. https://doi.org/10.1042/BJ20110326

Sánchez B, Ruiz L, Gueimonde M et al (2012) Toward improving technological and functional properties of probiotics in foods. Trends Food Sci Technol 26:56–63. https://doi.org/10.1016/j.tifs.2012.02.002

Schell MA, Karmirantzou M, Snel B et al (2002) The genome sequence of Bifidobacterium longum reflects its adaptation to the human gastrointestinal tract. Proc Natl Acad Sci U S A 99:14422–14427. https://doi.org/10.1073/pnas.212527599

Schwenk WS, Donovan TM (2011) A multispecies framework for landscape conservation planning. Conserv Biol 25(5):1010–1021. https://doi.org/10.1111/j.1523-1739.2011.01723.x

Seemann T (2014) Prokka: rapid prokaryotic genome annotation. Bioinformatics 30:2068–2069. https://doi.org/10.1093/bioinformatics/btu153

Shabayek S, Spellerberg B (2017) Acid stress response mechanisms of group B streptococci. Front Cell Infect Microbiol 7:395. https://doi.org/10.3389/fcimb.2017.00395

Tissenbaum HA, Guarente L (2001) Increased dosage of a SIR-2 gene extends lifespan in Caenorhabditis elegans. Nature 410:227–230. https://doi.org/10.1038/35065638

Uguen P, Le Pennec J-P, Dufour A (2000) Lantibiotic biosynthesis: interactions between prelacticin 481 and its putative modification enzyme, LctM. J Bacteriol 182:5262–5266. https://doi.org/10.1128/JB.182.18.5262-5266.2000

Wan MLY, Forsythe SJ, El-Nezami H (2019) Probiotics interaction with foodborne pathogens: a potential alternative to antibiotics and future challenges. Crit Rev Food Sci Nutr 59:3320–3333. https://doi.org/10.1080/10408398.2018.1490885

Wei Y-X, Zhang Z-Y, Liu C et al (2010) Complete genome sequence of Bifidobacterium longum JDM301. J Bacteriol 192:4076–4077. https://doi.org/10.1128/JB.00538-10

Wilson K (2001) Preparation of genomic DNA from bacteria. Curr Protoc Mol Biol. https://doi.org/10.1002/0471142727.mb0204s56

Wu C, Zhang J, Wang M et al (2012) Lactobacillus casei combats acid stress by maintaining cell membrane functionality. J Ind Microbiol Biotechnol 39(7):1031–1039. https://doi.org/10.1007/s10295-012-1104-2

Zhao Y, Wu J, Yang J et al (2012) PGAP: pan-genomes analysis pipeline. Bioinformatics 28:416–418. https://doi.org/10.1093/bioinformatics/btr655
Acknowledgements
The author is thankful to The Director, CSIR- CFTRI for providing facilities and infrastructure at the institute. AS acknowledges CSIR for the award of Nehru Post-Doctoral fellowship. PBP acknowledge CSIR-IMTECH project on High-throughput and integrative genomics approaches to understand adaptation of probiotic and pathogenic bacteria (OLP-148).
Ethics declarations
Conflict of interest
All the authors declare that there is no conflict of interest.
Additional information
Publisher's Note
Springer Nature remains neutral with regard to jurisdictional claims in published maps and institutional affiliations.
Communicated by Erko Stackebrandt.
Supplementary Information
Below is the link to the electronic supplementary material.
About this article
Cite this article
Sundararaman, A., Bansal, K., Sidhic, J. et al. Genome of Bifidobacterium longum NCIM 5672 provides insights into its acid-tolerance mechanism and probiotic properties. Arch Microbiol 203, 6109–6118 (2021). https://doi.org/10.1007/s00203-021-02573-3
Received:

Revised:

Accepted:

Published:

Issue Date:
Keywords
Bifidobacterium longum

Whole-genome sequencing

Health benefits

Probiotic marker genes