Abstract
Two novel Gram-stain-negative, aerobic, rod-shaped, circular, convex, light-pink and white-colored bacterial strains BT291T and BT350T were isolated from soil collected in Uijeongbu city (37° 44′ 55″ N, 127° 2′ 20″ E) and Jeju island (33° 22′ 48″ N, 126° 31′ 48″ E), respectively, South Korea. Phylogenetic analysis based on 16S rRNA gene sequences revealed that each of the strains BT291T and BT350T belong to a distinct lineages within the genus Microvirga (family Methylobacteriaceae, order Rhizobiales, class Alpha Proteobacteria, phylum Proteobacteria, kingdom Bacteria). The 16S rRNA gene sequence similarity between the two strains BT291T and BT350T was 97.4%. The two strains were found to have the same quinone system, with Q-10 as the major respiratory quinone. The major polar lipids of strains BT291T and BT350T were phosphatidylethanolamine (PE), diphosphatydilglycerol (DPG), phosphatidylcholine (PC) and phosphatidylglycerol (PG). The major cellular fatty acids of strain BT291T were C18:1 ω7c (58.2%) and cyclo-C19:0 ω8c (25.7%). The major cellular fatty acids of strain BT350T were C18:1 ω7c (38.5%) and cyclo-C19:0 ω8c (27.7%). Based on the polyphasic analysis (phylogenetic, chemotaxonomic and biochemical), strains BT291T and BT350T can be suggested as two novel bacterial species within the genus Microvirga and the proposed names are Microvirga pudoricolor and Microvirga alba, respectively. The type strain of Microvirga pudoricolor is BT291T (= KCTC 72368T = NBRC 114845T) and the type strain of Microvirga alba is BT350T (= KCTC 72385T = NBRC 114848T).
Access options
Buy single article
Instant access to the full article PDF.
US$ 39.95
Tax calculation will be finalised during checkout.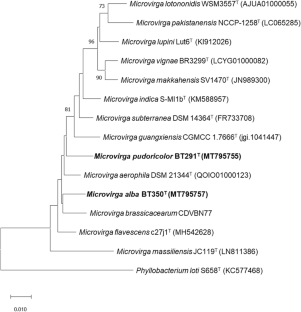 References
Cappuccino JG, Sherman N (2002) Microbiology—a laboratory manual, 6th edn. Pearson Education, Inc., Benjamin Cummings

Chun J, Oren A, Ventosa A, Christensen H, Arahal DR, da Costa MS, Rooney AP, Yi H, Xu XW, De Meyer S, Trujillo ME (2018) Proposed minimal standards for the use of genome data for the taxonomy of prokaryotes. Int J Syst Evol Microbiol 68:461–466. https://doi.org/10.1099/ijsem.0.002516

Felsenstein J (1981) Evolutionary trees from DNA sequences: a maximum likelihood approach. J Mol Evol 17:368–376. https://doi.org/10.1007/BF01734359

Felsenstein J (1985) Confidence limit on phylogenies: an approach using the bootstrap. Evolution 39:783–791. https://doi.org/10.1111/j.1558-5646.1985.tb00420.x

Fitch WM (1971) Toward defining the course of evolution: minimum change for a specific tree topology. Syst Zool 20:406–416. https://doi.org/10.2307/2412116

Hiraishi A, Ueda Y, Ishihara J, Mori T (1996) Comparative lipoquinone analysis of influent sewage and activated sludge by high performance liquid chromatography and photodiode array detection. J Gen Appl Microbiol 42:457–469. https://doi.org/10.2323/jgam.42.457

Jimenez-Gomez A, Saati-Santamaria Z, Igual JM, Rivas R, Mateos PF, Garcia-Fraile P (2019) Genome insights into the novel species Microvirga brassicacearum, a rapeseed endophyte with biotechnological potential. Microorganisms. https://doi.org/10.3390/microorganisms7090354

Kanso S, Patel BK (2003) Microvirga subterranea gen. nov., sp. nov., a moderate thermophile from a deep subsurface Australian thermal aquifer. Int J Syst Evol Microbiol 53:401–406. https://doi.org/10.1099/ijs.0.02348-0

Kimura M (1983) The neutral theory of molecular evolution. Cambridge University Press, Cambridge

Komagata K, Suzuki K (1987) 4 Lipid and cell-wall analysis in bacterial systematics. Method Microbiol 19:161–207. https://doi.org/10.1016/S0580-9517(08)70410-0

Kumar S, Stecher G, Li M, Knyaz C, Tamura K (2018) MEGA x: molecular evolutionary genetics analysis across computing platforms. Mol Biol Evol 35(6):1547–1549

Li J, Gao R, Chen Y, Xue D, Han J, Wang J, Dai Q, Lin M, Ke X, Zhang W (2020) Isolation and identification of Microvirga thermotolerans HR1, a novel thermo-tolerant bacterium, and comparative genomics among Microvirga Species. Microorganisms. https://doi.org/10.3390/microorganisms8010101

Liu ZT, Xian WD, Li MM, Liu L, Ming YZ, Jiao JY, Fang BZ, Xiao M, Li WJ (2020) Microvirga arsenatis sp. nov., an arsenate reduction bacterium isolated from Tibet hot spring sediments. Antonie Van Leeuwenhoek 113:1147–1153. https://doi.org/10.1007/s10482-020-01421-6

Meier-Kolthoff JP, Auch AF, Klenk HP, Göker M (2013) Genome sequence-based species delimitation with confidence intervals and improved distance functions. BMC Bioinform 14:60

Minnikin DE, O'Donnell AG, Goodfellow M, Alderson G, Athalye M, Schaal A, Parlett JH (1984) An integrated procedure for the extraction of bacterial isoprenoid quinones and polar lipids. J Microbiol Meth 2:233–241. https://doi.org/10.1016/0167-7012(84)90018-6

Msaddak A, Rejili M, Duran D, Mars M, Palacios JM, Ruiz-Argueso T, Rey L, Imperial J (2019) Microvirga tunisiensis sp. nov., a root nodule symbiotic bacterium isolated from Lupinus micranthus and L. luteus grown in Northern Tunisia. Syst Appl Microbiol 42:126015. https://doi.org/10.1016/j.syapm.2019.126015

Richter M, Rossello-Mora R (2009) Shifting the genomic gold standard for the prokaryotic species definition. Proc Natl Acad Sci USA 106:19126–19131

Saitou N, Nei M (1987) The neighbor-joining method: a new method for reconstructing phylogenetic trees. Mol Bio Evol 4:406–425. https://doi.org/10.1093/oxfordjournals.molbev.a040454

Sasser M (1990) Identification of bacteria by gas chromatography of cellular fatty acids

Tapase SR, Mawlankar RB, Sundharam SS, Krishnamurthi S, Dastager SG, Kodam KM (2017) Microvirga indica sp. nov., an arsenite-oxidizing Alphaproteobacterium, isolated from metal industry waste soil. Int J Syst Evol Microbiol 67:3525–3531. https://doi.org/10.1099/ijsem.0.002157

Tatusova T, DiCuccio M, Badretdin A et al (2016) NCBI prokaryotic genome annotation pipeline. Nucleic Acids Res 44:6614–6624. https://doi.org/10.1093/nar/gkw569

Wang F, Yang L, Deng J, Liu X, Lu Y, Chen W, Wu J (2019) Microvirga calopogonii sp. nov., a novel alphaproteobacterium isolated from a root nodule of Calopogonium mucunoides in Southwest China. Antonie Van Leeuwenhoek 112:1593–1602. https://doi.org/10.1007/s10482-019-01285-5

Weisburg WG, Barns SM, Pellerier DA, Lane DJ (1991) 16S ribosomal DNA amplification for phylogenetic study. J Bacteriol 173:697–703. https://doi.org/10.1128/jb.173.2.697-703.1991

Weon HY, Kwon SW, Son JA, Joee EH, Kim SJ, Kim YS, Kim BY, Kae JO (2010) Description of Microvirga aerophila sp. nov. and Microvirga aerilata sp. nov., isolated from air, reclassification of Balneimonas flocculans Takeda et al. 2004 as Microvirga flocculans comb. nov. and emended description of the genus Microvirga. Int J Syst Evol Microbiol 60:2596–2600. https://doi.org/10.1099/ijs.0.018770-0

Yoon S, Ha S, Kwon S, Lim J, Kim Y et al (2017) Introducing EzBioCloud: a taxonomically united database of 16S rRNA gene sequences and whole-genome assemblies. Int J Syst Evol Microbiol 67:1613–16. https://doi.org/10.1007/s10482-017-0844-4

Zhang XJ, Zhang J, Yao Q, Feng GD, Zhu HH (2019) Microvirga flavescens sp. nov., a novel bacterium isolated from forest soil and emended description of the genus Microvirga. Int J Syst Evol Microbiol 69:667–671. https://doi.org/10.1099/ijsem.0.003189
Acknowledgements
This work was supported by a research grant from Seoul Women's University (2021) and by a grant from the National Institute of Biological Resources (NIBR), funded by the Ministry of Environment (MOE) of the Republic of Korea (NIBR202002203). In addition, we are grateful to Dr. Aharon Oren (The Hebrew University of Jerusalem, Israel) for helping with the etymology.
Ethics declarations
Conflict of interest
The authors declare that there are no conflicts of interest.
Ethical approval
This article does not contain any studies with human participants or animals.
Additional information
Publisher's Note
Springer Nature remains neutral with regard to jurisdictional claims in published maps and institutional affiliations.
The 16S rRNA gene sequences of the strains BT291T and BT350T were deposited in GenBank/EMBL/DDBJ under the accession numbers are MT795755 and MT795757, respectively. The draft genome sequences of the strains BT291T and BT350T are available at the following accessions JAFEMB000000000 and JADQDO010000000, respectively.
Communicated by Erko Stackebrandt.
Supplementary Information
Below is the link to the electronic supplementary material.
About this article
Cite this article
Oh, H., Kim, M.K. & Srinivasan, S. Microvirga pudoricolor sp. nov., and Microvirga alba sp. nov., isolated from soil in South Korea. Arch Microbiol (2021). https://doi.org/10.1007/s00203-021-02569-z
Received:

Revised:

Accepted:

Published:
Keywords
Methylobacteriaceae
Microvirga

Taxonomy