Abstract
This paper introduces a novel prototype for the removal of Pseudomonas from water samples. Bacterial cells have the tendency to get attracted towards specific chemicals (chemotaxis); a 'honey-based trap' (henceforth, addressed as 'honey-trap') strip was conceptualized by integrating a combination of serine, pseudomonas-specific chemoattractant and honey to attract and inhibit the bacteria in situ. Honey, a natural antimicrobial agent, has garnered the attention as an effective inhibitor for Pseudomonal biofilms and wound infections. Dipping serine side of the strip attracted bacteria towards honey-trap, whereby the porous nature of the strip facilitated the 'trapping' and subsequent diffusion of the bacterial cells towards honey-adsorbed end of the strip. This 'honey-trap' reportedly leads to the targeted elimination of Pseudomonas, hence facilitating its removal. The percentage efficacy of this 'honey-trap' device is 96% with a log reduction equivalent to 1.6 within a time frame of 2 h. Pseudomonas aeruginosa, although, not a natural contaminant of potable water, enters circulation due to improperly maintained plumbing fixtures and storage facilities. Honey-trap strip is an easy to use, biodegradable and cost-effective sustainable solution, and thus a scaled-up version of this device may enable substantial improvement in quality of potable water.
Graphic abstract
Schematics showing the preparation and working of the Pseudomonas Honey-trap. Serine as an attractant and honey as an inhibitor was absorbed on filter strips (HT) for use. The strip was dipped in culture from serine end. After different time period of incubation, difference in bacterial load was confirmed by measuring the electrical conductivity and OD600nm of the culture. Additionally, inhibitory effect of HS was confirmed by placing the strip incubated with culture on agar plates and differences in bacterial lawn were monitored. Removal of bacterial cells from the suspension was also confirmed using absorption spectroscopy.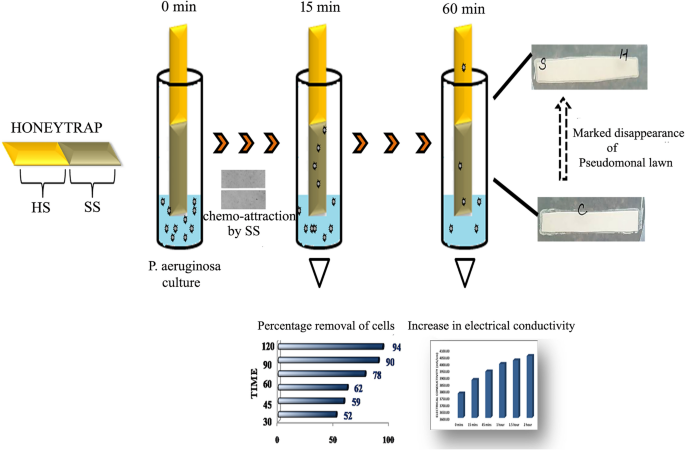 Access options
Buy single article
Instant access to the full article PDF.
US$ 39.95
Tax calculation will be finalised during checkout.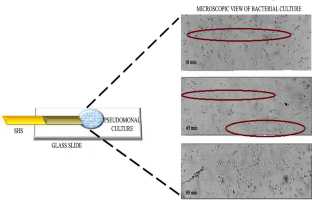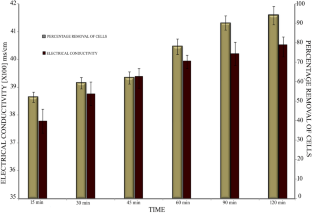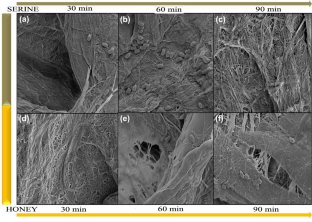 References
Albaridi NA (2019) Antibacterial potency of honey. Int J Microbiol. https://doi.org/10.1155/2019/2464507

Alhogail S, Suaifan GARY, Bikker FJ et al (2019) Rapid colorimetric detection of Pseudomonas aeruginosa in clinical isolates using a magnetic nanoparticle biosensor. ACS Omega 4:21684–21688. https://doi.org/10.1021/acsomega.9b02080

Brick T, Primrose B, Chandrasekhar R et al (2004) Water contamination in urban south India: household storage practices and their implications for water safety and enteric infections. Int J Hyg Environ Health 207:473–480. https://doi.org/10.1078/1438-4639-00318

Brudzynski K, Sjaarda C (2014) Antibacterial compounds of Canadian honeys target bacterial cell wall inducing phenotype changes, growth inhibition and cell lysis that resemble action of β-lactam antibiotics. PLoS ONE 9:e10696. https://doi.org/10.1371/journal.pone.0106967

Careaga M, Fernández E, Dorantes L et al (2003) Antibacterial activity of Capsicum extract against Salmonella typhimurium and Pseudomonas aeruginosa inoculated in raw beef meat. Int J Food Microbiol 83:331–335. https://doi.org/10.1016/S0168-1605(02)00382-3

Chen JW, Lau YY, Krishnan T et al (2018) Recent advances in molecular diagnosis of Pseudomonas aeruginosa infection by state-of-the-art genotyping techniques. Front Microbiol 9:1104. https://doi.org/10.3389/fmicb.2018.01104

Combarros-Fuertes P, Estevinho LM, Teixeira-Santos R et al (2020) Antibacterial action mechanisms of honey: physiological effects of avocado, chestnut, and polyfloral honey upon Staphylococcus aureus and Escherichia coli. Molecules 25:1252. https://doi.org/10.3390/molecules25051252

Cooper RA, Halas E, Molan PC (2002) The efficacy of honey in inhibiting strains of Pseudomonas aeruginosa from infected burns. J Burn Care Rehabil 23:366–370. https://doi.org/10.1097/00004630-200211000-00002

Craven RC, Montie TC (1983) Chemotaxis of Pseudomonas aeruginosa: involvement of methylation. J Bacteriol 154:780–786. https://doi.org/10.1128/jb.154.2.780-786.1983

Dasgupta S, Gunda NSK, Mitra SK (2016) Fishing, trapping and killing of: Escherichia coli (E. coli) in potable water. Environ Sci Water Res Technol 2:931–941. https://doi.org/10.1039/c6ew00200e

Fitzgerald GP, DerVartanian ME (1969) Pseudomonas aeruginosa for the evaluation of swimming pool chlorination and algicides. Appl Microbiol 17:415–421. https://doi.org/10.1128/am.17.3.415-421.1969

Galal-Gorchev H (1993) WHO guidelines for drinking-water quality. Water Supply 11:1–6

George S (1989) Effect of ampicillin-induced alterations in murine intestinal microbiota on the survival and competition of environmentally released pseudomonads. Fundam Appl Toxicol 13:670–680. https://doi.org/10.1016/0272-0590(89)90325-4

Gobelius L, Hedlund J, Dürig W et al (2018) Per- and polyfluoroalkyl substances in Swedish groundwater and surface water: implications for environmental quality standards and drinking water guidelines. Environ Sci Technol 52:4340–4349. https://doi.org/10.1021/acs.est.7b05718

Harris JO, Patty RE (1949) Conductivity studies of bacterial suspensions. J Bacteriol 57:67–71. https://doi.org/10.1128/jb.57.1.67-71.1949

Héry-Arnaud G, Nowak E, Caillon J et al (2017) Evaluation of quantitative PCR for early diagnosis of Pseudomonas aeruginosa infection in cystic fibrosis: a prospective cohort study. Clin Microbiol Infect 23:203–207. https://doi.org/10.1016/j.cmi.2016.11.016

Jamshaid M, Khan AA, Ahmed K, Saleem M (2018) Heavy metal in drinking water its effect on human health and its treatment techniques—a review. Int J Biosci 12:223–240. https://doi.org/10.12692/ijb/12.4.223-240

Kim M, Jung T, Kim Y et al (2015) A microfluidic device for label-free detection of Escherichia coli in drinking water using positive dielectrophoretic focusing, capturing, and impedance measurement. Biosens Bioelectron 74:1011–1015. https://doi.org/10.1016/j.bios.2015.07.059

Lee HH, Hong SI, Kim D (2014) Microbial reduction efficacy of various disinfection treatments on fresh-cut cabbage. Food Sci Nutr 2:585–590. https://doi.org/10.1002/fsn3.138

Martínez-Tomé M, Jiménez-Monreal AM, García-Jiménez L et al (2011) Assessment of antimicrobial activity of coffee brewed in three different ways from different origins. Eur Food Res Technol 233:497–505. https://doi.org/10.1007/s00217-011-1539-0

Mena KD, Gerba CP (2009) Risk assessment of Pseudomonas aeruginosa in water. Rev Environ Contam Toxicol 201:71–115. https://doi.org/10.1007/978-1-4419-0032-6_3

Moulton RC, Montie TC (1979) Chemotaxis by Pseudomonas aeruginosa. J Bacteriol 137:274–280. https://doi.org/10.1128/jb.137.1.274-280.1979

Müller TH, Montag T, Seltsam AW (2011) Laboratory evaluation of the effectiveness of pathogen reduction procedures for bacteria. Transfus Med Hemother 38:242–250. https://doi.org/10.1159/000330338

Negi PS, Jayaprakasha GK, Rao LJM, Sakariah KK (1999) Antibacterial activity of turmeric oil: a byproduct from curcumin manufacture. J Agric Food Chem 47:4297–4300. https://doi.org/10.1021/jf990308d

Pachori P, Gothalwal R, Gandhi P (2019) Emergence of antibiotic resistance Pseudomonas aeruginosa in intensive care unit; a critical review. Genes Dis 6:109–119. https://doi.org/10.1016/j.gendis.2019.04.001

Peixoto JRO, Silva GC, Costa RA et al (2011) In vitro antibacterial effect of aqueous and ethanolic Moringa leaf extracts. Asian Pac J Trop Med 4:201–204. https://doi.org/10.1016/S1995-7645(11)60069-2

Pleeging CCF, Coenye T, Mossialos D et al (2020) Synergistic antimicrobial activity of supplemented medical-grade honey against Pseudomonas aeruginosa biofilm formation and eradication. Antibiotics 9:866. https://doi.org/10.3390/antibiotics9120866

Price D, Ahearn DG (1988) Incidence and persistence of Pseudomonas aeruginosa in whirlpools. J Clin Microbiol 26:1650–1654. https://doi.org/10.1128/jcm.26.9.1650-1654.1988

Ramírez-Castillo FY, Loera-Muro A, Jacques M et al (2015) Waterborne pathogens: detection methods and challenges. Pathogens 4:307–334. https://doi.org/10.3390/pathogens4020307

Rutala WA, Weber DJ (1997) Water as a reservoir of nosocomial pathogens. Infect Control Hosp Epidemiol 18:609–616. https://doi.org/10.2307/30141486

Schmidt J, Müsken M, Becker T et al (2011) The Pseudomonas aeruginosa chemotaxis methyltransferase CheR1 impacts on bacterial surface sampling. PLoS ONE 6:e18184. https://doi.org/10.1371/journal.pone.0018184

Shenoy V, Ballal M, Shivananda PG, Bairy I (2012) Honey as an antimicrobial agent against Pseudomonas aeruginosa isolated from infected wounds. J Glob Infect Dis 4:102. https://doi.org/10.4103/0974-777X.96770

Shibai A, Takahashi Y, Ishizawa Y et al (2017) Mutation accumulation under UV radiation in Escherichia coli. Sci Rep 7:1–12. https://doi.org/10.1038/s41598-017-15008-1

Sourjik V, Wingreen NS (2012) Responding to chemical gradients: bacterial chemotaxis. Curr Opin Cell Biol 24:262–268. https://doi.org/10.1016/j.ceb.2011.11.008

Van Leeuwen FXR (2000) Safe drinking water: the toxicologist's approach. Food Chem Toxicol 38:S51–S58. https://doi.org/10.1016/s0278-6915(99)00140-4

Wilkinson JM, Cavanagh HMA (2005) Antibacterial activity of 13 honeys against Escherichia coli and Pseudomonas aeruginosa. J Med Food 8:100–103. https://doi.org/10.1089/jmf.2005.8.100

Yang Y, Pollard AM, Höfler C et al (2015) Relation between chemotaxis and consumption of amino acids in bacteria. Mol Microbiol 96:1272–1282. https://doi.org/10.1111/mmi.13006

Young WF, Horth H, Crane R et al (1996) Taste and odour threshold concentrations of potential potable water contaminants. Water Res 30:331–340. https://doi.org/10.1016/0043-1354(95)00173-5

Žukovskaja O, Jahn IJ, Weber K et al (2017) Detection of Pseudomonas aeruginosa metabolite pyocyanin in water and saliva by employing the SERS technique. Sensors (switzerland) 17:1074. https://doi.org/10.3390/s17081704
Acknowledgements
The authors thank Mr. Bhupesh Sharma, Scientific officer, MRC, MNIT, Jaipur for his technical assistance in acquiring scanning electron microscopy images. Authors acknowledge Dr. Deepshikha Rathore for proofreading the document.
Funding
The work received no funding from any authority.
Ethics declarations
Conflict of interest
The authors declare no competing interest from any source.
Additional information
Publisher's Note
Springer Nature remains neutral with regard to jurisdictional claims in published maps and institutional affiliations.
Communicated by Erko Stackebrandt.
About this article
Cite this article
Ranade, H., Paliwal, P., Pal, D. et al. Honey-based trap for Pseudomonas: a sustainable prototype for water disinfection. Arch Microbiol (2021). https://doi.org/10.1007/s00203-021-02568-0
Received:

Revised:

Accepted:

Published:
Keywords
Chemoattractant

Honey

Inhibition

Pseudomonas

Water treatment