Abstract
This study was designed to evaluate the effects of epiphytic microbiota from Italian ryegrass (IRIR), Napier grass (IRNP) and Sudan grass (IRSD) on ensiling characteristics and microbial community of Italian ryegrass silage. Each treatment was prepared in triplicate and ensiled in plastic bag silos for 1, 3, 7, 14, 30 and 60 days. The γ-ray irradiation sterilization method, microbiota transplantation and next generation sequencing technology were used. Results indicated that significantly (P < 0.05) higher ratio of lactic acid to acetic acid, and lower acetic acid and ammonia nitrogen contents were observed in IRNP than IRIR and IRSD after 60 days of ensiling. Lactobacillus was the most predominant in each treatment at the late stage of fermentation. Lactococcus was eventually replaced by Lactobacillus in IRSD, whereas higher abundance of Lactococcus was continuously found in IRNP. Co-occurrence network analysis demonstrated Lactococcus was pivotal in determining the silage fermentation pattern of Italian ryegrass. According to the 16S rRNA gene-predicted functional profiles, the metabolism of amino acids was enhanced by the epiphytic microbiota from Italian ryegrass and Sudan grass, while the carbohydrate metabolism was accelerated by the epiphytic microbiota from Napier grass. Overall, IRNP had a homo-fermentative process, whereas IRIR and IRSD possessed a hetero-fermentative pattern. The Lactococcus and heterofermentative Lactobacillus were mainly responsible for this. It also confirmed that the exogenous microorganisms that promote the carbohydrate metabolism and inhibit the metabolism of amino acids could be a good potential source to improve the silage quality of temperate grass.
Access options
Buy single article
Instant access to the full article PDF.
USD 39.95
Price includes VAT (USA)
Tax calculation will be finalised during checkout.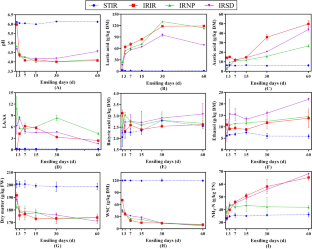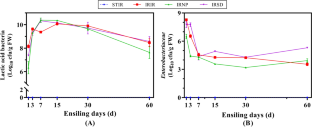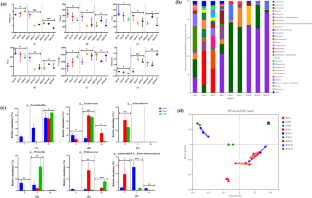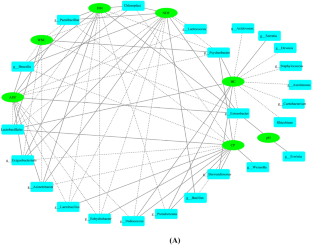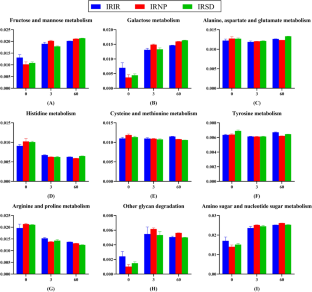 References
Albert B, Bates ST, Casamayor EO, Fierer N (2012) Using network analysis to explore co-occurrence patterns in soil microbial communities. ISME J 6(2):343–351

Ali N, Wang SR, Zhao J, Dong ZH, Li JF, Nazar M, Shao T (2020) Microbial diversity and fermentation profile of red clover silage inoculated with reconstituted indigenous and exogenous epiphytic microbiota. Bioresour Technol 314:123606

Bernardes TF, Daniel JLP, Adesogan AT, Mcallister TA, Cai Y (2018) Silage review: unique challenges of silages made in hot and cold regions. J Dairy Sci 101(5):4001–4019

Buxton DR, Muck RE, Harrison JH, Buxton DR, O'Kiely P (2003) Preharvest plant factors affecting ensiling. Agron Monograph 42:c5

Duniere L, Sindou J, Chaucheyras-Durand F, Chevallier I, Thévenot-Sergentet D (2013) Silage processing and strategies to prevent persistence of undesirable microorganisms. Anim Feed Sci Technol 182:1–15

Duniere L, Xu S, Long J, Elekwachi C, Wang Y, Turkington K, Forster R, McAllister TA (2017) Bacterial and fungal core microbiomes associated with small grain silages during ensiling and aerobic spoilage. BMC Microbiol 17(1):50

Graf K, Ulrich A, Idler C, Klocke M (2016) Bacterial community dynamics during ensiling of perennial ryegrass at two compaction levels monitored by terminal restriction fragment length polymorphism. J Appl Microbiol 120:1479–1491

He L, Zhou W, Xing Y, Pian R, Chen X, Zhang Q (2020) Improving the quality of rice straw silage with Moringa oleifera leaves and propionic acid: Fermentation, nutrition, aerobic stability and microbial communities. Bioresour Technol 299:122579

Junges D, Morais G, Spoto MHF, Santos PS, Adesogan AT, Nussio LG, Daniel JLP (2017) Influence of various proteolytic sources during fermentation of reconstituted corn grain silages. J Dairy Sci 100(11):9048–9051

Keshri J, Chen Y, Pinto R, Kroupitski Y, Weinberg ZG, Sela Saldinger S (2018) Microbiome dynamics during ensiling of corn with and without Lactobacillus plantarum inoculant. Appl Microbiol Biotechnol 102:4025–4037

Kung L Jr, Shaver RD, Grant RJ, Schmidt RJ (2018) Silage review: interpretation of chemical, microbial, and organoleptic components of silages. J Dairy Sci 101(5):4020–4033

Li Y, Nishino N (2011) Monitoring the bacterial community of maize silage stored in a bunker silo inoculated with Enterococcus faecium, Lactobacillus plantarum and Lactobacillus buchneri. J Appl Microbiol 110(6):1561–1570

Li J, Yuan X, Seare D, Dong Z, Wazha M, Shao T (2018) Characterization of Enterococcus faecalis JF85 and Enterococcus faecium Y83 isolated from Tibetan yak (Bos grunniens) for ensiling Pennisetum sinese. Bioresour Technol 257:76–83

Li D, Ni K, Zhang Y, Lin Y, Yang F (2019a) Fermentation characteristics, chemical composition and microbial community of tropical forage silage under different temperatures. Asian-Australas J Anim Sci 32(5):665

Li P, Zhang Y, Gou W, Cheng Q, Bai S, Cai Y (2019b) Silage fermentation and bacterial community of bur clover, annual ryegrass and their mixtures prepared with microbial inoculant and chemical additive. Anim Feed Sci Technol 247:285–293

Liu Q, Chen M, Zhang J, Shi S, Cai Y (2012) Characteristics of isolated lactic acid bacteria and their effectiveness to improve stylo (Stylosanthes guianensis Sw.) silage quality at various temperatures. Anim Sci J 83:128–135

McDonald P, Henderson AR, Heron S (1991) The biochemistry of silage. Chalcombe publications, Abersytwyth, U.K.

McGarvey JA, Franco RB, Palumbo JD, Hnasko R, Stanker L, Mitloehner FM (2013) Bacterial population dynamics during the ensiling of Medicago sativa (alfalfa) and subsequent exposure to air. J Appl Microbiol 114:1661–1670

Mogodiniyai Kasmaei K, Dicksved J, Sporndly R, Uden P (2016) Separating the effects of forage source and field microbiota on silage fermentation quality and aerobic stability. Grass Forage Sci 72:281–289

Muck RE (2013) Recent advance in silage microbiology. Agric Food Sci 22:3–15

Ni K, Wang F, Zhu B, Yang J, Zhou G, Pan Y, Zhong J (2017) Effects of lactic acid bacteria and molasses additives on the microbial community and fermentation quality of soybean silage. Bioresour Technol 238:706–715

Nishino N, Li Y, Wang C, Parvin S (2012) Effects of wilting and molasses addition on fermentation and bacterial community in guinea grass silage. Lett Appl Microbiol 54(3):175–181

Ogunade IM, Jiang Y, Kim DH, Pech Cervantes AA, Arriola KG, Vyas D, Weinberg ZG, Jeong KC, Adesogan AT (2017) Fate of Escherichia coli O157:H7 and bacterial diversity in corn silage contaminated with the pathogen and treated with chemical or microbial additives. J Dairy Sci 100:1780–1794

Ogunade IM, Jiang Y, Pech Cervantes AA, Kim DH, Oliveira AS, Vyas D, Weinberg ZG, Jeong KC, Adesogan AT (2018) Bacterial diversity and composition of alfalfa silage as analyzed by Illumina MiSeq sequencing: effects of Escherichia coli O157:H7 and silage additives. J Dairy Sci 101:2048–2059

Pahlow G, Muck RE, Driehuis F (2003) Microbiology of ensiling. Silage science and technology. Proc Madison ASCSSA-SSSA Agron 42:31–93

Pang H, Qin G, Tan Z, Li Z, Wang Y, Cai Y (2011) Natural populations of lactic acid bacteria associated with silage fermentation as determined by phenotype, 16S ribosomal RNA and recA gene analysis. Syst Appl Microbiol 34:235–241

Panke-Buisse K, Poole AC, Goodrich JK, Ley RE, Kao-Kniffin J (2015) Selection on soil microbiomes reveals reproducible impacts on plant function. ISME J 9(4):980

Shao T, Zhang ZX, Shimojo M, Wang T, Masuda Y (2005) Comparison of fermentation characteristics of Italian ryegrass (Lolium multiflorum Lam.) and guineagrass (Panicum maximum Jacq.) during the early stage of ensiling. Asian-Australas J Anim Sci 18(12):1727–1734

Si H, Liu H, Li Z, Nan W, Jin C, Sui Y (2018) Effect of Lactobacillus plantarum and Lactobacillus buchneri addition on fermentation, bacterial community and aerobic stability in lucerne silage. Anim Prod Sci 59(8):1528–1536

Silva VP, Pereira OG, Leandro ES, Silva TCD, Ribeiro KG, Mantovani HC (2016) Effects of lactic acid bacteria with bacteriocinogenic potential on the fermentation profile and chemical composition of alfalfa silage in tropical conditions. J Dairy Sci 99(3):1895–1902

Van Soest PJV, Robertson JB, Lewis BA (1991) Methods for dietary fiber, neutral detergent fiber, and nonstarch polysaccharides in relation to animal nutrition. J Dairy Sci 74:3583–3597

Wang S, Yuan X, Dong Z, Li J, Shao T (2017) Effect of ensiling corn stover with legume herbages in different proportions on fermentation characteristics, nutritive quality and in vitro digestibility on the Tibetan Plateau. Grassl Sci 63(4):236–244

Wang S, Dong Z, Li J, Chen L, Shao T (2019) Pediococcus acidilactici strains as silage inoculants for improving the fermentation quality, nutritive value and in vitro ruminal digestibility in different forages. J Appl Microbiol 126(2):424–434

Wang S, Dong Z, Li J, Chen L, Shao T (2018) Effects of storage temperature and combined microbial inoculants on fermentation end products and microbial populations of Italian ryegrass (Lolium multiflorum Lam.) silage. J Appl Microbiol 125(6):1682–1691

Wang S, Zhao J, Dong Z, Li J, Shao T (2020) Sequencing and microbiota transplantation to determine the role of microbiota on the fermentation type of oat silage. Bioresour Technol 309:123371

Weiss K (2017) Volatile organic compounds in silages–effects of management factors on their formation: a review. Slovak J Anim Sci 50(1):55–67

Xie X, Yang CL, Guan LL, Wang JK, Xue MY, Liu JX (2018) Persistence of cellulolytic bacteria Fibrobacter and Treponema after short-term corn stover-based dietary intervention reveals the potential to improve rumen fibrolytic function. Front Microbiol 9:1363
Acknowledgements
This work was partially supported by China Postdoctoral Science Foundation (2021M691607), and Research and demonstration on the key technology of crop straw and agricultural and sideline products feeding (2019C10010).
Ethics declarations
Conflict of interest
There are no conflict of interest in this work.
Additional information
Publisher's Note
Springer Nature remains neutral with regard to jurisdictional claims in published maps and institutional affiliations.
Communicated by Erko Stackebrandt.
About this article
Cite this article
Wang, S., Li, J., Zhao, J. et al. Fermentation profile and microbial diversity of temperate grass silage inoculated with epiphytic microbiota from tropical grasses. Arch Microbiol 203, 6007–6019 (2021). https://doi.org/10.1007/s00203-021-02555-5
Received:

Revised:

Accepted:

Published:

Issue Date:
Keywords
Ensiling

Fermentation quality

Microbial community

Temperate grass

Tropical grass