Abstract
Airborne fungi are one of the major components of aeromycobiota known to produce several fungal diseases in fruits. Their presence in indoor environment of warehouses may limit the storage period of apples. Qualitative and quantitative analyses of airborne fungal spores were conducted using gravity settling techniques to detect fungal airspora present in the atmosphere of two apple warehouses in Tunisia. In this study, 375 fungal isolates were obtained and purified. Phylogenetic analysis of calmodulin, beta-tubulin and ITS regions coupled with phenotypic characterization helped to identify 15 fungal species. Penicillium exhibited the highest diversity with ten species detected (Penicillium allii, P. chrysogenum, P. citrinum, P. expansum, P. italicum, P. polonicum, P. solitum, P. steckii, P. sumatraense and P. viridicatum), followed by four species of Aspergillus genus (Aspergillus europaeus, A. flavus, A. niger and A. pulverulentus) and Alternaria alternata. In vivo experiments confirmed the pathogenicity of 13 species at room temperature and under cold-storage conditions. Among them, A. europaeus, A. pulverulentus, P. allii and P. sumatraense were described for the first time as pathogens on apples. The present study identified the major airborne fungi associated with postharvest rot in apple storage facilities in Tunisia and may help in efficient control of postharvest and storage fruit diseases.
Access options
Buy single article
Instant access to the full article PDF.
US$ 39.95
Tax calculation will be finalised during checkout.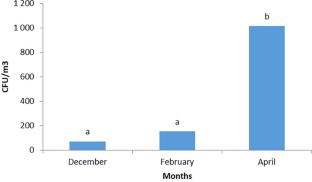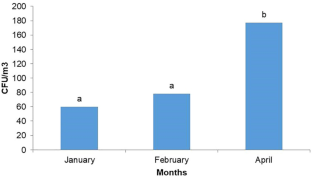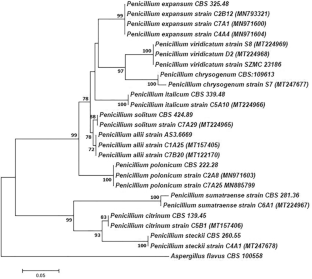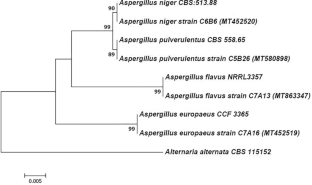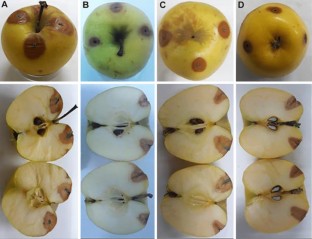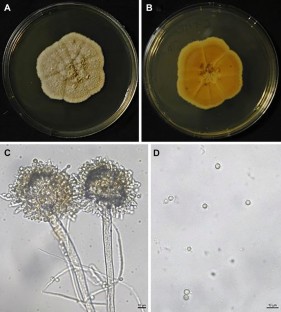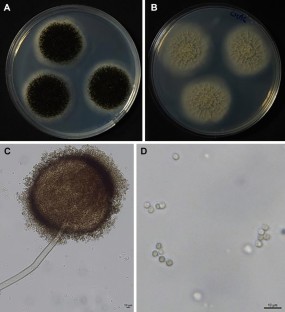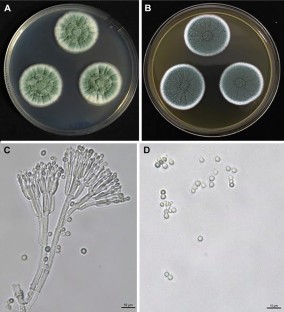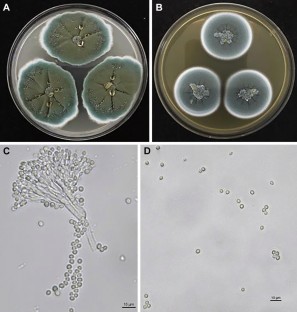 Availability of data and material
All data generated or analyzed during this study are included in this published article.
References
Agriopoulou S, Stamatelopoulou E, Varzakas T (2020) Advances in occurrence, importance, and mycotoxin control strategies: prevention and detoxification in foods. Foods 9:137

Allen J (2009) Garlic production factsheet. Ontario Ministry of Agriculture, Food and Rural Affairs, order no. 09-011W AGDEX 258/13, 8

Altunatmaz SS, Issa G, Aydin A (2012) Detection of airborne psychrotrophic bacteria and fungi in food storage refrigerators. Braz J Microbiol 43:1436–1443

Alwakeel SS (2013) Molecular identification of isolated fungi from stored apples in Riyadh, Saudi Arabia. Saudi J Biol Sci 20:311–317

Amiri A, Bompeix G (2005) Diversity and population dynamics of Penicillium spp. on apples in pre- and postharvest environments: consequences for decay development. Plant Pathol 54(1):74–81

Amiri A, Cholodowski D, Bompeix G (2005) Adhesion and germination of waterborne and airborne conidia of Penicillium expansum to apple and inert surfaces. Physiol Mol Plant Pathol 67(1):40–48

Arya C, Arya A (2007) Aeromycoflora of fruit markets of Baroda, India and associated diseases of certain fruits. Aerobiologia 23:283–289

Azam M, Shahid AA, Majeed RA, Ali M, Ahmad N, Haider MS (2016) First report of Penicillium biourgeianum causing post-harvest fruit rot of apple in Pakistan. Plant Dis 100:1778

Bahri BA, Belaid Y, Mechichi G, Rouissi W (2019) Diversity of pathogenic fungi associated with apples in cold storage facilities in Tunisia. J Am Pomol Soc 73:62–75

Barontini M, Crognale S, Scarfone A, Gallo P, Gallucci F, Petruccioli M et al (2014) Airborne fungi in biofuel wood chip storage sites. Int Biodeterior Biodegradation 20:17–22

Bock CH, Mackey B, Cotty PJ (2004) Population dynamics of Aspergillus flavus in the air of an intensively cultivated region of south-west Arizona. Plant Pathol 53:422–433

Cavagnaro PF, Camargo A, Piccolo RJ, Garcia Lampasona S, Burba JL, Masuelli RW (2005) Resistance to Penicillium hirsutum Dierckx in garlic accessions. Eur J Plant Pathol 112:195–199

da Rocha Neto AC, Luiz C, Maraschin M, Di Piero RM (2016) Efficacy of salicylic acid to reduce Penicillium expansum inoculum and preserve apple fruits. Int J Food Microbiol 221:54–60

Darolt JC, Rocha Neto AC, Di Piero RM (2016) Effects of the protective, curative, and eradicative applications of chitosan against Penicillium expansum in apples. Braz J Microbiol 47(4):1014–1019

Despot DJ, Klaric MS (2014) A year-round investigation of indoor airborne fungi in Croatia. Arch Ind Hyg Toxicol 65:209–218

Dhruv S, Dutta B, Singh A (2010) Exposure to indoor fungi in different working environments: a comparative study. Aerobiologia 26:327–337

Duduk N, Vasić M, Vico I (2014) First report of Penicillium polonicum causing blue mold on stored onion (Allium cepa) in Serbia. Plant Dis 98:1440

Dugan F (2006) The Identification of Fungi: An Illustrated Introduction With key, Glossary and Guide to Literature. APS Publication, St. Paul, MN

Dugan FM, Hellier BC, Lupien SL (2007) Pathogenic fungi in garlic seed cloves from the United States and China, and efficacy of fungicides against pathogens in garlic germplasm in Washington state. J Phytopathol 155:437–445

Dugan FM, Hellier BC, Lupien SL (2011) Resistance to Penicillium allii in accessions from a national plant germplasm system allium collection. Crop Prot 30:483–488

Eltem R, Aþkun T, Sarig N, Zkale Taþkin E, Efendüler H (2004) Colonial and morphological characteristics of some Aspergillus Fr.:Fr. Species isolated from vineyards in Manisa and Üzmir provinces (Turkey). Turk J Bot 28:287–298

Faedda R, Pane A, Cacciola SO, Granata G, Salafia L, Sinatra F (2015) Penicillium polonicum causing a postharvest soft rot of cactus pear fruits. Acta Hortic 1067:193–197

Fernández-Cruz ML, Mansilla ML, Tadeo JL (2010) Mycotoxins in fruits and their processed products: analysis, occurrence and health implications. J Adv Res 1:113–122

Filtenborg O, Frisvald JC, Thrane U (1996) Moulds in food spoilage. Int J Food Microbiol 33:85–102

Di Francesco A, Cameldi I, Neri F, Barbanti L, Folchi A, Spadoni A, Baraldi E (2019) Effect of apple cultivars and storage periods on the virulence of Neofabraea spp. Plant Pathol 68:1525–1532

Frisvad JC, Samson RA (2004) Polyphasic taxonomy of Penicillium subgenus Penicillium. A guide to identification of food and air-borne terverticillate Penicillia and their mycotoxins. Stud Mycol 49:1–174

Gara A, Abdelhafidh H, Hammemi M, Aloui M (2019) Analysis of the apple value chain at Sbiba region, Tunisia. J New Sci Agric Biotechnol 63:3972–3988

Gautam AK, Sharma S, Avasthi S, Bhadauria R (2011) Diversity, pathogenicity and toxicology of A. niger: An important spoilage fungi. Res J Microbiol 6:270–280

GIFRUITS 2018 Pommes actualités. http://gifruits.com/?p=2053&lang=fr. Accessed 2 Oct 2020

Giraud M, Fauré J (2000) Assessment of Penicillium risk on pome fruit in storage. In: Proceedings of the 5th workshop on integrated control of pome fruit diseases, Fontevraud (France), pp 24–27

Gong D, Bi Y, Li Y, Zong Y, Han Y, Prusky D (2019) Both Penicillium expansum and Trichothecim roseum infections promote the ripening of apples and release specific volatile compounds. Front Plant Sci 10:338

Grantina-Ievina L (2015) Fungi causing storage rot of apple fruit in integrated pest management system and their sensitivity to fungicides. Rural Sustain Res 34(329):1–10

Grisoli P, Rodolfi M, Villani S, Grignani E, Cottica D, Berri A, Dacarro C (2009) Assessment of airborne microorganism contamination in an industrial area characterized by an open composting facility and a wastewater treatment. J Plant Environ Res 109:135–142

Hasan H (2000a) Patulin and aflatoxin in brown rot lesion of apple fruits and their regulation. World J Microbiol Biotechnol 16:607–612

Hasan H (2000b) Patulin and aflatoxin in brown rot lesion of apple fruits and their regulation. World J Microbiol Biotechnol 16(7):607–612

Holtmeyer MG, Wailin JR (1980) Identification of aflatoxin producing atmospheric isolates of Aspergillus flavus. Phytopathology 70:325–327

Houbraken J, Frisvad J, Samson R (2011) Taxonomy of Penicillium section citrina. Stud Mycol 70:53–138

Houbraken J, Samson RA (2011) Phylogeny of Penicillium and the segregation of Trichocomaceae into three families. Stud Mycol 70:1–51

Hubka V, Nováková A, Samson RA, Houbraken J, Frisvad JC, Sklenář Ek, Varga J, Kolařík M (2016) Aspergillus europaeus sp. nov., a widely distributed soil-borne species related to A. wentii (section Cremei). Plant Syst Evol 302:641–650

Iqbal HM, Yousaf S, Khurshid S, Akbar QUA, Arif S, Fatima N, Rahoo AM (2019) Postharvest Physiological Disorders and organoleptic properties in relation to fungal disease incidence in citrus. J Innov Sci 5(1):6–11

Jean Phellipe MN, Ana MQL, Mykaella AA, Lucas AA, Eurípedes ASF (2019) Airborne fungi in indoor hospital environments. Int J Curr Microbiol App Sci 8(1):2749–2772

Johnston C (2008) Identification of Penicillium species in South African litchi export Chain. MSc thesis, University of Pretoria, Pretoria, South Africa

Jurick WM II, Kou LP, Gaskins VL, Luo YG (2014) First Report of Alternaria alternata causing postharvest decay on apple fruit during cold storage in Pennsylvania. Plant Dis 98(5):690–690

Kakde UB, Kakde HU (2012) Incidence of post-harvest disease and airborne fungal spores in a vegetable market. Acta Bot Croat 71(1):147–157

Khan AAH, Karuppayil SM (2012) Fungal pollution of indoor environments and its management. Saudi J Biol Sci 19:405–426

Kibret M, Abera B (2012) The sanitary conditions of food service establishments and food safety knowledge and practices of food handlers in Bahir Dar Town. Ethiop J Health Sci 22(1):27–35

Kim WK, Hwang YS, Yu SH (2008) Two species of penicillium associated with blue mold of yam in Korea. Mycobiology 36:217–221

Kozdrój J, Frączek K, Ropek D (2019) Assessment of bioaerosols in indoor air of glasshouses located in a botanical garden. Build Environ 166:106436

Kumar S, Stecher G, Tamura K (2016) MEGA7: Molecular evolutionary genetics analysis version 7.0 for bigger datasets. Mol Biol Evol 33:1870–1874

Lehtonen M, Reponen T (1993) Everyday activities and variation of fungal spore concentration in indoor air. Int J Biodeterior Biodegrad 31:25–39

Li Y, Aldwinckle HS, Sutton T, Tsuge T, Kang G, Cong PH, Cheng ZM (2012) Interactions of apple and the Alternaria alternata apple pathotype. Crit Rev Plant Sci 32:141–150

Liu D, Coloe S, Baird R, Pederson J (2000) Rapid mini-preparation of fungal DNA for PCR. J Clin Microbiol 38(1):471

Liu CQ, Hu KD, Li TT, Yang Y, Yang F, Li YH, Al E (2017) Polygalacturonase gene pgxB in Aspergillus niger is a virulence factor in apple fruit. PLoS ONE 12:e0173277

Louw JP, Korsten L (2014) Pathogenic Penicillium spp. on apple and pear. Plant Dis 98(5):590–598

Lucas GB, Campbell C, Lucas LT (1992) Diseases caused by airborne fungi. Introduction to plant diseases. Springer, Boston, MA

Mahdian S, Zafari D (2016) First report of table grape blue mold caused by Penicillium sumatrense in Iran. Plant Dis 101

Malmstrøm J, Christophersen C, Frisvad JC (2000) Secondary metabolites characteristic of Penicillium citrinum, Penicillium steckii and related species. Phytochemistry 54:301–309

Mari M, Guidarelli M, Martini C et al (2012) First report of Colletotrichum acutatum causing bitter rot on apple in Italy. Plant Dis 96:144

Money NP (2015) Spore production, discharge and dispersal. Academic Press, London

Moubasher AH, Ismail MA, Hussein NA, Gouda HA (2015) Osmophilic/osmotolerant and halophilic/halotolerant mycobiota of soil of Wadi El-Natrun regions. J Basic Appl Mycol 6:27–42

Nabi SU, Raja WH, Kumawat KL, Mir JI, Sharma OC, Singh DB, Sheikh MA (2017) Post harvest diseases of temperate fruits and their management strategies-a review. Indian J Pure Appl Biosci 5(3):885–898

Nguyen TTT, Pangging M, Bangash NK, Lee HB (2020) Five new records of the family Aspergillaceae in Korea, Aspergillus europaeus, A. pragensis, A. tennesseensis, Penicillium fluviserpens, and P. scabrosum. Mycobiology 48:81–94

Nova WP, Andika S, Latifah Z, Darmadji P, Endang R (2015) Airborne fungi and aflatoxin-producing Aspergillus flavus group on gaplek (dried cassava) storage warehouse in Gunung Kidul, Yogyakarta, Indonesia. Asian J Microbiol Biotechnol Environ Sci 17:785–798

O'gorman CM, Fuller HT (2008) Prevalence of culturable airborne spores of selected allergenic and pathogenic fungi in outdoor air. Atmos Environ 42:4355–4368

Oliveri C, Campisano A, Catara A, Cirvilleri G (2007) Characterization and faflp genotyping of Penicillium strains from postharvest samples and packing house environments. J Plant Pathol 89(1):29–40

Peterson SW (2000) Phylogenetic analysis of Penicillium species based on ITS and LSU-rDNA nucleotide sequences. In: Samson RA, Pitt JI (eds) Integration of modern taxonomic methods for Penicillium and Aspergillus classification Plenum Press, New York, pp 163–178

Peter KA, Vico I, Gaskins V, Janisiewicz WJ, Saftner RA, Jurick Ii WM (2012) First report of Penicillium carneum causing blue mold on stored apples in Pennsylvania. Plant Dis 96:1823–1823

Pitt JI, Samson RA, Frisvad JC (2000) List of accepted species and their synonyms in the family Trichocomaceae. In: Samson RA, Pitt JI (eds) Integration of modern methods for Penicillium and Aspergillus classification. Harwood Academic Publishers, Amsterdam, pp 9–49

Rharmitt S, Hafidi M, Hajjaj H, Scordino F, Giosa D, Giuffre L et al (2016) Molecular characterization of patulin producing and non-producing Penicillium species in apples from Morocco. Int J Food Microbiol 217:137–140

Richardson MD (1998) Topley & Wisons`s microbiology and microbial infections medical mycology. Arnold, London

Romanazzi G, Feliziani E (2014) Botrytis cinerea (Gray Mold). Elsevier, London

Rotem J (1994) The genus Alternaria: biology, epidemiology and pathogenicity. The American Phytopathological Society, St. Paul, p 326

Samson RA, Visagie CM, Houbraken J, Hong SB, Hubka V, Klaassen CHW et al (2014) Phylogeny, identification and nomenclature of the genus Aspergillus. Stud Mycol 78:141–173

Sawane AM, Saoji AA (2005) Airborne Penicillium in the grain shops of Nagpur (India). Grana 44:123–128

Schoch CL, Seifert KA, Huhndorf S, Robert V, Spouge JL, Levesque CA et al (2012) Nuclear ribosomal internal transcribed spacer (ITS) region as a universal DNA barcode marker for fungi. Proc Natl Acad Sci USA 109:6241–6246

Scholtz I, Korsten L (2016) Profile of Penicillium species in the pear supply chain. Plant Pathol 65:1126–1132

Schuster E, Dunn-Coleman N, Frisvad J, Van Dijck P (2002) On the safety of Aspergillus niger—a review. Appl Microbiol Biotechnol 59:426–435

Serra R, Peterson SW, CTCOR, Venâncio A (2008) Multilocus sequence identification of Penicillium species in cork bark during plank preparation for the manufacture of stoppers. Res Microbiol 159:178–186

Sharma RR, Singh D, Singh R (2009) Biological control of postharvest diseases of fruits and vegetables by microbial antagonists: a review. Biol Control 50:205–222

Shelton B, Kirkland K, Flanders W, Morris G (2002) Profiles of airborne fungi in buildings and outdoor environments in the United States. Appl Environ Microbiol 68:1743–1753

Sholberg PL, Harlton C, Haag P, Levesque CA, O'Gorman D, Seifert K (2005) Benzimidazole and diphenylamine sensitivity and identity of Penicillium spp. that cause postharvest blue mold of apples using β-tubulin gene sequences. Postharvest Biol Technol 36:41–94

Shtienberg D (2012) Effects of host physiology on the development of core rot, caused by Alternaria alternate, in red delicious apples. Phytopathology 102(8):769–778

Şimşekli Y, Gücin F, Asan A (1999) Isolation and identification of indoor airborne fungal contaminants of food production facilities and warehouses in Bursa, Turkey. Aerobiologia 15:225–231

Singh BK, Yadav KS, Verma A (2017) Impact of postharvest diseases and their management in fruit crops: an overview. J Bio Innov 6(5):749–760

Spadaro D, Dianpeng Z, Garibaldi A, Gullino ML (2010) Effect of culture media and pH on the biomass production and biocontrol efficacy of a Metschnikowia pulcherrima strain to be used as a biofungicide for postharvest disease control. Can J Microbiol 56:128–137

Spadaro D, Lorè A, Amatulli MT, Garibaldi A, Gullino ML (2011) First report of Penicillium griseofulvum causing blue mold on stored apples in Italy (Piedmont). Plant Dis 95:76

Spotts RA, Cervantes LA, Mielke EA (1999) Variability in postharvest decay among apple cultivars. Plant Dis 83:1051–1054

Sutton TB (2014) Bitter rot. The American Phytopathological Society, Paul

Thom C (1926) The genus Aspergillus

Tiwari K, Jadhav S, Kumar A (2011) Morphological and molecular study of different Penicillium species. Middle-East J Sci Res 7:203–210

Valdez JG, Makuch MA, Ordovini AF, Masuelli RW, Overy DP, Piccolo RJ (2006) First report of Penicillium allii as a field pathogen of garlic (Allium sativum). Plant Pathol 55:583

Valdez JG, Makuch MA, Ordovini AF, Frisvad JC, Overy DP, Masuelli RW, Piccolo RJ (2009) Identification, pathogenicity and distribution of Penicillium spp. isolated from garlic in two regions in Argentina. Plant Pathol 58:352–361

Vermani M, Bedi N, Hussain MS (2014) Prevalence of culturable airborne fungi in fruit markets of Delhi and Noida, India. Int Res J Environ Sci 3(7):1–6

Vico I, Duduk N, Vasić M, Nikolić M (2014a) Identification of Penicillium expansum causing postharvest blue mold decay of apple. J Pesticides Phytomed 29(4):257–266

Vico I, Gaskins V, Duduk N, Vasić M, Yu JJ, Peter KA, Jurick Ii WM (2014b) First report of Penicillium crustosum causing blue mold on stored apple fruit in Serbia. Plant Dis 98:1430–1430

Víctor G, Cesar G, David B, Damaris O (2014) Complete control of Penicillium expansum on apple fruit using a combination of antagonistic yeast Candida oleophila. Chile J Agric Res 74(4):427–431

Vincent MA, Pitt JI (1989) Penicillium Allii a new species from Egyptian garlic. Mycologia 81:300–303

Visagie CM, Houbraken J, Frisvad JC, Hong SB, Klaassen CH, Perrone G et al (2014) Identification and nomenclature of the genus Penicillium. Stud Mycol 78:343–371

Wenneker M, Thomma BPHJ (2020) Latent postharvest pathogens of pome fruit and their management: from single measures to a systems intervention approach. Eur J Plant Pathol 156:663–681

White T, Bruns T, Lee S, Taylor J (1990) Amplification and direct sequencing of fungal ribosomal RNA Genes for phylogenetics. In: PCR—protocols and applications—a laboratory manual. Academic Press, Cambridge

Woudenberg JHC, Van Der Merwe NA, Jurjević Ž, Groenewald JZ, Crous PW (2015) Diversity and movement of indoor Alternaria alternata across the mainland USA. Fungal Genet Biol 81:62–72

Ye SY, Song XL, Liang JL, Zheng SH, Lin Y (2012) Disinfection of airborne spores of Penicillium expansum in cold storage using continuous direct current corona discharge. Biosys Eng 113(2):112–119

Yu J, Jurick WM II, Cao H, Yin Y, Gaskins VL, Losada L et al (2014) Draft genome sequence of Penicillium expansum strain R19, which causes postharvest decay of apple fruit. Genome Announc 2(3):e00635

Zhang MK, Tang J, Huang ZQ, Hu KD, Li YH, Han Z, Chen XY, Hu LY, Yao GF, Zhang H (2018) Reduction of Aspergillus niger virulence in apple fruits by deletion of the catalase gene cpeB. J Agric Food Chem 66:401–5409

Zhang S, Zheng Q, Xu B, Liu J (2019) Identification of the fungal pathogens of postharvest disease on peach fruits and the control mechanisms of Bacillus subtilis JK-14. Toxins 11(6):322

Zhu L, Ni W, Liu S, Cai B, Xing H, Wang S (2017) Transcriptomics analysis of apple leaves in response to Alternaria alternata apple pathotype infection. Front Plant Sci 8:22
Acknowledgements
This work was supported by funds from the VRR Project (no. 0310) and by the Ministry of Higher Education and Scientific Research of Tunisia (LR16ES05).
Funding
This study was funded by Ministry of Higher Education and Scientific Research of Tunisia (LR16ES05) and by funds from the Project of Valorization of Results (VRR no. 0310).
Ethics declarations
Conflict of interest
The authors declare that they have no conflict of interest.
Ethical approval
This article does not contain any studies with human participants or animals performed by any of the authors.
Informed consent
All the authors consent to this submission.
Additional information
Publisher's Note
Springer Nature remains neutral with regard to jurisdictional claims in published maps and institutional affiliations.
Communicated by Olaf Kniemeyer.
Supplementary Information
Below is the link to the electronic supplementary material.
About this article
Cite this article
Smiri, M., Kheireddine, A., Hammami, R. et al. An assessment of the air quality in apple warehouses: new records of Aspergillus europaeus, Aspergillus pulverulentus, Penicillium allii and Penicillium sumatraense as decay agents. Arch Microbiol (2021). https://doi.org/10.1007/s00203-021-02551-9
Received:

Revised:

Accepted:

Published:
Keywords
Postharvest disease

Cold rooms

Pathogenicity

Airspora

Fungi