Abstract
Soil microbes play a fundamental role in maintaining nutrient biogeochemical cycles. To understand the distribution of soil bacterial communities on grassland plateaus, high-throughput sequencing was used to compare bacterial communities in soils from swamp meadows (SM), alpine meadows (AM), alpine steppes (AS), and desert steppes (DS) at the eastern edge of the Qinghai–Tibetan Plateau (QTP) in China. We then compared response to nitrogen addition between SM and DS soils in microcosms. Bacterial α-diversity decreased from SM > AM > AS > DS. Variations in soil properties across grassland types was associated with different soil bacterial communities corresponding to bacterial species associated with nutrient cycles to those associated with degradation. Soil moisture, pH, and total phosphorus were the main drivers of these differences. Nitrogen addition decreased bacterial diversity but had inconsistent effects on soil bacterial communities in SM and DS, which may also indicate that different alpine grassland soil types have unique bacterial communities. Alpine grassland degradation significantly affects bacterial communities, and the response to nitrogen addition depends on the alpine grassland type. These results allow for better predictions of soil bacteria community-level responses to geochemical and environmental change in alpine areas.
Access options
Buy single article
Instant access to the full article PDF.
US$ 39.95
Tax calculation will be finalised during checkout.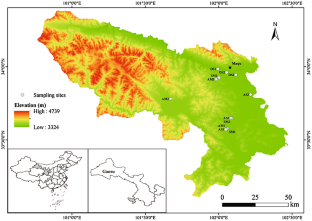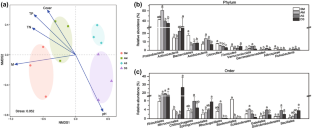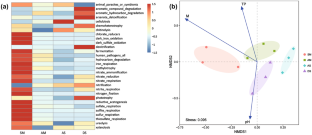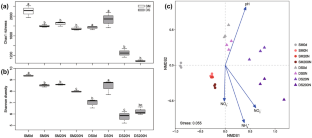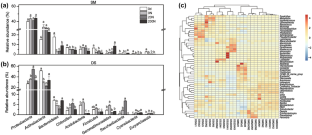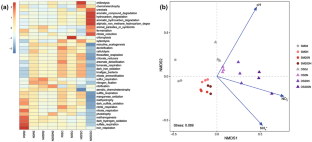 References
Artursson V, Finlay RD, Jansson JK (2006) Interactions between arbuscular mycorrhizal fungi and bacteria and their potential for stimulating plant growth. Environ Microbiol 8:1–10

Bao S (2000) Soil agro-chemistrical analysis. China Agriculture Press, Beijing

Bardgett RD, Putten WHVD (2014) Belowground biodiversity and ecosystem functioning. Nature 515:505–511

Behrendt L, Larkum AWD, Trampe E, Norman A, Sørensen SJ, Kühl M (2012) Microbial diversity of biofilm communities in microniches associated with the Didemnid ascidian Lissoclinum patella. ISME J 6:1222–1237

Brady NC, Weil RR (2017) The nature and properties of soils, 15th edition vol 5. Journal of range management, vol 6, 15th edn. Pearson Education, Upper Saddle River, NJ

Brockett BFT, Prescott CE, Grayston SJ (2012) Soil moisture is the major factor influencing microbial community structure and enzyme activities across seven biogeoclimatic zones in western Canada. Soil Biol Biochem 44:9–20

Chen D, Lan Z, Hu S, Bai Y (2015) Effects of nitrogen enrichment on belowground communities in grassland: relative role of soil nitrogen availability vs. soil acidification. Soil Biol Biochem 89:99–108

Chu H, Grogan P (2010) Soil microbial biomass, nutrient availability and nitrogen mineralization potential among vegetation-types in a low arctic tundra landscape. Plant Soil 329:411–420

Chu H, Neufeld JD, Walker VK, Grogan P (2011) The influence of vegetation type on the dominant soil bacteria, archaea, and fungi in a low Arctic Tundra landscape. Soil Sci Soc Am J 75:1756–1765

Delgadobaquerizo M et al (2019) Changes in belowground biodiversity during ecosystem development. Proc Natl Acad Sci USA 116:6891–6896

Dong J et al (2019) Responses of ammonia-oxidizing archaea and bacteria to nitrogen and phosphorus amendments in an alpine steppe. Eur J Soil Sci 71:940–954

Edgar RC (2013) UPARSE: highly accurate OTU sequences from microbial amplicon reads. Nat Meth 10:996–998

Edgar RC, Haas BJ, Clemente JC, Quince C, Knight R (2011) UCHIME improves sensitivity and speed of chimera detection. Bioinformatics 27:2194–2200

Elser JJ et al (2007) Global analysis of nitrogen and phosphorus limitation of primary producers in freshwater, marine and terrestrial ecosystems. Ecol Lett 10:1135–1142

Fierer N, Bradford MA, Jackson RB (2007) Toward an ecological classification of soil bacteria. Ecology 88:1354–1364

Harris RB (2010) Rangeland degradation on the Qinghai-Tibetan plateau: a review of the evidence of its magnitude and causes. J Arid Environ 74:1–12

He D, Xiang X, He J, Wang C, Cao G, Adams JM, Chu H (2016) Composition of the soil fungal community is more sensitive to phosphorus than nitrogen addition in the alpine meadow on the Qinghai-Tibetan plateau. Biol Fertil Soils 52:1059–1072

Hicks LC, Rousk K, Rinnan R, Rousk J (2020) Soil microbial responses to 28 years of nutrient fertilization in a subarctic heath. Ecosystems 23:1107–1119

Jiang X, Hou X, Zhou X, Xin X, Wright AL, Jia Z (2015) pH regulates key players of nitrification in paddy soils. Soil Biol Biochem 81:9–16

Kemmitt SJ, Wright DL, Goulding KWT, Jones DL (2006) pH regulation of carbon and nitrogen dynamics in two agricultural soils. Soil Biol Biochem 38:898–911

Kolde R, Kolde M (2015) Package 'pheatmap'. https://cran.r-project.org/package=pheatmap

Kumar M, Mannisto MK, Van Elsas JD, Nissinen R (2016) Plants impact structure and function of bacterial communities in Arctic soils. Plant Soil 399:319–332

Lauber CL, Hamady M, Knight R, Fierer N (2009) Pyrosequencing-based assessment of soil pH as a predictor of soil bacterial community structure at the continental scale. Appl Environ Microbiol 75:5111–5120

Leff JW et al (2015) Consistent responses of soil microbial communities to elevated nutrient inputs in grasslands across the globe. Proc Natl Acad Sci USA 112:10967–10972

Li Y et al (2016) Soil bacterial community responses to warming and grazing in a Tibetan alpine meadow. FEMS Microbiol Ecol 92:fiv152. https://doi.org/10.1093/femsec/fiv152

Li Y, Adams JM, Shi Y, Wang H, He J, Chu H (2017) Distinct soil microbial communities in habitats of differing soil water balance on the Tibetan plateau. Sci Rep 7:46407

Ling N, Chen D, Guo H, Wei J, Bai Y, Shen Q, Hu S (2017) Differential responses of soil bacterial communities to long-term N and P inputs in a semi-arid steppe. Geoderma 292:25–33

Liu Q (2016) Dynamic degradation of the alpine-cold wetland and analysis of driving forces in Maqu, China. Nat Environ Pollut Technol 15:457–464

Liu W et al (2020) Critical transition of soil bacterial diversity and composition triggered by nitrogen enrichment. Ecology 101:e03053

Louca S, Parfrey LW, Doebeli M (2016) Decoupling function and taxonomy in the global ocean microbiome. Science 353:1272–1277

Lu X, Mao Q, Gilliam FS, Luo Y, Mo J (2014) Nitrogen deposition contributes to soil acidification in tropical ecosystems. Glob Change Biol 20:3790–3801

Luo R et al (2019) Nitrogen and phosphorus enrichment accelerates soil organic carbon loss in alpine grassland on the Qinghai-Tibetan Plateau. Sci Total Environ 650:303–312

Lupatini M et al (2019) Moisture is more important than temperature for assembly of both potentially active and whole prokaryotic communities in subtropical grassland. Microb Ecol 77:460–470

Martin M (2011) Cutadapt removes adapter sequences from high-throughput sequencing reads. Embnetjournal 17:10–12

Nemergut DR et al (2008) The effects of chronic nitrogen fertilization on alpine tundra soil microbial communities: implications for carbon and nitrogen cycling. Environ Microbiol 10:3093–3105

Nicol GW, Leininger S, Schleper C, Prosser JI (2008) The influence of soil pH on the diversity, abundance and transcriptional activity of ammonia oxidizing archaea and bacteria. Environ Microbiol 10:2966–2978

Nie Y, Wang M, Zhang W, Ni Z, Hashidoko Y, Shen W (2018) Ammonium nitrogen content is a dominant predictor of bacterial community composition in an acidic forest soil with exogenous nitrogen enrichment. Sci Total Environ 624:407–415

Oksanen J et al. (2015) Vegan: community ecology package. Ordination methods, diversity analysis and other functions for community and vegetation ecologists. https://CRAN.R-project.org/package=vegan

Ramirez KS, Lauber CL, Knight R, Bradford MA, Fierer N (2010) Consistent effects of nitrogen fertilization on soil bacterial communities in contrasting systems. Ecology 91:3463–3470

Ramirez KS, Craine JM, Fierer N (2012) Consistent effects of nitrogen amendments on soil microbial communities and processes across biomes. Glob Change Biol 18:1918–1927

Ren B et al (2018) Soil pH and plant diversity shape soil bacterial community structure in the active layer across the latitudinal gradients in continuous permafrost region of Northeastern China. Sci Rep 8:5619

Rousk J et al (2010) Soil bacterial and fungal communities across a pH gradient in an arable soil. ISME J 4:1340–1351

Schloss PD et al (2009) Introducing mothur: open-source, platform-independent, community-supported software for describing and comparing microbial communities. Appl Environ Microbiol 75:7537–7541

Shen C et al (2013) Soil pH drives the spatial distribution of bacterial communities along elevation on Changbai Mountain. Soil Biol Biochem 57:204–211

Shen C, Ni Y, Liang W, Wang J, Chu H (2015) Distinct soil bacterial communities along a small-scale elevational gradient in alpine tundra. Front Microbiol 6:582–582

Shen W, Ni Y, Gao N, Bian B, Zheng S, Lin X, Chu H (2016) Bacterial community composition is shaped by soil secondary salinization and acidification brought on by high nitrogen fertilization rates. Appl Soil Ecol 108:76–83

Shi XM, Li XG, Long RJ, Singh BP, Li ZT, Li F (2010) Dynamics of soil organic carbon and nitrogen associated with physically separated fractions in a grassland-cultivation sequence in the Qinghai-Tibetan plateau. Biol Fertil Soils 46:103–111

Shi Y, Xiang X, Shen C, Chu H, Neufeld JD, Walker VK, Grogan P (2015) Vegetation-associated impacts on arctic tundra bacterial and microeukaryotic communities. Appl Environ Microbiol 81:492–501

Tan W, Wang J, Bai W, Qi J, Chen W (2020) Soil bacterial diversity correlates with precipitation and soil pH in long-term maize cropping systems. Sci Rep 10:6012

Tian X, Hu H, Ding Q, Song M, Xu X, Zheng Y, Guo L (2014) Influence of nitrogen fertilization on soil ammonia oxidizer and denitrifier abundance, microbial biomass, and enzyme activities in an alpine meadow. Biol Fertil Soils 50:703–713

Wang B, Zhao J, Guo Z, Ma J, Xu H, Jia Z (2015) Differential contributions of ammonia oxidizers and nitrite oxidizers to nitrification in four paddy soils. ISME J 9:1062–1075

Wang L, Wang L, He W, An L, Xu S (2017) Nutrient resorption or accumulation of desert plants with contrasting sodium regulation strategies. Sci Rep 7:17035–17035

Yang Z, Ou YH, Xu X, Zhao L, Song M, Zhou C (2010) Effects of permafrost degradation on ecosystems. Acta Ecol Sin 30:33–39

Yao M et al (2014) Rate-specific responses of prokaryotic diversity and structure to nitrogen deposition in the Leymus chinensis steppe. Soil Biol Biochem 79:81–90

Zhang X, Zhao L, Xu S, Liu Y, Liu HY, Cheng G (2013) Soil moisture effect on bacterial and fungal community in Beilu River (Tibetan Plateau) permafrost soils with different vegetation types. J Appl Microbiol 114:1054–1065

Zhang X et al (2014) The soil carbon/nitrogen ratio and moisture affect microbial community structures in alkaline permafrost-affected soils with different vegetation types on the Tibetan plateau. Res Microbiol 165:128–139

Zhou H, Zhang D, Jiang Z, Sun P, Xiao H, Yuxin W, Chen J (2019) Changes in the soil microbial communities of alpine steppe at Qinghai-Tibetan plateau under different degradation levels. Sci Total Environ 651:2281–2291

Zhu J et al (2016) Imbalanced atmospheric nitrogen and phosphorus depositions in China: implications for nutrient limitation. J Geophys Res Biogeoences 121:1605–1616
Acknowledgements
This research was funded by the National Natural Science Foundation of China (31870470, 31570393) and the National Basic Research Program of China (973 Program) (2013CB429904). We would like to thank Dr. Larry Bowman at Yale University for his assistance with suggestions and comments. We are grateful to Guozhen Du and Xianhui Zhou from the Maqu Experimental Site of Alpine Meadow and Wetland Ecosystem Research Station of Lanzhou University, and to Linping Yang and Dugai Shen from the Maqu Grassland Supervision Station for their help during soil sampling.
Ethics declarations
Conflict of interest
No conflicts of interest.
Research involving human participants and/or animals
The study is not related to animals or humans.
Additional information
Publisher's Note
Springer Nature remains neutral with regard to jurisdictional claims in published maps and institutional affiliations.
Communicated by Erko Stackebrandt.
Supplementary Information
Below is the link to the electronic supplementary material.
About this article
Cite this article
Qi, Xe., Wang, C., He, T. et al. Bacterial community changes and their responses to nitrogen addition among different alpine grassland types at the eastern edge of Qinghai–Tibetan Plateau. Arch Microbiol (2021). https://doi.org/10.1007/s00203-021-02535-9
Received:

Revised:

Accepted:

Published:
Keywords
Bacterial community

Nitrogen addition

Bacterial functional groups

16S rRNA

Qinghai–Tibetan Plateau