Abstract
A Marinomonas-like, Gram-stain-negative, strictly aerobic and rod to ovoid-shaped bacterium, designated as strain A79T, was isolated from the seawater mixtures of oyster shells and brown algae in a coastal intertidal zone of Zhoushan, China. The strain was positive for oxidase and catalase. Colonies grown on marine agar for 48 h were round, milky white, smooth and moist with the diameter of 2–3 mm. Growth was observed at 15–30 °C (optimum, 25℃), pH 5.5–9.5 (optimum, pH 8.5) and with 0.5–8% (w/v) NaCl (optimum, 2–2.5%). The G + C content based on the genome sequence was 46.0%. The only respiratory quinone was Q-8. The main polar lipids contained phosphatidylglycerol, phosphatidylethanolamine, unidentified glycolipids, unidentified phospholipid and three unidentified lipids. The major fatty acids (> 10%) were C16:0, Summed feature 3 (comprising C16:1 ω6c and/or C16:1 ω7c) and summed feature 8 (comprising C18:1 ω6c and/or C18:1 ω7c). The 16S rRNA gene sequence similarity between strain A79T and Marinomonas pollencensis IVIA-Po-185T was 97.4%, the similarities with other type strains of the genus Marinomonas were 93.8–96.7%. Based on the results, Marinomonas vulgaris sp. nov. was proposed as a novel species. The type strain is A79T (= MCCC 1K05799T = KCTC 82519T = JCM 34473T).
Access options
Buy single article
Instant access to the full article PDF.
US$ 39.95
Tax calculation will be finalised during checkout.
Subscribe to journal
Immediate online access to all issues from 2019. Subscription will auto renew annually.
US$ 119
Tax calculation will be finalised during checkout.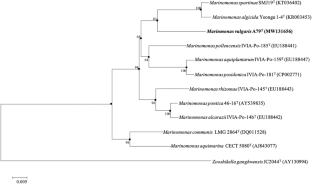 Abbreviations
MA:

Marine agar

ANI:

Average nucleotide identity

DDH:

DNA–DNA hybridization

MB:

Marine broth

ML:

Maximum-likelihood

NJ:

Neighbor-joining

Q-8:

Ubiquinone 8

PE:

Phosphatidylethanolamine

PG:

Phosphatidylglycerol

PL:

Phospholipid

GL:

Glycolipids

L:

Lipid
Acknowledgements
This study was supported by the National Natural Science Foundation of China (No. 31900003), Zhejiang Provincial Natural Science Foundation of China under Grant No. LQ19C010005, Scientific Research Fund of Oceanography, SOA, grant no. JB1805, China Postdoctoral Science Foundation (grant no. 2018M642382) and National Science and Technology Fundamental Resources Investigation Program of China (2019FY100700).
Ethics declarations
Conflict of interest
The authors declare that they have no conflict of interest.
Additional information
Publisher's Note
Springer Nature remains neutral with regard to jurisdictional claims in published maps and institutional affiliations.
Communicated by Erko Stackebrandt.
Supplementary Information
Below is the link to the electronic supplementary material.
About this article
Cite this article
Ying, JJ., Fang, YC., Ye, YL. et al. Marinomonas vulgaris sp. nov., a marine bacterium isolated from seawater in a coastal intertidal zone of Zhoushan island. Arch Microbiol (2021). https://doi.org/10.1007/s00203-021-02500-6
Received:

Revised:

Accepted:

Published:
Keywords
Marinomonas vulgaris

Oyster shells and brown algae

Coastal intertidal zone

Zhoushan island