Abstract
Antibiotics are usually used for the treatment of bacterial infections, but multidrug-resistant strains are a phenomenon that has been growing at an increasing rate worldwide. Thus, there is an increasing need for novel strategies for combatting infectious diseases. Many pathogenic bacteria apply quorum sensing (QS) to regulate their pathogenicity and virulence factors production. This circuit makes the QS system an attractive target for antibacterial therapy. In the present study, an important member of non-steroidal anti-inflammatory drugs (NSAIDs), by reducing the biofilm and producing QS-regulated virulence factors, ketoprofen and its synthetic derivatives were screened against the Pseudomonas aeruginosa PAO1. All compounds showed anti-biofilm activity (16–79%) and most of them presented anti-virulence activity. In the co-treatment of ketoprofen, G20, G21, or G77 with tobramycin, biofilm is significantly reduced (potentiated to > 50%) in the number of cells protected inside the impermeable matrix. The in silico studies in addition to the similarities between the chemical structures of PqsR natural ligands and ketoprofen derivatives reinforce the possibility that the mechanism of action is through PqsR inhibition. Based on the results, the anti-pathogenic effect was more appreciable in ketoprofen, G77, and G20.
Access options
Buy single article
Instant access to the full article PDF.
US$ 39.95
Tax calculation will be finalised during checkout.
Subscribe to journal
Immediate online access to all issues from 2019. Subscription will auto renew annually.
US$ 119
Tax calculation will be finalised during checkout.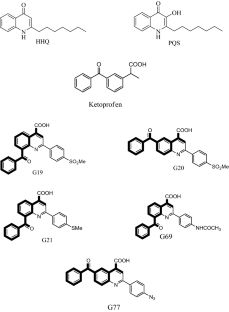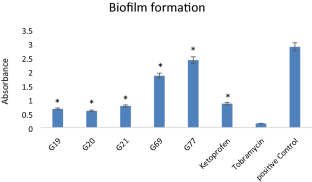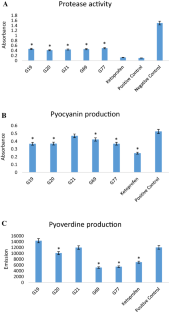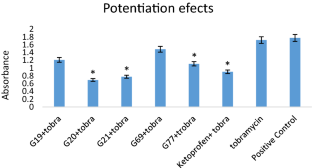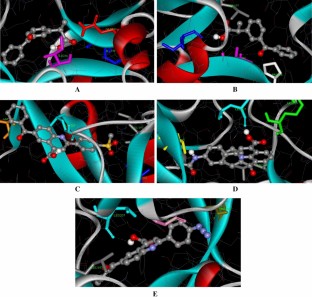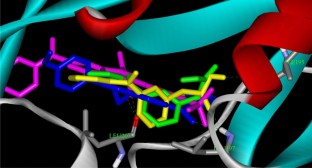 Data availability
Data and materials are available as needed.
References
Abbas HA (2015) Inhibition of virulence factors of Pseudomonas aeruginosa by diclofenac sodium. Roum Arch Microbiol Immunol 74:79–85

Abbas HA, Serry FM, EL-Masry EM (2012) Combating Pseudomonas aeruginosa biofilms by potential biofilm inhibitors. Asian J Res Pharm Sci 2:66–72

Bahari S, Zeighami H, Mirshahabi H, Roudashti S, Haghi F (2017) Inhibition of Pseudomonas aeruginosa quorum sensing by subinhibitory concentrations of curcumin with gentamicin and azithromycin. J Glob Antimicrob Resist 10:21–28

Bandara B, Sankaridurg P, Willcox M (2004) Non-steroidal anti inflammatory agents decrease bacterial colonisation of contact lenses and prevent adhesion to human corneal epithelial cells. Curr Eye Res 29:245–251

Bandara MB, Zhu H, Sankaridurg PR, Willcox MD (2006) Salicylic acid reduces the production of several potential virulence factors of Pseudomonas aeruginosa associated with microbial keratitis. Invest Ophthalmol vis Sci 47:4453–4460

Bottomley MJ, Muraglia E, Bazzo R, Carfì A (2007) Molecular insights into quorum sensing in the human pathogen Pseudomonas aeruginosa from the structure of the virulence regulator LasR bound to its autoinducer. J Biol Chem 282:13592–13600

Chan EWL, Yee ZY, Raja I, Yap JKY (2017) Synergistic effect of non-steroidal anti-inflammatory drugs (NSAIDs) on antibacterial activity of cefuroxime and chloramphenicol against methicillin-resistant Staphylococcus aureus. J Glob Antimicrob Resist 10:70–74

Chatterjee M et al (2017) Mechanistic understanding of phenyllactic acid mediated inhibition of quorum sensing and biofilm development in Pseudomonas aeruginosa. Appl Microbiol Biotechnol 101:8223–8236

Chow S, Gu K, Jiang L, Nassour A (2011) Salicylic acid affects swimming, twitching and swarming motility in Pseudomonas aeruginosa, resulting in decreased biofilm formation. JEMI 15:22–29

Dastidar SG, Ganguly K, Chaudhuri K, Chakrabarty A (2000) The anti-bacterial action of diclofenac shown by inhibition of DNA synthesis. Int J Antimicrob 14:249–251

Dekimpe V, Deziel E (2009) Revisiting the quorum-sensing hierarchy in Pseudomonas aeruginosa: the transcriptional regulator RhlR regulates LasR-specific factors. Microbiology 155:712–723

Ding X et al (2011) Screening for novel quorum-sensing inhibitors to interfere with the formation of Pseudomonas aeruginosa biofilm. J Med Microbiol 60:1827–1834

Dutta NK et al (2007) Potential management of resistant microbial infections with a novel non-antibiotic: the anti-inflammatory drug diclofenac sodium. Int J Antimicrob 30:242–249

e Silva AAdL, Silva PM (2018) Non-antibiotic compounds: the activity of the NSAID diclofenac on bacteria—a review. Int J Curr Microbiol App Sci 7:340–351

El-Mowafy SA, El Galil KHA, El-Messery SM, Shaaban MI (2014) Aspirin is an efficient inhibitor of quorum sensing, virulence and toxins in Pseudomonas aeruginosa. Microb Pathog 74:25–32

Galloway WR, Hodgkinson JT, Bowden SD, Welch M, Spring DR (2011) Quorum sensing in gram-negative bacteria: small-molecule modulation of AHL and AI-2 quorum sensing pathways. Chem Rev 111:28–67

Geske GD, Mattmann ME, Blackwell HE (2008) Evaluation of a focused library of N-aryl l-homoserine lactones reveals a new set of potent quorum sensing modulators. Bioorg Med Chem Lett 18:5978–5981

Givskov M et al (1996) Eukaryotic interference with homoserine lactone-mediated prokaryotic signalling. J Bacteriol 178:6618–6622

Hentzer M et al (2002) Inhibition of quorum sensing in Pseudomonas aeruginosa biofilm bacteria by a halogenated furanone compound. Microbiol 148:87–102

Husain FM, Ahmad I, Al-thubiani AS, Abulreesh HH, AlHazza IM, Aqil F (2017) Leaf extracts of Mangifera indica L. inhibit quorum sensing–regulated production of virulence factors and biofilm in test bacteria. Front Microbiol 8:727

Ilangovan A et al (2013) Structural basis for native agonist and synthetic inhibitor recognition by the Pseudomonas aeruginosa quorum sensing regulator PqsR (MvfR). PLoS Pathog 9:1–17

Jakobsen TH et al (2012) Ajoene, a sulfur-rich molecule from garlic, inhibits genes controlled by quorum sensing. Antimicrob Agents Ch 56:2314–2325

Khalaf A et al (2015) Antibacterial, anti-biofilm activity of some non-steroidal anti-inflammatory drugs and N-acetyl cysteine against some biofilm producing uropathogens. Am Journal Epidemiol 3:1–9

Kim C et al (2008) Furanone derivatives as quorum-sensing antagonists of Pseudomonas aeruginosa. Appl Microbiol Biotechnol 80:37

Kunin CM, Hua TH, Bakaletz LO (1995) Effect of salicylate on expression of flagella by Escherichia coli and Proteus, Providencia, and Pseudomonas spp. Infect Immun 63:1796–1799

Mah T-FC, O'Toole GA (2001) Mechanisms of biofilm resistance to antimicrobial agents. Trends Microbiology 9:34–39

Maisuria VB, Lopez-de Los Santos Y, Tufenkji N, Déziel E (2016) Cranberry-derived proanthocyanidins impair virulence and inhibit quorum sensing of Pseudomonas aeruginosa. Sci Rep 6:30169

Miandji A et al (2012) Synthesis and biological activities of some 1, 3-benzoxazol-2 (3H)-one derivatives as anti-quorum sensing agents. Arzneimittelforschung 62:330–334

Obad J, Šušković J, Kos B (2015) Antimicrobial activity of ibuprofen: new perspectives on an "old" non-antibiotic drug. Eur J Pharm Sci 71:93–98

Oprea V, Moga D (2015) Why should be removed chronic infected abdominal synthetic meshes? A review. J Surg 2:17–23

Padma R, Yalavarthy PD (2015) Screening of diclofenac for antibacterial activity against pathogenic microorganisms. Int J Adv Pharm Bio Chem 4:554–558

Prithiviraj B et al (2005) Down regulation of virulence factors of Pseudomonas aeruginosa by salicylic acid attenuates its virulence on Arabidopsis thaliana and Caenorhabditis elegans. Infect Immun 73:5319–5328

Qais FA, Khan MS, Ahmad I (2019) Broad-spectrum quorum sensing and biofilm inhibition by green tea against gram-negative pathogenic bacteria: deciphering the role of phytocompounds through molecular modelling. Microb Pathog 126:379–392

Rasmussen TB et al (2005) Identity and effects of quorum-sensing inhibitors produced by Penicillium species. Microbiology 151:1325–1340

Reichhardt C, Parsek M (2019) Confocal laser scanning microscopy for analysis of Pseudomonas aeruginosa biofilm architecture and matrix localization. Front Microbiol 10:677

Rutherford ST, Bassler BL (2012) Bacterial quorum sensing: its role in virulence and possibilities for its control. Cold Spring Harb Perspect Med 2:a012427

Sarabhai S, Sharma P, Capalash N (2013) Ellagic acid derivatives from Terminalia chebula Retz. downregulate the expression of quorum sensing genes to attenuate Pseudomonas aeruginosa PAO1 virulence. PLoS One 8:1–11

Shah PN et al (2018) Antimicrobial activity of ibuprofen against cystic fibrosis-associated gram-negative pathogens. Antimicrob Agents Chem 62:1–22

She P et al (2018) Meloxicam inhibits biofilm formation and enhances antimicrobial agents efficacy by Pseudomonas aeruginosa. MicrobiologyOpen 7:e00545

Skindersoe ME et al (2008) Effects of antibiotics on quorum sensing in Pseudomonas aeruginosa. Antimicrob Agents Chem 52:3648–3663

Soheili V, Bazzaz BSF, Abdollahpour N, Hadizadeh F (2015) Investigation of Pseudomonas aeruginosa quorum-sensing signaling system for identifying multiple inhibitors using molecular docking and structural analysis methodology. Microb Pathog 89:73–78

Soheili V, Tajani AS, Ghodsi R, Bazzaz BSF (2019) Anti-PqsR compounds as next-generation antibacterial agents against Pseudomonas aeruginosa: a review. Eur J Med Chem 172:26–35

Tateda K, Comte R, Pechere J-C, Köhler T, Yamaguchi K, Van Delden C (2001) Azithromycin inhibits quorum sensing in Pseudomonas aeruginosa. Antimicrob Agents Chem 45:1930–1933

Thomann A, de Mello Martins AG, Brengel C, Empting M, Hartmann RW (2016) Application of dual inhibition concept within looped autoregulatory systems toward antivirulence agents against Pseudomonas aeruginosa infections. ACS Chem Biol 11:1279–1286

Ulusoy S, Bosgelmez-Tinaz G (2013) Nonsteroidal anti-inflammatory drugs reduce the production of quorum sensing regulated virulence factors and swarming motility in human pathogen Pseudomonas aeruginosa. Drug Res (stuttg) 63:409–413

Umaru T, Nwamba CO, Kolo I, Nwodo UU (2009) Antimicrobial activity of non-steroidal anti-inflammatory drugs with respect to immunological response: diclofenac sodium as a case study. Afr J Biotechnol 8:7333–7339

Van Delden C, Iglewski BH (1998) Cell-to-cell signaling and Pseudomonas aeruginosa infections. Emerg Infect Dis 4:551

Wu S, Liu G, Jin W, Xiu P, Sun C (2016) Antibiofilm and anti-infection of a marine bacterial exopolysaccharide against Pseudomonas aeruginosa. Front Microbiol 7:102

Zarghi A, Ghodsi R (2010) Design, synthesis, and biological evaluation of ketoprofen analogs as potent cyclooxygenase-2 inhibitors. Bioorg Med Chem 18:5855–5860
Acknowledgement
The results described in this paper were part of pharmacy students thesis.
Ethics declarations
Conflict of interest
The authors declare that the research was conducted in the absence of any commercial or financial relationships that could be construed as a potential conflict of interest.
Ethical approval
Not applicable.
Consent to participate
Not applicable.
Consent for publication
Not applicable.
Additional information
Publisher's Note
Springer Nature remains neutral with regard to jurisdictional claims in published maps and institutional affiliations.
Communicated by Erko Stackebrandt.
About this article
Cite this article
Tajani, A.S., Jangi, E., Davodi, M. et al. Anti-quorum sensing potential of ketoprofen and its derivatives against Pseudomonas aeruginosa: insights to in silico and in vitro studies. Arch Microbiol (2021). https://doi.org/10.1007/s00203-021-02499-w
Received:

Revised:

Accepted:

Published:
Keywords
Pseudomonas aeruginosa

Microbial resistance

Anti-virulence compounds

Anti-biofilm

Ketoprofen