Abstract
The exploration of vaginal microbiota by using next-generation sequencing (NGS) of 16S ribosomal RNA (rRNA) gene is widely used. Up to now, different hypervariable regions have been selected to study vaginal microbiota by NGS and there is no standard method for analysis. The study aimed to characterize vaginal microbiota from clinical samples using NGS targeting the 16S rRNA gene and to determine the performance of individual and concatenated hypervariable region sequences to generate the taxonomic profiles of the vaginal microbiota. Fifty-one vaginal DNA samples were subjected to 16S rRNA gene NGS based on the Ion Torrent PGM platform with the use of two primer sets spanning seven hypervariable regions of the 16S rRNA gene. Our analysis revealed that the predominant bacterial genera were Lactobacillus, Gardnerella and Atopobium, which accounted for 78%, 14% and 2%, respectively, of sequences from all vaginal bacterial genera. At the species level, Lactobacillus iners, Gardnerella vaginalis and Atopobium vaginae accounted for 72%, 10% and 6%, respectively, of the bacterial cells present. Analyses using the V3 region generally indicated the highest bacterial diversity followed by the V6–V7 and V4 regions, while the V9 region gave the lowest bacterial resolution. NGS based on the 16S rRNA gene can give comprehensive estimates of the diversity of vaginal bacterial communities. Selection of sequences from appropriate hypervariable regions is necessary to provide reliable information on bacterial community diversity.
This is a preview of subscription content, log in to check access.
Access options
Buy single article
Instant access to the full article PDF.
US$ 39.95
Tax calculation will be finalised during checkout.
Subscribe to journal
Immediate online access to all issues from 2019. Subscription will auto renew annually.
US$ 199
Tax calculation will be finalised during checkout.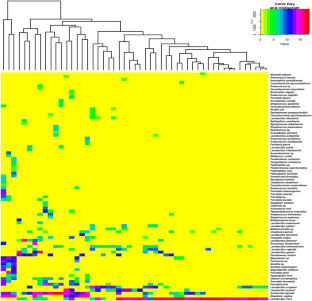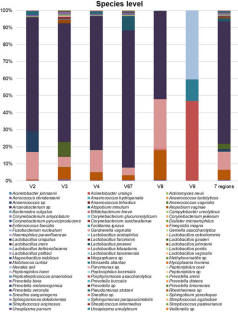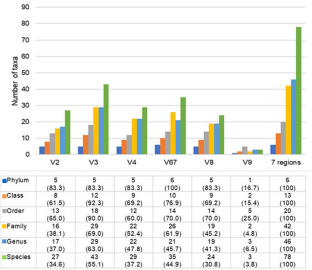 References
Barb JJ et al (2016) Development of an analysis pipeline characterizing multiple hypervariable regions of 16S rRNA using mock samples. PLoS ONE 11:e0148047. https://doi.org/10.1371/journal.pone.0148047

Borgdorff H et al (2017) The association between ethnicity and vaginal microbiota composition in Amsterdam, The Netherlands. PLoS ONE 12:e0181135. https://doi.org/10.1371/journal.pone.0181135

Castelino M et al (2017) Optimisation of methods for bacterial skin microbiome investigation: primer selection and comparison of the 454 versus MiSeq platform. BMC Microbiol 17:23. https://doi.org/10.1186/s12866-017-0927-4

Chen Z et al (2019) Impact of preservation method and 16S rRNA hypervariable region on gut microbiota profiling. mSystems. https://doi.org/10.1128/mSystems.00271-18

Claesson MJ, Wang Q, O'Sullivan O, Greene-Diniz R, Cole JR, Ross RP, O'Toole PW (2010) Comparison of two next-generation sequencing technologies for resolving highly complex microbiota composition using tandem variable 16S rRNA gene regions. Nucleic Acids Res 38:e200. https://doi.org/10.1093/nar/gkq873

Clarridge JE (2004) Impact of 16S rRNA gene sequence analysis for identification of bacteria on clinical microbiology and infectious diseases. Clin Microbiol Rev 17:840–862. https://doi.org/10.1128/cmr.17.4.840-862.2004

Diop K, Dufour J-C, Levasseur A, Fenollar F (2019) Exhaustive repertoire of human vaginal microbiota. Hum Microbiome J. https://doi.org/10.1016/j.humic.2018.11.002

Drancourt M, Bollet C, Carlioz A, Martelin R, Gayral JP, Raoult D (2000) 16S ribosomal DNA sequence analysis of a large collection of environmental and clinical unidentifiable bacterial isolates. J Clin Microbiol 38:3623–3630

Drell T et al (2013) Characterization of the vaginal micro- and mycobiome in asymptomatic reproductive-age Estonian women. PLoS ONE 8:e54379. https://doi.org/10.1371/journal.pone.0054379

Fettweis JM et al (2014) Differences in vaginal microbiome in African American women versus women of European ancestry. Microbiol 160:2272–2282. https://doi.org/10.1099/mic.0.081034-0

Fouhy F, Clooney AG, Stanton C, Claesson MJ, Cotter PD (2016) 16S rRNA gene sequencing of mock microbial populations- impact of DNA extraction method, primer choice and sequencing platform. BMC Microbiol 16:123. https://doi.org/10.1186/s12866-016-0738-z

Gloor GB, Hummelen R, Macklaim JM, Dickson RJ, Fernandes AD, MacPhee R, Reid G (2010) Microbiome profiling by illumina sequencing of combinatorial sequence-tagged PCR products. PLoS ONE 5:e15406. https://doi.org/10.1371/journal.pone.0015406

Huang B, Fettweis JM, Brooks JP, Jefferson KK, Buck GA (2014) The changing landscape of the vaginal microbiome. Clin Lab Med 34:747–761. https://doi.org/10.1016/j.cll.2014.08.006

Human Microbiome Project C (2012) Structure, function and diversity of the healthy human microbiome. Nature 486:207–214. https://doi.org/10.1038/nature11234

Kennedy NA et al (2014) The impact of different DNA extraction kits and laboratories upon the assessment of human gut microbiota composition by 16S rRNA gene sequencing. PLoS ONE 9:e88982. https://doi.org/10.1371/journal.pone.0088982

Ling Z et al (2010) Molecular analysis of the diversity of vaginal microbiota associated with bacterial vaginosis. BMC Genomics 11:488. https://doi.org/10.1186/1471-2164-11-488

Martin DH, Zozaya M, Lillis R, Miller J, Ferris MJ (2012) The microbiota of the human genitourinary tract: trying to see the forest through the trees. Trans Am Clin Climatol Assoc 123:242–256

Pylro VS, Roesch LF, Morais DK, Clark IM, Hirsch PR, Totola MR (2014) Data analysis for 16S microbial profiling from different benchtop sequencing platforms. J Microbiol Methods 107:30–37. https://doi.org/10.1016/j.mimet.2014.08.018

Raoult D, Henrissat B (2014) Are stool samples suitable for studying the link between gut microbiota and obesity? Eur J Epidemiol 29:307–309. https://doi.org/10.1007/s10654-014-9905-4

Ravel J et al (2011) Vaginal microbiome of reproductive-age women. Proc Natl Acad Sci USA 108(Suppl 1):4680–4687. https://doi.org/10.1073/pnas.1002611107

Salipante SJ et al (2014) Performance comparison of Illumina and ion torrent next-generation sequencing platforms for 16S rRNA-based bacterial community profiling. Appl Environ Microbiol 80:7583–7591. https://doi.org/10.1128/AEM.02206-14

Sanschagrin S, Yergeau E (2014) Next-generation sequencing of 16S ribosomal RNA gene amplicons. J Vis Exp. https://doi.org/10.3791/51709

Shipitsyna E et al (2013) Composition of the vaginal microbiota in women of reproductive age–sensitive and specific molecular diagnosis of bacterial vaginosis is possible? PLoS ONE 8:e60670. https://doi.org/10.1371/journal.pone.0060670

Sirichoat A et al (2018) Characterization of vaginal microbiota in Thai women. PeerJ 6:e5977. https://doi.org/10.7717/peerj.5977

Smith SB, Ravel J (2017) The vaginal microbiota, host defence and reproductive physiology. J Physiol 595:451–463. https://doi.org/10.1113/JP271694

Smith BC et al (2012) The cervical microbiome over 7 years and a comparison of methodologies for its characterization. PLoS ONE 7:40425. https://doi.org/10.1371/journal.pone.0040425

Subramaniam A et al (2016) Vaginal microbiota in pregnancy: evaluation based on vaginal flora, birth outcome, and race. Am J Perinatol 33:401–408. https://doi.org/10.1055/s-0035-1565919

Tachedjian G, Aldunate M, Bradshaw CS, Cone RA (2017) The role of lactic acid production by probiotic Lactobacillus species in vaginal health. Res Microbiol 168:782–792. https://doi.org/10.1016/j.resmic.2017.04.001

Life Technologies (2014) 16S rRNA Sequencing; An integrated research solution for bacterial identification using 16S rRNA sequencing on the Ion PGM System with Ion Reporter Software; application note. Available online at: https://www.lifetechnologies.com/content/dam/LifeTech/Documents/PDFs/Ion-16S-Metagenomics-Kit-Software-Application-Note.pdf (Accessed April 1, 2018)

Van Der Pol WJ et al (2019) In silico and experimental evaluation of primer sets for species-level resolution of the vaginal microbiota using 16S ribosomal RNA gene sequencing. J Infect Dis 219:305–314. https://doi.org/10.1093/infdis/jiy508

Walther-Antonio MR et al (2014) Pregnancy's stronghold on the vaginal microbiome. PLoS ONE 9:e98514. https://doi.org/10.1371/journal.pone.0098514

Zheng W, Tsompana M, Ruscitto A, Sharma A, Genco R, Sun Y, Buck MJ (2015) An accurate and efficient experimental approach for characterization of the complex oral microbiota. Microbiome 3:48. https://doi.org/10.1186/s40168-015-0110-9
Acknowledgements
We would like to acknowledge Prof. David Blair for editing the manuscript via Publication Clinic KKU, Thailand.
Funding
This study was supported by the Thailand Research Fund (TFR) through the Royal Golden Jubilee (RGJ)-Ph.D. Program Grant (PHD/0133/2558), Thailand and Research and Diagnostic Center for Emerging Infectious Diseases, Khon Kaen University, Khon Kaen, Thailand.
Ethics declarations
Conflict of interest
The authors declare no conflict of interest.
Additional information
Publisher's Note
Springer Nature remains neutral with regard to jurisdictional claims in published maps and institutional affiliations.
Communicated by Erko Stackebrandt.
Electronic supplementary material
Below is the link to the electronic supplementary material.
About this article
Cite this article
Sirichoat, A., Sankuntaw, N., Engchanil, C. et al. Comparison of different hypervariable regions of 16S rRNA for taxonomic profiling of vaginal microbiota using next-generation sequencing. Arch Microbiol (2020). https://doi.org/10.1007/s00203-020-02114-4
Received:

Revised:

Accepted:

Published:
Keywords
16S rRNA gene

Hypervariable regions

Next-generation sequencing

Bacterial diversity

Vaginal microbiota

Ion Torrent PGM