Abstract
The El Tatio Geyser Field (ETGF), located in Northern Chile, is the main geyser field in the southern hemisphere. Despite this, details of its microbial ecology are still unknown. Here, we briefly report on  the composition and predicted functions of the bacterial community in spouting pool sediments from the ETGF as revealed by high-throughput sequencing of 16S rRNA genes. Results of this analysis showed that while there were differences in richness and diversity between samples, bacterial communities were primarily dominated by the phyla Proteobacteria, followed Firmicutes, Bacteroidetes, Acidobacteria, and Chloroflexi. Analyses of predicted functional activity indicated that the functions were mostly attributed to chemoheterotrophy and aerobic chemoheterotrophy, followed by sulfur (respiration of sulfur compounds and sulfate) and nitrogen (nitrate reduction, respiration of nitrogen and nitrate) cycling. Taken together, our results suggest a high diversity in taxonomy and predictive functions of bacterial communities in sediments from spouting pools. This study provides fundamentally important  information on the structure and function  predictive functions of microbiota  communities in spouting pools. Moreover, since the ETGF is intensively visited and impacted by tens of thousands of tourists every year, our results can be used to help guide the design of sustainable conservation strategies.
Access options
Buy single article
Instant access to the full article PDF.
US$ 39.95
Tax calculation will be finalised during checkout.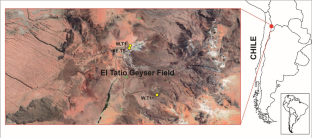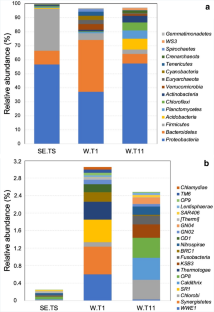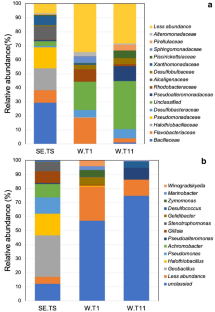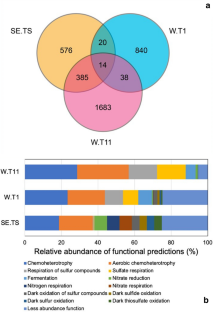 Data availability
The nucleotide sequence data reported here are available in the GenBank database under the Accession Number PRJNA560588.
References
Al-Ghalith GA, Montassier E, Ward HN, Knights D (2016) NINJA-OPS: fast accurate marker gene alignment using concatenated ribosomes. PLoS Comput Biol. 12(1):e1004658. https://doi.org/10.1371/journal.pcbi.1004658

Al-Ghalith GA, Hillmann B, Ang K, Shields-Cutler R, Knights D (2018) SHI7 is a self-learning pipeline for multipurpose short-read dna quality control. mSystems. https://doi.org/10.1128/mSystems.00202-17

Ao L, Zeng XC, Nie Y, Mu Y, Zhou L, Luo X (2014) Flavobacterium arsenatis sp. nov., a novel arsenic-resistant bacterium from higharsenic sediment. Int J Syst Evol Micr 64:3369–3374. https://doi.org/10.1099/ijs.0.063248-0

Barbieri R, Cavalazzi B, Stivaletta N, López-García P (2014) Silicified biota in high-altitude, geothermally influenced ignimbrites at El Tatio Geyser Field, Andean Cordillera (Chile). Geomicrobiol J 31:493–508. https://doi.org/10.1080/01490451.2013.836691

Bolhuis H, Cretoiu MS, Stal LJ (2014) Molecular ecology of microbial mats. FEMS Microbiol Ecol 90:335–350. https://doi.org/10.1111/1574-6941.12408

Breeze P (2014) Power generation technologies. Newnes, Elsevier

Brito EMS, Villegas-Negrete N, Sotelo-González IA, Caretta CA, Goñi-Urriza M, Gassie C, Hakil F, Colin Y, Duran R, Gutiérrez-Corona F, Piñón-Castillo HA, Cuevas-Rodríguez G, Malm O, Torres JPM, Fahy A, Reyna-López GE, Guyoneaud R (2014) Microbial diversity in Los Azufres geothermal field (Michoacán México) and isolation of representative sulfate and sulfur reducers. Extremophiles 18:385–398. https://doi.org/10.1007/s00792-013-0624-7

Casanueva A, Galada N, Baker GC, Grant WD, Heaphy S, Jones B, Yanhe M, Ventosa A, Blamey J, Cowan DA (2008) Nanoarchaeal 16S rRNA gene sequences are widely dispersed in hyperthermophilic and mesophilic halophilic environments. Extremophiles 12:651–656. https://doi.org/10.1007/s00792-008-0170-x

Chan CS, Chan K, Tay Y, Chua YH, Goh KM (2015) Diversity of thermophiles in a Malaysian hot spring determined using 16S rRNA and shotgun metagenome sequencing. Front Microbiol 6:1–16. https://doi.org/10.3389/fmicb.2015.00177

Cortecci G, Boschetti T, Mussi M, Herrera-Lameli C, Mucchino C, Barbieri M (2005) New chemical and original isotopic data on waters from El Tatio geothermal field, northern Chile. Geochem J 39:547–571. https://doi.org/10.2343/geochemj.39.547

de León KB, Gerlach R, Peyton BM, Fields MW (2013) Archaeal and bacterial communities in three alkaline hot springs in Heart Lake Geyser Basin, Yellowstone National Park. Front Microbiol 4:1–10. https://doi.org/10.3389/fmicb.2013.00330

Dumorné K, Córdova DC, Astorga-Eló M, Renganathan P (2017) Extremozymes: a potential source for industrial applications. J Microbiol Biotechnol 27:649–659. https://doi.org/10.4014/jmb.1611.11006

Engel AS, Johnson LR, Porter ML (2013) Arsenite oxidase gene diversity among Chloroflexi and Proteobacteria from El Tatio Geyser Field, Chile. FEMS Microb Ecol 83:745–756. https://doi.org/10.1111/1574-6941.12030

Escudero LV, Casamayor EO, Chong G, Pedrós-Alió C, Demergasso C (2013) Distribution of microbial arsenic reduction, oxidation and extrusion genes along a wide range of environmental arsenic concentrations. PLoS ONE 8:1–14. https://doi.org/10.1371/journal.pone.0078890

Fernandez-Turiel JL, Garcia-Valles M, Gimeno-Torrente D, Saavedra-Alonso J, Martinez-Manent S (2005) The hot spring and geyser sinters of El Tatio, Northern Chile. Sediment Geol. 180:125–147. https://doi.org/10.1016/j.sedgeo.2005.07.005

Glennon JA, Pfaff RM (2003) The extraordinary thermal activity of El Tatio Geyser Field, Antofagasta Region, Chile. GOSA Trans 8:31–78

Gohl DM, Vangay P, Garbe J, MacLean A, Hauge A, Becker A, Gould TJ, Clayton JB, Johnson TJ, Hunter R, Knights D, Beckman KB (2016) Systematic improvement of amplicon marker gene methods for increased accuracy in microbiome studies. Nat Biotechnol 34:942–949. https://doi.org/10.1038/nbt.3601

Gong J, Myers KD, Munoz-Saez C, Homann M, Rouillard J, Wirth R, Schreiber A, van Zuilen MA (2020) Formation and preservation of microbial palisade fabric in silica deposits from El Tatio, Chile. Astrobiology 20:500–524. https://doi.org/10.1089/ast.2019.2025

Houghton KM, Carere CR, Stott MB, McDonald IR (2019) Thermophilic methanotrophs: In hot pursuit. FEMS Microbiol Ecol. 95:fix125. https://doi.org/10.1093/femsec/fiz125

Jorquera MA, Gabler S, Inostroza NG, Acuña JJ, Campos MC, Menezes-Blackburn D, Greiner R (2018) Screening and characterization of phytases from bacteria isolated from Chilean hydrothermal environments. Microb Ecol 75:387–399. https://doi.org/10.1007/s00248-017-1057-0

Jorquera MA, Graether SP, Maruyama F (2019) Editorial: bioprospecting and biotechnology of extremophiles. Front Bioeng Biotechnol. 7:204. https://doi.org/10.3389/fbioe.2019.00204

Landrum JT, Bennett PC, Engel AS, Alsina MA, Pastén PA, Milliken K (2009) Partitioning geochemistry of arsenic and antimony, El Tatio Geyser Field, Chile. Appl Geochem 24:664–676. https://doi.org/10.1016/j.apgeochem.2008.12.024

Lau MCY, Aitchison JC, Pointing SB (2009) Bacterial community composition in thermophilic microbial mats from five hot springs in central Tibet. Extremophiles 13:139–149. https://doi.org/10.1007/s00792-008-0205-3

Louca S, Parfrey LW, Doebeli M (2016) Decoupling function and taxonomy in the global ocean microbiome. Science 353:1272–1277. https://doi.org/10.1126/science.aaf4507

Miller SR, Strong AL, Jones KL, Ungerer MC (2009) Bar-coded pyrosequencing reveals shared bacterial community properties along the temperature gradients of two alkaline hot springs in Yellowstone National Park. Appl Environ Microbiol 75:4565–4572. https://doi.org/10.1128/AEM.02792-08

Mulkidjanian AY, Yu A, Dibrova DV, Galperin MY, Koonin EV (2012) Origin of first cells at terrestrial, anoxic geothermal fields. PNAS 109:821–830. https://doi.org/10.1073/pnas.1117774109

Nishihara A, Thiel V, Matsuura K, McGlynn SE, Haruta S (2018) Phylogenetic diversity of nitrogenase reductase genes and possible nitrogen-fixing bacteria in thermophilic chemosynthetic microbial communities in Nakabusa hot springs. Microbes Environ. 33:357–365. https://doi.org/10.1264/jsme2.ME18030

Norris TB, Wraith JM, Castenholz RW, McDermott TR (2002) Soil microbial community structure across a thermal gradient following a geothermal heating event. Appl Environ Microbiol 68:6300–6309. https://doi.org/10.1128/aem.68.12.6300-6309.2002

Orellana R, Macaya C, Bravo G, Dorochesi F, Cumsille A, Valencia R, Rojas C, Seeger M (2018) Living at the frontiers of life: extremophiles in Chile and their potential for bioremediation. Front Microbiol 9:2309. https://doi.org/10.3389/fmicb.2018.02309

Panda AK, Bisht SS, Mandal S De, Kumar NS (2016) Bacterial and archeal community composition in hot springs from Indo-Burma region, North-east India. AMB Express 6:2–12. https://doi.org/10.1186/s13568-016-0284-y

Plenge MF, Engel AS, Omelon CR, Philip C (2016) Thermophilic archaeal diversity and methanogenesis from El Tatio Geyser Field, Chile. Geomicrobiol J 34:220–230. https://doi.org/10.1080/01490451.2016.1168496

Power JF, Carere CR, Lee CK, Wakerley GLJ, Evans DW, Button M, White D, Climo MD, Hinze AM, Morgan XC, McDonald IR, Cary SC, Stott MB (2018) Microbial biogeography of 925 geothermal springs in New Zealand. Nat Commun 9:1–12. https://doi.org/10.1038/s41467-018-05020-y

Prieto-Barajas CM, Valencia-Cantero E, Santoyo G (2018) Microbial mat ecosystems: structure types, functional diversity, and biotechnological application. Electron J Biotechnol 31:48–56. https://doi.org/10.1016/j.ejbt.2017.11.001

Ross KA, Feazel LM, Robertson CE, Fathepure BZ, Wright KE, Turk-MacLeod RM, Chan MM, Held NL, Spear JR, Pace NR (2012) Phototrophic phylotypes dominate mesothermal microbial mats associated with hot springs in Yellowstone National Park. Microb Ecol 64:162–170. https://doi.org/10.1007/s00248-012-0012-3

Sanchez-Garcia L, Fernandez-Martinez MA, García-Villadangos M, Blanco Y, Cady SL, Hinman N, Bowden ME, Pointing SB, Lee KC, Warren-Rhodes K, Lacap-Bugler D, Cabrol NA, Parro V, Carrizo D (2019) Microbial biomarker transition in high-altitude sinter mounds from El Tatio (Chile) through different stages of hydrothermal activity. Front Microbiol 9:1–19. https://doi.org/10.3389/fmicb.2018.03350

Sand W (2003) Microbial life in geothermal waters. Geothermics 4–6:655–667. https://doi.org/10.1016/S0375-6505(03)00058-0

Schuler CG, Havig JR, Hamilton TL (2017) Hot spring microbial community composition, morphology, and carbon fixation: implications for interpreting the ancient rock record. Front Earth Sci 5:1–17. https://doi.org/10.3389/feart.2017.00097

Sharma S, Sourirajan A, Baumler DJ, Dev K (2019) Identification of thermophilic Flavobacterium and Anoxybacillus in unexplored tatapani hotspring of Kishtwar District of Jammu and Kashmir: A North Western Himalayan State. Curr Trends Biotechnol Pharm 12:245–254

Wang Z, Zhang Q, Staley C, Gao H, Ishii S, Wei X, Liu J, Cheng J, Hao M, Sadowsky MJ (2019) Impact of long-term grazing exclusion on soil microbial community composition and nutrient availability. Biol Fertil Soils 55:121–134. https://doi.org/10.1007/s00374-018-01336-5

Zhang Q, Acuña JJ, Inostroza NG, Mora ML, Radic S, Sadowsky MJ, Jorquera MA (2019) Endophytic bacterial communities associated with roots and leaves of plants growing in Chilean extreme environments. Sci Rep 9:4950. https://doi.org/10.1038/s41598-019-41160-x

Zhang Q, Acuña JJ, Inostroza NG, Duran P, Mora ML, Sadowsky MJ, Jorquera MA (2020) Niche Differentiation in the composition, predicted function, and co-occurrence networks in bacterial communities associated with Antarctic vascular plants. Front Microbiol 11:1036. https://doi.org/10.3389/fmicb.2020.01036
Funding
This study was funded by FONDECYT project no. 1201386 (to M.A.J. and J.J.A.), by CONICYT CHILE–NSFC CHINA grant code NSFC190012 (to M.A.J., J.J.A and M.C.), by the Minnesota Corn Research & Promotion Council (to M.J.S. and Q.Z.), and by the University of Minnesota Agricultural Experiment Station (to M.J.S.), by FONDECYT Postdoctorate no. 3180198 (to M.C.), Network for Extreme Environments Research project NEXER; Project ANT1756, Universidad de Antofagasta (to R.A, B.V, F.S. and P.Z.), by DPDI project ANT 1856, Universidad de Antofagasta (to F. S.), by Exploration of communities of microorganisms associated with extreme areas of the Antofagasta region FICr Antofagasta 4636, Universidad de Antofagasta (to R.A, B.V and P.Z.). The authors acknowledge to Eng. Sergio Arancibia from Enel Green Power S.A. (https://www.enel.cl/) for his assistance during sampling in ETGF.
Ethics declarations
Conflict of interest
The authors declare that they have no conflict of interest.
Additional information
Publisher's Note
Springer Nature remains neutral with regard to jurisdictional claims in published maps and institutional affiliations.
Communicated by Erko Stackebrandt.
About this article
Cite this article
Zhang, Q., Campos, M., Larama, G. et al. Composition and predicted functions of the bacterial community in spouting pool sediments from the El Tatio Geyser field in Chile. Arch Microbiol 203, 389–397 (2021). https://doi.org/10.1007/s00203-020-02020-9
Received:

Revised:

Accepted:

Published:

Issue Date:
Keywords
Atacama Desert

Humboldt System

Bacterial community

Geyser

Extreme environments

High-throughput sequencing

Sediment