Abstract
Endophytes are considered one of the most important microbial resources for obtaining biomolecules of therapeutic use. Passiflora incarnata, widely employed by the pharmaceutical industry, shows therapeutic effects on anxiety, nervousness, constipation, dyspepsia and insomnia based on their antioxidant compounds. In this study, from 315 endophytic fungi isolated from P. incarnata leaves, 60 were selected to determinate presence of chemical constituents related with antioxidant activity, based on their production of soluble pigments. The promising fungi were evaluated specifically on their potential to produce phenolic compounds, flavonoids and for antioxidant activity. Five isolates significantly produced flavonoids and phenolic compounds in the ethyl acetate and n-Butanol extracts, also saponins and high antioxidant activity against the DPPH (2.2-diphenyl-1-picrylhydrazyl) free radical. A strain of Aspergillus nidulans var. dentatus (former Emericella dentata) was able to produce tannins as well; its butanolic extract was very similar than the BHT (butylated hydroxytoluene) (94.3% × 94.32%) and Rutin (95.8%) reference substances in the DPPH radical scavenging. Similarly, a Chaetomium strain exhibited 93.6% and 94.7% of antioxidant activity in their ethyl acetate and butanolic fractions, respectively. The chromatographic analysis of the ethyl acetate fraction from the Aspergillus strain revealed the production of orcinol (3.19%). Four-methoxymethylphenol (4.79%), sorbicillin (33.59%) and ergosterol (23.08%) was produced by Trichoderma longibrachiatum and isopropenyl-1,4-dimethyl-1,2,3,3a,4,5,6,7-octahydroazulene were found in two Fusarium oxysporum strains. The phytochemical screening showed that all analyzed fungi were able to produce a kind of secondary metabolite (phenols, flavonoids, tannins and/or saponins). The study shows a great underexplored potential for industrial application of P. incarnata endophytes.
This is a preview of subscription content, log in to check access.
Access options
Buy single article
Instant access to the full article PDF.
US$ 39.95
Price includes VAT for USA
Subscribe to journal
Immediate online access to all issues from 2019. Subscription will auto renew annually.
US$ 199
This is the net price. Taxes to be calculated in checkout.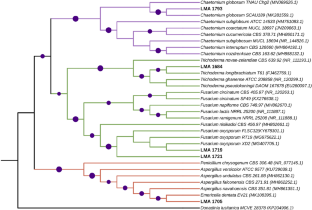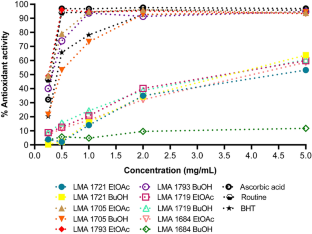 References
Aamir S, Sutar S, Singh SK, Baghela A (2015) A rapid and efficient method of fungal genomic DNA extraction, suitable for PCR based molecular methods. Plant Pathol Quar 5(2):74–81

Araújo WL, Lacava PT, Marco J, Lima AOS, Sobral JK, Azevedo JL, Pizzirani-Kleiner AA (2010) Isolamento de microrganismos endofíticos. In: Guia Prático: Isolamento e caracterização de microrganismos endofíticos, 1st ed. Copiadora "Luiz de Queiroz", Piracicaba.

Arora DS (2011) Chandra P (2011) Antioxidant activity of Aspergillus fumigatus. ISRN Pharmacol 2011:619395

Azevedo JL, Maccheroni Jr, Pereira JO, Araújo WL (2000) Endophytic microorganisms: a review on insect control and recent advances on tropical plants. Eletron J Biotechnol 3(1):40–65

Brand-Wiliams W, Cuvelier ME, Berset C (1995) Use of a free radical method to evaluate antioxidant activity. LWT Food Sci Technol 28(1):25–30

Carvalho JM, Paixão LKO, Dolabela MF, Marinho PSB, Marinho AMR (2016) Phytosterols isolated from endophytic fungus Colletotrichum gloeosporioides (Melanconiaceae). Acta Amaz 46(1):69–72

Castillo UF, Browne L, Strobel G, Hess WM, Ezra S, Pacheco G, Ezra D (2007) Biologically active endophytic streptomycetes from Nothofagus spp and other plants in Patagonia. Microb Ecol 53(1):12–19

Cheng MJ, Wu MD, Chen JJ, Hsieh SY, Yuan GF, Chen IS, Chang CW (2013) Secondary metabolites from the endophytic fungus of Annulohypoxylon ilanense. Chem Nat Compd 49(3):523–525

Chung KT, Wong TY, Wei CI, Huang YW, Lin Y (1998) Tannins and human health: a review. Crit Rev Food Sci Nutr 38(6):421–464

Cox RJ, Simpson TJ (2009) Fungal type I polyketide synthases. Methods Enzymol 459:49–78

Cox RJ (2007) Polyketides, proteins and genes in fungi: programmed nano-machines begin to reveal their secrets. Org Biomol Chem 5(13):2010–2026

Dhawan K, Kumar S, Sharma A (2001) Anti-anxiety studies on extracts of Passiflora incarnata Linneaus. J Ethnopharmacol 78(2–3):165–170

Dhawan K, Dhawan S, Sharma A (2004) Passiflora: a review update. J Ethnopharmacol 94(1):1–23

Dorko C (1994) Antioxidants used in foods. Food Technol 48(4):33

Du H, Huang Y, Tang Y (2010) Genetic and metabolic engineering of isoflavonoid biosynthesis. Appl Microbiol Biotechnol 86(5):1293–1312

Ekor M (2014) The growing use of herbal medicines: issues relating to adverse reactions and challenges in monitoring safety. Front Pharmacol 4:177

Felsenstein J (1985) Confidence limits on Phylogenies: an approach using the bootstrap. Evolution 39(4):783–791

Fill TP, Da Silva BF, Rodrigues-Fo E (2010) Biosynthesis of phenylpropanoid amides by an endophytic Penicillium brasilianum found in root bark of Melia azedarach. J Microbiol Biotechnol 20(3):622–629

Hall TA (1999) BioEdit: a user-friendly biological sequence alignment editor and analysis program for windows 95/98/NT. Nucleic Acids Symp Ser 41:95–98

Harper JK, Arif AM, Ford EJ, Strobel GA, Porco JA, Tomer DP, Oneill KL, Heider EM, Grant DM (2003) Pestacin: a 1,3-dihydro isobenzofuran from Pestalotiopsis microspora possessing antioxidant and antimycotic activities. Tetrahedron 59(14):2471–2476

Huang WY, Cai YZ, Xing J, Corke H, Sun M (2007) A potential antioxidant resource: endophytic from medicinal plants. Econ Bot 61(1):14–30

Hung R, Lee S, Bennett JW (2013) Arabidopsis thaliana as a model system for testing the effect of Trichoderma volatile organic compounds. Fungal Ecol 6(1):19–26

Jaszek M, Osińska-Jaroszuk M, Janusz G, Matuszewska A, Stefaniuk D, Sulej J, Polak J, Ruminowicz M, Grzywnowicz K, Jarosz-Wilkołazka A (2013) New bioactive fungal molecules with high antioxidant and antimicrobial capacity isolated from Cerrena unicolor Idiophasic cultures. Biomed Res Int 2013:497492

Jorgensen SH, Frandsen RJ, Nielsen KF, Lysøe E, Sondergaard TE, Wimmer R, Giese H, Sørensen JL (2014) Fusarium graminearum PKS14 is involved in orsellinic acid and orcinol synthesis. Fungal Genet Biol 70:24–31

Kanagasabapathy G, Malek SN, Kuppusamy UR, Vikineswary S (2011) Chemical composition and antioxidant properties of extracts of fresh fruiting bodies of Pleurotus sajor-caju (Fr) Singer. J Agric Food Chem 59(6):2618–2626

Kasote DM, Hegde MV, Deshmukh KK (2011) Antioxidant activity of phenolic components from n-butanolfraction (PC-BF) of defatted flaxseed meal. Am J Food Technol 6(7):604–612

Khanna VG, Kannabiran K (2008) Antimicrobial activity of saponin fractions of the leaves of Gymnema sylvestre and Eclipta prostrata. World J Microbiol Biotechnol 24:2737–2740

Khiralla A, Mohamed I, Thomas J, Mignard B, Spina R, Yagi S, Laurain-Mattar D (2015) A pilot study of antioxidant potential of endophytic fungi from some Sudanese medicinal plants. Asian Pac J Trop Med 8(9):701–704

Kim M, Lim HS, Lee HH, Kim TH (2017) Role identification of Passiflora incarnata Linnaeus: a mini review. J Menopausal Med 23(3):156–159

Kimura M (1980) A simple method for estimating evolutionary rates of base substitutions through comparative studies of nucleotide sequences. J Mol Evol 16(2):111–120

Kumar S, Stecher G, Li M, Knyaz C, Tamura K (2018) MEGA X: molecular evolutionary genetics analysis across computing platforms. Mol Biol Evol 35(6):1547–1549

Kusari S, Hertweck C, Spiteller M (2012) Chemical ecology of endophytic fungi: origins of secondary metabolites. Chem Biol 19(7):792–798

Krings M, Taylor TN, Hass H, Kerp H, Dotzler N, Hermsen EJ (2007) Fungal endophytes in a 400-million-yr-old land plant: infection pathways, spatial distribution and host responses. New Phytol 174(3):648–657

Ladoh-Yemeda CF, Nyegue MA, Ngene JP, Benelesse GE, Lenta B, Wansi JD, Mpondo-Mpondo E, Dibong SD (2015) Identification and phytochemical screening of Endophytic fungi from stems of Phragmanthera capitata (Sprengel) S. Balle (Loranthaceae). J Appl Biosci 90:8355–8360

Larsen TO, Perry NB, Andersen B (2003) Infectopyrone, a potential mycotoxin from Alternaria infectoria. Tetrahedron Lett 44(24):4511–4513

Letunic I, Bork P (2016) Interactive tree of life (iTOL) v3: an online tool for the display and annotation of phylogenetic and other trees. Nucleic Acids Res 44(1):242–245

Liebermann B, Nussbaum RP, Günther W (2000) Bicycloalternarenes produced by the phytopathogenic fungus Alternaria alternata. Phytochemistry 55(8):987–992

Liu X, Dong M, Chen X, Jiang M, Lv X, Yan G (2007) Antioxidant activity and phenolics of an endophytic Xylaria sp from Ginkgo biloba. Food Chem 105(2):548–554

Liu K, Ding X, Deng B, Chen W (2010) 10-Hydroxycamptothecin produced by a new endophytic Xylaria sp, M20 from Camptotheca acuminate. Biotechnol Lett 32(5):689–693

Ma L, Liu W, Huang Y, Rong X (2011) Two acid sorbicillin analogues from saline lands-derived fungus Trichoderma sp. J Antibiot (Tokyo) 64(9):645–657

Marchart E, Krenn L, Koop B (2003) Quantification of the flavonoid glycoside in Passiflora incarnata by capillary electrophoresis. Planta Med 69:452–456

Market Research Future (2019) Microbial Products Market Research Report-Forecast to 2023. https://www.marketresearchfuture.com/reports/microbial-products-market-765. Accessed 26 October 2019

Matos FJA (2009) Introdução à Fotoquímica experimental, 3rd edn. Editora da Universidade Federal de Ceará, Fortaleza

Minussi RC, Rossi M, Bologna L, Cordi L, Rotilio D, Pastore GM, Durán N (2003) Phenolic compounds and total antioxidant potential of commercial wines. Food Chem 82(3):409–416

Miroddi M, Calapai G, Navarra M, Minciullo PL, Gangemi S (2013) Passiflora incarnata L.: ethnopharmacology, clinical application, safety and evaluation of clinical trials. J Ethnopharmacol 150(3):791–804

Müller SD, Vasconcelos SB, Coelho M, Biavatti MW (2005) LC and UV determination of flavonoids from Passiflora alata medicinal extracts and leaves. J Pharmaceut Biomed 37(2):399–403

Nicoletti R, Fiorentino A (2015) Plant bioactive metabolites and drugs produced by endophytic fungi of Spermatophyta. Agriculture 5:918–970

O'Hagan D (1991) The polyketide metabolites. Ellis Howard, Chichester

Oliveira AC, Valentim IB, Goulart MOF, Silva CA, Bechara EJ, Trevisan MTS (2009) Fontes vegetais naturais de antioxidantes. Quim Nova 32(3):689–702

Pan F, Su TJ, Cai SM, Wu W (2017) Fungal endophyte-derived Fritillaria unibracteata var. wabuensis: diversity, antioxidant capacities in vitro and relations to phenolic, flavonoid or saponin compounds. Sci Rep 7:42008

Rajamanikyam M, Vadlapudi V, Amanchy R, Upadhyayula SM (2017) Endophytic fungi as novel resources of natural therapeutics. Braz Arch Biol Tchnol 60:e17160542

Salo O, Guzmán-Chávez F, Ries MI, Lankhorst PP, Bovenberg RAL, Vreeken RJ, Driessen AJM (2016) Identification of a polyketide synthase involved in sorbicillin biosynthesis by Penicillium chrysogenum. Appl Environ Microbiol 82(13):3971–3978

Samson RA, Visagie CM, Houbraken J, Hong SB, Hubka V, Klaassen CH, Perrone G, Seifert KA, Susca A, Tanney JB, Varga J, Kocsubé S, Szigeti G, Yaguchi T, Frisvad JC (2014) Phylogeny, identification and nomenclature of the genus Aspergillus. Stud Mycol 78:141–173

Saxena S, Meshram V, Kapoor N (2015) Muscodor tigerii sp nov—Volatile antibiotic producing endophytic fungus from the Northeastern Himalayas. Ann Microbiol 67:47–57

Schulz B, Boyle C (2005) The endophytic continuum. Mycol Res 109(Pt 6):661–686

Selim KA, El-Beih AA, Abdel-Rahman TM, El-Diwany AI (2014) Biological evaluation of endophytic fungus, Chaetomium globosum JN711454, as potential candidate for improving drug discovery. Cell Biochem Biophys 68(1):67–82

Selvi BK, Balagengatharathilagam P (2014) Isolation and screening of endophytic fungi from medicinal plants of Virudhunagar district for antimicrobial activity. J Nat Sci Res 5(1):147–155

Siddiquee S, Cheong BE, Taslima K, Kausar H, Mainul-Hasan M (2012) Separation and identification of volatile compounds from liquid cultures of Trichoderma harzianum by GC–MS using three different capillary columns. J Chromatogr Sci 50(4):358–367

Singleton VL, Joseph A, Rossi J (1965) Colorimetry of total phenolics with phosphomolibdic–phosphotungstic acid reagents. Am J Enol Vitic 16:144–149

Singleton VL, Orthofer R, Lamuela-Raventos RM (1999) Analysis of total phenols and other oxidation substrates and antioxidants by means of Folin-Ciocalteau reagent. Method Enzymol 299:152–178

Souza AQL, Souza ADL, Astolfi FS (2004) Atividade antimicrobiana de fungos endofíticos isolados de plantas tóxicas da amazônia: Palicourea longiflora (aubl) rich e Strychnos cogens Bentham. Acta Amaz 34(2):185–195

Speroni E, Minghetti A (1988) Neuropharmacological activity of extracts from Passiflora incarnata. Planta Med 54(6):488–491

Staunton J, Weissman KJ (2001) Polyketide biosynthesis: a millennium review. Nat Prod Rep 18(4):380–416

Stierle A, Strobel GA, Stierle D (1993) Taxol and taxane production by Taxomyces andreanae, an endophytic fungus of Pacific Yew. Science 260(5105):214–216

Strobel G, Ford E, Worapong J, Harper JK, Arif AM, Grant DM, Fung PC, Ming Wah Chau R (2002) Isopestacin, a unique isobenzofuranone from Pestalotiopsis microspora possessing antifungal and antioxidant properties. Phytochemistry 60(2):179–183

Sugiharto S, Turrini Y, Isrol I (2016) Assay of antioxidant potential of two filamentous fungi isolated from the Indonesian fermented dried cassava. Antioxidants (Basel) 5(1):E6

Trantas EA, Koffas MAG, Xu P, Ververidis F (2015) When plants produce not enough or at all: metabolic engineering of flavonoids in microbial hosts. Front Plant Sci 6(7):1–16

Thompson JD, Higgins DG, Gibson TJ (1994) CLUSTAL W: improving the sensitivity of progressive multiple sequence alignment through sequence weighting, position-specific gap penalties and weight matrix choice. Nucleic Acids Res 22(22):4673–4680

Tung YT, Wu JH, Kuo YH, Chang ST (2007) Antioxidant activities of natural phenolic compounds from Acacia confusa bark. Bioresour Technol 98(5):1120–1123

White TJ, Bruns T, Lee S, Taylor J (1990) Amplification and direct sequencing of fungal ribosomal rna genes for phylogenetics. In: Innis MA, Gelfand DH, Sninsky JJ, White TJ (eds) PCR protocols-a guide to methods and applications. Academic Press, London, pp 315–322

Wu S, Zhao L, Chen Y, Huang R, Miao C, Wang J (2011) Sesquiterpenoids from the endophytic fungus Trichoderma sp PR-35 of Paeonia delavayi. Chem Biodivers 8(9):1717–1723

Wu Z, Wang Y, Liu D, Proksch P, Yu S, Lin W (2016) Antioxidative phenolic compounds from a marine-derived fungus Aspergillus versicolor. Tetrahedron 72(1):50–57

Xu DP, Li Y, Meng X, Zhou T, Zhou Y, Zheng J, Zhang JJ, Li HB (2017) Natural antioxidants in foods and medicinal plants: extraction, assessment and resources. Int J Mol Sci 18(1):96

Yadav M, Yadav A, Yadav JP (2014) In vitro antioxidant activity and total phenolic content of endophytic fungi isolated from Eugenia jambolana Lam. Asian Pac J Trop Med 7(S1):256–261

Yin J, Kwon GJ, Wang MH (2007) The antioxidant and cytotoxic activities of Sonchus oleraceus L extracts. Nutr Res Pract 1(3):189–194

Zhang HW, Huang WY, Chen JR, Yan WZ, Xie DQ, Tan RX (2008) Cephalosol: an antimicrobial metabolite with an unprecedented skeleton from endophytic Cephalosporium acremonium IFB-E007. Chem Eur J 14(34):10670–10674

Zhao JT, Ma DH, Luo M, Wang W, Zhao CJ, Zu YG, Fu YJ, Wink M (2014) In vitro antioxidant activities and antioxidant enzyme activities in HepG2 cells and main active compounds of endophytic fungus from pigeon pea [Cajanus canja (L) Millsp]. Food Res Int 56:243–251
Acknowledgements
The Centroflora group is thanked for providing the passionflower leaves. The authors are grateful to Dr. Glyn Maria Figueira of the Multidisciplinary Center for Chemical, Biological and Agricultural Research, CPQBA, University of Campinas, for the assistance on the biology of the plant.
Funding
Financial support was provided by São Paulo Research Foundation, FAPESP (2015/02395-8). Scholarship to MHRS was granted by Coordination for the Improvement of Higher Education Personnel, Capes.
Ethics declarations
Conflict of interest
The authors declare that they have no conflict of interest.
Additional information
Publisher's Note
Springer Nature remains neutral with regard to jurisdictional claims in published maps and institutional affiliations.
Communicated by Erko Stackebrandt.
Electronic supplementary material
Below is the link to the electronic supplementary material.
About this article
Cite this article
da Silva, M.H.R., Cueva-Yesquén, L.G., Júnior, S.B. et al. Endophytic fungi from Passiflora incarnata: an antioxidant compound source. Arch Microbiol (2020). https://doi.org/10.1007/s00203-020-02001-y
Received:

Revised:

Accepted:

Published:
Keywords
Antioxidant

DPPH radical scavenging activity

Phenolic compounds

Secondary metabolites

Endophytes