Abstract
This study is a continuation and extension of our previous study in which we synthesized seven novel eugenol tosylate congeners (ETC-1 to ETC-7) from a natural compound eugenol and checked their antifungal activity against different isolates of Candida albicans. All these ETCs showed potent antifungal activity to varying degrees. In this study, the aim is to evaluate the effect of most active compounds (ETC-5, ETC-6 and ETC-7) on ergosterol biosynthesis pathway and cellular viability in C. albicans by applying combined approach of in silico and in vitro methodologies. In silico studies were done through all atom molecular mechanics approach and free binding energy estimations, and in vitro study was done by estimating total intracellular sterol content and effect on expression of ERG11 gene. Furthermore, effect on cell viability by these compounds was also tested. Our results demonstrated that these ETCs target ergosterol biosynthesis pathway in C. albicans by inhibiting the lanosterol 14-α demethylase enzyme and also downregulates expression of its related gene ERG11. Furthermore, these ETCs exhibit potent fungicidal effect in cell viability assay, thus overall results advocating the claim that these tosylates have potential to be taken to next level of antifungal drug development.
Access options
Buy single article
Instant access to the full article PDF.
US$ 39.95
Tax calculation will be finalised during checkout.
Subscribe to journal
Immediate online access to all issues from 2019. Subscription will auto renew annually.
US$ 119
Tax calculation will be finalised during checkout.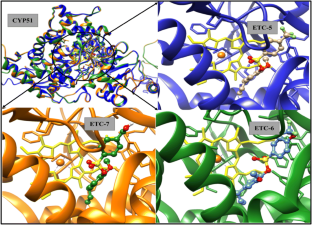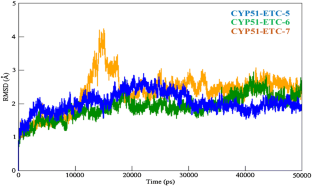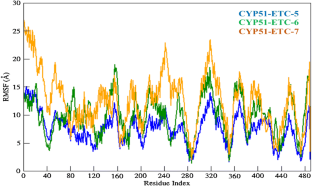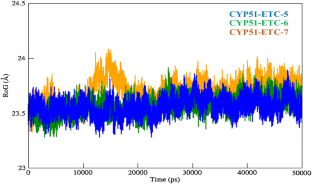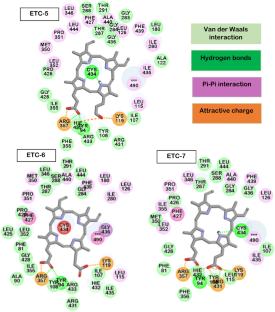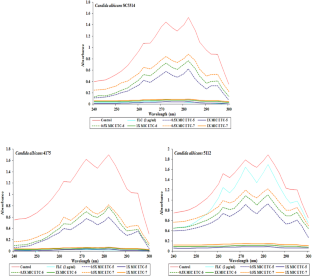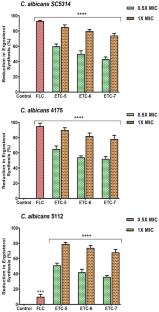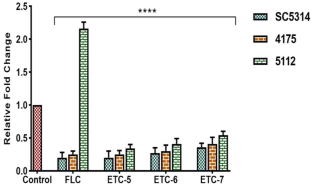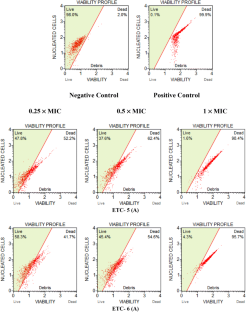 Data availability
The data that support the findings of this study are available from the corresponding author upon request.
References
Ahmad A, Khan A, Manzoor N, Khan LA (2010) Evolution of ergosterol biosynthesis inhibitors as fungicidal against Candida. Microb Pathogen 48(1):35–41

Ahmad A, Khan A, Akhtar F, Yousuf S, Xess I, Khan LA, Manzoor N (2011) Fungicidal activity of thymol and carvacrol by disrupting ergosterol biosynthesis and membrane integrity against Candida. Eur J Clin Microbiol Infect Dis 30(1):41–50

Ahmad A, Wani MY, Khan A, Manzoor N, Molepo J (2015) Synergistic interactions of Eugenol-tosylate and its congeners with fluconazole against Candida albicans. PLoS ONE 10:e0145053

Alizadeh F, Khodavandi A, Zalakian S (2017) Quantitation of ergosterol content and gene expression profile of ERG11 gene in fluconazole-resistant Candida albicans. Curr Med Mycol 3(1):13–19

Alvarez-Rueda N, Fleury A, Logé C, Pagniez F, Robert E, Morio F (2016) The amino acid substitution N136Y in Candida albicans sterol 14alpha-demethylase is involved in fluconazole resistance. Med Mycol 54(7):764–775

Berman HM, Westbrook J, Feng Z, Gilliland G, Bhat TN, Weissig H, Shindyalov IN, Bourne PE (2000) The protein data bank. Nucleic Acids Res 28(1):235–242

Brown GD, Denning DW, Gow NA, Levitz SM, Netea MG, White TC (2012) Hidden killers: human fungal infections. Sci Transl Med 4:165rv13

Carrasco H, Raimondi M, Svetaz L, Liberto M, Rodriguez MV, Espinoza L, Madrid A, Zacchino S (2012) Antifungal activity of eugenol analogues. Influence of different substituents and studies on mechanism of action. Molecules 17(1):1002–1024

de Oliveira CG, Vilas-Boas LA, Castilho MS, Carazzolle MF, Pirovani CP, Selbach-Schnadelbach A, Gramacho KP, Ramos PI, Barbosa LV, Pereira GA, Góes-Neto A (2014) Analysis of the ergosterol biosynthesis pathway cloning, molecular characterization and phylogeny of lanosterol 14 α-demethylase (ERG11) gene of Moniliophthora perniciosa. Genet Mol Biol 37(4):683–693

Dias DA, Urban S, Roessner U (2012) A historical overview of natural products in drug discovery. Metabolites 2(2):303–336

Eddouzi J, Parker JE, Vale-Silva LA, Coste A, Ischer F, Kelly S, Manai M, Sanglard D (2013) Molecular mechanisms of drug resistance in clinical Candida species isolated from Tunisian hospitals. Antimicrob Agents Chemother 57(7):3182–3193

Genheden S, Ryde U (2015) The MM/PBSA and MM/GBSA methods to estimate ligand-binding affinities. Expert Opin Drug Discov 10(5):449–461

Harvey MJ, De Fabritiis G (2009) An implementation of the smooth particle Mesh Ewald Method on GPU hardware. J Chem Theory Comput 5(9):2371–2377

Hata M, Ishii Y, Watanabe E, Uoto K, Kobayashi S, Yoshida K, Otani T, Ando A (2010) Inhibition of ergosterol synthesis by novel antifungal compounds targeting C-14 reductase. Med Mycol 48(4):613–621

Hipólito TMM, Bastos GTL, Barbosa TWL, de Souza TB, Coelho LFL, Dias ALT, Rodríguez IC, Dos Santos MH, Dias DF, Franco LL, Carvalho DT (2018) Synthesis, activity, and docking studies of eugenol-based glucosides as new agents against Candida sp. Chem Biol Drug Des 92(2):1514–1524

Keniya MV, Sabherwal M, Wilson RK, Woods MA, Sagatova AA, Tyndall JDA, Monk BC (2018) Crystal structures of full-length lanosterol 14α-demethylases of prominent fungal pathogens Candida albicans and Candida glabrata provide tools for antifungal discovery. Antimicrob Agents Chemother 62(11):e01134

Lindberg E, Hammarström H, Ataollahy N, Kondori N (2019) Species distribution and antifungal drug susceptibilities of yeasts isolated from the blood samples of patients with candidemia. Sci Rep 9(1):3838

Liu X, Ma Z, Zhang J, Yang L (2017) Antifungal compounds against Candida infections from traditional Chinese medicine. Biomed Res Int 2017:4614183

Mushtaq S, Abbasi BH, Uzair B, Abbasi R (2018) Natural products as reservoirs of novel therapeutic agents. EXCLI J 17:420–451

Nakayama H, Nakayama N, Arisawa M, Aoki Y (2001) In vitro and in vivo effects of 14alpha-demethylase (ERG11) depletion in Candida glabrata. Antimicrob Agents Chemother 45(11):3037–3045

Pan SY, Zhou SF, Gao SH, Yu ZL, Zhang SF, Tang MK, Sun JN, Ma DL, Han YF, Fong WF, Ko KM (2013) New perspectives on how to discover drugs from herbal medicines: Cam's outstanding contribution to modern therapeutics. Evid Based Complement Alternat Med 2013:627375

Perez A, MacCallum JL, Brini E, Simmerling C, Dill KA (2015) Grid-based backbone correction to the ff12SB protein force field for implicit-solvent simulations. J Chem Theory Comput 11(10):4770–4779

Pettersen EF, Goddard TD, Huang CC, Couch GS, Greenblatt DM, Meng EC, Ferrin TE (2004) UCSF Chimera—a visualization system for exploratory research and analysis. J Comput Chem 25(13):1605–1612

Piccione D, Mirabelli S, Minto N, Bouklas T (2019) Difficult but not impossible: in search of an anti-candida vaccine. Curr Trop Med Rep 6:42–49

Rajput SB, Karuppayil SM (2013) Small molecules inhibit growth, viability and ergosterol biosynthesis in Candida albicans. Springerplus 2(1):26

Roe DR, Cheatham TE (2013) PTRAJ and CPPTRAJ: software for processing and analysis of molecular dynamics trajectory data. J Chem Theory Comput 9(7):3084–3095

Sanglard D (2016) Emerging threats in antifungal-resistant fungal pathogens. Front Med (Lausanne) 3:11

Sanglard D, Ischer F, Parkinson T, Falconer D, Bille J (2003) Candida albicans mutations in the ergosterol biosynthetic pathway and resistance to several antifungal agents. Antimicrob Agents Chemother 47(8):2404–2412

Sastry GM, Adzhigirey M, Day T, Annabhimoju R, Sherman W (2013) Protein and ligand preparation: parameters, protocols, and influence on virtual screening enrichments. J Comput Aided Mol Des 27(3):221–234

Sievert DM, Ricks P, Edwards JR, Schneider A, Patel J, Srinivasan A, Kallen A, Limbago B, Fridkin S, National Healthcare Safety Network (NHSN) Team, and Participating NHSN Facilities (2013) Antimicrobial-resistant pathogens associated with healthcare-associated infections: summary of data reported to the National Healthcare Safety Network at the Centers for Disease Control and Prevention, 2009–2010. Infect Control Hosp Epidemiol 34(1):1–14

Silva FFM, Monte FJQ, Lemos TLG, Nascimento PGG, Costa AKM, Paiva LMM (2018) Eugenol derivatives: synthesis, characterization, and evaluation of antibacterial and antioxidant activities. Chem Cent J 12(1):34

Trott O, Olson AJ (2010) AutoDock Vina: improving the speed and accuracy of docking with a new scoring function, efficient optimization, and multithreading. J Comput Chem 31(2):455–461

van der Spoel D, van Maaren PJ (2006) The origin of layer structure artifacts in simulations of liquid water. J Chem Theory Comput 2(1):1–11

Xu Y, Sheng F, Zhao J, Chen L, Li C (2015) ERG11 mutations and expression of resistance genes in fluconazole-resistant Candida albicans isolates. Arch Microbiol 197(9):1087–1093

Yu LH, Wei X, Ma M, Chen XJ, Xu SB (2012) Possible inhibitory molecular mechanism of farnesol on the development of fluconazole resistance in Candida albicans biofilm. Antimicrob Agents Chemother 56(2):770–775
Funding
We gratefully acknowledge financial support from University Research Committee Grant for 2019—Friedel Sellschop Award (Grant no: AZMD019), Wits Faculty of Health Sciences Research Committee (FRC, Grant no: 001…5254) and South Africa Medical Research Council (MRC) (Grant no: MLEP016).
Ethics declarations
Conflict of interest
We have no competing interests to declare.
Ethical approval
This study was approved by the Human Research Ethics Committee of University of the Witwatersrand (Johannesburg, South Africa). Existing stock cultures of C. albicans used in this study were stored in the Department of Clinical Microbiology and Infectious Diseases, University of the Witwatersrand, Johannesburg, South Africa.
Additional information
Publisher's Note
Springer Nature remains neutral with regard to jurisdictional claims in published maps and institutional affiliations.
Communicated by Erko Stackebrandt.
Electronic supplementary material
Below is the link to the electronic supplementary material.
About this article
Cite this article
Lone, S.A., Khan, S. & Ahmad, A. Inhibition of ergosterol synthesis in Candida albicans by novel eugenol tosylate congeners targeting sterol 14α-demethylase (CYP51) enzyme. Arch Microbiol 202, 711–726 (2020). https://doi.org/10.1007/s00203-019-01781-2
Received:

Revised:

Accepted:

Published:

Issue Date:
Keywords
Eugenol tosylates congeners

C. albicans

Ergosterol

Molecular docking