Abstract
A Gram-negative, non-motile, rod-shaped bacterial strain, designated GS13T, was isolated from sediments in a branch of the Nackdong River in Sangju, Korea. Optimal growth occurred at pH 7.0, 20 °C, and 0% NaCl. Phylogenetic analyses using 16S rRNA showed that strain GS13T is a member of the genus Flavobacterium, with highest similarity to Flavobacterium soyangense IMCC26223T (97.0%). The DNA G+C content of strain GS13T was 36.2 mol%. The dominant fatty acids were summed feature 3 (C16:1ω7c and/or C16:1ω6c) and iso-C15:0. The major polar lipids were phosphatidylethanolamine, three unidentified aminolipids, three unidentified lipids, and one unidentified aminophospholipid. The predominant respiratory quinone was MK-6. Our data demonstrate that strain GS13T can be distinguished from closely-related Flavobacterium species. Thus, strain GS13T is a novel Flavobacterium species, and we propose the name Flavobacterium nackdongense sp. nov. The type strain is GS13T (=KCTC 62569T = JCM 32765T).
This is a preview of subscription content,
to check access.
Access this article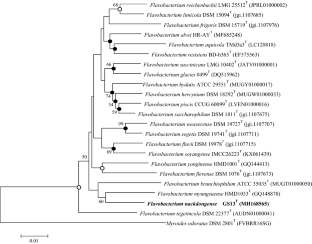 References
Bernardet JF, Nakagawa Y, Holmes B (2002) Subcommittee on the taxonomy of Flavobacterium and Cytophaga-like bacteria of the International Committee on Systematics of Prokaryotes. Proposed minimal standards for describing new taxa of the family Flavobacteriaceae and emended description of the family. Int J Syst Evol Microbiol 52:1049–1070

Béguin P, Aubert J-P (1994) The biological degradation of cellulose. FEMS Microbiol Rev 13:25–58

Elberson MA, Malekzadeh F, Yazdi MT, Kameranpour N, Noori-Daloii MR, Matte MH, Shahamat M, Colwell RR, Sowers KR (2000) Cellulomonas persica sp. nov. and Cellulomonas iranensis sp. nov., mesophilic cellulose-degrading bacteria isolated from forest soils. Int J Syst Evol Microbiol 50(3):993–996

Felsenstein J (1981) Evolutionary trees from DNA sequences: a maximum likelihood approach. J Nol Evol 17:368–376

Felsenstein J (1985) Confidence limits on phylogenies: an approach using the bootstrap. Evolution 39:783–791

Fitch WM (1971) Toward defining the course of evolution: minimum change for a specific tree topology. Syst Zool 20:406–416

Joung Y, Kim H, Ahn TS, Joh K (2012) Flavobacterium yonginense sp. nov. and Flavobacterium myungsuense sp. nov., isolated from a mesotrophic artificial lake. Int J Syst Evol Microbiol 62:806–810

Klemm D, Heublein B, Fink H, Bohn A (2005) Cellulose: fascinating biopolymer and sustainable raw material. Angew Chem Int Ed 44:3358–3393

Kumar S, Stecher G, Tamura K (2016) MEGA7: molecular evolutionary genetics analysis version 7.0 for bigger datasets. Mol Biol Evol 33:1870–1874

Lee SH, Kim JM, Lee JR, Park W, Jeon CO (2010) Flavobacterium fluvii sp. nov., isolated from stream sediment. Int J Syst Evol Microbiol 60:353–357

Lee Y, Jeon CO (2018) Flavobacterium alvei sp. nov., isolated from a freshwater river. Int J Syst Evol Microbiol 68:1919–1924

Minnikin DE, Patel PV, Alshamaony L, Goodfellow M (1977) Polar lipid composition in the classification of Nocardia and related bacteria. Int J Syst Bacteriol 27:104–117

Minnikin DE, O'Donnell AG, Goodfellow M, Alderson G, Athalye M, Schaal A, Parlett JH (1984) An integrated procedure for the extraction of bacterial isoprenoid quinones and polar lipids. J Microbiol Methods 2:233–241

Nam GG, Joung Y, Park M, Kim S, Jeon HT, Cho JC (2017) Flavobacterium soyangense sp.nov., a psychrotolerant bacterium, isolated from an oligotrophic freshwater lake. Int J Syst Evol Microbiol 67:2440–2445

Saitou N, Nei M (1987) The neighbor-joining method: a new method for reconstructing phylogenetic trees. Mol Biol Evol 4:406–425

Schwarz WH (2001) The cellulosome and cellulose degradation by anaerobic bacteria. Appl Microbiol Biotechnol 56:634–649

Smibert RM, Krieg NR (1994) Phenotypic characterization. In: Gerhardt P, Murray RGE, Wood WA, Krieg NR (eds) Methods for general and molecular bacteriology. American Society for Microbiology, Washington, DC, pp 607–654

Yoon JH, Choi JH, Kang SJ, Choi NS, Lee JS, Song JJ (2010) Jeongeupia naejangsanensis gen. nov., sp. nov., a cellulose-degrading bacterium isolated from forest soil from Naejang Mountain in Korea. Int J Syst Evol Microbiol 60:615–619

Yoon SH, Ha SM, Kwon S, Lim J, Kim Y, Seo H, Chun J (2017) Introducing EzBioCloud: a taxonomically united database of 16S rRNA gene sequences and whole-genome assemblies. Int J Syst Evol Microbiol 67:1613–1617
Acknowledgements
We are grateful to Dr. Aharon Oren for his advice on naming this microorganism.
Funding
This work was supported by a grant from the Nakdonggang National Institute of Biological Resources (NNIBR), funded by the Ministry of Environment (MOE) of the Republic of Korea (NNIBR201901108).
Additional information
Communicated by Erko Stackebrandt.
Publisher's Note
Springer Nature remains neutral with regard to jurisdictional claims in published maps and institutional affiliations.
The GenBank/EMBL/DDBJ accession numbers for the 16S rRNA gene and genome sequences of strain GS13T are MH168565 and CP037933, respectively.
Electronic supplementary material
Below is the link to the electronic supplementary material.
About this article
Cite this article
Kim, H., Yu, S.M. Flavobacterium nackdongense sp. nov., a cellulose-degrading bacterium isolated from sediment. Arch Microbiol 202, 591–595 (2020). https://doi.org/10.1007/s00203-019-01770-5
Received:

Revised:

Accepted:

Published:

Issue Date:

DOI: https://doi.org/10.1007/s00203-019-01770-5
Keywords