Abstract
"Burkholderia dabaoshanensis" was described in 2012. Although the name was effectively published, it could not be validly published, because the description provided in the original paper did not comply with the Rule 27 (2) (c) of the Bacterial Code. The Code requiresthat the properties of the taxon form part of the protologue. As the name of this species does not have standing in nomenclature, the recently published new combination Trinickia dabaoshanensis could also not be validly published. The current proposal attempts to rectify the situation by providing the information required to meet the criteria stipulated in Rule 27 for valid publication.
Access options
Buy single article
Instant access to the full article PDF.
US$ 39.95
Tax calculation will be finalised during checkout.
Subscribe to journal
Immediate online access to all issues from 2019. Subscription will auto renew annually.
US$ 119
Tax calculation will be finalised during checkout.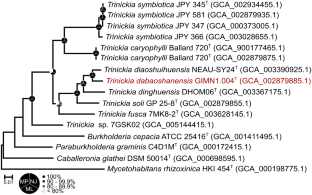 References
Beukes CW, Palmer M, Manyaka P, Chan WY, Avontuur JR, van Zyl E, Huntemann M, Clum A, Pillay M, Palaniappan K, Verhese N, Mikhailova N, Stamatis D, Reddy TBK, Daum C, Shapiro N, Markowitz V, Ivanova N, Kyrpides N, Woyke T, Blom J, Whitman WB, Venter SN, Steenkamp ET (2017) Genome data provides high support for generic boundries in Burkholderia sensu lato. Front Microbiol 8:1154

Dobritsa AP, Samadpour M (2016) Transfer of eleven Burkholderia species to the genus Paraburkholderia and proposal of Caballeronia gen. nov., a new genus to accommodate twelve species of Burkholderia and Paraburkholderia. Int J Syst Evol Microbiol 66:2836–2846

Estrada-de los Santos P, Palmer M, Chavez-Ramirez B, Beukes C, Steenkamp ET, Briscoe L, Khan N, Maluk M, Lafos M, Humm E, Arrabit M, Crook M, Gross E, Simon MF, dos Reis Jr FB, Whitman WB, Shapiro N, Poole PS, Hirsch AM, Venter SN, James EK (2018) Whole genome analyses suggest that Burkholderia sensu lato contains two additional novel genera (Mycetohabitans gen. nov., and Trinkickia gen. nov.): Implications for the evolution of diazotrophy and nodulation in the Burkholderiaceae. Genes 9:389

Fu Y, Yan R, Liu D, Jiang S, Cui L, Guo X, Wang X, Zhang J, Xiang W (2019) Trinickia diaoshuihuensis sp. nov., a plant growth promoting bacterium isolated from soil. Int J Syst Evol Microbiol 69:291–296

Gao ZH, Zhong SF, Qin YN, Yang Z, Lv YY, Qiu LH (2019) Trinickia dinguensis sp. nov. and Trinickia fusca sp. nov., isolated from forest soil. Int J Syst Evol Microbiol 69:1390–1397

Jones DT, Taylor WR, Thornton JM (1992) The rapid generation of mutation data matrices from protein sequences. Comput Appl Biosci 8:275–282

Lopes-Santos L, Castro DBA, Ferreira-Tonin M, Correa DBA, Weir BS, Park D, Ottoboni LMM, Neto JR, Destéfano SAL (2017) Reassessment of the taxonomic position of Burkholderia andropogonis and description of Robbsia andropogonis gen. nov., comb. nov. Anton Leeuw Int J Gen 110:727–736

Oren A, Garrity G (2018) Corrigendum: list of new names and new combination previously effectively, but not validly, published. Int J Syst Evol Microbiol 68:1411–1417

Parker CT, Tindall BJ, Garrity GM (2015) International code of nomenclature of prokaryotes. Int J Syst Evol Microbiol 69:S1–S111

Richter M, Rosselló-Móra R (2009) Shifting the genomic gold standard for the prokaryotic species definition. Proc Natl Acad Sci USA 106:19126–19131

Sawana A, Adeolu M, Gupta RS (2014) Molecular signatures and phylogenomic analysis of the genus Burkholderia: Proposal for division of this genus into the emended genus Burkholderia containing pathogenic organisms and a new genus Paraburkholderia gen. nov. harboring environmental species. Front Genet 5:429

Tamura K, Stecher G, Peterson D, Filipski A, Kumar S (2013) MEGA6: molecular evolutionary genetics analysis versión 6.0. Mol Biol Evol 30:2725–2729

Zhu H, Guo J, Chen M, Feng G, Yao Q (2012) Burkholderia dabaoshanensis sp. nov., a heavy-metal-tolerant bacteria isolated from Dabaoshan mining area soil in China. PLoS One 7:e50225
Acknowledgements
The contribution of Honghui Zhu, Jianhua Guo, Meibiao Chen and Guangda Feng of the Guangdong Provincial Microbial Culture Collection and Application Key Laboratory, Guangdong Open Laboratory of Applied Microbiology, State Key Laboratory of Applied Microbiology (Ministry–Guangdong Province Jointly Breeding Base), South China, Guangdong Institute of Microbiology, Guangzhou, Guangdong, People's Republic of China as well as Qing Yao of the South China Agricultural University, Guangzhou, Guangdong, People's Republic of China to this species description are acknowledged as they were responsible for the isolation of the strain as well as providing the geno- and phenotypic data on which the species description is based. Genome sequencing was provided by MicrobesNG (http://www.microbesng.uk), which is supported by the BBSRC (Grant Number BB/L024209/1).
Funding
This work received no specific grant from any funding agency.
Ethics declarations
Conflict of interest
The authors declare that they have no conflicts of interest.
Additional information
Publisher's Note
Springer Nature remains neutral with regard to jurisdictional claims in published maps and institutional affiliations.
Communicated by Erko Stackebrandt.
About this article
Cite this article
Estrada-de los Santos, P., Palmer, M., Steenkamp, E.T. et al. Trinickia dabaoshanensis sp. nov., a new name for a lost species. Arch Microbiol 201, 1313–1316 (2019). https://doi.org/10.1007/s00203-019-01703-2
Received:

Revised:

Accepted:

Published:

Issue Date:
Keywords
Burkholderia
Paraburkholderia
Caballeronia
Robbsia
Trinickia
Mycetohabitans