Abstract
A total of 104 exopolysaccharide (gum)-producing bacteria were isolated from the juice screen and juice tank in a sugarcane processing factory at times of low- and high dextran concentrations in the produced sugar. Dextran is an indicator of cane deterioration and sucrose loss after harvesting of the cane. The isolates were identified as Bacillus amyloliquefaciens (96 isolates) and Bacillus subtilis (eight isolates) based on restriction enzyme banding patterns of amplified 16S rRNA genes and rpoB gene sequence analysis. Exopolysaccharide production in sugarcane is normally associated with dextran produced by Leuconostoc mesenteroides. B. amyloliquefaciens, and to a lesser extent B. subtilis, could, however, also be responsible for exopolysaccharide (slime or gum) production in cane processing factories.
Access options
Buy single article
Instant access to the full article PDF.
US$ 39.95
Tax calculation will be finalised during checkout.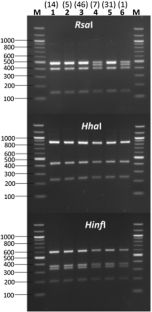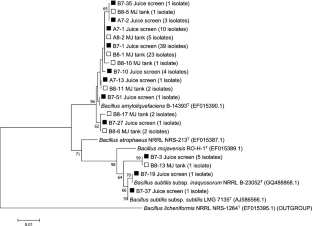 References
Altschul SF, Gish W, Miller W, Myers EW, Lipman DJ (1990) Basic local alignment search tool. J Mol Biol 215:403–410

Anon (2015) ICUMSA Method GS1/2/9-15 The determination of dextran in raw sugar by a modified alcohol haze method—accepted. In: ICUMSA method book. Verlag Dr Albert Bartens KG, Berlin, Germany

Blackwood KS, Turenne CY, Harmsen D, Kabani AM (2004) Reassessment of sequence-based targets for identification of Bacillus species. J Clin Microbiol 42:1626–1630

de Clerck E, Vanhoutte T, Hebb T, Geerink J, Devos J, de Vos P (2004) Isolation, characterisation and identification of bacterial contaminants in semifinal gelatin extracts. Appl Environ Microbiol 70:3664–3672

Felsenstein J (1985) Confidence limits on phylogenies: an approach using the bootstrap. Evolution 39:783–791

Foxon KM, du Clou H (2017) Are gums produced in the factory? Quantification of gums isolated from mixed juice and final molasses. Proc S Afr Sug Technol Ass 90:382–394

Godshall MA, Legendre BL, Clarke MA, Miranda XM, Blanco RS (1996) Starch, polysaccharides and proanthocyanidin in Louisiana sugarcane varieties. Int Sugar J 98:144–148

Hall TA (1999) BioEdit: a user-friendly biological sequence alignment editor and analysis program for Windows 95/98/NT. Nucl Acids Symp Ser 41:95–98

Imrie FKE, Tilbury RH (1972) Polysaccharides in sugar cane and its products. Sugar Technol Rev 1:291–361

Jeyaram K, Romi W, Singh TA, Adewumi GA, Basanti K, Oguntoyinbo FA (2011) Distinct differentiation of closely related species of Bacillus subtilis group with industrial importance. J Microbiol Methods 87:161–164

Jimenez ER (2005) The dextranase along sugar-making industry. Biotecnologia Aplicada 22:20–27

Ki J-S, Zhang W, Qian P-Y (2009) Discovery of marine Bacillus species by 16S rRNA and rpoB comparisons and their usefulness for species identification. J Microbiol Methods 77:48–57

Kulkarni VM (1999) A novel method to evaluate efficacy of mill sanitation biocides: reducing sugar and titrable acidity analysis of final molasses. Sugar Tech 1:54–62

Kumar S, Stecher G, Tamura K (2016) MEGA7: molecular evolutionary genetics analysis version 7.0 for bigger datasets. Mol Biol Evol 33:1870–1874

Lillehoj EB, Clarke MA, Tsang WSC (1984) Leuconostoc spp. in sugarcane processing samples. Proc Sug Proc Res Inst 1984:144–151

Marvasi M, Visscher PT, Martinez LC (2010) Exopolymeric substances (EPS) from Bacillus subtilis: polymers and genes encoding their synthesis. FEMS Microbiol Lett 313:1–9

Mollet C, Drancourt M, Raoult D (1997) rpoB sequence analysis as a novel basis for bacterial identification. Mol Microbiol 25:1005–1011

Nel S (2014) Microbial diversity profiling in sugarcane processing: what, why and how? Proc S Afr Sug Technol Ass 87:246–254

Nel S, Davis SB, Endo A, Dicks LMT (2019) Microbial diversity profiling of polysaccharide (gum)-producing bacteria isolated from a South African sugarcane processing factory. Curr Microbiol 76:527–535

Rein P (2007) Cane sugar engineering. Verlag Dr. Albert Bartens KG, Berlin

Saitou N, Nei M (1987) The neighbor-joining method: a new method for reconstructing phylogenetic trees. Mol Biol Evol 4:406–425

Solomon S (2000) Post-harvest cane deterioration and its milling consequences. Sugar Tech 2:1–18

Tamura K (1992) Estimation of the number of nucleotide substitutions when there are strong transition-transversion and G+C-content biases. Mol Biol Evol 9:678–687

Thompson JD, Higgins DG, Gibson TJ (1994) CLUSTAL W: improving the sensitivity of progressive multiple sequence alignment through sequence weighting, position-specific gap penalties and weight matrix choice. Nucleic Acids Res 22:4673–4680

Tian F, Inthanavong L, Karboune S (2011) Purification and characterisation of levansucrases from Bacillus amyloliquefaciens in intra- and extracellular forms uselful for the synthesis of levan and fructooligosaccharides. Biosci Biotechnol Biochem 75:1929–1938

Wang L-T, Lee F-L, Tai C-J, Kasai H (2007) Comparison of gyrB gene sequences, 16S rRNA gene sequences and DNA–DNA hybridization in the Bacillus subtilis group. Int J Syst Evol Microbiol 57:1846–1850

Wang L-T, Lee F-L, Tai C-J, Kuo H-P (2008) Bacillus velezensis is a later heterotypic synonym of Bacillus amyloliquefaciens. Int J Syst Evol Microbiol 58:671–675

Weisburg WG, Barns SM, Pelletier DA, Lane DJ (1991) 16S ribosomal DNA amplificaion for phylogenetic study. J Bacteriol 173:697–703

Woese CR (1987) Bacterial evolution. Microbiol Rev 51:221–271

Wu X-Y, Walker MJ, Hornitzky M, Chin J (2006) Development of a group-specific PCR combined with ARDRA for the identification of Bacillus species of environmental significance. J Microbiol Methods 64:107–119
Acknowledgements
DNA sequencing was performed by Dr Deborah Sweby (South African Sugarcane Research Institute, Mt Edgecombe, South Africa).
Additional information
Publisher's Note
Springer Nature remains neutral with regard to jurisdictional claims in published maps and institutional affiliations.
Communicated by Erko Stackebrandt.
About this article
Cite this article
Nel, S., Davis, S.B., Endo, A. et al. Differentiation between Bacillus amyloliquefaciens and Bacillus subtilis isolated from a South African sugarcane processing factory using ARDRA and rpoB gene sequencing. Arch Microbiol 201, 1453–1457 (2019). https://doi.org/10.1007/s00203-019-01698-w
Received:

Revised:

Accepted:

Published:

Issue Date:
Keywords
Sugarcane processing

Sucrose loss

Phylogenetic analysis

ARDRA