Abstract
Plants are colonized by diverse microorganisms that can substantially impact their health and growth. Understanding bacterial diversity and the relationships between bacteria and phytopathogens may be key to finding effective biocontrol agents. We evaluated the bacterial community associated with anthracnose symptomatic and asymptomatic leaves of guarana, a typical tropical crop. Bacterial communities were assessed through culture-independent techniques based on extensive 16S rRNA sequencing, and cultured bacterial strains were evaluated for their ability to inhibit the growth of Colletotrichum sp. as well as for enzyme and siderophore production. The culture-independent method revealed that Proteobacteria was the most abundant phylum, but many sequences were unclassified. The emergence of anthracnose disease did not significantly affect the bacterial community, but the abundance of the genera Acinetobacter, Pseudomonas and Klebsiella were significantly higher in the symptomatic leaves. In vitro growth of Colletotrichum sp. was inhibited by 11.38% of the cultured bacterial strains, and bacteria with the highest inhibition rates were isolated from symptomatic leaves, while asymptomatic leaves hosted significantly more bacteria that produced amylase and polygalacturonase. The bacterial isolate Bacillus sp. EpD2-5 demonstrated the highest inhibition rate against Colletotrichum sp., whereas the isolates EpD2-12 and FD5-12 from the same genus also had high inhibition rates. These isolates were also able to produce several hydrolytic enzymes and siderophores, indicating that they may be good candidates for the biocontrol of anthracnose. Our work demonstrated the importance of using a polyphasic approach to study microbial communities from plant diseases, and future work should focus on elucidating the roles of culture-independent bacterial communities in guarana anthracnose disease.
Access options
Buy single article
Instant access to the full article PDF.
USD 39.95
Price excludes VAT (USA)
Tax calculation will be finalised during checkout.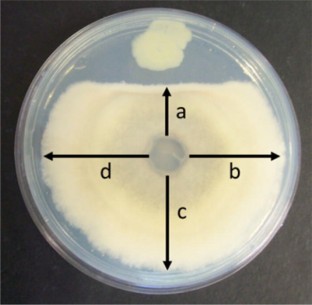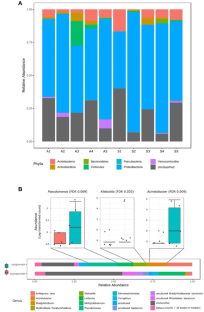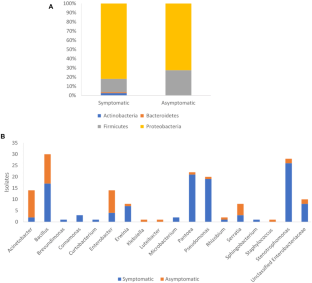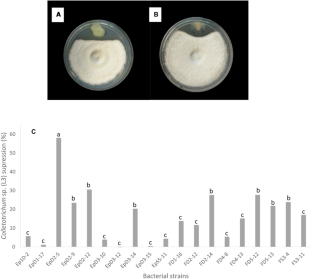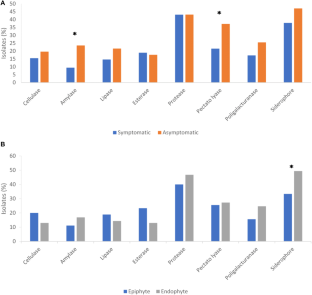 References
Anders S, Huber W (2010) Differential expression analysis for sequence count data. Genome Biol 11(10):R106. https://doi.org/10.1186/gb-2010-11-10-r106

Araújo WL, Marcon J, Maccheroni W Jr, Van Elsas JD, Vuurde JLV, Azevedo JL (2002) Diversity of endophytic bacterial populations and their interaction with Xylella fastidiosa in citrus plants. Appl Environ Microbiol 68:4906–4914. https://doi.org/10.1128/AEM.68.10.4906-4914.2002

Bardas GA, Lagopodi AL, Kadoglidou K, Tzavella-Klonari K (2009) Biological control of three Colletotrichum lindemuthianum races using Pseudomonas chlororaphis PCL1391 and Pseudomonas fluorescens WCS365. Biol Control 49:139–145. https://doi.org/10.1016/j.biocontrol.2009.01.012

Barragán V, Aveiga I, Trueba G (2008) Microbial community composition in petroleum-contaminated and uncontaminated soil from Francisco de Orellana, in the northern Ecuadorian Amazon. Int Microbiol 11:121–126. https://doi.org/10.2436/20.1501.01.51

Batista BD, Lacava PT, Ferrari A, Teixeira-Silva NS, Bonatelli ML, Tsui S, Mondin M, Kitajima EW, Pereira JO, Azevedo JL, Quecine MC (2018) Screening of tropically derived, multi-trait plant growth-promoting rhizobacteria and evaluation of corn and soybean colonization ability. Microbiol Res 206:33–42. https://doi.org/10.1016/j.micres.2017.09.007

Beattie GA, Lindow SE (1995) The secret life of foliar bacteria pathogens on leaves. Annu Rev Phytopathol 33:145–172. https://doi.org/10.1146/annuev.py.33.090195.001045

Bentes JLS, Costa Neto PQ (2011) Variabilidade genética de Colletotrichum guaranicola usando marcadores AFLP. Acta Amaz 41:251–256. https://doi.org/10.1590/S0044-59672011000200009

Berg G, Krechel A, Ditz M (2005) Endophytic and ectophytic potato-associated bacterial communities differ in structure and antagonistic function against plant pathogenic fungi. FEMS Microbiol Ecol 51:215–229. https://doi.org/10.1016/j.femsec.2004.08.006

Berg G, Köberl M, Rybakova D, Müller H, Grosch R, Smalla K (2017) Plant microbial diversity is suggested as the key to future biocontrol and health trends. FEMS Microbiol Ecol 93(5):fix050. https://doi.org/10.1093/femsec/fix050

Bogas AC, Ferreira AJ, Araújo WL, Astolfi-Filho S, Kitajima EW, Lacava PT, Azevedo JL (2015) Endophytic bacterial diversity in the phyllosphere of Amazon Paullinia cupana associated with asymptomatic and symptomatic anthracnose. SpringerPlus 4:258. https://doi.org/10.1186/s40064-015-1037-0

Bonatelli ML, Tsui S, Marcon J, Batista BD, Kitajima EW, Pereira JO, Azevedo JL, Quecine MC (2016) Antagonistic activity of fungi from anthracnose lesions on Paullinia cupana against Colletotrichum sp. J Plant Pathol 98:029. https://doi.org/10.4454/JPP.V98I2.029

Borneman J, Triplett EW (1997) Molecular microbial diversity in soils from eastern Amazonia: evidence for unusual microorganisms and microbial population shifts associated with deforestation. Appl Environ Microbiol 63:2647–2653

Bulgari D, Casati P, Crepaldi P, Daffonchio D, Quahlino F, Brusetti L, Bianco PA (2011) Restructuring of endophytic bacterial communities in grapevine yellows-diseased and recovered Vitis vinifera L. plants. Appl Environ Microbiol 77:5018–5022. https://doi.org/10.1128/AEM.00051-11

Caporaso JG, Kuczynski J, Stombaugh J, Bittinger K, Bushman FD, Costello EK, Fierer N, Peña AG, Goodrich JK, Gordon JI, Huttley GA, Kelley ST, Knights D, Koenig JE, Ley RE, Lozupone CA, McDonald D, Muegge BD, Pirrung M, Reeder J, Sevinsky JR, Turnbaugh PJ, Walters WA, Widmann J, Yatsunenko T, Zaneveld J, Knight R (2010) QIIME allows analysis of high-throughput community sequencing data. Nat Methods 7:335–336. https://doi.org/10.1038/nmeth.f.303

Cho KM, Hong SY, Lee SM, Kim YH, Kahng GG, Lim YP, Kim H, Yun HD (2007) Endophytic bacterial communities in ginseng and their antifungal activity against pathogens. Microbial Ecol 54:341–351. https://doi.org/10.1007/s00248-007-9208-3

Desire MH, Bernard F, Forsah MR, Assang CT, Denis ON (2014) Enzymes and qualitative phytochemical screening of endophytic fungi isolated from Lantana camara Linn. leaves. J Appl Biol Biotechnol 2:001–006. https://doi.org/10.7324/JABB.2014.2601

Duarte SH, de Andrade CCP, Ghiselli G, Maugeri F (2013) Exploration of Brazilian biodiversity and selection of a new oleaginous yeast strain cultivated in raw glycerol. Bioresour Technol 138:377–381. https://doi.org/10.1016/j.biortech.2013.04.004

Erlacher A, Cardinale M, Grosch R, Grube M, Berg G (2014) The impact of the pathogen Rhizoctonia solani and its beneficial counterpart Bacillus amyloliquefaciens on the indigenous lettuce microbiome. Front Microbiol 5:175. https://doi.org/10.3389/fmicb.2014.00175

Fernandes-Salomäo TM, Amorim AC, Alves VM, Coelho JL, Silva DO, Araujo EF (1996) Isolation of pectinase hyperproducing mutants of Penicillium expansum. Rev Microbiol 27:15–18

Ferreira EB, Cavalcanti PP, Nogueira DA (2014) ExpDes: an R package for ANOVA and experimental designs. Appl Math 05:51204. https://doi.org/10.4236/am.2014.519280

Glick BR (1995) The enhancement of plant growth by free-living bacteria. Can J Microbiol 41:108–117. https://doi.org/10.1139/m95-015

Hankin L, Anagnostakis SL (1975) The use of solid media for detection of enzyme production by fungi. Mycologia 67:597–607. https://doi.org/10.2307/3758395

Hardoim PR, Van Overbeek LS, Berg G, Pirttilä AM, Compant S, Campisano A, Döring M, Sessitsch A (2015) The hidden world within plants: ecological and evolutionary considerations for defining functioning of microbial endophytes. Microbiol Mol Biol Res 79:293–320. https://doi.org/10.1128/MMBR.00050-14

Hassan S, Gupta G, Anand S, Kaur H (2014) Lytic enzymes of Trichoderma: their role in plant defense. Int J App Res Stud 3:2–5. https://doi.org/10.1023/A:102450243159

Heaney SP, Hall AA, Davies SA, Olaya G (2000) Resistance to fungicides in the QoI-STAR cross-resistance group: current perspectives. BCPC Conf Pest Dis 2:755–762

Heuer H, Krsek M, Baker P, Smalla K, Wellington EMH (1997) Analysis of actinomycete communities by specific amplification of genes encoding 16S rRNA and gel-electrophoretic separation in denaturing gradients. Appl Environ Microbiol 63:3233–3241

Kim PI, Chung K (2004) Production of an antifungal protein for control of Colletotrichum lagenarium by Bacillus amyloliquefaciens MET0908. FEMS Microbiol Lett 234:177–183. https://doi.org/10.1016/j.femsle.2004.03.032

Kim JS, Sparovek G, Longo RM, De Melo WJ, Crowley D (2007) Bacterial diversity of terra preta and pristine forest soil from the Western Amazon. Soil Biol Biochem 39:684–690. https://doi.org/10.1016/j.soilbio.2006.08.010

Kumar J, Singh D, Ghosh P, Kumar A (2017) Endophytic and epiphytic modes of microbial interactions and benefits. In: Singh DP, Singh HB, Prabha R (eds) Plant-microbe interactions in agro-ecological perspectives. Springer, Singapore, pp 227–253

Landim MIPF, Hingst-Zaher E (2010) Brazil's biodiversity crisis. ICOM News 63(2):14–15

Liotti RG, Figueiredo MIS, Silva GF (2018) Diversity of cultivable bacterial endophytes in Paullinia cupana and their potential for plant growth promotion and phytopathogen control. Microbiol Res 207:8–18. https://doi.org/10.1016/j.micres.2017.10.011

Lis JT (1980) Fractionation of DNA fragments by polyethylene glycol induced precipitation. Methods Enzymol 65:347–353. https://doi.org/10.1016/S0076-6879(80)65044-7

Liu CH, Chen X, Liu TT, Lian B, Gu Y, Caer V, Xue YR, Wang BT (2007) Study of the antifungal activity of Acinetobacter baumannii LCH001 in vitro and identification of its antifungal components. Appl Microbiol Biot 76(2):459–466. https://doi.org/10.1007/s00253-007-1010-0

McKay AM (1988) A plate assay method for the detection of fungal polygalacturonase secretion. FEMS Microbiol Lett 56:355–358. https://doi.org/10.1111/j.1574-6968.1988.tb03206.x

McSpadden Gardener BB (2004) Ecology of Bacillus and Paenibacillus spp. in agricultural systems. Phytopathol 94:1252–1258. https://doi.org/10.1094/PHYTO.2004.94.11.1252

Mendes R, Kruijt M, de Bruijn I, Dekkers E, van der Voort M, Schneider JH, Piceno YM, DeSantis TZ, Andersen GL, Bakker PA, Raaijmakers JM (2011) Deciphering the rhizosphere microbiome for disease-suppressive bacteria. Science 332(6033):1097–1100. https://doi.org/10.1126/science.1203980

Mittermier RA, Gil PR, Hoffmann M, Pilgrim J, Brooks T, Mittermeier CG, Lamoreux J, Fonseca GAB (2005) Hotspots revisited: earth's biologically richest and most endangered terrestrial ecoregions. Cemex, Conservation International and Agrupación Sierra Madre, Monterrey

Newton AC, Gravouil C, Fountaine JM (2010) Managing the ecology of foliar pathogens: ecological tolerance in crops. Ann Appl Biol 157:343–359. https://doi.org/10.1111/j.1744-7348.2010.00437.x

Oksanen J, Blanchet FG, Kindt R et al (2015) Vegan: community ecology package, R package version 2.5-2

Proença DN, Grass G, Morais PV (2017) Understanding pine wilt disease: roles of the pine endophytic bacteria and of the bacteria carried by the disease-causing pinewood nematode. Microbiologyopen 6:e00415. https://doi.org/10.1002/mbo3.415

Pylro VS, Roesch LFW, Morais DK, Clark IM, Hirsch PR, Tótola MR (2014a) Data analysis for 16S microbial profiling from different benchtop sequencing platforms. J Microbiol Methods 107:30–37. https://doi.org/10.1016/j.mimet.2014.08.018

Pylro VS, Roesch LFW, Ortega JM, Amaral AM, Tótola MR, Hirsch PR, Rosado AS, Góes-Neto A, Silva ALC, Rosa CA, Morais DK, Andreote FD, Duarte GF, Melo IS, Seldin L, Lambais MR, Hungria M, Peixoto RS, Kruger RH, Tsai SM, Azevedo V (2014b) Brazilian Microbiome Project: revealing the unexplored microbial diversity–challenges and prospects. Microbiol Ecol 67:237–241. https://doi.org/10.1007/s00248-013-0302-4

Pylro VS, Morais DK, de Oliveira FS, Santos FG, Lemos LN, Oliveira G, Roesch LFW (2016) BMPOS: a flexible and user-friendly tool sets for microbiome studies. Microbiol Ecol 72(2):443–447. https://doi.org/10.1007/s00248-016-0785-x

Quecine MC, Araújo WL, Rossetto PB, Ferreira A, Tsui S, Lacava PT, Mondin M, Azevedo JL, Pizzirani-Kleiner AA (2012) Sugarcane growth promotion by the endophytic bacterium Pantoea agglomerans 33.1. Appl Environ Microbiol 78:7511–7518. https://doi.org/10.1128/AEM.00836-12

R Development Core Team (2011) R: a language and environment for statistical computing. R Foundation for Statistical Computing, Vienna

Reinhold-Hurek B, Hurek T (2011) Living inside plants: bacterial endophytes. Curr Opin Plant Biol 14:435–443. https://doi.org/10.1016/j.pbi.2011.04.004

Reiter B, Pfeifer U, Schwab H, Sessitsch A (2002) Response of endophytic bacterial communities in potato plants to infection with Erwinia carotovora subsp. atroseptica. Appl Environ Microbiol 68:2261–2268. https://doi.org/10.1128/AEM.68.5.2261-2268.2002

Robinson MD, McCarthy DJ, Smyth GK (2010) edgeR: a Bioconductor package for differential expression analysis of digital gene expression data. Bioinformatics 26:139–140. https://doi.org/10.1093/bioinformatics/btp616

Rognes T, Flouri T, Nichols B, Quince C, Mahé F (2016) VSEARCH: a versatile open source tool for metagenomics. PeerJ 4:e2584. https://doi.org/10.7717/peerj.2584

Sambrook J, Russel DW (2001) Molecular cloning: a laboratory manual, 3rd edn. Cold Spring Harbor Laboratory Press, New York

Schloss PD, Larget BR, Handelsman J (2004) Integration of microbial ecology and statistics: a test to compare gene libraries. Appl Environ Microbiol 70:5485–5492. https://doi.org/10.1128/AEM.70.9.5485-5492.2004

Schloss PD, Westcott SL, Ryabin T, Hall JR, Hartmann M, Hollister EB, Lesniewski RA, Oakley BB, Parks DH, Robinson CJ, Sahl JW, Stres B, Thallinger GG, Van Horn DJ, Weber CF (2009) Introducing mothur: open-source, platform-independent, community-supported software for describing and comparing microbial communities. Appl Environ Microbiol 75(7537):7541. https://doi.org/10.1128/AEM.01541-09

Schwyn B, Neilands JB (1987) Universal chemical assay for the detection and determination of siderophores. Anal Biochem 160:47–56. https://doi.org/10.1016/0003-2697(87)90612-9

Sierra GA (1957) A simple method for the detection lipolytic activity of microorganisms and some observations on the influence of the contact between cells and fatty substrates. Anton Leeuw Int J G 28:15–22

Silva MCS, Polonio JC, Quecine MC, de Almeida TT, Bogas AC, Pamphile JA, Pereira JO, Astolfi-Filho S, Azevedo JL (2016) Endophytic cultivable bacterial community obtained from the Paullinia cupana seed in Amazonas and Bahia regions and its antagonistic effects against Colletotrichum gloeosporioides. Microbiol Pathog 98:16e22. https://doi.org/10.1016/j.micpath.2016.06.023

Suda W, Nagasaki A, Shishido M (2009) Powdery mildew-infection changes bacterial community composition in the phyllosphere. Microbes Environ 24:217–223. https://doi.org/10.1264/jsme2.ME09114

Teather RM, Wood PJ (1982) Use of congo red-poliysaccharide interactions in enumeration and characterization of cellulolytic bacteria from bovine rumen. Appl Environ Microbiol 43:777–780

Trivedi P, Duan Y, Wang N (2010) Huanglongbing, a systemic disease, restructures the bacterial community associated with citrus roots. Appl Environ Microbiol 76:3427–3436. https://doi.org/10.1128/AEM.02901-09

Trotel-Aziz P, Coudercheta M, Biagiantib S, Aziz A (2008) Characterization of new bacterial biocontrol agents Acinetobacter, Bacillus, Pantoea and Pseudomonas spp. mediating grapevine resistance against Botrytis cinerea. Environm Exp Bot 64:21–32. https://doi.org/10.1016/j.micpath.2018.05.026

van Overbeek LS, Cassidy M, Kozdroj J, Trevors JT, van Elsas JD (2002) A polyphasic approach for studying the interaction between Ralstonia solanacearum and potential control agents in the tomato phytosphere. J Microbiol Meth 68:69–86. https://doi.org/10.1016/S0167-7012(01)00347-5
Acknowledgements
We are thankful to Joelma Marcon and Jose Antônio da Silva for performing the biological sampling and support with the experiments. This work was supported by grants from the São Paulo Research Foundation FAPESP (Grant number 2009/53376-2, 2010/14382-4) in association with the Amazon Research Foundation (FAPEAM). We would like to thank FAPESP for the fellowship to Maria Leticia Bonatelli (Grant number 2010/14382-4), Sarina Tsui (Grant number 2010/15192-4) and Bruna Durante Batista (Grant number 2011/05204-8). We also thank the National Council for Scientific and Technological Development (CNPq) for the fellowship to Manuella Nóbrega Dourado (Grant number 150228/2017-1).
Additional information
Communicated by Erko Stackebrandt.
Publisher's Note
Springer Nature remains neutral with regard to jurisdictional claims in published maps and institutional affiliations.
Electronic supplementary material
Below is the link to the electronic supplementary material.
About this article
Cite this article
Bonatelli, M.L., Tsui, S., Batista, B.D. et al. Bacterial communities associated with anthracnose symptomatic and asymptomatic leaves of guarana, an endogenous tropical crop, and their pathogen antagonistic effects. Arch Microbiol 201, 1061–1073 (2019). https://doi.org/10.1007/s00203-019-01677-1
Received:

Revised:

Accepted:

Published:

Issue Date:

DOI: https://doi.org/10.1007/s00203-019-01677-1
Keywords
Bacterial community

Paullinia cupana
Colletotrichum sp.

Amazon rainforest

Biological control

Enzymes