Abstract
A group of five Gram-negative aerobic halophilic bacteria was isolated from the red alga Polysiphonia sp. specimen collected from the Sea of Japan seashore and subjected to a taxonomic study. On the basis of 16S rRNA gene sequence analysis, the novel isolates were affiliated to the genus Labrenzia sharing the highest gene sequence similarities of 98.1–98.4% with the type strain of Labrenzia suaedae KACC 13772T. The DNA–DNA hybridization values of 83–91% obtained between five novel strains, and 26 and 36% between two of the five novel strains and the closest neighbor Labrenzia suaedae KACC 13772T confirmed their assignment to the same separate species. Novel isolates were characterized by Q-10 as the major ubiquinone, by the predominance of C18:1ω7c followed by 11-methyl C18:1ω7c and C14:0 3-ОН in their fatty acid profiles. Polar lipids consisted of phosphatidylcholine, phosphatidylethanolamine, phosphatidylmonomethylethanolamine, phosphatidylglycerol, an unknown aminophospholipid, and an unknown phospholipid. Some of novel strains were found to inhibit growth of Gram-negative and Gram-positive test microorganisms. On the basis of phylogenetic analysis, DNA–DNA hybridization and phenotypic traits, a novel species with the name Labrenzia polysiphoniae sp. nov. (type strain KMM 9699T = rh46T = KACC 19711T), is proposed.
Access options
Buy single article
Instant access to the full article PDF.
US$ 39.95
Tax calculation will be finalised during checkout.
Subscribe to journal
Immediate online access to all issues from 2019. Subscription will auto renew annually.
US$ 119
Tax calculation will be finalised during checkout.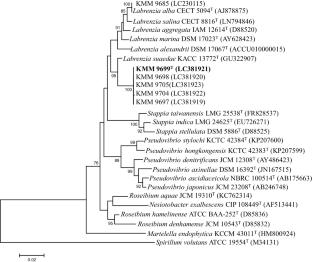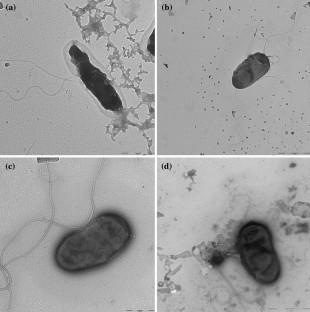 References
Bibi F, Jeong JH, Chung EJ, Jeon CO, Chung YR (2014) Labrenzia suaedae sp. nov., a marine bacterium isolated from a halophyte, and emended description of the genus Labrenzia. Int J Syst Evol Microbiol 64:1116–1122

Biebl H, Pukall R, Lünsdorf H, Schulz S, Allgaier M, Tindall BJ, Wagner-Döbler I (2007) Description of Labrenzia alexandrii gen. nov., sp.nov., a novel alphaproteobacterium containing bacteriochlorophyll a, and a proposal for reclassification of Stappia aggregata as Labrenzia aggregata comb.nov., of Stappia marina as Labrenzia marina comb. nov. and of Stappia alba as Labrenzia alba comb. nov., and emended descriptions of the genera Pannonibacter, Stappia and Roseibium, and of the species Roseibium denhamense and Roseibium hamelinense. Int J Syst Evol Microbiol 57:1095–1107

Camacho M, Redondo-Gomez S, Rodriguez-Llorente I, Rohde M, Sproer C, Schumann P, Klenk HP, Montero-Calasanz MD (2016) Labrenzia salina sp. nov., isolated from the rhizosphere of the halophyte Arthrocnemum macrostachyum. Int J Syst Evol Microbiol 66:5173–5180

Collins MD, Shah HN (1984) Fatty acid, menaquinone and polar lipid composition of Rothia dentosacariosa. Arch Microbiol 137:247–249

Collins MD, Goodfellow M, Minnikin DE (1980) Fatty acid, isoprenoid quinone and polar lipid composition in the classification of Curtobacterium and related taxa. J Gen Microbiol 118:29–37

De Ley J, Cattoir H, Reynaerts A (1970) The quantitative measurement of DNA hybridization from renaturation rates. Eur J Biochem 12:133–142

Devereux R, Wilkinson SS (2004) Amplification of ribosomal RNA sequences. Molecular microbial ecology manual, 2nd edn, vol 3.01, Kluwer Academic Publishers, Dordrecht, pp 509–522

Edwards U, Rogall T, Blöcker H, Emde M, Böttger EC (1989) Isolation and direct complete nucleotide determination of entire genes: characterization of a gene coding for 16S ribosomal RNA. Nucleic Acids Res 17:7843–7853

Folch J, Lees M, Sloane Stanley GH (1957) A simple method for the isolation and purification of total lipids from animal tissues. J Biol Chem 226:497–509

Gerhardt P, Murray RGE, Wood WA, Krieg NR (eds) (1994) Methods for general and molecular bacteriology. American Society for Microbiology, Washington, DC

Hameed A, Shahina M, Lin SY, Lai WA, Hsu YH, Liu YC, Young CC (2014) Aquibacter zeaxanthinifaciens gen. nov., sp. nov., a zeaxanthin-producing bacterium of the family Flavobacteriaceae isolated from surface seawater, and emended descriptions of the genera Aestuariibaculum and Gaetbulibacter. Int J Syst Evol Microbiol 64:138–145

Kim BC, Park JR, Bae JW, Rhee SK, Kim KH, Oh JW, Park YH (2006) Stappia marina sp. nov., a marine bacterium isolated from the Yellow Sea. Int J Syst Evol Microbiol 56:75–79

Kim OS, Cho YJ, Lee K, Yoon SH, Kim M, Na H, Park SC, Jeon YS, Lee JH, Yi H, Won S, Chun J (2012) Introducing EzTaxon-e: a prokaryotic 16S rRNA Gene sequence database with phylotypes that represent uncultured species. Int J Syst Evol Microbiol 62:716–721

Kim M, Oh HS, Park SC, Chun J (2014) Towards a taxonomic coherence between average nucleotide identity and 16S rRNA gene sequence similarity for species demarcation of prokaryotes. Int J Syst Evol Microbiol 64:346–351

Lafay B, Ruimy R, Rausch de Traubenberg C, Breittmayer V, Gauthier MJ, Christen R (1995) Roseobacter algicola sp. nov., a new marine bacterium isolated from the phycosphere of the toxin-producing dinoflagellate Prorocentrum lima. Int J Syst Bacteriol 45:290–296

Marmur J, Doty P (1962) Determination of the base composition of deoxyribonucleic acid from its thermal denaturation temperature. J Mol Biol 5:109–118

Mitchell K, Fallon RJ (1990) The determination of ubiquinone profiles by reversed-phase high performance thin-layer chromatography as an aid to the speciation of Legionellaceae. J Gen Microbiol 136:2035–2041

Owen J, Hill LR, Lapage SP (1969) Determination of DNA base composition from meltingprofiles in dilute buffers. Biopolymers 7:503–516

Pearson W, Lipman DJ (1988) Improved tools for biological sequence comparison. Proc Natl Acad Sci USA 85:2444–2448

Pujalte MJ, Macián MC, Arahal DR, Garay E (2005) Stappia alba sp. nov., isolated from Mediterranean oysters. Syst Appl Microbiol 28:672–678

Romanenko LA, Uchino M, Frolova GM, Tanaka N, Kalinovskaya NI, Latyshev N, Mikhailov VV (2007) Sphingomonas molluscorum sp. nov., a novel marine isolate with antimicrobial activity. Int J Syst Evol Microbiol 57:358–363

Romanenko LA, Tanaka N, Svetashev VI, Kalinovskaya NI (2011) Pacificibacter maritimus gen. nov., sp. nov., isolated from shallow marine sediment. Int J Syst Evol Microbiol 61:1375–1381

Romanenko LA, Tanaka N, Svetashev VI, Kurilenko VV, Mikhailov VV (2013) Luteimonas vadosa sp. nov., isolated from seashore sediment. Int J Syst Evol Microbiol 63:261–1266

Romanenko LA, Kurilenko VV, Chernysheva NYU, Kalinovskaya NI, Dmitrenok PS, Popov RS, Mikhailov VV (2017) Diversity and antimicrobial activity of hydrobionts associated microorganisms from the Sea of Japan with the occurrence of tropodithietic acid producing bacteria. Microbiol Res J Int 20(6):1–14

Sasser M (1990) Microbial identification by gas chromatographic analysis of fatty acid methyl esters (GC-FAME).Technical Note 101. MIDI, Newark

Stackebrandt E, Ebers J (2006) Taxonomic parameters revisited: tarnished gold standards. Microb Today 45:153–155

Stackebrandt E, Goebel BM (1994) Taxonomic note: a place for DNA-DNA reassociation and 16S rRNA sequence analysis in the present species definition in bacteriology. Int J Syst Bacteriol 44:846–849

Tamura K, Stecher G, Peterson D, Filipski A, Kumar S (2013) MEGA6: molecular evolutionary genetics analysis version 6.0. Mol Biol Evol 30:2725–2729

Uchino Y, Hirata A, Yokota A, Sugiyama J (1998) Reclassification of marine Agrobacterium species: proposals of Stappia stellulata gen. nov., comb. nov., Stappia aggregata sp. nov., nom. rev., Ruegeria atlantica gen. nov., comb. nov., Ruegeria gelatinovora comb. nov., Ruegeria algicola comb. nov., and Ahrensia kieliense gen. nov., sp. nov., nom. rev. J Gen Appl Microbiol 44:201–210

Wayne LG, Brenner DJ, Colwell RR, Grimont PAD, Kandler O, Krichevsky MI, Moore LH, Moore WEC, Murray RGE, Stackebrandt E, Starr MP, Trüper HG (1987) Report of the ad hoc committee on reconciliation of approaches to bacterial systematics. Int J Syst Bacteriol 37:463–464
Acknowledgements
We would like to thank Dr. Soon-Wo Kwon, Korean Agricultural Culture Collection, KACC, Microbial Genetics Division, National Institute of Agricultural Biotechnology, RDA, Republic of Korea, for providing the type strain Labrenzia suaedae KACC 13772T for comparative analyses. This study was supported by a programme of "Bioresource collections".
Ethics declarations
Conflict of interest
All the authors have declared no conflict of interest.
Additional information
Publisher's Note
Springer Nature remains neutral with regard to jurisdictional claims in published maps and institutional affiliations.
The DDBJ/GenBank/EMBL accession number of the 16S rRNA gene sequence of strain KMM 9699T is LC381921.
Communicated by Erko Stackebrandt.
Electronic supplementary material
Below is the link to the electronic supplementary material.
About this article
Cite this article
Romanenko, L.A., Kurilenko, V.V., Guzev, K.V. et al. Characterization of Labrenzia polysiphoniae sp. nov. isolated from red alga Polysiphonia sp.. Arch Microbiol 201, 705–712 (2019). https://doi.org/10.1007/s00203-019-01640-0
Received:

Revised:

Accepted:

Published:

Issue Date:
Keywords
Labrenzia polysiphoniae sp. nov.

Marine

Red alga

Polysiphonia sp.