Abstract
Maize is highly responsive to the application of nitrogen to achieve high productivity. Inoculation with diazotrophic bacteria can improve plant growth with low N fertilization. The objective was to evaluate the inoculation of two species of diazotrophs on N metabolism in maize plants, in the presence of two concentrations of nitrogen in a hydroponic system. A factorial arrangement composed of two N levels (3.0 and 0.3 mM), with the presence of Hs—Herbaspirillum seropedicae, and Ab—Azospirillum brasilense or not. The parameters used were dry mass; N, P, and K accumulation; nitrate reductase activity; soluble fractions in roots and leaves. The inoculation altered the N metabolism and promoted greater development of maize plants, as well as a higher accumulation of P and K in the shoots. A more intensive process of N assimilation was evidenced when the plants were inoculated with H. seropedicae, leading to increased levels of NO3− and reduced N-amino, sugars, and NH4+ in leaves associated with high N level, opposite of A. brasilense.
Access options
Buy single article
Instant access to the full article PDF.
US$ 39.95
Tax calculation will be finalised during checkout.
Subscribe to journal
Immediate online access to all issues from 2019. Subscription will auto renew annually.
US$ 119
Tax calculation will be finalised during checkout.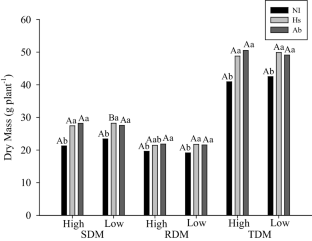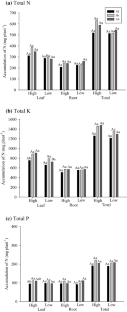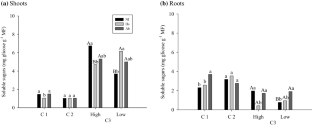 References
Alves GC, Videira SS, Urquiaga S, Reis VM (2015) Differential plant growth promotion and nitrogen fixation in two genotypes of maize by several Herbaspirillum inoculants. Plant Soil 387:307–321. https://doi.org/10.1007/s11104-014-2295-2

Araujo FF, Foloni JSS, Wutzke M, Melegari AS, Rack E (2013) Híbridos e variedades de milho submetidos à inoculação de sementes com Herbaspirillum seropedicae. Semina: Ciênc Agr 34:1043–1054. http://www.redalyc.org/html/4457/445744121009/

Araújo AP, Machado CTT (2006) Fósforo. In: Fernandes MS (ed) Nutr. Min. de Plant. Soc. Bras. de Ciênc. do Solo, Viçosa, MG, pp 253–280

Baldani JI, Baldani VLD, Seldin L, Döbereiner J (1986) Characterization of Herbaspirillum seropedicae gen. nov.: a root-associated nitrogen-fixing bacterium. Int J Syst Bact 36:86–93. http://www.microbiologyresearch.org/docserver/fulltext/ijsem/36/1/ijs-36-1-86.pdf?expires=1515409664&id=id&accname=guest&checksum=E7F7C4AA1062C956B6BE2F2E184123E3

Baldani JI, Reis VM, Videira SS, Boddey LH, Baldani VLD (2014) The art of isolating nitrogen-fixing bacteria from non-leguminous plants using N-free semi-solid media: a practical guide for microbiologists. Plant Soil 384:413–431. https://doi.org/10.1007/s11104-014-2186-6

Cassan F, Vandeleyden J, Spaepen S (2013) Physiological and agronomical aspects of phytohormone production by model plant-growth-promoting rhizobacteria PGPR. belonging to the genus Azospirillum. J Plant Growth Regul 33:440–459. https://doi.org/10.1007/s00344-013-9362-4

Crawford NM, Glass ADM (1998) Molecular and physiological aspects of nitrate uptake in plants. Trends Plant Sci 3:389–395. https://www.sciencedirect.com/science/article/pii/S1360138598013119

Dartora J, Marini D, Gonçalves EDV, Guimarães VF (2016) Co-inoculation of Azospirillum brasilense and Herbaspirillum seropedicae in maize. R Bras Eng Agríc Amb 20:545–550. https://doi.org/10.1590/1807-1929/agriambi.v20n6p545-550

Delhon P, Gojon A, Tillard P, Passama L (1995) Diurnal regulation of NO3 − uptake in soybean plants I. Changes in NO3 − influx, efflux, and N utilization in the plant during the day/night cycle. J Exp Bot 46:1585–1594. https://doi.org/10.1093/jxb/46.10.1585

Dobbelaere S, Croonenborghs A, Thys A, Ptacek D, Okon Y, Vanderleyden J (2002) Effect of inoculation with wild type Azospirillum brasilense and A. irakense strains on development and nitrogen uptake of spring wheat and maize. Biol Fertil Soils 36:284–297. https://doi.org/10.1007/s00374-002-0534-9

El-Komy HM, Hamdia MA, Abd El-Baki GK (2003) Nitrate reductase in wheat plants grown under water stress and inoculated with Azospirillum spp. Biol Plant 46:281–287. https://doi.org/10.1023/A:1022819114860

Euclydes R (2004) Sistema para análises estatísticas (SAEG 9.0). Funarbe, Viçosa

Felker P (1977) Micro determination of nitrogen in seed protein extracts. Anal Chem 49:1080–1080. https://doi.org/10.1021/ac50015a053

Ferreira D (2010) Sisvar: versão 5.3. UFLA, Lavras

Fibach-Paldi S, Burdman S, Okon Y (2012) Key physiological properties contributing to rhizosphere adaptation and plant growth promotion abilities of Azospirillum brasilense. FEMS Microbiol Lett 326:99–108. https://doi.org/10.1111/j.1574-6968.2011.02407.x

Filleur S, Daniel-Vedele F (1999) Expression analysis of a high-affinity nitrate transporter isolated from Arabidopsis thaliana by differential display. Plant 207:461–469. https://doi.org/10.1007/s004250050505

Forbe BG (2000) Nitrate transporters in plants: structure, function and regulation. Biochim Biphys Acta 1465:219–235. https://doi.org/10.1016/S0005-2736(00)00140-1

Forbe BG, Clarkson DT (1999) Nitrate and ammonium nutrition of plants: Physiological and molecular perspectives. Adv Bot Res 30:1–90. https://doi.org/10.1016/S0065-2296(08)60226-8

Garnett T, Conn V, Plett D, Conn S, Zanghellini J, Mackenzie N, Enju A, Francis K, Holtham L, Roessner U, Boughton B, Bacic A, Rafalski A, Dhugga K, Tester M, Kaiser BN (2013) The response of the maize nitrate transport system to nitrogen demand and supply across the lifecycle. New Phytol 198:82–94. https://doi.org/10.1111/nph.12166

Gyaneshwar P, James EK, Reddy PM, Ladha JK (2002) Herbaspirillum colonization increases growth and nitrogen accumulation in aluminum-tolerant rice varieties. New Phytol 154:131–145. https://doi.org/10.1046/j.1469-8137.2002.00371.x

Hirai M, Yano M, Goodenowe DB, Kanaya S, Kimura T, Wazuhara M, Fujiwara T, Saito K (2004) Integration of transcriptomics and metabolomics for understanding of global responses to nutritional stresses in Arabidopsis thaliana. PNAS 101:10205–12010. https://doi.org/10.1073/pnas.0403218101

Hoagland DR, Arnold DI (1950) The water-culture method for growing plants without soil. Circur numb 347. California Agricultural Experiment Station

Hungria M, Campo RJ, Souza EM, Pedrosa FO (2010) Inoculation with selected strains of Azospirillum brasilense and A. lipoferum improves yields of maize and wheat in Brazil. Plant Soil 331:413–425. https://doi.org/10.1007/s11104-009-0262-0

Jaworski EG (1971) Nitrate reductase assay in intact plant tissues. Bioch Biophys Res Com 43:1274–1279. https://doi.org/10.1016/S0006-291X(71)80010-4

Krapp A, Frasier V, Scheible WR, Quesada A, Gojon A, Stitt M, Caboche M, Daniel-Vedete F (1998) Expression studies of Nrt2:1Np, a putative high-affinity nitrate transporter: evidence for its role in nitrate uptake. Plant J 14:723–731. https://doi.org/10.1046/j.1365-313x.1998.00181.x

Krouk G, Lacombe B, Bielach A, Perrine-Walker F, Malinska K, Mounier E, Hoyerova K, Tillard P, Leon S, Ljung K, Zazimalova E, Benkova E, Nacry P, Gojon A (2010) Nitrate-regulated auxin transport by NRT1.1 defines a mechanism for nutrient sensing in plants. Dev Cell 18:927–937. https://doi.org/10.1016/j.devcel.2010.05.008

Kumar B, Trivedi P, Pandey A (2007) Pseudomonas corrugata: A suitable bacterial inoculant for maize grown under rainfed conditions of Himalayan region. Soil Biol Biochem 39:3093–3100. https://doi.org/10.1016/j.soilbio.2007.07.003

Lea PJ, Azevedo RA (2006) Nitrogen use efficiency. 1. Uptake of nitrogen from the soil 2006. Ann Appl Biol 149:243–247. https://doi.org/10.1111/j.1744-7348.2006.00101.x

Malavolta E, Vitti GC, Oliveira SA (1997) Princípios, métodos e técnicas de avaliação do estado nutricional. In: Malavolta E, Vitti GC, Oliveira SA (eds) Avaliação do estado nutricional de plantas: princípio e aplicações, 2nd edn. Potafos, Piracicaba, pp 115–230

Masclaux-Daubresse C, Daniel-Vedele F, Dechorgnat J, Chardon F, Gaufichon L, Suzuki A (2010) Nitrogen uptake, assimilation and remobilization in plants: challenges for sustainable and productive agriculture. Ann Bot 105:1141–1157. https://doi.org/10.1093/aob/mcq028

Miranda KM, Espey MG, Wink DA (2001) A rapid, simple spectrophotometric method for simultaneous detection of nitrate and nitrite. Nitric Oxide 5:67–71. https://doi.org/10.1006/niox.2000.0319

Mitchell L (1972) Microdetermination of nitrogen in plant & tissues. J AOAC 1:1–3

Monteiro RA, Schmidt MA, Baura VA, Balsanelli E, Wassem R, Yates MG, Randi MAF, Pedrosa FO, Souza EM (2008) Early colonization pattern of maize Zea mays L. Poales. Poaceae roots by Herbaspirillum seropedicae Burkholderiales, Oxalobacteraceae. Genet Mol Biol 31:932–937. https://doi.org/10.1590/S1415-47572008005000007

Monteiro RA, Balsanelli E, Wassem R, Marin AM, Brusamarello-Santos LCC, Schmidt MA, Tadra-Sfeir MZ, Pankievicz VCS, Cruz LM, Chubatsu LS, Pedrosa FO, Souza EM (2012) Herbaspirillum-plant interactions: microscopical, histological and molecular aspects. Plant Soil 356:175–196. https://doi.org/10.1007/s11104-012-1125-7

Pinton R, Tomasi N, Zanin L (2016) Molecular and physiological interactions of urea and nitrate uptake in plants. Plant Signal Behav 11(1):e1076603. https://doi.org/10.1080/15592324.2015.1076603

Ranum P, Peña-Rosas JP, Garcia-Casal MN (2014) Global maize production, utilization, and consumption. Ann NY Acad Sci 1312:105–112. https://doi.org/10.1111/nyas.12396

Reis Junior FB, Machado CTT, Machado AT, Sodek L (2008) Inoculação de Azospirillum amazonense em dois genótipos de milho sob diferentes regimes de nitrogênio. Rev Bras Ci Solo 32:1139–1146. http://www.scielo.br/pdf/rbcs/v32n3/a22v32n3.pdf

Remans T, Nacry P, Pervent M, Filleur S, Diatloff E, Mounier E, Tillard P, Forde BG, Gojon A (2006) The Arabidopsis NRT1,1 transporter participates in the signaling pathway triggering root colonization of nitrate-ritch patches. PNAC 103:19206–19211. https://doi.org/10.1073/pnas.0605275103

Sala VNR, Bran EJBN, Freitas JG, Silveira APD (2007) Resposta de genótipos de trigo à inoculação de bactérias diazotróficas em condições de campo. Pesq agropec bras 42:883–842. https://doi.org/10.1590/S0100-204X2007000600010

Santos LA, Bucher CA, Souza SR, Fernandes MS (2005) Metabolismo de nitrogênio em arroz sob níveis decrescentes de nitrato. Agronomia 39:28–33. http://www.ia.ufrrj.br/ revista/Vol.%2039%20-2005/DPF/TRab.%20005%20-20Metabolismo%20de%20N.pdf

Santos CLR, Cazetta JO, Saran LM, Sanches A (2014) Otimização da análise da atividade da redutase do nitrato e sua caracterização em folhas de cana-de-açúcar. Pesq agropec bras 49(5):384–394. https://doi.org/10.1590/S0100-204X2014000500008

Selvakumar G, Joshi P, Nazim S, Mishra PK, Bisht JK, Gupta HS (2009) Phosphate solubilization and growth promotion by Pseudomonas fragi CS11RH1 (MTCC 8984) a psychrotolerant bacterium isolated from a high altitude Himalayan rhizosphere. Biol 64:239–245. https://doi.org/10.2478/s11756-009-0041-7

Selvakumar G, Joshi P, Suya LP, Mishra PK, Joshi GK, Bisht JK, Bhatt JC, Gupta AHS (2011) Pseudomonas lurida M2RH3 (MTCC9245), a psychrotolerant bacterium from the Uttarakhand Himalayas, solubilizes phosphate and promotes wheat seedling growth. World J Microbiol Biotechnol 27:1129–1135. https://doi.org/10.1007/s11274-010-0559-4

Souza SR, Stark EMLM, Fernandes MS, Magalhães JS (1999) Effects of supplemental nitrogen on N-assimilation enzymes, free amino nitrogen, soluble sugars and crude protein of rice. Commun Soil Sci Plant Anal 30:711–724. https://doi.org/10.1080/00103629909370240

Souza LC, Siqueira JAM, Silva JLS, Silva JN, Coelho CCR, Neves MG, Oliveira Neto CF, Lobato AKS (2014) Compostos Nitrogenados, Proteínas e Aminoácidos em Milho sob Diferentes Níveis de Silício e Deficiência Hídrica. Revis Brasde Milh e Sorg, v.13, n.2, p. 117–128. https://doi.org/10.18512/1980-6477/rbms.v13n2p117-128

Tarrand JJ, Krieg NR, Döbereiner J (1978) A taxonomic study of the Spirillum lipoferum group, with descriptions of a new genus, Azospirillum gen. nov., and two species, Azospirillum lipoferum (Beijerinck) comb. nov. and Azospirillum brasilense sp. nov. Can J Microbiol 24:967–980

Wisniewski-Dyé F, Borziak K, Khalsa-Moyers G, Alexandre G, Sukharnikov LO, Hurst GB, McDonald WH, Robertson JS, Barbe V, Calteau A, Rouv Z, Mangenot S, Pringent-Combaret C, Normand P, Boyer M, Siquier P, Dessaux Y, Elmerich C, Condemine G, Krishnem G, Kennedy I, Paterson AH, González V, Mavinqui P, Zhulin IB (2011) Azospirillum genomes reveal transition of bacteria from aquatic to terrestrial enviroments. PLoS Genet 7(12):e1002430. https://doi.org/10.1371/journal.pgen.1002430

Xu G, Fan X, Miller AJ (2012) Plant nitrogen assimilation and use efficiency. Ann Rev Plant Biol 63:153–182. https://doi.org/10.1146/annurev-arplant-042811-105532

Yemm EW, Cocking EC (1955) The determination of aminoacid with ninhydrin. Analyst 80:209–213. https://doi.org/10.1039/AN9558000209

Yemm EW, Willis AJ (1954) The estimation of carbohydrate in plants extracts by anthrone. Biochem J 57:508–514. https://www.ncbi.nlm.nih.gov/pmc/articles/PMC1269789/
Acknowledgements
To the Coordination of Improvement of Higher Education Personnel—CAPES and the Foundation Carlos Chagas de Amparo à Pesquisa do Estado do Rio de Janeiro—FAPERJ for the fellowships and to the National Council of Scientific and Technological Development—CNPq [Grant number INCT 456133/2014-2]. This work was supported by Newton Fund grant BB/N013476/1 "Understanding and Exploiting Biological Nitrogen Fixation for Improvement of Brazilian Agriculture", co-funded by the Biotechnology and Biological Sciences Research Council (BBSRC) and the Brazilian National Council for State Funding Agencies (CONFAP).
Ethics declarations
Conflict of interest
The authors declare that they have no conflict of interests.
Additional information
Communicated by Jorge Membrillo-Hernández.
Electronic supplementary material
Below is the link to the electronic supplementary material.
About this article
Cite this article
da Fonseca Breda, F.A., da Silva, T.F.R., dos Santos, S.G. et al. Modulation of nitrogen metabolism of maize plants inoculated with Azospirillum brasilense and Herbaspirillum seropedicae. Arch Microbiol 201, 547–558 (2019). https://doi.org/10.1007/s00203-018-1594-z
Received:

Revised:

Accepted:

Published:

Issue Date:
Keywords
Nitrogen

Soluble fractions

Inoculation

Diazotrophs