Abstract
Matching the global food demand by 2050 and to ensure the stability of food security in over than 99 countries, it is necessary to scale up the production of food such as sorghum, wheat, rice, maize and sugarcane which are however natural hosts of Cochliobolus species. Cochliobolus species major epidemics such as the Great Bengal famine, Southern corn leaf blight, and Northern leaf spot blight were associated with substantial economic losses in the past decades. Thus, there is an urgent need to establish a specific coordinated global surveillance program for the migration of invasive Cochliobolus species, planning contextual control programs engaging all agricultural stakeholders and information sharing in real time for prevention of disastrous Cochliobolus disease outbreak effects. We discuss pertinent outcome of interactions of cash crops with Cochliobolus species having devastating impact on the livelihood of farmers and food security. While post-genomic era elucidated prominent differences among Cochliobolus heterostrophus, C. carbonum, C. victoriae, C. lunatus and C. miyabeanus, their destructive potentials and implications in food losses remained unearthed. Intriguingly, the annual colossal losses caused by Cochliobolus species in the production perspective of sorghum, wheat, rice, maize, cassava and soybean is estimated over 10 billion USD worldwide. This paper provides a comprehensive analysis of the invasive Cochliobolus species distribution and diversity, evolving pathogenicity, persistent diseases, threats and epidemics, consequences on food crops production and increasing global food insecurity issues.
Access options
Buy single article
Instant access to the full article PDF.
USD 39.95
Price includes VAT (USA)
Tax calculation will be finalised during checkout.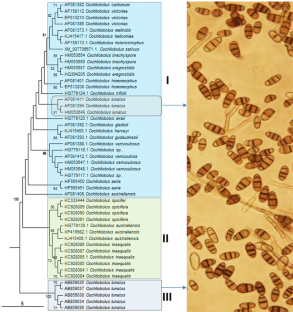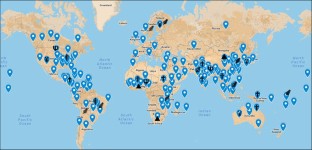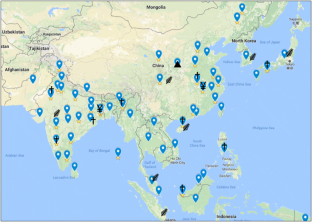 References
Abbas HK, Janson BJ, Egley GH, Braun H (1995) Biological control of common cocklebur by Alternaria helianthi, vol 1–4. In: Proceeding of the second international weed control congress. Copenhagen, Denmark, pp 1129–1134

Abella SR, Chiquoine LP, Backer DM (2012) Ecological characteristics of sites invaded by buffelgrass (Pennisetum ciliare). Invasive Plant Manag 5:443–453

Acharya K, Dutta AK, Pradhan P (2011) Bipolaris sorokiniana (Sacc.) Shoem.: the most destructive wheat fungal pathogen in the warmer areas. Aust J Crop Sci 5(9):1064–1071

Agrios GN (2005) Plant pathology, 5th edn. Academic Press, New York

Ahmadpour A, Pordel A, Heidarian Z et al (2013) Bipolaris coicis causing adlay leaf blight in Iran. Australas Plant Dis Notes 8(1):37–139

Ahmed KN, Ravinder RCH (1993) A pictorial guide to the identification of seedborne fungi of sorghum, pearl millet, finger millet, chickpea, pigeonpea and groundnut. Information Bulletin no. 34. Technical Report. International Crops Research Institute for the Semi-Arid Tropics, Patancheru, Andhra Pradesh, India, p 200

Aluko MO (1975) Crop losses, caused by the brown leaf spot disease of rice in Nigeria. Plant Dis Rep 59:609–613

Anderson PK, Cuningham AA, Patel NG, Morales FH, Epstein PR, Daszak P (2004) Emerging infectious diseases of plants: pathogen pollution, climate change and agrotechnology drivers. Trends Ecol Evol 19:535–544

Awoderu VA (2009) Rice diseases in Nigeria. PANS 20(4):1974

Bandyopadhyay R, Mughogho LK, Satyanarayana MV, Kalisz ME (1991) Occurrence of air-borne spores of fungi causing grain mould over a sorghum crop. Mycol Res 95:1315–2130

Bebber DP, Gurr S (2015) Crop-destroying fungal and oomycete pathogens food security. Fungal Genet Biol 74:52–64

Bebber DP, Holmes T, Gurr SJ (2014a) The global spread of crops pests and pathogens. Global Ecol Biogeogr. doi:10.1111/geb.12214

Bebber DP, Holmes T, Smith D, Gurr SJ (2014b) Economic and physical determinants of the global distributions of crop pests and pathogens. New Phytol 202:901–910

Bengyella L, Sayanika DW, Pranab R, Pardeep KB, Wakambam MS, Talukdar NC (2014) Host shifting dynamics of Cochliobolus lunatus: from a biocontrol agent to a severe environmental threat. BioMed Res Int 2014:Article ID 378372. doi:10.1155/2014/378372

Bengyella L, Yekwa LE, Waikhom SD, Nawaz K, Iftikhar S, Motloi TS, Tambo E, Roy P (2017) Upsurge in Curvularia infections and global emerging antifungal drug resistance. Asian J Sci Res. doi:10.3923/ajsr.2017

Bogdan AV (1977) Tropical pasture and fodder plants (Grasses and Legumes). Longman, London, pp 66–74

Brecht MO, Stiles CM, Datnoff LE (2007) Evaluation of pathogenicity Bipolaris and Curvularia spp. on dwarf and ultradwarf bermudagrasses in Florida. Online Plant Health. doi:10.1094/PHP-2007-0119-02-RS

Brodal G, Henriksen B, Sundheim L (2009) Skjukdommer I korn, oljevekster og kernebelgvekster. Fokus Bioforsk 4:107–143

Byther RS, Steiner GW (1971) Four sugarcane seedling diseases in Hawaii: causal agents, control, and a selective medium for isolation. Phytopathol 62:120–124

Carson M (1998) Aggressiveness and perennation of isolates of Cochliobolus heterostrophus from North Carolina. Plant Dis 82:1043–1047

CFS (2012) Coming to terms with terminology: food security, nutrition security, food security and nutrition, food and nutrition security. Committee on World Food Security (CFS), Thirty ninth session, Rome, 15–20 October 2012

Chakraborty S, Newton AC (2011) Climate change, plant diseases and food security: an overview. Plant Pathol 60:2–14

Chang JY, Zhang HJ, Shi J, Guo N, Hu QY, Ma HX (2016) First report of Curvularia australiensis causing leaf spot on maize (Zea mays) in China. Plant Dis 100:1780

Chang SW, Hwang BK (2002) Relationship of host genotype to Bipolaris leaf blight severities and yield components of adlay. Plant Dis 86:774–779

Cho WD, Shin HD (2004) List of plant diseases in Korea, 4th edn. Korean Society of Plant Pathology, Seoul, p 779

Christiansen SK, Wirsel S, Yoder OC, Turgeon BG (1998) The two Cochliobolus mating type genes are conserved among species but one of them is missing in C. victoriae. Mycol Res 102:919–929

Christou P, Twyman RM (2004) The potential of genetically enhanced plants to address food insecurity. Nutr Res Rev 17:23–42

Clark RV (1979) Yield losses in barley cultivars caused by spot blotch. Can J Plant Pathol 1:113–117

Condon BJ, Leng Y, Wu D, Bushley KE, Ohm RA et al (2013) Comparative genome structure, secondary metabolite, and effector coding capacity across Cochliobolus pathogens. PLoS Genet 9(1):e1003233. doi:10.1371/journal.pgen.1003233

Condon BJ, Oide S, Gibson DM, Krasnoff SB, Turgeon BG (2014a) Reductive iron assimilation and intracellular siderophores assist extracellular siderophore-driven iron homeostasis and virulence. MPMI 27(8):793–808

Condon BJ, Wu D, Kraševec N, Horwitz BA, Turgeon BG (2014b) Comparative genomics of Cochliobolus phytopathogens. In: Dean RA, Lichens-Park A, Kole C (eds) Genonomics of plant-associates fungi: monocot pathogens. Springer, Berlin. doi:10.1007/978-3-662-44053-7_2

CPC (2007) Crop protection compendium. 2007-CAB International, Wallingford

Curtis BC, Rajaram S, MacPherson HG (2002) Bread wheat. Food and Agriculture Organization of the United Nations

Dai FC, Gao WD, Wu RJ, Jin XH (1995) A noticeable corn disease: Curvularia leaf spot. Acta Phytopathol Sin 25:330

Dai FC, Wang XM, Zhu ZD, Gao WD, Huo NX (1998) Curvularia leaf spot of maize: pathogens and varietal resistance. Acta Phytopathol Sin 2:123–129

De Bruyne L, Van Poucke C, Mavungu DJ, Zainudin NA, Vahaecke L, De Vleesschauwer D, Turgeon BG, De Saeger S, Höfte M (2016) Comparative chemical screening and genetic analysis reveal tentoxin as a new virulence factor in Cochliobolus miyabeanus, the causal agent of brown spot disease on rice. Mol Plant Pathol 17(6):805–817

Dean RA, Talbot NJ, Ebbole DJ, Farman ML, Mitchell TK, Orbach MJ, Thon M, Kulkarni R, Xu JR, Pan H et al (2005) The genome sequence of the rice blast fungus Magnaporthe grisea. Nature 434:980–986

Degani O (2015) Cochliobolus heterostrophus T-toxin gene expression modulation via G-protein and MAPK pathways. Plant Protect Sci 51:53–60

Desjardins AE, Hohn TM (1997) Mycotoxins in plant pathogenesis. MPMI 10(2):147–152

Dewey RE, Timothy DH, Levings CS (1987) A mitochondrial protein associated with cytoplasmic male sterility in the T cytoplasm of maize. Proc Natl Acad Sci USA 84:5374–5378

Dong X (2004) NPR1, all things considered. Curr Opin Plant Biol 7:547–552

Drechsler C (1934) Phytopathological and taxonomical aspects of Ophilobolus, Pyrenophora, Helminthosporium and a new genus Cochliobolus. Phytopathol 24:953–983

Dubin HJ, van Ginkel M (1991) The status of wheat diseases and disease research in warmer seas. In: Saunders DA (ed) Wheat for the non-traditional warm areas. CIMMYT, Mexico, pp 125–145

Duveiller E (2004) Controlling foliar blights of wheat in the rice-wheat systems of Asia. Plant Dis 88:552–556

Duveiller E, Altamirano GI (2000) Pathogenicity of Bipolaris sorokiniana isolates from wheat roots, leaves and grains in Mexico. Plant Pathol 49:235–242

Dyson T (1999) World food trend and prospects to 2025. Proc Natl Acad Sci USA 96(11):5929–5936. doi:10.1073/pnas.96.11.5929

Easterling WE, Aggarwal PK, Batima P et al (2007) Food, fibre and forest products. In: Parry ML, Canziani OF, Palutikof PJ, van der Linden PJ, Hanson CE (eds) Climate change 2007: impacts, adaptation and vulnerability. Contribution of working group II to the fourth assessment report of the inter-governmental panel on climate change. Cambridge University Press, Cambridge, pp 273–313

Evans LT (1998) Feeding the ten billion. Plants and population growth. Cambridge University Press, Cambridge

Fajemisin JM, Okuyemi O (2009) Fungicidal control of Curvularia leaf spot of maize. Int J Pest Manage 22(2):234–238. doi:10.1080/09670877609412370

FAO (2000) The state of food insecurity in the world (SOFI). FAO, UN, Rome. http://www.fao.org/FOCUS/E/SOFI00/sofi001-e.htm

FAO (2014) Soybeans, production/crops/World for 2014. Food and Agricultural Organization of the United Nations, Statistics Division (FAOSTAT). 2015. Retrieved 23 May 2016

FAOSTAT (2016) Food and Agriculture Organisation Statistics (FAOSTAT). Retrieved 3 May 2016

FAOSTAT (2017) Crops/Regions/World list/Production Quantity (pick lists), Rice (paddy), 2014. UN Food and Agriculture Organization, Corporate Statistical Database (FAOSTAT). 2017. Retrieved 11 May 2017. http://www.fao.org/faostat/en/#data/QC

Fedorova ND, Khaldi N, Joardar VS, Maiti R, Amedeo P, Anderson MJ, Crabtree J, Silva JC, Badger JH, Albarraq A, Angiuoli S, Bussey H, Bowyer P, Cotty PJ, Dyer PS, Egan A, Galens K, Fraser-Liggett CM et al (2014) Genomic islands in the pathogenic filamentous fungus Aspergillus fumigatus. PLoS Genet 4:e1000046

Fenton HJH (1894) Oxidation of tartaric acid in presence of iron. J Chem Soc Trans 65:899–910

Ficke A, Abrahamsen U, Elen O (2011) Betydning av bladflekksjukdomskomplekset i norsk hvetedyrking. Fokus Bioforsk 6:64–67

Fisher MC, Henk DA, Briggs CJ, Brownstein JS, Madoff LC, McGraw SL, Gurr SJ (2012) Emerging fungal threats to animal, plants and ecosystem health. Nature 484:186–194

Gangopadhyay S, Chakrabarti NK (1982) Presence of a mycotoxin in Curvularia infected rice. J Phytopathol 104:299–303

Gao S, Li Y, Gao J, Suo Y, Fu K, Li Y, Chen J (2014) Genome sequence and virulence variation-related transcriptome profiles of Curvularia lunata, an important maize pathogenic fungus. BMC Genom 15:627

Gao S, Liu T, Li Y, Wu Q, Fu K, Chen J (2012) Understanding resistant germplasm induced virulence variation through analysis of proteomics and suppression subtractive hybridisation in a maize pathogen Curvularia lunata. Proteomics 12:3524–3535

Gugnani H, Okeke C, Sivanesan A (1990) Curvularia clavata as an aetiological agent of human skin infection. Lett Appl Microbiol 10:47–49

Haas H, Eisendle M, Turgeon BG (2008) Siderophores in fungal physiology and virulence. Annu Rev Phytopathol 46:149–187

Harlan JR (1995) The living fields. Cambridge University Press, Cambridge

Haroun NE, Elamin SE, Mahgoub BM, Elissidig MA, Mohammed EH (2015) Leaf blight: a new disease of Xanthium strumarium L. caused by Curvularia lunata and Drechslera spicifera in Sudan. Int J Curr Microbiol Appl Sci 4:511–515

Hatfield JL, Prueger JH (2015) Temperature extremes: effect on plant growth and development. Weather Clim Extremes 10(Part A):4–10

Hay RJ (2005) Agents of eumycotic mycetomas. In: Topley and Wilsons (ed) Textbook of microbiology, vol 4. Hodder Arnold Ltd, London, pp 487–496

Horwitz BA, Condon BJ, Turgeon BG (2013) Cochliobolus heterostrophus: a dothideomycete pathogen of maize. In: Horwitz B, Mukherjee P, Mukherjee M, Kubicek C (eds) Genomics of soil and plant-associated fungi. soil biology, vol 36. Springer, Berlin, Heidelberg. doi:10.1007/978-3-642-39339-6_9

Huang X, Liu L, Zhai Y, Liu T, Chen C (2009) Proteomic comparison of four maize inbred lines with different levels of resistance to Curvularia lunata (Wakker) boed infection. Prog Nat Sci 19:353–358

Hudec K (2007) Pathogenicity of fungi associated with wheat and barley seedling emergence and fungicide efficacy of seed treatment. Biol Bratisl 62(3):287–291. doi:10.2478/s11756-007-0050-3

Iftikhar A, Shazia I, Cullum J (2006) Genetic variability and aggressiveness in Curvularia lunata associated with rice–wheat cropping areas of Pakistan. Pak J Bot 38:475–485

Iftikhar S, Shahid AA, Nawaz K, Louis B (2017) New insights into the taxonomic placement of Bipolaris–Cochliobolus–Curvularia complex in post-genomics era. In: Louis B (Ed) Pathogenicity of Cochliobolus species in post genomic era, 1st edn. Studium Press LLC, pp 1–46. ISBN:1-62699-075-1

IITA (2009) International Institute of Tropical Agriculture, Maize. http://www.iita.org/maize. Accessed 29 Aug 2014

Jalli M (2011) The emergence of cereal fungal diseases and the incidence of leaf spot diseases in Finland. Agric Food Sci 20:62–73

James C (1998) Global food security. Abstr. Int. Congr. Plant Pathol., 7th Edinburgh, UK, Aug. No. 4.1GF. http://www.bspp.org.uk/icpp98/4/1GF.htm

Jeffs LB, Khachatourians GG (1997) Toxic properties of Beauveria pigments on erythrocyte membranes. Toxicon 35:1351–1356. doi:10.1016/S0041-0101(97)00025-1

Jennings PR, Ullstrup AJ (1957) A histological study of three Helminthosporium leaf blights of cron. Phytopathol 47:707–714

Ji Y, Roh JH, Bae SD, Yoon YN, Kim HJ, Nam MH (2011) The effect of seed-borne mycoflora from sorghum and foxtail millet seeds on germination and disease transmission. Mycobiol 39(3):206–218

Johnson L (2008) Iron and siderophores in fungal–host interactions. Mycol Res 112:170–183

Jones MP, Jeutong F (1993) A survey of rice disease in Cameroon. Plant Dis 77:133–136

Kaplan CD, Kaplan J (2009) Iron acquisition and transcriptional regulation. Chem Rev 109:4536–4552

Karov IK, Mitrev SK, Kostadinovska ED (2009) Bipolaris sorokiniana (Teleomorph Cochliobolus sativus) cause of barley leaf lesions and root rot in Macedonia. Proc Nat Sci Matica Srpska Novi Sad 116:167–174

Khasanov BA, Shavarina ZA, Vypritskaya AA (1990) Characteristics of Curvularia Boedijn fungi and their pathogenicity in cereal crops. Mikol Fitopatol 24:165–173

Kodama M, Rose MS, Yang G, Yun SH, Yoder OC et al (1999) The translocation-associated Tox1 locus of Cochliobolus heterostrophus is two genetic elements on two different chromosomes. Genetics 151:585–596

Lapis DB (1985) Insects pests and diseases of wheat in the Philipines. In: Wheats for more tropical environments—A Proc. of the Int. Symp. CIMMYT, Mexico, pp 152–153

Levings CS (1990) The Texas cytoplasm of maize: cytoplasmic male sterility and disease susceptibility. Science 250:942–947

Li F, Ye Z, Wang Y et al (2004) The research progress of maize Curvularia leaf spot disease. J Maize Sci 12(2):97–101

Li JT, Fu JF, Yan XR, Li HC, Zhou RJ (2006) Analysis of temporal dynamics of Curvularia leaf spot of maize (Curvularia lunata) epidemic and yield loss. J Shenyang Agric Univ 6:835–839

Litzenberger SC (1949) Nature of susceptibility to Helminthosporium victoriae and resistance to Puccinia coronata in Victoria oats. Phytopathol 39:300–318

Liu LM, Huang SW, Wang L, Hou EQ, Xiao DF (2014) First report of leaf blight of rice caused by Cochliobolus lunatus in China. Plant Dis 98:686

Liu T, Liu L, Jiang X, Huang X, Chen J (2009) A new furanoid toxin produced by Curvularia lunata, the causal agent of maize Curvularia leaf spot. Can J Plant Pathol 31:22–27

Liu T, Wang YY, Hou JM, Liu LZ, Shen YQ, Liu Z, Zhang HT, Zuo YH (2015) Comparative analysis of phylogenetic relationships, morphologies, and pathogenicities among Curvularia lunata isolates from maize in China. Genet Mol Res 14:12537–12546

Liu Y, Wang J (1999) Southern corn rust occurred in Hebei Province in 1998. Plant Prot 25(3):53

Lorang JM, Carkaci-Salli N, Wolpert TJ (2004) Identification and characterization of victorin sensitivity in Arabidopsis thaliana. Mol Plant Microbe Interact 17:577–582

Louis B, Roy P, Waikhom DS, Talukdar NC (2013) Report of foliar necrosis of potato caused by Cochliobolus lunatus in India. Afr J Biotechnol 12:833–835

Louis B, Sayanika DW, Jose RC, Goyari S et al (2016) Cochliobolus lunatus down-regulates proteome at late stage of colonization and transiently alters StNPR1 expression in Solanum tuberosum L. Arch Microbiol 199(2):237–246. doi:10.1007/s00203-016-1297-2

Louis B, Sayanika DW, Pranab R, Bhardwaj PK, Singh MW, Goyari S, Sharma CK, Talukdar NC (2014) Secretome weaponries of Cochliobolus lunatus interacting with potato leaf at different temperature regimes reveal a CL[xxx]LHM-motif. BMC Genom 15:213

Louis B, Waikhom SD, Jose RC, Goyari S, Talukdar NC, Roy P (2015) Cochliobolus lunatus colonizes potato by adopting different invasion strategies on cultivars: new insights on temperature dependent-virulence. Microb Pathog 87:30–39

Lu S, Turgeon BG, Edwards MC (2015) A ToxA-like protein from Cochliobolus heterostrophus induces light-dependent leaf necrosis and acts as a virulence factor with host selectively on maize. Fungal Genet Biol 81(2015):12–24

Macko V, Wolpert TJ, Acklin W, Jaun B, Seibl J, Meili J, Arigoni D (1985) Characterization of Victorin-C, the major host-selective toxin from Cochliobolus victoriae: structure of degradation products. Experientia 41:1366–1370

Madrid H, Da-Cunha KC, Gene J, Dijksterhuis J, Cano J, Sutton DA, Guarro J, Crous PW (2014) Novel Curvularia species from clinical specimens. Persoonia 33:48–60

Majeed RA, Shahid AA, Ashfaq M (2016) First report of Curvularia lunata causing brown leaf spots of rice in Punjab, Pakistan. Dis Notes 100(1):219. doi:10.1094/PDIS-05-15-0581-PDN

Makun HA, Gbodi TA, Akanya OH, Salako EA, Ogbadu GH (2007) Fungi and some mycotoxins contaminating rice (Oryza sativa) in Niger State, Nigeria. Afr J Biotechnol 6:098–108

Manamgoda DS, Cai L, Bahkali AH, Chukeatirote E, Hyde KD (2011) Cochliobolus: an overview and current status of species. Fungal Divers 51:3–42

Manamgoda DS, Cai L, Mckenzie EHC, Crous PW, Madrid H, Chukeairote E, Shivas RG, Tan YP, Hyde KD (2012) A phylogenetic and taxonomic re-evaluation of the Bipolaris–Cochliobolus–Curvularia Complex. Fungal Divers 56:13–144

Mandokhot AM, Chaaudhary BKC (1972) A new leaf spot of maize incited by Curvularia clavata. Neth J Plant Pathol 78:65–68

Manning RO, Wyatt RD (1984) Comparative toxicity of Chaetomium contaminated corn and various chemical forms of oosporein in broiler chicks. Poult Sci 63:251–259. doi:10.3382/ps.0630251

Masi M, Meyer S, Clement S, Cimmino A, Cristofaro M, Evidente A (2017) Cochliotoxin, a dihydropyranopyran-4,5-dione, and its analogues produced by Cochliobolus australiensis display phytotoxic activity against buffelgrass (Cenchrus ciliaris). J Nat Prod 80:1241–1247. doi:10.1021/acs.jnatprod.6b00696

Meehan F, Murphy HC (1946) A new Helminthosporium blight of oats. Science 104:413

Melloy P, Hollaway G, Luck J, Norton R, Aitken E, Chakraborty S (2010) Production and fitness of Fusarium pseudograminearum inoculum at elevated carbon dioxide in FACE. Global Change Biol 16:3363–3373

Monteiro FT, Vieira BS, Barreto RW (2003) Curvularia lunata and Phyllachora sp.: two fungal pathogens of the grassy weed Hymenachne amplexicaulis from Brazil. Australas J Plant Pathol 32:449–453

Msikita W, Baimey H, James BD (2007) Severity of Curvularia stem blight disease of cassava in West Africa. Plant Dis 91:1430–1435

Muchovej JJ (1988) Cotyledon spot of soybean caused by seedborne Curvularia lunata var. aeria in Brazil. Plant Dis 72:268

Nasu S (1963) Studies on some lealboppers and planthoppers which transmit virus diseases of rice plant in Japan [in Japanese. English summary]. Kyushu Agr Exp Sta, Bull 8:153–349

Nasu S, Suguira M, Wakimato S, Lida TT (1967) Pathogen of rice yellow dwarf disease. Annu Phytopathol Soci Japan 33:343–344

Navi SS, Bandyopadhyay R, Hall AJ, Bramel-Cox PJ (1999) A pictorial guide for the identification of mold fungi on sorghum grain. Information Bulletin no. 59, Patancheru 502324, Andhra Pradesh, India: International Crops Research Institute for the Semi-Arid Tropics. pp 118

Nawas K, Louis B, Shahid AA, Anwar W, Iftikhar S, Subhani MN (2017) Current Cochliobolus metabolites involved in plant disease development in post-genomic era. In: Louis B (ed) Pathogenicity of Cochliobolus species in post genomic era, 1st ed. Studium Press LLC, pp 66–85. ISBN 1-62699-075-1

Nei M, Kumar S (2000) Molecular evolution and phylogenetics. Oxford University Press, Oxford

Nellemann C, MacDevette M, Manders T, Eickhout B, Svihus B, Prins AG, Kaltenborn BP (Eds) (2009) The environmental food crisis–The environment's role in averting future food crises. A UNEP rapid response assessment. United Nations Environment Programme, GRID-Arendal

Ngoko Z, Cardwell KF, Marasas WFO, Wingfield MJ, Ndemah R, Shulthess F (2002) Biological and physical constraints on maize production in the humid forest and western highlands of Cameroon. Eur J Plant Pathol 108(9):893–902

Oerke EC (2006) Crop losses to pests. J Agric Sci 144:31–43

Ohm RA, Feau N, Henrissat B, Schoch CL, Horwitz BA, Barry KW, Condon BJ, Copeland AC et al (2012) Diverse lifestyles and strategies of plant pathogenesis encoded in the genomes of eighteen Dothideomycetes fungi. PLoS Pathog 8(12):e1003037. doi:10.1371/journal.ppat.1003037

Pachauri RK, Reisinger A (2007) Climate change 2007: synthesis report. Contribution of Working Groups I, II and III to the fourth assessment report of the Intergovernmental Panel on Climate Change. IPCC, Geneva

Padmanabhan SY (1973a) The great Bengal famine. Annu Rev Phytopathol 11:11–26

Padmanabhan SY (1973b) The great Bengal famine. Annu Rev Phytopathol 11:11–26

Panaccione DG, Scott-Craig JS, Pocard JA, Walton JD (1992) A cyclic peptide synthetase gene required for pathogenicity of the fungus Cochliobolus carbonum on maize. Proc Natl Acad Sci USA 89:6590–6594

Philpott CC (2006) Iron uptake in fungi: a system for every source. Biochem Biophys Acta 1763(2006):636–645

Pimentel JD, Mahadevan K, Woodgyer A, Sigler L, Gibas C, Harris OC, Lupino M, Athan E (2005) Peritonitis due to Curvularia inaequalis in an elderly patient undergoing peritoneal dialysis and a review of six cases of peritonitis associated with other Curvularia spp. J Clin Microbiol 43:4288–4292

Porter JR, Xie L, Challinor AJ, Cochrane K, Howden SM, Iqbal MM, Lobell DB, Travasso MI (2014) Food security and food production systems. In: Barros VR, Dokken DJ, Mach KJ, Mastrandrea MD, Bilir TE, Chatterjee M, Ebi KL, Estrada YO, Genova RC et al (eds) Climate change 2014: impacts, adaptation, and vulnerability. Part A: global and sectoral aspects. Contribution of Working Group II to the Fifth Assessment Report of the Intergovernmental Panel of Climate Change. Cambridge University Press, Cambridge, pp 485–533

Raemakers R (1988) Helminthosporium sativum: disease complex on wheat and sources of resistance in Zambia. In: Klatt AR (ed) Wheat production constraints in tropical environments. CIMMYT, Mexico, pp 175–186

Ramesha A, Venkataramana M, Nirmaladevi D, Gupta VK, Chandranayaka S, Srinivas C (2015) Cytotoxic effects of oosporein isolated from endophytic fungus Cochliobolus kusanoi. Front Microbiol 6:870. doi:10.3389/fmicb.2015.00870

Reis EM (1991) Integrated disease management: the changing concept of controlling head blight and spot blotch. In: Saunders DA, Hettel GP (eds) Wheat in heat stressed environments: Irrigated, dry areas and rice wheat systems. CIMMYT, Mexico, pp 165–177

Rhoads DM, Levings CS, Siedow JN (1995) URF13, a ligand-gated, pore-forming receptor for T-toxin in the inner membrane of cms-T mitochondria. J Bioenerg Biomembr 27:437–445

Rinaldi MG, Phillips P, Schwartz JG, Winn RE, Holt GR, Shagets FW, Elrod J, Nishioka G, Aufdemorte TB (1987) Human Curvularia infections: report of five cases and review of the literature. Diagn Microbiol Infect Dis 6:27–39

Rossman A, Crous PW, Hyde KD, Hawksworth DL, Aptroot A, Bezerra JL et al (2015) Recommended names for pleomorphic genera in Dothideomycetes. IMA Fungus 6:507–523

Saari EE (1998) Leaf blight disease and associated soil borne fungal pathogens of wheat in South and Southeast Asia. In: Duveiller E, Dubin HJ, Reeves J, McNab A (eds) Helminthosporium blights of wheat: spot blotch and tan spot. CIMMYT, Mexico, pp 37–51

Salleh B, Safinat A, Julia L, Teo CH (1996) Brown spot caused by Curvularia spp., a new disease of Asparagus. J Biotropia 9:26–37

Santana MF, Silva JCF, Mizubuti ESG, Araújo EF, Condon BJ, Turgeon GB, Queiroz MV (2014) Characterization and potential evolutionary impact of transposable elements in the genome of Cochliobolus heterostrophus. Genom 15:536

Scheffer RP (1997) The nature of disease in plants. University Press, Cambridge

Scheffer RP, Nelson RR, Ullstrup AJ (1967) Inheritance of toxin production and pathogenicity in Cochliobolus carbonum and Cochliobolus victoriae. Phytopathol 57:1288–1291

Simon KS, Lal AA (2013) A new blight disease of rice caused by Curvularia lunata from Uttar Pradesh. Int J Agric Sci Res (IJASR) 3(5):13–16

Singh SD, Bandyopadhyay R (2000) Grain mold. In: Frederiksen RA, Odvody GN (eds) Compendium of sorghum diseases, 2nd edn. The American Phytopathological Society, APS Press, St. Paul, MN, USA, pp 38–40

Singh RV, Singh AK, Ahmad R, Singh SP (1998) Influence of agronomic practices on foliar blight, and identification of alternate hosts in rice-wheat cropping system. In: Duveiller E, Dubin HJ, Reeves J, McNab A (eds) Helminthosporium blights of wheat: spot blotch and tan spot. CIMMYT, Mexico DF, pp 346–348

Singh B, Chand D, Maurya AK, Sharma R, Agarwal PC (2014) Pathogenic fungi intercepted in introduced transgenics during 2006–2013. Plant Path Quar 4(2):99–107

Sivanesan A (1987) Graminicolous species of Bipolaris, Curvularia, Drechslera, Exserohilum and their Teleomorphs. Mycol Pap 158:1–261

Sreenivas MY, Dass RS, Janardhana GR (2010) Survey of postharvest fungi associated with sorghum grains produces in Karnataka (India). J Plant Prot Res 50:335–339

Srivastava RP, Singh R (2012) Southern corn leaf blight—an important disease of maize: an extension fact sheet. Indian Res J Ext Edu 1:334–337

Stergiopoulos I, Collemare J, Mehrabi R, De Wit PJGM (2012) Phytotoxic secondary metabolites and peptides produced by plant pathogenic Dothideomycete fungi. FEMS Microbiol Rev 37:46–72

Tamura K, Stecher G, Peterson D, Filipski A, Kumar S (2013) MEGA6: molecular evolutionary genetics analysis version 6.0. Mol Biol Evol 30:2725–2729

Tann H, Soytong K (2017) Biological control of brown leaf spot disease caused by Curvularia lunata and field application method on rice variety IR66 in Cambodia. AGRIVITA J Agric Sci 39(1):111–117

Tarekegn G, McLaren NW, Swart WJ (2006) Effect of weather variables on grain mould of sorghum in South Africa. Plant Pathol 55:238–245

Temur HA, Hameed FE, Hameed A (2014) The fungus Curvularia clavata biocontrol agent against weed Desmostachya bipinnata. Euphrates J Agric Sci 6(1):9–18

Thakur RP, Rao VP, Navi SS, Garud TB, Agarkar GD, Bharathi BHA (2003) Sorghum grain mold: variability in fungal complex. ISMN 44:104–108

Tsedaley B (2014) Late blight of potato (Phytophthora infestans) biology, economic importance and its management approaches. J Biol Agric Healthc 4(25):215–225

Tzeng TH, Lyngholm LK, Ford CF, Bronson CR (1992) A restriction fragment length polymorphism map and electrophoretic karyotype of the fungal maize pathogen Cochliobolus heterostrophus. Genetics 130:81–96

Ullstrup AJ (1972) The impacts of the southern corn leaf blight epidemics of 1970–1971. Annu Rev Phytopathol 10:37–50

USDA (2016) Global soybean production, 2016 forecast (USDA). www.GlobalSoybeanProduction.com. Retrieved 22 May 2016

Valjavec-Gratian M, Steffenson BJ (1997) Pathotypes of Cochliobolus sativus on barley in North Dakota. Plant Dis 81(11):1275–1278

Van Leur JG (1991) Testing barley for resistance to Cochliobolus sativus at ICARDA, Syria. In: Tinline RD (ed) Proceedings of 1st international workshop on common root rot of cereals, Saskatoon, pp 128–134

Van-den-Burg HA, Westerink N, Francoijs KJ, Roth R, Woestenenk E, Boeren S, de-Wit PJ, Joosten MH, Vervoort J (2003) Natural disulfide bond-disrupted mutants of AVR4 of the tomato pathogen Cladosporium fulvum are sensitive to proteolysis, circumvent Cf-4-mediated resistance, but retain their chitin binding ability. J Biol Chem 278:27340–27346

Vidhyasekaran P, Borromeo ES, Mew TW (1992) Helminthosporium oryzae toxin suppresses phenol metabolism in rice plants and aids pathogen colonization. Physiol Mol Plant Path 41:307–315

Walton JD (2006) Molecules of interest HC-toxin. Phytochem 67(2006):1406–1413

Walton JD, Ransom RF, Pitkin JW (1997) Northern corn leaf spot. In: Stacey G, Keen NT (eds) Chemistry, enzymology, and molecular genetics of a host-selective phytotoxin. Plant–microbe interactions, vol 3. Chapman and Hall, New York, pp 94–123

Westerink N, Brandwagt BF, de-Wit PJ, Joosten MH (2004) Cladosporium fulvum circumvents the second functional resistance gene homologue at the Cf-4 locus (Hcr9-4E) by secretion of a stable avr4E isoform. Mol Microbiol 54:533–545

Wiese MV (1998) Compendium of wheat diseases. In: Duveiller E, Dubin HJ, Reeves J, McNab A (eds) Proceeding International workshop Helminthosporium disease of wheat: spot blotch and tan spot. 9–14 Feb. 1997. CIMMYT, Mexico, pp 114–118

Winterbourn CC (1995) Toxicity of iron and hydrogen peroxide: the Fenton reaction. Toxicol Lett 82–83:969–974

Wise RP, Fliss AE, Pring DR, Gengenbach BG (1987) urjl3-Tof T cytoplasm maize mitochondria encodes a 13-kD polypeptide. Plant Mol Biol 9:121–126

Wu D, Oide S, Zhang N, Choi MY, Turgeon BG (2012) ChLae1 and ChVel1 regulate T-toxin production, virulence, oxidative stress response, and development of the maize pathogen Cochliobolus heterostrophus. PLoS Pathog 8(2):e1002542

Xu SF, Chen J, Liu LX, Wang XF, Huang XL, Zhai YH (2007) Proteomics associated with virulence differentiation of Curvularia lunata in maize in China. J Integr Plant Biol 49:487–496

Yew SM, Chan CL, Lee KW, Na SL, Tan R et al (2014) A five-year survey of dematiaceous fungi in a tropical hospital reveals potential opportunistic species. PLoS One 9(8):104352

Zhou WN, White JF, Soares MA, Zhou ZP, Li HY (2015) Diversity of fungi associated with plants growing in geothermal ecosystems and evaluation of their capacities to enhance thermotolerance of host plants. J Plant Interact 10:305–314

Zillinsky F (1983) Common diseases of small grain cereals, a guide to identification. CIMMYT, Mexico, p 141
Acknowledgements
This research was jointly supported by the World Academy of Sciences (TWAS), Trieste, Italy, and the Department of Biotechnology, Government of India (DBT/TWAS PG fellowship no. 3240223450) and Vaal University Technology Post-Doctoral fellowship.
Ethics declarations
Conflict of interest
The authors declare that they have no conflict of interest.
Additional information
Communicated by Olaf Kniemeyer.
About this article
Cite this article
Bengyella, L., Yekwa, E.L., Nawaz, K. et al. Global invasive Cochliobolus species: cohort of destroyers with implications in food losses and insecurity in the twenty-first century. Arch Microbiol 200, 119–135 (2018). https://doi.org/10.1007/s00203-017-1426-6
Received:

Revised:

Accepted:

Published:

Issue Date:
Keywords
Siderophore

Epidemics

Phylogeny

Food security

Evolving pathogenicity

Oosporein