Abstract
An actinomycete strain, designated YIM T102T, was isolated from the rhizospheric soil of Psammosilene tunicoides W. C. Wu et C. Y. Wu collected from Lijiang, Yunnan Province, China. The taxonomic position of the new isolate was investigated by a polyphasic approach. Phylogenetic analyses based on 16S rRNA gene sequences indicated that strain YIM T102T belongs to the genus Streptomyces. Strain YIM T102T was most closely related to Streptomyces eurocidicus NRRL B-1676T with a pairwise 16S rRNA gene sequence similarity of 98.9 %. However, DNA–DNA relatedness value between strain YIM T102T and S. eurocidicus NBRC 13491T was found to be 37.8 ± 1.8 %. The menaquinone composition detected for strain YIM T102T was MK-9 (H6) and MK-9 (H8), while the major fatty acids were summed feature 4 (38.0 %), anteiso-C15:0 (13.1 %), iso-C16:0 (10.1 %), summed feature 3 (9.8 %) and C16:0 (9.0 %) and iso-C15:0 (5.2 %). The whole-cell hydrolysates contained galactose, glucose, ribose and mannose, along with ll-diaminopimelic acid as the diagnostic diamino acid in the peptidoglycan. The DNA G+C content was 70.7 mol%. Strain YIM T102T also exhibited antagonistic activity against Alternaria alternata, Alternaria brassicae and Colletotrichum nicotianae Averna, based on the findings from the comparative analyses of phenotypic and genotypic characteristics; it is proposed that strain YIM T102 represents a novel species of the genus Streptomyces, for which the name Streptomyces zhihengii sp. nov. is proposed. The type strain is YIM T102T (=KCTC 39115T = DSM 42176T = CGMCC 4.7248T).
Access options
Buy single article
Instant access to the full article PDF.
US$ 39.95
Tax calculation will be finalised during checkout.
Subscribe to journal
Immediate online access to all issues from 2019. Subscription will auto renew annually.
US$ 119
Tax calculation will be finalised during checkout.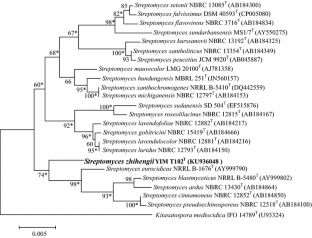 References
Abdalla MA, Helmke E, Laatsch H (2010) Fujianmycin C, a bioactive angucyclinone from a marine derived Streptomyces sp. b6219. Nat Prod Commun 5:1917–1920

Altschul SF, Gish W, Miller W, Myers EW, Lipman DJ (1990) Basic local alignment search tool. J Mol Biol 215:403–410

Athalye M, Goodfellow M, Lacey J, White R (1985) Numerical classification of Actinomadura and Nocardiopsis. Int J Syst Bacteriol 35:86–98

Carmona-Novillo E, Bartolomei M, Hernández MI (2014) Extraction and identification of antibacterial secondary metabolites from marine Streptomyces sp. vitbrk2. Int J Mol Cell Med 3:130–137

Christensen H, Angen O, Mutters R, Olsen JE, Bisgaard M (2000) DNA–DNA hybridization determined in micro-wells using covalent attachment of DNA. Int J Syst Evol Microbiol 50:1095–1102

Collins MD, Jones D (1980) Lipids in the classification and identification of coryneform bacteria containing peptidoglycan based on 2,4-diaminobutyric acid. J Appl Bacteriol 48:459–470

Collins MD, Pirouz T, Goodfellow M, Minnikin DE (1977) Distribution of menaquinones in actinomycetes and corynebacteria. J Gen Microbiol 100:221–230

Ezaki T, Hashimoto Y, Yabuuchi E (1989) Fluorometric deoxyribonucleic acid-deoxyribonucleic acid hybridization in microdilution wells as an alternative to membrane filter hybridization in which radioisotopes are used to determine genetic relatedness among bacterial strains. Int J Syst Bacteriol 39:224–229

Felsenstein J (1981) Evolutionary trees from DNA sequences: a maximum likelihood approach. J Mol Evol 17:368–376

Felsenstein J (1985) Confidence limits on phylogenies: an approach using the bootstrap. Evolution 39:783–789

Fitch WM (1971) Toward defining the course of evolution: minimum change for a specific tree topology. Syst Zool 20:406–416

Goodfellow M, Fiedler HP (2010) A guide to successful bioprospecting: informed by actinobacterial systematics. Antonie Van Leeuwenhoek 98:119–142

Gordon RE, Barnett DA, Handerhan JE, Pang CHN (1974) Nocardia coeliaca, Nocardia autotrophica, and the nocardin strain. Int J Syst Bacteriol 24:54–63

Han LR, Zhang GQ, Miao GP, Zhang X, Feng JT (2015) Streptomyces kanasensis sp. nov., an antiviral glycoprotein producing actinomycete isolated from forest soil around kanas lake of China. Curr Microbiol 71:627–631

Hasegawa T, Takizawa M, Tanida S (1983) A rapid analysis for chemical grouping of aerobic actinomycetes. J Gen Microbiol 29:319–322

Hayakawa Y, Akimoto M, Ishikawa A, Izawa M, Shin-Ya K (2015) Curromycin A as a GRP78 downregulator and a new cyclic dipeptide from Streptomyces sp. J Antibiot. doi:10.1038/ja.2015.115

He L, Li W, Huang Y, Wang LM, Liu ZH, Lanoot BJ, Vancanneyt M, Swings J (2005) Streptomyces jietaisiensis sp. nov., isolated from soil in northern China. Int J Syst Evol Microbiol 55:1939–1944

Hu H, Lim B, Naohiro G, Koich FJ (2001) Analytical precision and repeatability of respiratory quinones for quantitative study of microbial community structure in environmental samples. J Microbiol Methods 47:17–24

Kelly KL (1964) Inter-Society Color Council-National Bureau of Standards color name charts illustrated with centroid colors. US Government Printing Office, Washington, DC

Khieu TN, Liu MJ, Nimaichand S, Quach NT, Chu-Ky S, Phi QT, Vu TT, Nguyen TD, Xiong Z, Prabhu DM, Li WJ (2015) Characterization and evaluation of antimicrobial and cytotoxic effects of Streptomyces sp. HUST012 isolated from medicinal plant Dracaena cochinchinensis Lour. Front Microbiol 6:574

Kim BY, Zucchi TD, Fiedler HP, Goodfellow M (2012a) Streptomyces staurospininus sp. nov., a staurosporine-producing actinomycete. Int J Syst Evol Microbiol 62:279–283

Kim OS, Cho YJ, Lee K, Yoon SH, Kim M, Na H, Park SC, Jeon YS, Lee JH, Yi H, Won S, Chun J (2012b) Introducing EzTaxon-e: a prokaryotic 16S rRNA gene sequence database with phylotypes that represent uncultured species. Int J Syst Evol Microbiol 62:716–721

Kimura M (1980) A simple method for estimating evolutionary rates of base substitutions through comparative studies of nucleotide sequences. J Mol Evol 16:111–120

Kimura M (1983) The neutral theory of molecular evolution. Cambridge University Press, Cambridge

Kroppenstedt RM (1982) Separation of bacterial menaquinones by HPLC using reverse phase (RP18) and a silver loaded ion-exchanger as stationary phases. J Liq Chromatogr 5:2359–2367

Li WJ, Xu P, Schumann P, Zhang YQ, Pukall R, Xu LH, Stackebrandt E, Jiang CL (2007) Georgenia ruanii sp. nov., a novel actinobacterium isolated from forest soil in Yunnan (China) and emended description of the genus Georgenia. Int J Syst Evol Microbiol 57:1424–1428

Liu HZ, Lin X, Wei JT, Schmitz JC, Liu M, Wang CC, Cheng LY, Wu N, Chen L, Zhang YY, Liu XK (2013) Identification of Streptomyces sp. nov. wh26 producing cytotoxic compounds isolated from marine solar saltern in China. World J Microbiol Biotechnol 29:1271–1278

Marta M, Pessi IS, Arguelles-Arias A, Noirfalise P, Luis G, Ongena M, Barton H, Carnol M, Rigali S (2015) Streptomyces lunaelactis sp. nov., a novel ferroverdin a-producing Streptomyces species isolated from a moonmilk speleothem. Antonie Van Leeuwenhoek 107:519–531

Mesbah M, Premachandran U, Whitman WB (1989) Precise measurement of the G+C content of deoxyribonucleic acid by high-performance liquid chromatography. Int J Syst Bacteriol 39:159–167

Minnikin DE, Collins MD, Goodfellow M (1979) Fatty acid and polar lipid composition in the classification of Cellulomonas, Oerskovia and related taxa. J Appl Bacteriol 47:87–95

Minnikin DE, O'Donnell AG, Goodfellow M, Alderson G, Athalye M, Schaal A, Parlett JH (1984) An integrated procedure for the extraction of bacterial isoprenoid quinones and polar lipids. J Microbiol Methods 2:233–241

Nie GX, Ming H, Li S, Zhou EM, Cheng J, Tang X, Feng HG, Tang SK, Li WJ (2012) Amycolatopsis dongchuanensis sp. nov., a novel actinobacterium isolated from dry–hot valley in Yunnan, south-west China. Int J Syst Evol Microbiol 62:2650–2656

Pridham TG, Gottlieb D (1948) The utilization of carbon compounds by some Actinomycetales as an aid for species determination. J Bacteriol 56:107–114

Rateb ME, Houssen WE, Arnold M, Abdelrahman MH, Deng H, Harrison WT, William TA, Okoro CK, Asenjo JA, Andrews BA, Ferguson G, Bull AT, Goodfellow M, Ebel R, Jaspars M (2011a) Diverse metabolic profiles of a Streptomyces strain isolated from a hyper-arid environment. J Nat Prod 74:1965–1971

Rateb ME, Houssen WE, Arnold M, Abdelrahman M-H, Deng H, Harrison WTA, Okoro CK, Asenjo JA, Andrews BA, Ferguson G, Bull AT, Goodfellow M, Ebel R, Jaspars M (2011b) Chaxamycins A-D, bioactive ansamycins from a hyper-arid desert Streptomyces sp. J Nat Prod 74:1491–1499

Saitou N, Nei M (1987) The neighbor-joining method: a new method for reconstructing phylogenetic tree. Mol Biol Evol 4:406–425

Sasser M (1990) Identification of bacteria by gas chromatography of cellular fatty acids. USFCC Newsl 20:16

Shirling EB, Gottlieb D (1966) Methods for characterization of Streptomyces species. Int J Syst Bacteriol 16:313–340

Stackebrandt E, Ebers J (2006) Taxonomic parameters revisited: tarnished gold standards. Microbiol Today 33:152–155

Stackebrandt E, Goebel BM (1994) Taxonomic note: a place for DNA–DNA reassociation and 16S rRNA sequence analysis in the present species definition in bacteriology. Int J Syst Bacteriol 44:846–849

Staneck JL, Robert GD (1974) Simplified approached to identification of aerobic actinomycetes by thin-layer chromatography. Appl Mirobiol 28:226–231

Také T, Matsumoto A, Ōmura S, Takahashi Y (2015) Streptomyces lactacystinicus sp. nov. and Streptomyces cyslabdanicus sp. nov., producing lactacystin and cyslabdan, respectively. J Antibiot 68:322–327

Tamura K, Peterson D, Peterson N, Stecher G, Nei M, Kumar S (2011) MEGA5: molecular evolutionary genetics analysis using maximum likelihood, evolutionary distance, and maximum parsimony methods. Mol Biol Evol 28:2731–2739

Tang SK, Wang Y, Chen Y, Lou K, Cao LL, Xu LH, Li WJ (2009) Zhihengliuella alba sp. nov., and emended description of the genus Zhihengliuella. Int J Syst Evol Microbiol 59:2025–2032

Thompson JD, Gibson TJ, Plewniak F, Jeanmougin F, Higgins DG (1997) The Clustal_X windows interface: flexible strategies for multiple sequence alignment aided by quality analysis tools. Nucleic Acids Res 25:4876–4882

Waksman SA (1967) The actinomycetes. A summary of current knowledge. Ronald Press, New York

Waksman SA, Henrici AT (1943) The nomenclature and classification of the actinomycetes. J Bacteriol 46:337–341

Watve MG, Tikoo R, Jog MM, Bhole BD (2001) How many antibiotics are produced by the genus Streptomyces? Arch Microbiol 176:386–390

Williams ST, Goodfellow M, Alderson G (1989) Genus Streptomyces Waksman and Henrici 1943, 339AL. In: Williams ST, Sharpe ME, Holt JG (eds) Bergey's manual of systematic bacteriology, vol 4. Williams and Willkins, Baltimore, pp 2453–2492

Xu P, Li WJ, Tang SK, Zhang YQ, Chen GZ, Chen HH, Xu LH, Jiang CL (2005) Naxibacter alkalitolerans gen. nov., sp. nov., a novel member of the family 'Oxalobacteraceae' isolated from China. Int J Syst Evol Microbiol 55:1149–1153
Acknowledgments
The authors are grateful to Dr. Tomohiko Tamura (NBRC, Japan) for providing the reference type strain. This research was supported by Projects of Ministry of Science, ICT and Future Planning of Korean government (NRF-2013M3A9A5076601) and the Deanship of Scientific Research at King Saud University (Research Group No PRG-1436-27). W-J Li was also supported by Project Supported by Guangdong Province Higher Vocational Colleges and Schools Pearl River Scholar Funded Scheme (2014).
Additional information
Communicated by Erko Stackebrandt.
Electronic supplementary material
Below is the link to the electronic supplementary material.
About this article
Cite this article
Huang, MJ., Fei, JJ., Salam, N. et al. Streptomyces zhihengii sp. nov., isolated from rhizospheric soil of Psammosilene tunicoides . Arch Microbiol 198, 743–749 (2016). https://doi.org/10.1007/s00203-016-1233-5
Received:

Revised:

Accepted:

Published:

Issue Date:
Keywords
Streptomyces zhihengii sp. nov.

Rhizosphere soil

Lijiang

Psammosilene tunicoides