Abstract
Phylogenetic and taxonomic characterization was performed for bacterium, designated strain THG-DN5.4T, isolated from the rhizosphere of poppy plant collected from Gyeryongsan, Republic of Korea. Strain THG-DN5.4T consists of Gram-stain-positive, aerobic, non-motile rods. The bacteria grow optimally at 18–30 °C, at pH 7.0 and in the presence of 0.5–1.0 % NaCl. Based on 16S rRNA gene sequence analysis, strain THG-DN5.4T was found to be most closely related to Nocardioides nitrophenolicus KCTC 047BPT, followed by Nocardioides ginsengisoli KCTC 19135T, Nocardioides kongjuensis KCTC 19054T, Nocardioides simplex KACC 20620T, Nocardioides aromaticivorans KACC 20613T, Nocardioides daeguensis KCTC 19799T and Nocardioides caeni KCTC 19600T. The DNA–DNA relatedness between strain THG-DN5.4T and closely related phylogenetic neighbors was below 45.0 %, and the DNA G+C content of strain THG-DN5.4T was 70.8 mol%. An isoprenoid quinone was identified as MK-8(H4). Strain THG-DN5.4T was characterized chemotaxonomically as having ll-diaminopimelic acid in the cell-wall peptidoglycan. The polar lipids were identified as diphosphatidylglycerol, phosphatidylglycerol, some unidentified aminolipids and some unidentified polar lipids. iso-C16:0 and C18:1 ω9c were identified as the major fatty acids present in THG-DN5.4T. On the basis of a polyphasic taxonomic study, strain THG-DN5.4T is considered to represent a novel species of the genus Nocardioides, for which the name Nocardioides flava sp. nov. is proposed. The type strain is THG-DN5.4T (=KCTC 39606T=CCTCC AB 2015298T).
This is a preview of subscription content,
to check access.
Access this article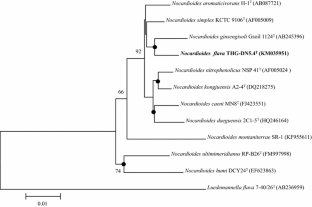 Similar content being viewed by others
References
Bernardet JF, Nakagawa Y, Holmes B, Subcommittee on the taxonomy of Flavobacterium and Cytophagalike bacteria of the International Committee on Systematics of Prokaryotes (2002) Proposed minimal standards for describing new taxa of the family Flavobacteriaceae and emended description of the family. Int J Syst Evol Microbiol 52:1049–1070

Christensen WB (1946) Urea decomposition as a means of differentiating proteus and paracolon cultures from each other and from Salmonella and Shigella types. J Bacteriol 52:461–466

Dastager SG, Lee JC, Ju YJ, Park DJ, Kim CJ (2009) Nocardioides sediminis sp. nov., isolated from a sediment sample. Int J Syst Evol Microbiol 59:280–284

Deng S, Chang X, Zhang Y, Ren L, Jiang F, Qu Z, Peng F (2015) Nocardioides antarcticus sp. nov., isolated from marine sediment of Ardley cove. Int J Syst Evol Microbiol. doi:10.1099/ijs.0.000309

Evtushenko LI, Krausova VI, Yoon JH (2012) Genus I. Nocardioides. Bergey's manual of systematic bacteriology, vol 5, pp 1197–1251

Ezaki T, Hashimoto Y, Yabuuchi E (1989) Fluorometric deoxyribonucleic acid–deoxyribonucleic acid hybridization in microdilution wells as an alternative to membrane filter hybridization in which radioisotopes are used to determine genetic relatedness among bacterial strains. Int J Syst Bacteriol 39:224–229

Felsenstein J (1981) Evolutionary trees from DNA sequences: a maximum likelihood approach. J Mol Evol 17:368–376

Felsenstein J (1985) Confidence limits on phylogenies: an approach using the bootstrap. Evolution 39:783–791

Fitch WM (1971) Toward defining the course of evolution: minimum change for a specific tree topology. Syst Zool 20:406–416

Gillis M, De Ley J, De Cleene M (1970) The determination of molecular weight of bacterial genome DNA from renaturation rates. Eur J Biochem 12:143–153

Hall TA (1999) BioEdit: a user-friendly biological sequence alignment editor and analysis program for Windows 95/98/NT. Nucleic Acids Symp Ser 41:95–98

Hiraishi A, Ueda Y, Ishihara J, Mori T (1996) Comparative lipoquinone analysis of influent sewage and activated sludge by high performance liquid chromatography and photodiode array 316 detection. J Gen Appl Microbiol 42:457–469

Kim OS, Cho YJ, Lee K, Yoon SH, Kim M, Na H, Park SC, Jeon YS, Lee JH, Yi H, Won S, Chun J (2012) Introducing EzTaxon-e: a prokaryotic 16S rRNA Gene sequence database with phylotypes that represent uncultured species. Int J Syst Evol Microbiol 62:716–721

Kimura M (1983) The neutral theory of molecular evolution. Cambridge University Press, Cambridge

Lin SY, Wen CZ, Hameed A, Liu YC, Hsu YH, Shen FT, Lai WA, Young CC (2015) Nocardioides echinoideorum sp. nov., isolated from sea urchins (Tripneustes gratilla) in Penghu Island (Taiwan). Int J Syst Evol Microbiol 65:1953–1958

McConaughy BL, Laird CD, McCarthy BJ (1969) Nucleic acid reassociation in formamide. Biochemistry 8:3289–3295

Mesbah M, Premachandran U, Whitman WB (1989) Precise measurement of the G+C content of deoxyribonucleic acid by high performance liquid chromatography. Int J Syst Bacteriol 39:159–167

Minnikin DE, O'Donnel AG, Goodfellow M, Alderson G, Athalye M, Schaal A, Parleet JH (1984) An integrated procedure for the extraction of bacterial isoprenoid quinines and polar lipids. J Microbiol Methods 2:233–241

Prauser H (1976) Nocardioides, a new genus of the order Actinomycetales. Int J Syst Bacteriol 26:58–65

Saitou N, Nei M (1987) The neighbor-joining method: a new method for reconstructing phylogenetic trees. Mol Bio Evol 4:406–425

Sasser M (1990) Identification of bacteria by gas chromatography of cellular fatty acids. MIDI Technical Note 101. MIDI Inc, Newark

Schleifer KH, Kandler O (1972) Peptidoglycan types of bacterial cell walls and their taxonomic implications. Bacteriol Rev 36:407–477

Skerman VBD (1967) A guide to the identification of the genera of bacteria, 2nd edn. Williams and Wilkins, Baltimore

Stabili L, Gravili C, Tredici SM, Piraino S, Talà A, Boero F, Alifano P (2008) Epibiotic Vibrio luminous bacteria isolated from some hydrozoa and bryozoa species. Microb Ecol 56:625–636

Sultanpuram VR, Mothe T, Mohammed F (2015) Nocardioides solisilvae sp. nov., isolated from a forest soil. Antonie Van Leeuwenhoek 107:1599–1606

Tamura K, Stecher G, Peterson D, Filipski A, Kumar S (2013) MEGA6: molecular evolutionary genetics analysis version 6.0. Mol Biol Evol 30:2725–2729

Thompson JD, Gibson TJ, Plewniak F, Jeanmougin F, Higgins DG (1997) The CLUSTAL_X windows interface: flexible strategies for multiple sequence alignment aided by quality analysis tools. Nucleic Acids Res 25:4876–4882

Tuo L, Dong YP, Habden X, Liu JM, Guo L, Liu XF, Li C, Jiang ZK, Liu SW, Zhang YB, Zhang YQ, Sun CH (2015) Nocardioides deserti sp. nov., an actinobacterium isolated from desert soil. Int J Syst Evol Microbiol 65:1604–1610

Wayne LG, Brenner DJ, Colwell RR et al (1987) International Committee on Systematic Bacteriology. Report of the ad hoc committee on reconciliation of approaches to bacterial systematics. Int J Syst Bacteriol 37:463–464

Weisburg WG, Barns SM, Pelletier DA, Lane DJ (1991) 16S ribosomal DNA amplification for phylogenetic study. J Bacteriol 173:697–703

Yi H, Chun J (2004a) Nocardioides ganghwensis sp. nov., isolated from tidal flat sediment. Int J Syst Evol Microbiol 54:1295–1299

Yi H, Chun J (2004b) Nocardioides aestuarii sp. nov., isolated from tidal flat sediment. Int J Syst Evol Microbiol 54:2151–2154
Acknowledgments
This work was conducted under the industrial infrastructure program (No. N0000888) for fundamental technologies which is funded by the Ministry of Trade, Industry and Energy (MOTIE, Korea).
Additional information
Communicated by Erko Stackebrandt.
The NCBI GenBank accession number for the 16S rRNA gene sequence of strain THG-DN5.4T is KM035951.
Electronic supplementary material
Below is the link to the electronic supplementary material.
Supplementary Fig. S1. Transmission electron micrographs of Nocardioides flava THG-DN5.4T. Bar indicated 200 nm (PDF 210 kb)
Supplementary Fig. S2. Maximum-likelihood phylogenetic tree based on 16S rRNA gene sequences showing the position of strain THG-DN5.4T with other member of Nocardioides species. Bootstrap values > 50 % based on 1000 replications are shown at branching points, 0.1 substitutions per nucleotide position (PDF 18 kb)
Supplementary Fig. S3. Two-dimensional TLC of the total polar lipids of strain THG-DN5.4T stained for total polar lipids with 5 % ethanolic molybdophosphoric acid. Abbreviations: DPG, diphosphatidylglycerol; PG, phosphatidylglycerol; AL1, AL2 and AL3, unidentified aminolipids; and L1 and L2, unidentified lipids (PDF 12 kb)
About this article
Cite this article
Singh, H., Yin, C.S. Nocardioides flava sp. nov., isolated from rhizosphere of poppy plant, Republic of Korea. Arch Microbiol 198, 279–285 (2016). https://doi.org/10.1007/s00203-015-1178-0
Received:

Revised:

Accepted:

Published:

Issue Date:

DOI: https://doi.org/10.1007/s00203-015-1178-0
Keywords