Abstract
Kocuria polaris strain CMS 76orT is a gram-positive, orange-pigmented bacterium isolated from a cyanobacterial mat sample from a pond located in McMurdo Dry Valley, Antarctica. It is psychrotolerant, orange pigmented, hydrolyses starch and Tween 80 and reduces nitrate. We report the 3.78-Mb genome of K. polaris strain CMS 76orT, containing 3416 coding sequences, including one each for 5S rRNA, 23S rRNA, 16S rRNA and 47 tRNA genes, and the G+C content of DNA is 72.8 %. An investigation of Csp family of proteins from K. polaris strain CMS 76orT indicated that it contains three different proteins of CspA (peg.319, peg.2255 and 2832) and the length varied from 67 to 69 amino acids. The three different proteins contain all the signature amino acids and two RNA binding regions that are characteristic of CspA proteins. Further, the CspA from K. polaris strain CMS 76orT was different from CspA of four other species of the genus Kocuria, Cryobacterium roopkundense and E. coli indirectly suggesting the role of CspA of K. polaris strain CMS 76orT in psychrotolerant growth of the bacterium.
Access options
Buy single article
Instant access to the full article PDF.
US$ 39.95
Tax calculation will be finalised during checkout.
Subscribe to journal
Immediate online access to all issues from 2019. Subscription will auto renew annually.
US$ 119
Tax calculation will be finalised during checkout.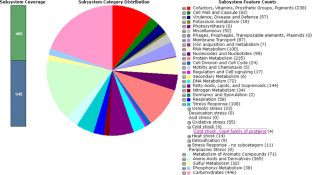 References
Aziz RK, Bartels D, Best AA, DeJongh M, Disz T, Edwards RA, Formsma K, Gerdes S, Glass EM, Kubal M, Meyer F, Olsen GJ, Olson R, Osterman AL, Overbeek RA, McNeil LK, Paarmann D, Paczian T, Parrello B, Pusch GD, Reich C, Stevens R, Vassieva O, Vonstein V, Wilke A, Zagnitko O (2008) The RAST server: rapid annotations using subsystems technology. BMC Genom 9:75

Blattner FR, Plunkett G, Bloch CA, Perna NT, Burland V, Riley M, Collado-Vides J, Glasner JD, Rode CK, Mayhew GF, Gregor J, Davis NW, Kirkpatrick HA, Goeden MA, Rose DJ, Mau B, Shao Y (1997) The complete genome sequence of Escherichia coli K-12. Science 277:1453–1462

Chattopadhyay MK (2006) Mechanism of bacterial adaptation to low temperature. J Biosci 31:157–165

Coil DA, Doctor JI, Lang JM, Darling AE, Eisen JA (2013) Draft genome sequence of Kocuria sp. strain UCD-OTCP (Phylum Actinobacteria). Genome Announc 1:E00172

Dastager SG, Tang SK, Srinivasan K, Lee JC, Li WJ (2014) Kocuria indica sp. nov., isolated from a sediment sample. Int J Syst Evol Microbiol 64:869–874

Etchegaray JP, Inouye M (1999) CspA, CspB, and CspG, major cold shock proteins of Escherichia coli, are induced at low temperature under conditions that completely block protein synthesis. J Bacteriol 181:1827–1830

Etchegaray JP, Jones P, Inouye M (1996) Differential thermoregulation of two highly homologous cold-shock genes, cspA and cspB, of Escherichia coli. Genes Cells 1:171–178

Fujii S, Nakasone K, Horikoshi K (1999) Cloning of two cold shock genes, cspA and cspG, from the deep sea psychrophilic bacterium Shewanella violacea strain DSS12. FEMS Microbiol Lett 178:123–128

Hébraud M, Potier P (1999) Cold shock response and low temperature adaptation in psychrotrophic bacteria. J Mol Microbiol Biotechnol 1:211–219

Lagesen K, Hallin P, Rødland EA, Staerfeldt HH, Rognes T, Ussery DW (2007) RNAmmer: consistent and rapid annotation of ribosomal RNA genes. Nucl Acids Res 35:3100–3108

Li WJ, Zhang YQ, Schumann P, Chen HH, Hozzein WN, Tian XP, Xu LH, Jiang CL (2006) Kocuria aegyptia sp. nov., a novel actinobacterium isolated from a saline, alkaline desert soil in Egypt. Int J Syst Evol Microbiol 56:733–737

Lowe TM, Eddy SR (1997) tRNAscan-SE: a program for improved detection of transfer RNA genes in genomic sequence. Nucl Acids Res 25:955–964

Marmur J (1961) Procedure for the isolation of deoxyribonucleic acid from microorganisms. J Mol Biol 3:208–218

Migula W (1900) System der Bakterien. Gustav Fischer, Jena

Nam YD, Seo MJ, Lim SI, Park SL (2012) Genome sequence of Kocuria atrinae C3-8, isolated from Jeotgal, a traditional Korean fermented seafood. J Bacteriol 194:5996

Ray MK, Sitaramamma T, Ghandhi S, Shivaji S (1994) Occurrence and expression of cspA, a cold shock gene, in Antarctic psychrotrophic bacteria. FEMS Microbiol Lett 116:55–60

Ray MK, Kumar GS, Janiyani K, Kannan K, Jagtap P, Basu MK, Shivaji S (1998) Adaptation to low temperature and regulation of gene expression in Antarctic psychrotrophic bacteria. J Biosci 23:423–435

Reddy GSN, Prakash JS, Prabahar V, Matsumoto GI, Stackebrandt E, Shivaji S (2003) Kocuria polaris sp. nov., an orange-pigmented psychrophilic bacterium isolated from an Antarctic cyanobacterial mat sample. Int J Syst Evol Microbiol 53:183–187

Reddy GS, Pradhan S, Manorama R, Shivaji S (2010) Cryobacterium roopkundense sp. nov., a psychrophilic bacterium isolated from glacial soil. Int J Syst Evol Microbiol 60:866–870

Reddy GSN, Sreenivas A, Shivaji S (2014) Draft genome sequence of Cryobacterium roopkundense strain RuGl7, isolated from a soil sample in the vicinity of Roopkund Lake, Himalayas, India. Genome Announc 2:e01206–e01214

Sharma G, Khatri I, Subramanian S (2014) Draft genome sequence of Kocuria palustris PEL. Genome Announc 2:e01261-13

Shivaji S, Rao NS, Saisree I, Sheth V, Reddy GSN, Bhargava PM (1988) Isolation and identification of Micrococcus roseus and Planococcus sp. from Schirmacher oasis, Antarctica. J Biosci 13:409–414

Stackebrandt E, Koch C, Gvozdiak O, Schumann P (1995) Taxonomic dissection of the genus Micrococcus: Kocuria gen. nov., Nesterenkonia gen. nov., Kytococcus gen. nov., Dermacoccus gen. nov., and Micrococcus Cohn 1872 gen. emend. Int J Syst Bacteriol 45:682–692

Subramanian P, Joe MM, Yim W, Hong B, Tipayno SC, Saravanan VS, Yoo J, Chung J, Sultana T, Tongmin S (2011) Psychrotolerance mechanisms in cold-adapted bacteria and their perspectives as plant growth-promoting bacteria in temperate agriculture. Korean J Soil Sci Fert 44:625–636

Takarada H, Sekine M, Kosugi H, Matsuo Y, Fujisawa T, Omata S, Kishi E, Shimizu A, Tsukatani N, Tanikawa S, Fujita N, Harayama S (2008) Complete genome sequence of the soil actinomycete Kocuria rhizophila. J Bacteriol 190:4139–4146

Tvrzová L, Schumann P, Sedláček I, Páčová Z, Spröer C, Verbarg S, Kroppenstedt RM (2005) Reclassification of strain CCM 132, previously classified as Kocuria varians, as Kocuria carniphila sp. nov. Int J Syst Evol Microbiol 55:139–142

Yamanaka K, Mitani T, Ogura T, Niki H, Hiraga S (1994) Cloning, sequencing and characterization of multicopy suppressors of a mukB mutation in Escherichia coli. Mol Microbiol 13:301–312

Yamanaka K, Fang L, Inouye M (1998) The CspA family in Escherichia coli: multiple gene duplication for stress adaptation. Mol Microbiol 27:247–255

Zhou G, Luo X, Tang Y, Zhang L, Yang Q, Qiu Y, Fang C (2008) Kocuria flava sp. nov. and Kocuria turfanensis sp. nov., airborne actinobacteria isolated from Xinjiang, China. Int J Syst Evol Microbiol 58:1304–1307
Acknowledgments
This work was funded by the CSIR network project GENESIS to S.S. at CCMB.
Nucleotide sequence accession numbers
The draft genome sequence of Kocuria polaris CMS 76orT has been deposited at DDBJ/EMBL/GenBank under the Accession No. JSUH00000000.
Additional information
Communicated by Erko Stackebrandt.
About this article
Cite this article
Gundlapally, S.R., Ara, S. & Sisinthy, S. Draft genome of Kocuria polaris CMS 76orT isolated from cyanobacterial mats, McMurdo Dry Valley, Antarctica: an insight into CspA family of proteins from Kocuria polaris CMS 76orT . Arch Microbiol 197, 1019–1026 (2015). https://doi.org/10.1007/s00203-015-1138-8
Received:

Revised:

Accepted:

Published:

Issue Date:
Keywords
Draft genome

Kocuria polaris

Cold shock proteins