Abstract
Communities of bacterial endophytes within the rice landraces cultivated in the highlands of northern Thailand were studied using fingerprinting data of 16S rRNA and nifH genes profiling by polymerase chain reaction–denaturing gradient gel electrophoresis. The bacterial communities' richness, diversity index, evenness, and stability were varied depending on the plant tissues, stages of growth, and rice cultivars. These indices for the endophytic diazotrophic bacteria within the landrace rice Bue Wah Bo were significantly the lowest. The endophytic bacteria revealed greater diversity by cluster analysis with seven clusters compared to the endophytic diazotrophic bacteria (three clusters). Principal component analysis suggested that the endophytic bacteria showed that the community structures across the rice landraces had a higher stability than those of the endophytic diazotrophic bacteria. Uncultured bacteria were found dominantly in both bacterial communities, while higher generic varieties were observed in the endophytic diazotrophic bacterial community. These differences in bacterial communities might be influenced either by genetic variation in the rice landraces or the rice cultivation system, where the nitrogen input affects the endophytic diazotrophic bacterial community.
Access options
Buy single article
Instant access to the full article PDF.
USD 39.95
Price excludes VAT (USA)
Tax calculation will be finalised during checkout.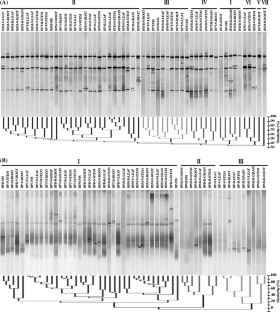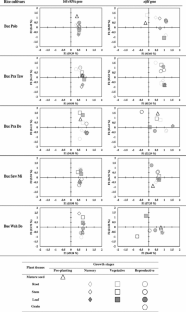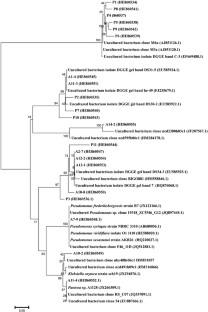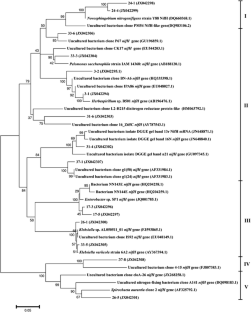 References
Arun B, Gopinath B, Sharma S (2012) Plant growth promoting potential of bacteria isolated on N free media from rhizosphere of Cassia occidentalis. World J Microbiol Biotechnol 28:2849–2857

Asakawa S, Kimura M (2008) Comparison of bacterial community structures at main habitats in paddy field ecosystem based on DGGE analysis. Soil Biol Biochem 40:1322–1329

Azevedo JL, Maccheroni JW, Pereira JO, de Araújo WL (2000) Endophytic microorganisms: a review on insect control and recent advances on tropical plants. Electron J Biotechnol 3:40–65

Bais HP, Weir TL, Perry LG, Gilroy S, Vivanco JM (2006) The role of root exudates in rhizosphere interactions with plants and other organisms. Annu Rev Plant Biol 57:233–266

Bandara W, Seneviratne G, Kulasooriya S (2006) Interactions among endophytic bacteria and fungi: effects and potentials. J Biosci 31:645–650

Bonman JM, Khush GS, Nelson RJ (1992) Breeding rice for resistance to pests. Annu Rev Phytopathol 30:507–528

Chakhonkaen S, Pitnjam K, Saisuk W, Ukoskit K, Muangprom A (2012) Genetic structure of Thai rice and rice accessions obtained from the International Rice Research Institute. Rice 5:1–13

Coelho MRR, Marriel IE, Jenkins SN, Lanyon CV, Seldin L, O'Donnell AG (2009) Molecular detection and quantification of nifH gene sequences in the rhizosphere of sorghum (Sorghum bicolor) sown with two levels of nitrogen fertilizer. Appl Soil Ecol 42:48–53

Dellaporta S, Wood J, Hicks J (1983) A plant DNA minipreparation: version II. Plant Mol Biol Rep 1:19–21

Elbeltagy A, Ando Y (2008) Expression of nitrogenase gene (NIFH) in roots and stems of rice, Oryza sativa, by endophytic nitrogenfixing communities. Afr J Biotechnol 7:1950–1957

Engelhard M, Hurek T, Reinhold-Hurek B (2000) Preferential occurrence of diazotrophic endophytes, Azoarcus spp., in wild rice species and land races of Oryza sativa in comparison with modern races. Environ Microbiol 2:131–141

Feng Y, Shen D, Song W (2006) Rice endophyte Pantoea agglomerans YS19 promotes host plant growth and affects allocations of host photosynthates. J Appl Microbiol 100:938–945

Fromin N, Hamelin J, Tarnawski S, Roesti D, Jourdain-Miserez K, Forestier N, Teyssier-Cuvelle S, Gillet F, Aragno M, Rossi P (2002) Statistical analysis of denaturing gel electrophoresis (DGE) fingerprinting patterns. Environ Microbiol 4:634–643

García de Salamone I, Di Salvo L, Escobar Ortega J, Boa Sorte P, Urquiaga S, Teixeira K (2010) Field response of rice paddy crop to Azospirillum inoculation: physiology of rhizosphere bacterial communities and the genetic diversity of endophytic bacteria in different parts of the plants. Plant Soil 336:351–362

Hardoim PR, van Overbeek LS, van Elsas JD (2008) Properties of bacterial endophytes and their proposed role in plant growth. Trends Microbiol 16:463–471

Hardoim PR, Andreote FD, Reinhold-Hurek B, Sessitsch A, van Overbeek LS, van Elsas JD (2011) Rice root-associated bacteria: insights into community structures across 10 cultivars. FEMS Microbiol Ecol 77:154–164

Jha B, Gontia I, Hartmann A (2012) The roots of the halophyte Salicornia brachiata are a source of new halotolerant diazotrophic bacteria with plant growth-promoting potential. Plant Soil 356:265–277

Jia Z, Kikuchi H, Watanabe T, Asakawa S, Kimura M (2007) Molecular identification of methane oxidizing bacteria in a Japanese rice field soil. Biol Fert Soils 44:121–130

Kaga H, Mano H, Tanaka F, Watanabe A, Kaneko S, Morisaki H (2009) Rice seeds as sources of endophytic bacteria. Microbes Environ 24:154–162

Knief C, Delmotte N, Chaffron S, Stark M, Innerebner G, Wassmann R, von Mering C, Vorholt JA (2012) Metaproteogenomic analysis of microbial communities in the phyllosphere and rhizosphere of rice. ISME J 6:1378–1390

Koomnok C, Teaumroong N, Rerkasem B, Lumyong S (2007) Diazotroph endophytic bacteria in cultivated and wild rice in Thailand. ScienceAsia 33:429–435

Li YL, Fan XR, Shen QR (2008) The relationship between rhizosphere nitrification and nitrogen-use efficiency in rice plants. Plant Cell Environ 31:73–85

Lilburn TG, Kim KS, Ostrom NE, Byzek KR, Leadbetter JR, Breznak JA (2001) Nitrogen fixation by symbiotic and free-living Spirochetes. Science 292:2495–2498

Loaces I, Ferrando L, Fernández Scavino A (2011) Dynamics, diversity and function of endophytic siderophore-producing bacteria in rice. Microb Ecol 61:606–618

Mano H, Morisaki H (2008) Endophytic bacteria in the rice plant. Microbes Environ 23:109–117

Mano H, Tanaka F, Nakamura C, Kaga H, Morisaki H (2007) Culturable endophytic bacterial flora of the maturing leaves and roots of rice plants (Oryza sativa) cultivated in a paddy field. Microbes Environ 22:175–185

McCouch S (2004) Diversifying selection in plant breeding. PLoS Biol 2:1507–1512

Muyzer G, de Waal EC, Uitterlinden AG (1993) Profiling of complex microbial populations by denaturing gradient gel electrophoresis analysis of polymerase chain reaction-amplified genes coding for 16S rRNA. Appl Environ Microbiol 59:695–700

Oupkaew P, Pusadee T, Sirabanchongkran A, Rerkasem K, Jamjod S, Rerkasem B (2011) Complexity and adaptability of a traditional agricultural system: case study of a gall midge resistant rice landrace from northern Thailand. Genet Resour Crop Evol 58:361–372

Parzies HK, Spoor W, Ennos RA (2004) Inferring seed exchange between farmers from population genetic structure of barley landrace Arabi Aswad from northern Syria. Genet Resour Crop Evol 51:471–478

Poly F, Monrozier LJ, Bally R (2001a) Improvement in the RFLP procedure for studying the diversity of nifH genes in communities of nitrogen fixers in soil. Res Microbiol 152:95–103

Poly F, Ranjard L, Nazaret S, Gourbiere F, Monrozier LJ (2001b) Comparison of nifH gene pools in soils and soil microenvironments with contrasting properties. Appl Environ Microbiol 67:2255–2262

Prakamhang J, Minamisawa K, Teamtaisong K, Boonkerd N, Teaumroong N (2009) The communities of endophytic diazotrophic bacteria in cultivated rice (Oryza sativa L.). Appl Soil Ecol 42:141–149

Purnomo E, Mursyid A, Syarwani M, Jumberi A, Hashidoko Y, Hasegawa T, Honma S, Osaki M (2005) Phosphorus solubilizing microorganisms in the rhizosphere of local rice varieties grown without fertilizer on acid sulfate soils. Soil Sci Plant Nutr 51:679–681

Pusadee T, Jamjod S, Chiang Y-C, Rerkasem B, Schaal BA (2009) Genetic structure and isolation by distance in a landrace of Thai rice. Proc Nat Acad Sci 106:13880–13885

Reinhold-Hurek B, Hurek T (2011) Living inside plants: bacterial endophytes. Curr Opin Plant Biol 14:435–443

Roesch L, Camargo F, Bento F, Triplett E (2008) Biodiversity of diazotrophic bacteria within the soil, root and stem of field-grown maize. Plant Soil 302:91–104

Saito K, Linquist B, Keobualapha B, Shiraiwa T, Horie T (2006) Farmers' knowledge of soils in relation to cropping practices: a case study of farmers in upland rice based slash-and-burn systems of northern Laos. Geoderma 136:64–74

Sasaki K, Ikeda S, Eda S, Mitsui H, Hanzawa E, Kisara C, Kazama Y, Kushida A, Shinano T, Minamisawa K, Sato T (2010) Impact of plant genotype and nitrogen level on rice growth response to inoculation with Azospirillum sp. strain B510 under paddy field conditions. Soil Sci Plant Nutr 56:636–644

Sessitsch A, Hardoim P, Döring J, Weilharter A, Krause A, Woyke T, Mitter B, Hauberg-Lotte L, Friedrich F, Rahalkar M, Hurek T, Sarkar A, Bodrossy L, van Overbeek L, Brar D, van Elsas JD, Reinhold-Hurek B (2012) Functional characteristics of an endophyte community colonizing rice roots as revealed by metagenomic analysis. Mol Plant Microbe Interact 25:28–36

Shannon CE, Weaver W (1963) The mathematical theory of communication. University of Illinois Press, Urbana

Simonet P, Grosjean MC, Misra AK, Nazaret S, Cournoyer B, Normand P (1991) Frankia genus-specific characterization by polymerase chain reaction. Appl Environ Microbiol 57:3278–3286

Sommut W (2003) Changes in flood-prone rice ecosystems in Thailand, Crop year 2000–2001. Department of Agriculture, Bangkok, Thailand

Sooksa-Nguan T, Gypmantasiri P, Boonkerd N, Thies JE, Teaumroong N (2010) Changes in bacterial community composition in the system of rice intensification (SRI) in Chiang Mai, Thailand. Microbes Environ 25:224–227

Sun L, Qiu F, Zhang X, Dai X, Dong X, Song W (2008) Endophytic bacterial diversity in rice (Oryza sativa L.) roots estimated by 16S rDNA sequence analysis. Microb Ecol 55:415–424

Tago K, Ishii S, Nishizawa T, Otsuka S, Senoo K (2011) Phylogenetic and functional diversity of denitrifying bacteria isolated from various rice paddy and rice-soybean rotation fields. Microbes Environ 26:30–35

Takahashi H, Sekiguchi H, Ito T, Sasahara M, Hatanaka N, Ohba A, Hase S, Ando S, Hasegawa H, Takenaka S (2011) Microbial community profiles in intercellular fluid of rice. J Gen Plant Pathol 77:121–131

Tamura K, Dudley J, Nei M, Kumar S (2007) MEGA4: molecular evolutionary genetics analysis (MEGA) software version 4.0. Mol Biol Evol 24:1596–1599

Tittabutr P, Awaya JD, Li QX, Borthakur D (2008) The cloned 1-aminocyclopropane-1-carboxylate (ACC) deaminase gene from Sinorhizobium sp. strain BL3 in Rhizobium sp. strain TAL1145 promotes nodulation and growth of Leucaena leucocephala. Syst Appl Microbiol 31:141–150

Van Nieuwenhove C, Van Holm L, Kulasooriya SA, Vlassak K (2000) Establishment of Azorhizobium caulinodans in the rhizosphere of wetland rice (Oryza sativa L.). Biol Fert Soils 31:143–149

Verma SC, Singh A, Chowdhury SP, Tripathi AK (2004) Endophytic colonization ability of two deep-water rice endophytes, Pantoea sp. and Ochrobactrum sp. using green fluorescent protein reporter. Biotechnol Lett 26:425–429

Wartiainen I, Eriksson T, Zheng W, Rasmussen U (2008) Variation in the active diazotrophic community in rice paddy—nifH PCR–DGGE analysis of rhizosphere and bulk soil. Appl Soil Ecol 39:65–75
Acknowledgments
The authors would like to acknowledge the supports from Office of the Higher Education Commission, Thailand under the National Research University Project, the Graduated School of Chiang Mai University, Chiang Mai, Thailand and Thailand Research Fund RTA5580007. We also thank the Model Farm Project, the Royal Initiatives of Her Majesty the Queen, Khun Tae Village, Thailand for assistance in rice samples collection and Mr. Chainarong Kesamoon, a Ph.D. candidate at the Department of Mathematics, Autonomous University of Barcelona Spain, for his kindly suggest in numerical analysis of this work. We are grateful to Mr. Keegan H. Kennedy, Department of Biology, Chiang Mai University and Dr. Peter Green, Aberdeen, UK for helping improve English text.
Additional information
Communicated by Ursula Priefer.
About this article
Cite this article
Rangjaroen, C., Rerkasem, B., Teaumroong, N. et al. Comparative study of endophytic and endophytic diazotrophic bacterial communities across rice landraces grown in the highlands of northern Thailand. Arch Microbiol 196, 35–49 (2014). https://doi.org/10.1007/s00203-013-0940-4
Received:

Revised:

Accepted:

Published:

Issue Date:

DOI: https://doi.org/10.1007/s00203-013-0940-4
Keywords