Abstract
Leptospira interrogans synthesizes a range of mannose-containing glycoconjugates relevant for its virulence. A prerequisite in the synthesis is the availability of the GDP-mannose, produced from mannose-1-phosphate and GTP in a reaction catalyzed by GDP-mannose pyrophosphorylase. The gene coding for a putative enzyme in L. interrogans was expressed in Escherichia coli BL21(DE3). The identity of this enzyme was confirmed by electrospray-mass spectroscopy, Edman sequencing and immunological assays. Gel filtration chromatography showed that the dimeric form of the enzyme is catalytically active and stable. The recombinant protein was characterized as a mannose-1-phosphate guanylyltransferase. S0.5 for the substrates were determined both in GDP-mannose pyrophosphorolysis: 0.20 mM (GDP-mannose), 0.089 mM (PPi), and 0.47 mM; and in GDP-mannose synthesis: 0.24 mM (GTP), 0.063 mM (mannose-1-phosphate), and 0.45 mM (Mg2+). The enzyme was able to produce GDP-mannose, IDP-mannose, UDP-mannose and ADP-glucose. We obtained a structural model of the enzyme using as a template the crystal structure of mannose-1-phosphate guanylyltransferase from Thermus thermophilus HB8. Binding of substrates and cofactor in the model agree with the pyrophosphorylases reaction mechanism. Our studies provide insights into the structure of a novel molecular target, which could be useful for detection of leptospirosis and for the development of anti-leptospiral drugs.
Access options
Buy single article
Instant access to the full article PDF.
US$ 39.95
Tax calculation will be finalised during checkout.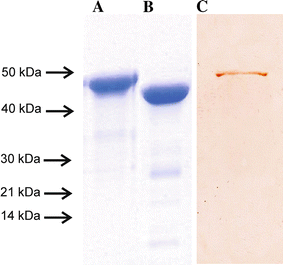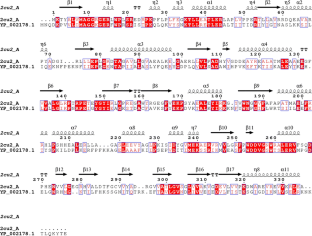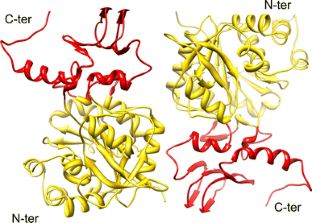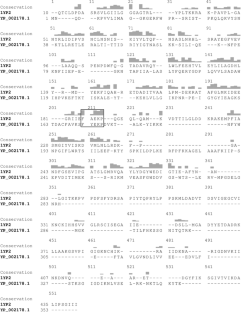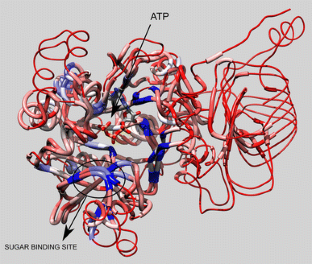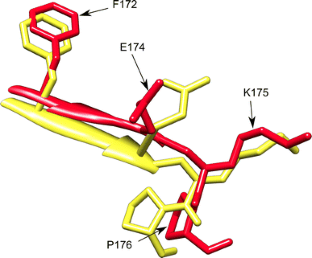 References
Altschul SF et al (1997) Gapped BLAST and PSI-BLAST: a new generation of protein database search programs. Nucleic Acids Res 25:3389–3402

Arnold K, Bordoli L, Kopp J, Schwede T (2006) The SWISS-MODEL workspace: a web-based environment for protein structure homology modelling. Bioinformatics 22:195–201

Ballicora MA, Iglesias AA, Preiss J (2003) ADP-glucose pyrophosphorylase, a regulatory enzyme for bacterial glycogen synthesis. Microbiol Mol Biol Rev 67:213–225 table of contents

Ballicora MA, Iglesias AA, Preiss J (2004) ADP-glucose pyrophosphorylase: a regulatory enzyme for plant starch synthesis. Photosynth Res 79:1–24

Barnett JK et al (1999) Expression and distribution of leptospiral outer membrane components during renal infection of hamsters. Infect Immun 67:853–861

Berman HM et al (2000) The protein data bank. Nucleic Acids Res 28:235–242

Bharti AR et al (2003) Leptospirosis: a zoonotic disease of global importance. Lancet Infect Dis 3:757–771

Blankenfeldt W, Asuncion M, Lam JS, Naismith JH (2000) The structural basis of the catalytic mechanism and regulation of glucose-1-phosphate thymidylyltransferase (RmlA). EMBO J 19:6652–6663

Bomfim MR, Ko A, Koury MC (2005) Evaluation of the recombinant LipL32 in enzyme-linked immunosorbent assay for the serodiagnosis of bovine leptospirosis. Vet Microbiol 109:89–94

Boonyod D, Poovorawan Y, Bhattarakosol P, Chirathaworn C (2005) LipL32, an outer membrane protein of Leptospira, as an antigen in a dipstick assay for diagnosis of leptospirosis. Asian Pac J Allergy Immunol 23:133–141

Bowie JU, Luthy R, Eisenberg D (1991) A method to identify protein sequences that fold into a known three-dimensional structure. Science 253:164–170

Bradford MM (1976) A rapid and sensitive method for the quantitation of microgram quantities of protein utilizing the principle of protein-dye binding. Anal Biochem 72:248–254

Brede G, Fjaervik E, Valla S (1991) Nucleotide sequence and expression analysis of the Acetobacter xylinum uridine diphosphoglucose pyrophosphorylase gene. J Bacteriol 173:7042–7045

Bulach DM, Kalambaheti T, de la Pena-Moctezuma A, Adler B (2000a) Functional analysis of genes in the rfb locus of Leptospira borgpetersenii serovar Hardjo subtype Hardjobovis. Infect Immun 68:3793–3798

Bulach DM, Kalambaheti T, de la Pena-Moctezuma A, Adler B (2000b) Lipopolysaccharide biosynthesis in Leptospira. J Mol Microbiol Biotechnol 2:375–380

Cupp-Vickery JR, Igarashi RY, Meyer CR (2005) Preliminary crystallographic analysis of ADP-glucose pyrophosphorylase from Agrobacterium tumefaciens. Acta Crystallogr Sect F Struct Biol Cryst Commun 61:266–268

Cupp-Vickery JR, Igarashi RY, Perez M, Poland M, Meyer CR (2008) Structural analysis of ADP-glucose pyrophosphorylase from the bacterium Agrobacterium tumefaciens. Biochemistry 47:4439–4451

Fusari C, Demonte AM, Figueroa CM, Aleanzi M, Iglesias AA (2006) A colorimetric method for the assay of ADP-glucose pyrophosphorylase. Anal Biochem 352:145–147

Garami A, Ilg T (2001) Disruption of mannose activation in Leishmania mexicana: GDP-mannose pyrophosphorylase is required for virulence, but not for viability. EMBO J 20:3657–3666

Ghosh HP, Preiss J (1966) Adenosine diphosphate glucose pyrophosphorylase. A regulatory enzyme in the biosynthesis of starch in spinach leaf chloroplasts. J Biol Chem 241:4491–4504

Ginsburg V (1964) Sugar nucleotides and the synthesis of carbohydrates. Adv Enzymol Relat Areas Mol Biol 26:35–88

Gornik O, Dumic J, Flogel M, Lauc G (2006) Glycoscience—a new frontier in rational drug design. Acta Pharm 56:19–30

Gouet P, Courcelle E, Stuart DI, Metoz F (1999) ESPript: analysis of multiple sequence alignments in PostScript. Bioinformatics 15:305–308

Griffith ME, Hospenthal DR, Murray CK (2006) Antimicrobial therapy of leptospirosis. Curr Opin Infect Dis 19:533–537

Griffith ME et al (2007) Efficacy of fluoroquinolones against Leptospira interrogans in a hamster model. Antimicrob Agents Chemother 51:2615–2617

Guex N, Peitsch MC (1997) SWISS-MODEL and the Swiss-PdbViewer: an environment for comparative protein modeling. Electrophoresis 18:2714–2723

Haake DA et al (1999) Leptospiral outer membrane proteins OmpL1 and LipL41 exhibit synergistic immunoprotection. Infect Immun 67:6572–6582

Haake DA et al (2000) The leptospiral major outer membrane protein LipL32 is a lipoprotein expressed during mammalian infection. Infect Immun 68:2276–2285

Jaeckel P, Krauss G, Menge S, Schierhorn A, Rucknagel P, Krauss GJ (2005) Cadmium induces a novel metallothionein and phytochelatin 2 in an aquatic fungus. Biochem Biophys Res Commun 333:150–155

Jiang XM, Neal B, Santiago F, Lee SJ, Romana LK, Reeves PR (1991) Structure and sequence of the rfb (O antigen) gene cluster of Salmonella serovar typhimurium (strain LT2). Mol Microbiol 5:695–713

Jin X, Ballicora MA, Preiss J, Geiger JH (2005) Crystal structure of potato tuber ADP-glucose pyrophosphorylase. EMBO J 24:694–704

Kleczkowski LA, Villand P, Preiss J, Olsen OA (1993) Kinetic mechanism and regulation of ADP-glucose pyrophosphorylase from barley (Hordeum vulgare) leaves. J Biol Chem 268:6228–6233

Kobayashi H et al (1997) Structure of a cell wall mannan from the pathogenic yeast, Candida catenulata: assignment of 1H nuclear magnetic resonance chemical shifts of the inner alpha-1, 6-linked mannose residues substituted by a side chain. Arch Biochem Biophys 341:70–74

Kulkarni-Kale U, Bhosle S, Kolaskar AS (2005) CEP: a conformational epitope prediction server. Nucleic Acids Res 33:W168–W171

Laemmli UK (1970) Cleavage of structural proteins during the assembly of the head of bacteriophage T4. Nature 227:680–685

Larsson P, Wallner B, Lindahl E, Elofsson A (2008) Using multiple templates to improve quality of homology models in automated homology modeling. Protein Sci 17:990–1002

Luthy R, Bowie JU, Eisenberg D (1992) Assessment of protein models with three-dimensional profiles. Nature 356:83–85

Maniatis T, Fritsch EF, Sambrook J (1982) Molecular cloning: a laboratory manual. Cold Spring Harbor Laboratory, Cold Spring Harbor

Martins LO et al (1999) Biosynthesis of mannosylglycerate in the thermophilic bacterium Rhodothermus marinus. Biochemical and genetic characterization of a mannosylglycerate synthase. J Biol Chem 274:35407–35414

May TB, Shinabarger D, Boyd A, Chakrabarty AM (1994) Identification of amino acid residues involved in the activity of phosphomannose isomerase-guanosine 5′-diphospho-d-mannose pyrophosphorylase. A bifunctional enzyme in the alginate biosynthetic pathway of Pseudomonas aeruginosa. J Biol Chem 269:4872–4877

Melo F, Feytmans E (1998) Assessing protein structures with a non-local atomic interaction energy. J Mol Biol 277:1141–1152

Melo A, Glaser L (1965) The nucleotide specificity and feedback control of thymidine diphosphate d-glucose pyrophosphorylase. J Biol Chem 240:398–405

Ning B, Elbein AD (1999) Purification and properties of mycobacterial GDP-mannose pyrophosphorylase. Arch Biochem Biophys 362:339–345

Ning B, Elbein AD (2000) Cloning, expression and characterization of the pig liver GDP-mannose pyrophosphorylase. Evidence that GDP-mannose and GDP-Glc pyrophosphorylases are different proteins. Eur J Biochem 267:6866–6874

Opperdoes FR, Michels PA (2001) Enzymes of carbohydrate metabolism as potential drug targets. Int J Parasitol 31:482–490

Preston A, Mandrell RE, Gibson BW, Apicella MA (1996) The lipooligosaccharides of pathogenic gram-negative bacteria. Crit Rev Microbiol 22:139–180

Ramachandran GN, Ramakrishnan C, Sasisekharan V (1963) Stereochemistry of polypeptide chain configurations. J Mol Biol 7:95–99

Russell RB, Barton GJ (1992) Multiple protein sequence alignment from tertiary structure comparison: assignment of global and residue confidence levels. Proteins 14:309–323

Saavedra-Lira E, Perez-Montfort R (1996) Energy production in Entamoeba histolytica: new perspectives in rational drug design. Arch Med Res 27:257–264

Sali A, Blundell TL (1993) Comparative protein modelling by satisfaction of spatial restraints. J Mol Biol 234:779–815

Shinabarger D, Berry A, May TB, Rothmel R, Fialho A, Chakrabarty AM (1991) Purification and characterization of phosphomannose isomerase-guanosine diphospho-d-mannose pyrophosphorylase. A bifunctional enzyme in the alginate biosynthetic pathway of Pseudomonas aeruginosa. J Biol Chem 266:2080–2088

Sugahara MKN (2005) Crystal structure of mannose-1-phosphate guanyltransferase from Thermus thermophilus Hb8. Riken Structural GenomicsPROTEOMICS, Initiative (Rsgi)

Thompson JD, Higgins DG, Gibson TJ (1994) CLUSTAL W: improving the sensitivity of progressive multiple sequence alignment through sequence weighting, position-specific gap penalties and weight matrix choice. Nucleic Acids Res 22:4673–4680

Vega MC et al (2005) Regulation of the hetero-octameric ATP phosphoribosyl transferase complex from Thermotoga maritima by a tRNA synthetase-like subunit. Mol Microbiol 55:675–686

Veloso IF, Lopes MT, Salas CE, Moreira EC (2000) A comparison of three DNA extractive procedures with Leptospira for polymerase chain reaction analysis. Mem Inst Oswaldo Cruz 95:339–343

Verlinde CL et al (2001) Glycolysis as a target for the design of new anti-trypanosome drugs. Drug Resist Updat 4:50–65

Yang Y-H, Kang Y-B, Lee K-W, Lee T-H, Park S-S, Hwang B-Y, Kim B-G (2005) Characterization of GDP-mannose pyrophosphorylase from Escherichia coli O157:H7 EDL933. J Mol Catal B: Enzym 37:1–8

Zhang L, Radziejewska-Lebrecht J, Krajewska-Pietrasik D, Toivanen P, Skurnik M (1997) Molecular and chemical characterization of the lipopolysaccharide O-antigen and its role in the virulence of Yersinia enterocolitica serotype O:8. Mol Microbiol 23:63–76

Zuccotti S, Zanardi D, Rosano C, Sturla L, Tonetti M, Bolognesi M (2001) Kinetic and crystallographic analyses support a sequential-ordered bi bi catalytic mechanism for Escherichia coli glucose-1-phosphate thymidylyltransferase. J Mol Biol 313:831–843

Zunino ME, Pizarro PR (2007) Leptospirosis: a literature review. Rev Chilena Infectol 24:220–226
Acknowledgments
This work was supported by grants from ANPCyT (PICTO′04 15-22427; PICTO′05 05-13469), CONICET (PIP 112-2008-01-02519), and UNL (CAI + D 2006, CAI + D 2009 Orientados & Redes). DER, SAG and AAI are investigator career members from CONICET. AAI is a Fellow from The John Simon Guggenheim Memorial Foundation.
Additional information
Communicated by Sebastian Suerbaum.
Electronic supplementary material
Below is the link to the electronic supplementary material.
About this article
Cite this article
Asención Diez, M.D., Demonte, A., Giacomelli, J. et al. Functional characterization of GDP-mannose pyrophosphorylase from Leptospira interrogans serovar Copenhageni. Arch Microbiol 192, 103–114 (2010). https://doi.org/10.1007/s00203-009-0534-3
Received:

Revised:

Accepted:

Published:

Issue Date:
Keywords
Leptospira interrogans

Mannose metabolism

Pyrophosphorylase