Abstract
Rhizopus oryzae has long been used for enzyme production (e.g., glucoamylase and lipase), organic acid synthesis, and various fermented food applications. In this work, we describe a set of plasmid-based expression vectors that can be used for the production of heterologous proteins in R. oryzae. Three plasmid vectors have been created using either the glucoamylase A (amyA), pyruvate decarboxylase (pdcA), or phosphoglycerate kinase (pgk1) promoters to drive expression of heterologous proteins. All three plasmids use the pdcA terminator for transcription termination, the pyrG gene for restoration of uracil prototrophy, and an ampicillin resistance gene and origin of replication for maintenance in Escherichia coli. We have expressed green fluorescent protein (GFP) and compared transcription and protein accumulation for each of the expression vectors. Accumulation of GFP transcript and protein was directly correlated with the choice of promoter with pdcA > amyA > pgk1. Transcript level appears to parallel GFP protein accumulation. Plasmid copy number had little impact on transcription or protein accumulation. These vectors should be useful for overexpression of heterologous proteins and potentially, metabolic engineering of Rhizopus strains.
Access options
Buy single article
Instant access to the full article PDF.
US$ 39.95
Tax calculation will be finalised during checkout.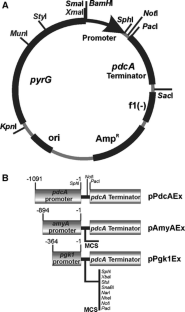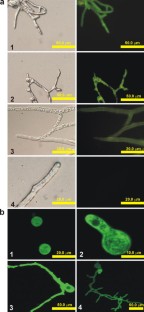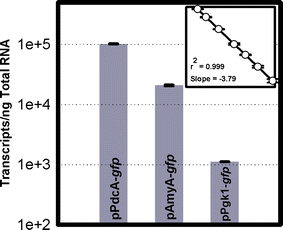 References
Appel KF, Wolff AM, Arnau J (2004) A multicopy vector system for genetic studies in Mucor circinelloides and other zygomycetes. Mol Genet Genomics 271:595–602

Burmester A, Wöstemeyer A, Arnau J, Wöstemeyer J (1992) The SEG1 element: a new DNA region promoting stable mitotic segregation of plasmids in the zygomycete Absidia glauca. Mol Gen Genet 235:166–172

Gao J, Skeen RS (2002) Promoter sequence of 3-phosphoglycerate kinase gene 1 of lactic acid producing fungus Rhizopus oryzae and a method of expressing a gene of interest in fungal species. US Patent 6, 465, 635

Gordon CL, Archer DB, Jeenes DJ, Doonan JH, Wells B, Trinci APJ, Robson GD (2000) A glucoamylase::GFP fusion to study protein secretion by individual hyphae of Aspergillus niger. J Microbiol Methods 42:39–48

Gouka RJ, Punt PJ, Hessing JGM, van den Hondel CA (1996) Analysis of heterologous protein production in defined recombinant Aspergillus awamori strains. Appl Environ Microbiol 62:1951–1957

Gouka RJ, Punt PJ, van den Hondel CAMJJ (1997) Glucoamylase gene fusions alleviate limitations for protein production in Aspergillus awamori at the transcriptional and (post)translational levels. Appl Environ Microbiol 63:488–497

Hohenblum H, Gasser B, Maurer M, Borth N, Mattanovich D (2004) Effects of gene dosage, promoter and substrates on unfolded protein stress of recombinant Pichia pastoris. Biotechnol Bioeng 85:367–375

Houghton-Larsen J, Pedersen PA (2003) Functional expression of rat adenosine A1 receptor in the dimorphic zygomycete Mucor circinelloides. Appl Microbiol Biotechnol 63:64–67

Karhunan T, Mäntyalä A, Nevalainen KMH (1993) High frequency one-step gene replacement in Trichoderma reesi. I. Endoglucanase I overproduction. Mol Gen Genet 241:515–522

Lorang JM, Tuori RP, Martinez JP, Martinez JP, Sawyer TL, Redman RS, Rollins JA, Wolpert TJ, Johnson KB, Rodriguez RJ, Dickman MB Ciufetti LM (2001) Green fluorescent protein is lighting up fungal biology. Appl Environ Microbiol 67:1987–1994

Maeda H, Sano M, Maruyama Y, Tanno T, Akao T, Totsuka Y, Endo M, Sakurada R, Yamagata Y, Machida M, Akita O, Hasegawa F, Abe K, Gomi K, Nakajima T, Iguchi Y (2004) Transcriptional analysis of genes for energy catabolism and hydrolytic enzymes in filamenous fungus Aspergillus oryzae using cDNA microarrays and expressed sequence tags. Appl Microbiol Biotechnol 65:74–83

Michielse CB, Salim K, Ragas P, Ram AFJ, Kudla B, Jarry B, Punt PJ, van den Hondel CAMJJ (2004) Development of a system for integrative and stable transformation of the zygomycete Rhizopus oryzae by Agrobacterium-mediated DNA transfer. Mol Genet Genomics 271:499–510

Obraztova IN, Prados N, Holzmann K, Avalos J, Cerdá-Olmedo E (2004) Genetic damage following introduction of DNA in Phycomyces. Fungal Genet and Biol 41:168–180

Paloheimo M, Mäntylä A, Kallio J, Suominen P (2003) High-yield production of a bacterial xylanase in the filamentous fungus Trichoderma reesi requires a carrier polypeptide with an intact domain structure. Appl Environ Micrbiol 69:7073–7082

Papp T, Velayos A, Bartόk T, Eslava AP, Vágvölgyi C, Iturriaga EA (2006) Heterologous expression of astaxanthin biosynthesis genes in Mucor circinelloides Appl Microbiol Biotechnol 69:526–531

Parekh R, Forrester K, Wittrup D (1995) Multicopy overexpression of bovine pancreatic trypsin inhibitor saturates protein folding and secretory capacity in Saccharomyces cerevisiae. Protein Expr Purif 6:537–545

Radzio R, Kück U (1997) Synthesis of biotechnologically relevant heterologous proteins in filamentous fungi. Process Biochem 32:529–539

Santerre Henricksen AL, Even S, Müller C, Punt PJ, vanden Hondel CAMJJ, Nielsen J (1999) Study of the glucoamylase promoter in Aspergillus niger using green fluorescent protein. Microbiology 145:729-734

Schilde C, Wöstemeyer J, Burmester A (2001) Green fluorescent protein as a reporter for gene expression in the mucoralean fungus Absidia glauca. Arch Microbiol 175:1-7

Skory CD (2000) Isolation and expression of lactate dehydrogenase genes from Rhizopus oryzae. Appl Environ Microbiol 66:2343–2348

Skory CD (2002) Homologous recombination and double-strand break repair in the transformation of Rhizopus oryzae. Mol Genet Genomics 268:397–406

Skory CD (2003) Induction of Rhizopus oryzae pyruvate decarboxylase genes. Curr Microbiol 47:59–64

Takaya N, Yanai K, Horiuchi H, Ohta A, Takagi M (1994) Cloning and characterization of two 3-phosphoglycerate kinase genes of Rhizopus niveus and heterologous gene expression using their promoters. Curr Genet 25:524–530

Takaya N, Yanai K, Horiuchi H, Ohta A, Takagi M (1995) Analysis of the 3-phosphoglycerate kinase 2 promoter in Rhizopus niveus. Gene 152:121–125

Towbin H, Staehelin T, Gordon J (1979) Electrophoretic transfer of proteins from polyacrylamide gels to nitrocellulose sheets: procedure and some applications. Proc Natl Acad Sci 76:4350–4354

Westermann B, Neupert W (2000) Mitochondria-targeted green fluorescent proteins: convenient tools for the study of organelle biogenesis in Saccharomyces cerevisiae. Yeast 16:1421–1427

Wolff AM, Arnau J (2002) Cloning of glyceraldehydes-3-phosphate dehydrogenase-encoding genes in Mucor circinelloides (syn. racemous) and use of the gpd1 promoter for recombinant protein production. Fungal Genet Biol 35:21–29

Wöstemeyer J, Burmester A, Weigel C (1987) Neomycin resistance as a dominantly selectable marker for the transformation of the zygomycete Absidia glauca. Curr Genet 12:625–627

Yanai K, Horiuchi H, Takagi M, Yano K (1991) Transformation of Rhizopus niveus using bacterial blasticidin S resistance gene as a dominant selectable marker. Curr Genet 19:221–226
Acknowledgment
We thank Ryan Burdick and Kristina Glenzinski for their technical expertise in completing this work and Michael Cotta for critical reading of the manuscript. ASI is supported by National Institute of Health grant R56 AI063503-01A1.
Additional information
USDA Mention of trade names or commercial products used in this article is solely for the purpose of providing specific information and does not imply recommendation or endorsement by the US Department of Agriculture.
About this article
Cite this article
Mertens, J.A., Skory, C.D. & Ibrahim, A.S. Plasmids for expression of heterologous proteins in Rhizopus oryzae . Arch Microbiol 186, 41–50 (2006). https://doi.org/10.1007/s00203-006-0121-9
Received:

Revised:

Accepted:

Published:

Issue Date:
Keywords
Rhizopus oryzae

Green fluorescent protein

Heterologous protein expression

Gene copy number

RT-PCR