Abstract
aroG, encoding the monofunctional chorismate mutase (TtCM) of the thermophilic gram-negative bacterium Thermus thermophilus, was cloned and its gene product characterized. TtCM was purified to homogeneity on an SDS polyacrylamide gel as a His-fusion protein with a deduced molecular mass of 15.8 kDa. The enzyme belongs to the rare group of AroH-type chorismate mutases which are mainly found in gram-positive bacteria of the Bacillus/Clostridia group and have recently also been described for gram-negative organisms. The native molecular mass is consistent with a pseudo-α/β barrel enzyme that is organized as a trimer. Comparison of the enzyme's structure with that of its mesophilic counterpart from Bacillus revealed an increase in hydrophilicity on the protein's surface, greater hydrophobicity in cavities within the protein, and greater restriction of conformational freedom, features that contribute to the thermal stability of this chorismate mutase. The kinetic data show Michaelis-Menten substrate saturation with a K m of 290 μM, and a k cat/K m value of 180 s−1 mM−1. TtCM was inhibited by tyrosine with a K i =34 μM, possibly in a competitive manner.
Access options
Buy single article
Instant access to the full article PDF.
USD 39.95
Price excludes VAT (USA)
Tax calculation will be finalised during checkout.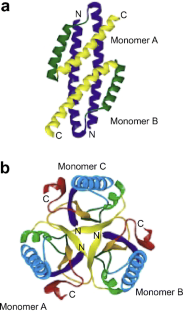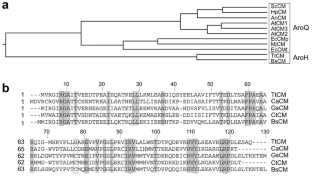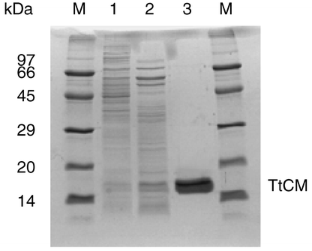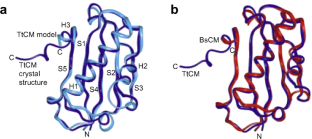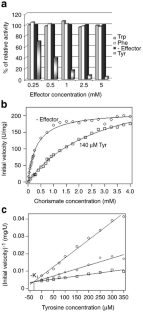 References
Adams MW, Kelly RM (1998) Finding and using hyperthermophilic enzymes. Trends Biotechnol 16:329–332

Berman HM, Westbrook J, Feng Z, Gilliland G, Bhat TN, Weissing H, Shindyalov IN, Bourne PE (2000) The Protein Data Bank. Nucleic Acids Res 28:235–242

Chen X, Antson AA, Yang M, Li P, Baumann C, Dodson EJ, Dodson GG, Gollnik P (1999) Regulatory features of the trp operon and the crystal structure of the trp RNA-binding attenuation protein from Bacillus stearothermophilus. J Mol Biol 289:1003–1016

Chook YM, Gray JV, Ke H, Lipscomb WN (1994) The monofunctional chorismate mutase from Bacillus subtilis. Structure determination of chorismate mutase and its complexes with a transition state analog and prephenate, and implications for the mechanism of the enzymatic reaction. J Mol Biol 240:476–500

Combet C, Blanchet C, Geourjon C, Deleage G (2000) NPS@: network protein sequence analysis. Trends Biochem Sci 25:147–150

Cornish-Bowden A (1976) Principles of enzyme kinetics. Butterworth Press, London

Dagert M, Ehrlich SD (1979) Prolonged incubation in calcium chloride improves the competence of Escherichia coli cells. Gene 6:23–28

Faraldo MM, de Pedro MA, Berenguer J (1992) Sequence of the S-layer gene of Thermus thermophilus HB8 and functionality of its promoter in Escherichia coli. J Bacteriol 174:7458–7462

Gray JV, Eren D, Knowles JR (1990) Monofunctional chorismate mutase from Bacillus subtilis: kinetic and 13C NMR studies on the interactions of the enzyme with its ligands. Biochemistry 29:8872–8878

Guex N, Peitsch MC (1997) SWISS-MODEL and the Swiss-PdbViewer: an environment for comparative protein modeling. Electrophoresis 18:2714–2723

Hartmann M, Heinrich G, Braus GH (2001) Regulative fine-tuning of the two novel DAHP isoenzymes aroFp and aroGp of the filamentous fungus Aspergillus nidulans. Arch Microbiol 175:112–121

Hartmann M, Schneider TR, Pfeil A, Heinrich G, Lipscomb WN, Braus GH (2003) Evolution of feedback-inhibited beta /alpha barrel isoenzymes by gene duplication and a single mutation. Proc Natl Acad Sci U S A 100:862–867

Helmstaedt K, Krappmann S, Braus GH (2001) Allosteric regulation of catalytic activity: Escherichia coli aspartate transcarbamoylase versus yeast chorismate mutase. Microbiol Mol Biol Rev 65:404–421

Inagaki E, Kuramitsu S, Yokoyama S, Miyano M, Tahirov TH (2003) The crystal structure of chorismate mutase from Thermus thermophilus. Direct submission to Protein Data Bank.

Koyama Y, Hoshino T, Tomizuka N, Furukawa K (1986) Genetic transformation of the extreme thermophile Thermus thermophilus and of other Thermus spp. J Bacteriol 166:338–340

Krappmann S, Helmstaedt K, Gerstberger T, Eckert S, Hoffmann B, Hoppert M, Schnappauf G, Braus GH (1999) The aroC gene of Aspergillus nidulans codes for a monofunctional, allosterically regulated chorismate mutase. J Biol Chem 274:22275–22282

MacBeath G, Kast P, Hilvert D (1998) A small, thermostable, and monofunctional chorismate mutase from the archaeon Methanococcus jannaschii. Biochemistry 37:10062–10073

Nazina TN Tourova TP, Poltaraus AB, Novikova EV, Grigoryan AA, Ivanova AE, Lysenko AM, Petrunyaka VV, Osipov GA, Belyaev SS, Ivanov MV (2001) Taxonomic study of aerobic thermophilic bacilli: descriptions of Geobacillus subterraneus gen. nov., sp. nov. and Geobacillus uzenensis sp. nov. from petroleum reservoirs and transfer of Bacillus stearothermophilus, Bacillus thermocatenulatus, Bacillus thermoleovorans, Bacillus kaustophilus, Bacillus thermodenitrificans to Geobacillus as the new combinations G. stearothermophilus, G. th. Int J Syst Evol Microbiol 51:433–446

Oshima T, Imahori K (1974) Physiochemical properties of deoxyribonucleic acid from an extreme thermophile. J Biochem (Tokyo) 75:179–183

Peitsch MC (1995) Protein modeling by E-mail. Bio/Technology 13:658–660

Peitsch MC (1996) ProMod and Swiss-Model: Internet-based tools for automated comparative protein modelling. Biochem Soc Trans 24:274–279

Pierson BK, Castenholz RW (1974) A phototrophic gliding filamentous bacterium of hot springs, Chloroflexus aurantiacus, gen. and sp. nov. Arch Microbiol 100:5–24

Romero RM, Roberts MF, Phillipson JD (1995) Chorismate mutase in microorganisms and plants. Phytochemistry 40:1015–1025

Schmidheini T, Mösch HU, Evans JN, Braus G (1990) Yeast allosteric chorismate mutase is locked in the activated state by a single amino acid substitution. Biochemistry 29:3660–3668

Sträter N, Schnappauf G, Braus G, Lipscomb WN (1997) Mechanisms of catalysis and allosteric regulation of yeast chorismate mutase from crystal structures. Structure 5:1437–1452

Szilagyi A, Zavodszky P (2000) Structural differences between mesophilic, moderately thermophilic and extremely thermophilic protein subunits: results of a comprehensive survey. Structure Fold Des 8:493–504

Tanaka T, Kawano N, Oshima T (1981) Cloning of 3-isopropylmalate dehydrogenase gene of an extreme thermophile and partial purification of the gene product. J Biochem (Tokyo) 89:677–682

Thompson JD, Higgins DG, Gibson TJ (1994) CLUSTAL W: improving the sensitivity of progressive multiple sequence alignment through sequence weighting, position-specific gap penalties and weight matrix choice. Nucleic Acids Res 22:4673–4680

Tolman CJ, Kanodia S, Roberts MF (1987) 31P and 13C NMR analyses of the energy metabolism of the thermophilic anaerobe Clostridium thermocellum. J Biol Chem 262:11088–11096

Xie G, Bonner CA, Jensen RA (2000) Cyclohexadienyl dehydrogenase from Pseudomonas stutzeri exemplifies a widespread type of tyrosine-pathway dehydrogenase in the TyrA protein family. Comp Biochem Physiol C Toxicol Pharmacol 125:65–83

Zhang S, Pohnert G, Kongsaeree P, Wilson DB, Clardy J, Ganem B (1998) Chorismate mutase-prephenate dehydratase from Escherichia coli. Study of catalytic and regulatory domains using genetically engineered proteins. J Biol Chem 273:6248–6253
Acknowledgements
We thank Prof. Wolfgang Liebl for providing the wild-type T. thermophilus strain, Andrea Pfeil for assistance in enzyme assays and the other members of the laboratory, especially Dr. Sven Krappmann, for helpful discussions. This work was supported by grants from the Deutsche Forschungsgemeinschaft, the Volkswagen-Stiftung, the niedersächsische Vorab der Volkswagen-Stiftung, and the Fonds der Chemischen Industrie.
About this article
Cite this article
Helmstaedt, K., Heinrich, G., Merkl, R. et al. Chorismate mutase of Thermus thermophilus is a monofunctional AroH class enzyme inhibited by tyrosine. Arch Microbiol 181, 195–203 (2004). https://doi.org/10.1007/s00203-003-0639-z
Received:

Revised:

Accepted:

Published:

Issue Date:

DOI: https://doi.org/10.1007/s00203-003-0639-z
Keywords