Abstract
In this study, we used a Ni/W/Ni-layered structure to provide low-resistive ohmic contacts with good thermal stability for both n-type and p-type 4H-SiC. As reference, we used Ni and Ni/Ti/Ni as control groups with specific contact resistivities, and we verified the thermal stability of the structures by specific contact resistivity measurements and thermal duration tests. We found that for both n-type and p-type semiconductors, Ni/W/Ni is superior in terms of thermal stability and specific contact resistivity. Using XRD, we also analyzed the components involved in ohmic contact and thermal stability tests.
This is a preview of subscription content, log in to check access.
Access options
Buy single article
Instant access to the full article PDF.
US$ 39.95
Price includes VAT for USA
Subscribe to journal
Immediate online access to all issues from 2019. Subscription will auto renew annually.
US$ 99
This is the net price. Taxes to be calculated in checkout.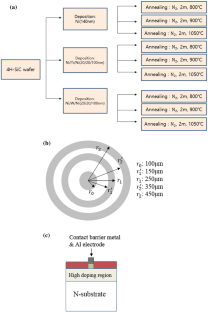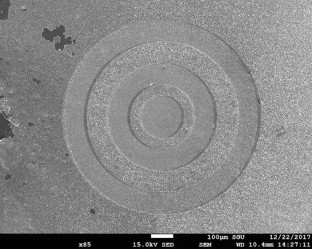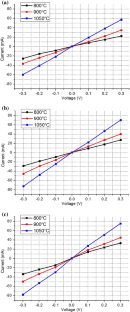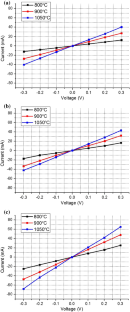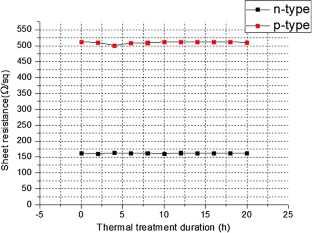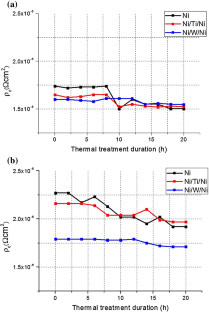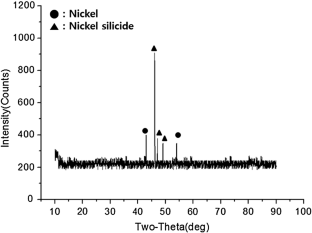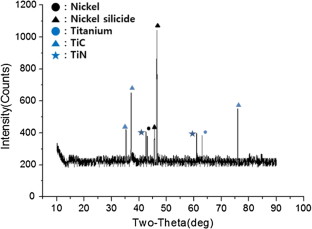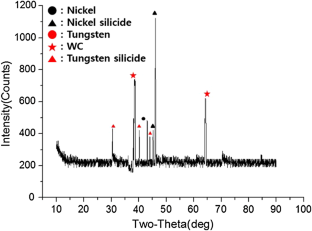 References
1.

Ohyanagi T, Onose Y, Watanabe A (2008) Ti/Ni bilayer Ohmic contact on 4H-SiC. J Vac Sci Technol B 26:1359

2.

Liu S, Scofield J (1998) Thermally stable ohmic contacts to 6H- and 4H- p-type SiC. In: Proc 4th Int High Temperature Electron Conference, pp 88–92

3.

Wang Z, Liu W, Wang C (2016) Recent progress in Ohmic contacts to silicon carbide for high-temperature applications. J Electron Mater 45(1):267–284

4.

Kuchuk AV, Guziewicz M, Ratajczak R, Wzorek M, Kladko VP, Piotrowska A (2008) Long-term stability of Ni-silicide ohmic contact to n-type 4H-SiC. Microelectron Eng 85(10):2142–2145

5.

Kuchuk AV, Guziewicz M, Ratajczak R, Wzorek M, Kladko VP, Piotrowska A (2009) Thermal degration of Au/Ni2Si/n-SiC ohmic contacts under differenct conditions. Mater Sci Eng B 165(1–2):38–41

6.

Liu S, He Z, Zheng L, Liu B, Zhang F, Dong L, Tian L, Shen Z, Wang J, Huang Y, Fan Z, Liu X, Yan G, Zhao W, Wang L, Sun G, Yang F, Zeng Y (2014) The thermal stability study and improvement of 4H-SiC ohmic contact. Appl Phys Lett 105:122106

7.

Kuchuk AV, Borowicz P, Wzorek M, Borysiewicz M, Ratajczak R, Golaszewska K, Kaminska E, Kladko V, Piotrowska A (2016) Ni-based ohmic contacts to n-type 4H-SiC: the formation mechanism and thermal stability. Adv Condens Matter Phys vol 2016, Article ID 9273702

8.

Vivona M, Greco G, Giannazzo F, Lo. Nigro R, Rascunà S, Saggio M, Roccaforte F (2014) Thermal stability of the current transport mechanisms in Ni-based ohmic contacts on n- and p-implanted 4H-SiC. Semicond Sci Technol 29(7) Article ID 075018

9.

Park J, Hollyway PH (2005) Effects of nickel and titanium thickness on nickel/titanium ohmic contacts to n-type silicon carbide. J Vac Sci Technol B 23:486

10.

Linchao H, Huajun S, Kean L, Yiyu W, Yidan T, Yun B, Hengyu X, Yudong W, Xinyu L (2014) Improved adhesion and interface ohmic contact on n-type 4H-SiC substrate by using Ni/Ti/Ni. J Semicond 35:072003

11.

Kolaklieva L, Kakanakov R, Lepoeva G, Gomes JB, Marinova T (2005) Au/Ti/Al contacts to SiC for power applications: electrical, chemical and thermal properties. In: 24th International Conference on Microelectronics, pp 421–424

12.

Tsukimoto S, Nitta K, Sakai T, Moriyama M, Murakami M (2004) Correlation between the electrical properties and the interfacial microstructures of TiAl-based ohmic contacts to p-type 4H-SiC. J Electron Mater 33:460

13.

Cole MW, Joshi PC, Hubbard CW, Wood MC, Ervin MH, Geil B, Ren F (2000) Improved Ni based composite Ohmic contact to n-SiC for high temperature and high power device applications. J Appl Phys 88:2652

14.

Kagh-Buetow KC, Okojie RS, Lukco D, Mohney SE (2015) Characterization of tungsten–nickel simultaneous Ohmic contacts to p- and n-type 4H-SiC. Semicond Sci Technol 30:5397

15.

Zhao F, Islam MM, Huang CF (2010) Study of SiO2 encapsulation for aluminum and phosphorus implant activation in 4H-SiC. Mater Lett 64:2593

16.

Reeves GK (1980) Specific contact resistance using a circular transmission line model. Solid-State Electron 23:487–490

17.

Lee SK, Zetterling CM, Ostling M, Palmquist JP, Janssion U (2002) Processing and characterization of silicon carbide(6H- and 4H-SiC) contacts for high power and high temperature device applications. Microelectron Eng 60:261–268

18.

Nikitina IP, Vassilevski KV, Wright NG, Horsfall AB, O'Neill AG, Johnson CM (2005) Formation and role of graphite and nickel silicide in nickel based onmic contacts to n-type silicon carbide. J Appl Phys 97(8):083709-1–083709-7
Acknowledgments
This research was supported by the KIAT (Korea Institute for the Advancement of Technology) and supervised by MOTIE (Ministry of Trade, Industry and Energy) (N0001594).
Additional information
Publisher's Note
Springer Nature remains neutral with regard to jurisdictional claims in published maps and institutional affiliations.
About this article
Cite this article
Bae, D., Ahn, G., Jeong, C. et al. Ni/W/Ni ohmic contacts for both n- and p-type 4H-SiC. Electr Eng 100, 2431–2437 (2018). https://doi.org/10.1007/s00202-018-0711-y
Received:

Accepted:

Published:

Issue Date:
Keywords
4H-SiC

Ohmic contact

Specific contact resistivity

Ni/W/Ni

Thermal stability