Abstract
Summary
Sub-Saharan Africa is undergoing rapid population ageing and better understanding of the burden of musculoskeletal conditions is needed. We have estimated a large increase in the burden of hip fractures for South Africa over the coming decades. These findings should support preparation of hip fracture services to meet this demand.
Introduction
A better understanding of the burden of fragility fractures in sub-Saharan Africa is needed to inform healthcare planning. We aimed to use recent hip fracture incidence data from South Africa (SA) to estimate the future burden of hip fracture for the country over the next three decades.
Methods
Hip fracture incidence data within the Gauteng, KwaZulu-Natal and Western Cape provinces of SA were obtained from patients aged ≥ 40 years with a radiograph-confirmed hip fracture in one of 94 included hospitals. Age-, sex- and ethnicity-specific incidence rates were generated using the 2011 SA census population for the study areas. Incidence rates were standardised to United Nations (UN) population projections, for the years 2020, 2030, 2040 and 2050, and absolute numbers of hip fractures derived.
Results
The 2767 hip fracture patients studied had mean (SD) age 73.7 (12.7) years; 69% were female. Estimated age- and ethnicity-standardised incidence rates (per 100,000 person-years) for the overall SA population in 2020 were 81.2 for females and 43.1 for males. Overall projected incidence rates were discernibly higher by the year 2040 and increased further by the year 2050 (109.0 and 54.1 for females and males, respectively). Estimates of the overall annual number of hip fractures for SA increased from approximately 11,000 in 2020 to approximately 26,400 by 2050.
Conclusion
The hip fracture burden for SA is expected to more than double over the next 30 years. Significant investment in fracture prevention services and inpatient fracture care is likely to be needed to meet this demand.
Access options
Buy single article
Instant access to the full article PDF.
USD 39.95
Price excludes VAT (USA)
Tax calculation will be finalised during checkout.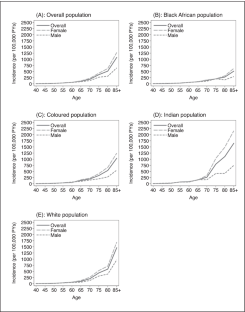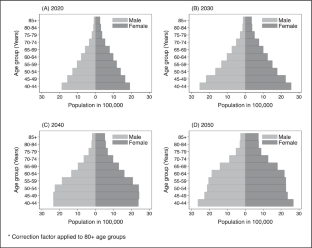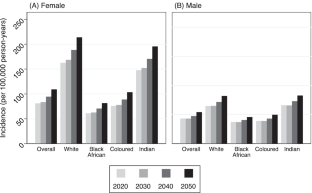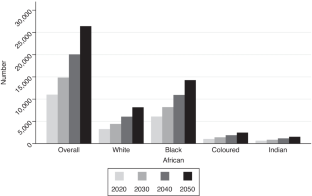 References
Aboderin IAG, Beard JR (2015) Older people's health in sub-Saharan Africa. Lancet 385(9968):e9–e11

Prince MJ, Wu F, Guo Y, Gutierrez Robledo LM, O'Donnell M, Sullivan R et al (2015) The burden of disease in older people and implications for health policy and practice. Lancet 385(9967):549–562

Gouda HN, Charlson F, Sorsdahl K, Ahmadzada S, Ferrari AJ, Erskine H et al (2019) Burden of non-communicable diseases in sub-Saharan Africa, 1990–2017: results from the Global Burden of Disease Study 2017. Lancet Glob Health 7(10):e1375–e1387

Salari N, Ghasemi H, Mohammadi L, Behzadi MH, Rabieenia E, Shohaimi S et al (2021) The global prevalence of osteoporosis in the world: a comprehensive systematic review and meta-analysis. J Orthop Surg Res 16(1):609

Gregson CL, Madanhire T, Rehman A, Ferrand RA, Cappola AR, Tollman S et al (2022) Osteoporosis, rather than sarcopenia, is the predominant musculoskeletal disease in a rural South African community where human immunodeficiency virus prevalence is high: a cross-sectional study. J Bone Miner Res 37(2):244–255

Cummings SR, Melton LJ (2002) Epidemiology and outcomes of osteoporotic fractures. Lancet 359(9319):1761–1767

Kanis JA, Norton N, Harvey NC, Jacobson T, Johansson H, Lorentzon M et al (2021) SCOPE 2021: a new scorecard for osteoporosis in Europe. Arch Osteoporos 16(1):82

Mafirakureva N, Paruk F, Cassim B, Gregson CL, Noble SM (2020) Healthcare costs of acute hip fractures in South Africa: National Osteoporosis Foundation: South Africa (NOFSA) 2021 Virtual Congress. Available from: https://www.fractures-e3.com/research-findings/

Paruk F, Matthews G, Gregson CL, Cassim B (2020) Hip fractures in South Africa: mortality outcomes over 12 months post-fracture. Arch Osteoporos 15(1):76

Dela SS, Paruk F, Brown SL, Lukhele M, Kalla AA, Jordaan JD et al (2020) Ethnic and gender-specific incidence rates for hip fractures in South Africa: a multi-centre study. Bone 133:115253

Conradie M, Conradie MM, Scher AT, Kidd M, Hough S (2015) Vertebral fracture prevalence in black and white South African women. Arch Osteoporos 10:203

Gregson CL, Cassim B, Micklesfield LK, Lukhele M, Ferrand RA, Ward KA et al (2019) Fragility fractures in sub-Saharan Africa: time to break the myth. Lancet Glob Health 7(1):e26–e27

Micklesfield LK, Norris SA, Pettifor JM (2011) Ethnicity and bone: a South African perspective. J Bone Miner Metab 29(3):257–267

Republic of South Africa Census 2011. Available from: http://www.statssa.gov.za

United Nations World Population Prospects 2019 (2019) Available from: https://population.un.org/wpp/

Republic of South Africa Census 2001. Available from: http://www.statssa.gov.za

World Bank Population Prospects. Available from: https://databank.worldbank.org/source/population-estimates-and-projections#

Grundill ML, Burger MC (2021) The incidence of fragility hip fractures in a subpopulation of South Africa. S Afr Med J 111(9):896–902

Paruk F, Matthews G, Cassim B (2017) Osteoporotic hip fractures in Black South Africans: a regional study. Arch Osteoporos 12(1):107

Kanis JA, Oden A, McCloskey EV, Johansson H, Wahl DA, Cooper C et al (2012) A systematic review of hip fracture incidence and probability of fracture worldwide. Osteoporos Int 23(9):2239–2256

Hernlund E, Svedbom A, Ivergard M, Compston J, Cooper C, Stenmark J, et al (2013) Osteoporosis in the European Union: medical management, epidemiology and economic burden. A report prepared in collaboration with the International Osteoporosis Foundation (IOF) and the European Federation of Pharmaceutical Industry Associations (EFPIA). Arch Osteoporos 8(1–2):136

Kebaetse M, Nkhwa S, Mogodi M, Masunge J, Gureja YP, Ramabu M et al (2021) Epidemiology of hip fracture in Botswana. Arch Osteoporos 16(1):24

Johansson H, Dela SS, Cassim B, Paruk F, Brown SL, Conradie M et al (2021) FRAX-based fracture probabilities in South Africa. Arch Osteoporos 16(1):51

Curtis EM, van der Velde R, Moon RJ, van den Bergh JP, Geusens P, de Vries F et al (2016) Epidemiology of fractures in the United Kingdom 1988–2012: variation with age, sex, geography, ethnicity and socioeconomic status. Bone 87:19–26

Silverman SL, Madison RE (1988) Decreased incidence of hip fracture in Hispanics, Asians, and blacks: California Hospital Discharge Data. Am J Public Health 78(11):1482–1483

Nelson DA, Pettifor JM, Barondess DA, Cody DD, Uusi-Rasi K, Beck TJ (2004) Comparison of cross-sectional geometry of the proximal femur in white and black women from Detroit and Johannesburg. J Bone Miner Res 19(4):560–565

Mukwasi C, Stranix Chibanda L, Banhwa J, Shepherd JA (2015) US White and black women do not represent the bone mineral density of sub-Saharan Black women. J Clin Densitom 18(4):525–532

Downey C, Kelly M, Quinlan JF (2019) Changing trends in the mortality rate at 1-year post hip fracture - a systematic review. World J Orthop 10(3):166–175

Noel SE, Santos MP, Wright NC (2021) Racial and ethnic disparities in bone health and outcomes in the United States. J Bone Miner Res 36(10):1881–1905

Lewiecki EM, Erb SF (2022) Racial disparities and inequalities in the management of patients with osteoporosis. Orthop Nurs 41(2):125–134

Weil YA, Bernstein BP, Maqungo S, Khoury A, Liebergall M, Laubscher M (2020) Hip fracture care and national systems in Israel and South Africa. OTA Int 3(1):e065

Kauta NHM, Dlamini S, Kalula S, Ross I, Kalla G, Maqungo S (2017) The management of fragility fractures of the hip: a quality assessment project. South Africa Orthpopedic J 16(3):42–5

Statistics South Africa: General Household Survey 2019. Available from: https://www.statssa.gov.za/publications/P0318/P03182019.pdf

Statistics South Africa: General Household Survey 2007. Available from: http://www.statssa.gov.za/publications/P0318/P03182007.pdf

Fractures-E3 Study Website. Available from: https://www.fractures-e3.com/about-the-study/

OECD (2020) Organisation of Economic Co-operation and Development DAC list of ODA recipients. Available from: https://www.oecd.org/dac/financing-sustainable-development/development-finance-standards/DAC-List-of-ODA-Recipients-for-reporting-2020-flows.pdf

Bank TW (2021) The World Bank Gini index data. Available from: https://data.worldbank.org/indicator/SI.POV.GINI

Cooper C, Cole ZA, Holroyd CR, Earl SC, Harvey NC, Dennison EM et al (2011) Secular trends in the incidence of hip and other osteoporotic fractures. Osteoporos Int 22(5):1277–1288

Sanders KM, Nicholson GC, Ugoni AM, Seeman E, Pasco JA, Kotowicz MA (2002) Fracture rates lower in rural than urban communities: the Geelong Osteoporosis Study. J Epidemiol Community Health 56(6):466–470

Tang X, Liu G, Kang J, Hou Y, Jiang F, Yuan W et al (2013) Obesity and risk of hip fracture in adults: a meta-analysis of prospective cohort studies. PLoS ONE 8(4):e55077
Funding
This work was supported by the National Institute for Health Research (NIHR) (using the UK's Official Development Assistance (ODA) Funding) and Wellcome (217135/Z/19/Z) under the NIHR-Wellcome Partnership for Global Health Research. The work was also supported by the University of Kwazulu-Natal and the South African Medical Research Council (MRC). All authors declare that they have no conflict of interest.
Ethics declarations
Conflicts of interest
None.
Additional information
Publisher's note
Springer Nature remains neutral with regard to jurisdictional claims in published maps and institutional affiliations.
Samuel Hawley and Sapna Dela are joint first authors.
Bilkish Cassim and Celia L Gregson are joint senior authors.
Supplementary Information
Below is the link to the electronic supplementary material.
Rights and permissions
Springer Nature or its licensor holds exclusive rights to this article under a publishing agreement with the author(s) or other rightsholder(s); author self-archiving of the accepted manuscript version of this article is solely governed by the terms of such publishing agreement and applicable law.
About this article
Cite this article
Hawley, S., Dela, S., Burton, A. et al. Incidence and number of fragility fractures of the hip in South Africa: estimated projections from 2020 to 2050. Osteoporos Int 33, 2575–2583 (2022). https://doi.org/10.1007/s00198-022-06525-5
Received:

Accepted:

Published:

Issue Date:

DOI: https://doi.org/10.1007/s00198-022-06525-5
Keywords