Abstract
Summary
We examined serum IGF-1 in premenopausal IOP, finding relationships that were opposite to those expected: higher IGF-1 was associated with lower bone formation and higher body fat, and lower BMD response to teriparatide. These paradoxical relationships between serum IGF-1, bone, and fat may contribute to the mechanism of idiopathic osteoporosis in premenopausal women.
Introduction
Premenopausal women with idiopathic osteoporosis (IOP) have marked deficits in bone microarchitecture but variable bone remodeling. We previously reported that those with low tissue-level bone formation rate (BFR) are less responsive to teriparatide and have higher serum IGF-1, a hormone anabolic for osteoblasts and other tissues. The IGF-1 data were unexpected because IGF-1 is low in other forms of low turnover osteoporosis—leading us to hypothesize that IGF-1 relationships are paradoxical in IOP. This study aimed to determine whether IOP women with low BFR have higher IGF-1 and paradoxical IGF-1 relationships in skeletal and non-skeletal tissues, and whether IGF-1 and the related measures predict teriparatide response.
Methods
This research is an ancillary study to a 24 month clinical trial of teriparatide for IOP. Baseline assessments were related to trial outcomes: BMD, bone remodeling. Subjects: Premenopausal women with IOP(n = 34); bone remodeling status was defined by baseline cancellous BFR/BS on bone biopsy. Measures: Serum IGF-1 parameters, compartmental adiposity (DXA, CT, MRI), serum hormones, and cardiovascular-risk-markers related to fat distribution.
Results
As seen in other populations, lower BFR was associated with higher body fat and poorer teriparatide response. However, in contrast to observations in other populations, low BFR, higher body fat, and poorer teriparatide response were all related to higher IGF-1: IGF-1 Z-score was inversely related to BFR at all bone surfaces (r =  − 0.39 to − 0.46; p < 0.05), directly related to central fat (p = 0.05) and leptin (p = 0.03). IGF-1 inversely related to 24 month hip BMD %change (r =  − 0.46; p = 0.01).
Conclusions
Paradoxical IGF-1 relationships suggest that abnormal or atypical regulation of bone and fat may contribute to osteoporosis mechanisms in premenopausal IOP.
Access options
Buy single article
Instant access to the full article PDF.
USD 39.95
Price includes VAT (USA)
Tax calculation will be finalised during checkout.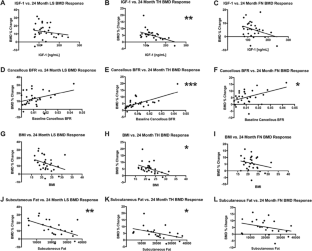 References
1.

Heshmati HM, Khosla S (1998) Idiopathic osteoporosis: a heterogeneous entity. Ann Med Interne (Paris) 149:77–81

2.

Hosmer WD, Genant HK, Browner WS (2002) Fractures before menopause: a red flag for physicians. Osteoporos Int 13:337–341

3.

Cohen A, Hostyk J, Baugh EH, et al. (2021) Whole exome sequencing reveals potentially pathogenic variants in a small subset of premenopausal women with idiopathic osteoporosis. JBMR/JBMR Plus In Review:

4.

Cohen A, Dempster DW, Recker RR et al (2011) Abnormal bone microarchitecture and evidence of osteoblast dysfunction in premenopausal women with idiopathic osteoporosis. J Clin Endocrinol Metab 96:3095–3105

5.

Cohen A, Liu XS, Stein EM, McMahon DJ, Rogers HF, Lemaster J, Recker RR, Lappe JM, Guo XE, Shane E (2009) Bone microarchitecture and stiffness in premenopausal women with idiopathic osteoporosis. J Clin Endocrinol Metab 94:4351–4360

6.

Cohen A, Stein EM, Recker RR et al (2013) Teriparatide for idiopathic osteoporosis in premenopausal women: a pilot study. J Clin Endocrinol Metab 98:1971–1981

7.

Kurland ES, Rosen CJ, Cosman F, McMahon D, Chan F, Shane E, Lindsay R, Dempster D, Bilezikian JP (1997) Insulin-like growth factor-I in men with idiopathic osteoporosis. J Clin Endocrinol Metab 82:2799–2805

8.

Bredella MA, Torriani M, Ghomi RH, Thomas BJ, Brick DJ, Gerweck AV, Harrington LM, Breggia A, Rosen CJ, Miller KK (2011) Determinants of bone mineral density in obese premenopausal women. Bone 48:748–754

9.

Gilsanz V, Chalfant J, Mo AO, Lee DC, Dorey FJ, Mittelman SD (2009) Reciprocal relations of subcutaneous and visceral fat to bone structure and strength. J Clin Endocrinol Metab 94:3387–3393

10.

Russell M, Mendes N, Miller KK, Rosen CJ, Lee H, Klibanski A, Misra M (2010) Visceral fat is a negative predictor of bone density measures in obese adolescent girls. J Clin Endocrinol Metab 95:1247–1255

11.

Thomas JD, Monson JP (2009) Adult GH deficiency throughout lifetime. Eur J Endocrinol 161(Suppl 1):S97–S106

12.

Abs R, Feldt-Rasmussen U, Mattsson AF, Monson JP, Bengtsson BA, Goth MI, Wilton P, Koltowska-Haggstrom M (2006) Determinants of cardiovascular risk in 2589 hypopituitary GH-deficient adults—a KIMS database analysis. Eur J Endocrinol 155:79–90

13.

Carroll PV, Christ ER, Bengtsson BA et al (1998) Growth hormone deficiency in adulthood and the effects of growth hormone replacement: a review. Growth Hormone Research Society Scientific Committee. J Clin Endocrinol Metab 83:382–395

14.

Weaver JU, Monson JP, Noonan K, John WG, Edwards A, Evans KA, Cunningham J (1995) The effect of low dose recombinant human growth hormone replacement on regional fat distribution, insulin sensitivity, and cardiovascular risk factors in hypopituitary adults. J Clin Endocrinol Metab 80:153–159

15.

Menagh PJ, Turner RT, Jump DB, Wong CP, Lowry MB, Yakar S, Rosen CJ, Iwaniec UT (2010) Growth hormone regulates the balance between bone formation and bone marrow adiposity. J Bone Miner Res 25:757–768

16.

Cohen A, Shiau S, Nair N, et al. (2020) Effect of teriparatide on bone remodeling and density in premenopausal idiopathic osteoporosis: a phase II trial. J Clin Endocrinol Metab 105 (10): e3540-e3556

17.

Friedrich N, Wolthers OD, Arafat AM et al (2014) Age- and sex-specific reference intervals across life span for insulin-like growth factor binding protein 3 (IGFBP-3) and the IGF-I to IGFBP-3 ratio measured by new automated chemiluminescence assays. J Clin Endocrinol Metab 99:1675–1686

18.

Wallace TM, Levy JC, Matthews DR (2004) Use and abuse of HOMA modeling. Diabetes Care 27:1487–1495

19.

Zhao B, Colville J, Kalaigian J, Curran S, Jiang L, Kijewski P, Schwartz LH (2006) Automated quantification of body fat distribution on volumetric computed tomography. J Comput Assist Tomogr 30:777–783

20.

Bredella MA, Utz AL, Torriani M, Thomas B, Schoenfeld DA, Miller KK (2009) Anthropometry, CT, and DXA as predictors of GH deficiency in premenopausal women: ROC curve analysis. J Appl Physiol 106:418–422

21.

Bredella MA, Torriani M, Ghomi RH, Thomas BJ, Brick DJ, Gerweck AV, Rosen CJ, Klibanski A, Miller KK (2011) Vertebral bone marrow fat is positively associated with visceral fat and inversely associated with IGF-1 in obese women. Obesity (Silver Spring) 19:49–53

22.

Cohen A, Shen W, Dempster DW et al (2015) Marrow adiposity assessed on transiliac crest biopsy samples correlates with noninvasive measurement of marrow adiposity by proton magnetic resonance spectroscopy ((1)H-MRS) at the spine but not the femur. Osteoporos Int 26:2471–2478

23.

Dempster DW, Compston JE, Drezner MK, Glorieux FH, Kanis JA, Malluche H, Meunier PJ, Ott SM, Recker RR, Parfitt AM (2013) Standardized nomenclature, symbols, and units for bone histomorphometry: a 2012 update of the report of the ASBMR Histomorphometry Nomenclature Committee. J Bone Miner Res 28:2–17

24.

Cohen A, Kousteni S, Bisikirska B et al (2017) IGF-1 receptor expression on circulating osteoblast progenitor cells predicts tissue-based bone formation rate and response to teriparatide in premenopausal women with idiopathic osteoporosis. J Bone Miner Res 32:1267–1273

25.

Tollefsen SE, Heath-Monnig E, Cascieri MA, Bayne ML, Daughaday WH (1991) Endogenous insulin-like growth factor (IGF) binding proteins cause IGF-1 resistance in cultured fibroblasts from a patient with short stature. J Clin Invest 87:1241–1250

26.

Inagaki K, Tiulpakov A, Rubtsov P, Sverdlova P, Peterkova V, Yakar S, Terekhov S, LeRoith D (2007) A familial insulin-like growth factor-I receptor mutant leads to short stature: clinical and biochemical characterization. J Clin Endocrinol Metab 92:1542–1548

27.

Walenkamp MJ, Losekoot M, Wit JM (2013) Molecular IGF-1 and IGF-1 receptor defects: from genetics to clinical management. Endocr Dev 24:128–137

28.

Sowers MR, Zheng H, Greendale GA, Neer RM, Cauley JA, Ellis J, Johnson S, Finkelstein JS (2013) Changes in bone resorption across the menopause transition: effects of reproductive hormones, body size, and ethnicity. J Clin Endocrinol Metab 98:2854–2863

29.

Cohen A, Dempster DW, Recker RR et al (2013) Abdominal fat is associated with lower bone formation and inferior bone quality in healthy premenopausal women: a transiliac bone biopsy study. J Clin Endocrinol Metab 98:2562–2572

30.

Chen P, Satterwhite JH, Licata AA, Lewiecki EM, Sipos AA, Misurski DM, Wagman RB (2005) Early changes in biochemical markers of bone formation predict BMD response to teriparatide in postmenopausal women with osteoporosis. J Bone Miner Res 20:962–970

31.

Heaney RP, Watson P (2011) Variability in the measured response of bone to teriparatide. Osteoporos Int 22:1703–1708

32.

Miller PD, Delmas PD, Lindsay R et al (2008) Early responsiveness of women with osteoporosis to teriparatide after therapy with alendronate or risedronate. J Clin Endocrinol Metab 93:3785–3793

33.

Brick DJ, Gerweck AV, Meenaghan E, Lawson EA, Misra M, Fazeli P, Johnson W, Klibanski A, Miller KK (2010) Determinants of IGF1 and GH across the weight spectrum: from anorexia nervosa to obesity. Eur J Endocrinol 163:185–191

34.

Pijl H, Langendonk JG, Burggraaf J, Frolich M, Cohen AF, Veldhuis JD, Meinders AE (2001) Altered neuroregulation of GH secretion in viscerally obese premenopausal women. J Clin Endocrinol Metab 86:5509–5515

35.

Hock JM, Fonseca J (1990) Anabolic effect of human synthetic parathyroid hormone-(1–34) depends on growth hormone. Endocrinology 127:1804–1810

36.

White HD, Ahmad AM, Durham BH, Peter R, Prabhakar VK, Corlett P, Vora JP, Fraser WD (2007) PTH circadian rhythm and PTH target-organ sensitivity is altered in patients with adult growth hormone deficiency with low BMD. J Bone Miner Res 22:1798–1807

37.

Dunnill MS, Anderson JA, Whitehead R (1967) Quantitative histological studies on age changes in bone. J Pathol Bacteriol 94:275–291

38.

Grey A (2009) Thiazolidinedione-induced skeletal fragility—mechanisms and implications. Diabetes Obes Metab 11:275–284

39.

Meunier P, Aaron J, Edouard C, Vignon G (1971) Osteoporosis and the replacement of cell populations of the marrow by adipose tissue. A quantitative study of 84 iliac bone biopsies. Clin Orthop Relat Res 80:147–154

40.

Shen W, Chen J, Punyanitya M, Shapses S, Heshka S, Heymsfield SB (2007) MRI-measured bone marrow adipose tissue is inversely related to DXA-measured bone mineral in Caucasian women. Osteoporos Int 18:641–647

41.

Justesen J, Stenderup K, Ebbesen EN, Mosekilde L, Steiniche T, Kassem M (2001) Adipocyte tissue volume in bone marrow is increased with aging and in patients with osteoporosis. Biogerontology 2:165–171

42.

Verma S, Rajaratnam JH, Denton J, Hoyland JA, Byers RJ (2002) Adipocytic proportion of bone marrow is inversely related to bone formation in osteoporosis. J Clin Pathol 55:693–698

43.

Cohen A, Dempster DW, Stein EM et al (2012) Increased marrow adiposity in premenopausal women with idiopathic osteoporosis. J Clin Endocrinol Metab 97:2782–2791

44.

Satterwhite J, Heathman M, Miller PD, Marin F, Glass EV, Dobnig H (2010) Pharmacokinetics of teriparatide (rhPTH[1-34]) and calcium pharmacodynamics in postmenopausal women with osteoporosis. Calcif Tissue Int 87:485–492

45.

Bredella MA, Fazeli PK, Miller KK, Misra M, Torriani M, Thomas BJ, Ghomi RH, Rosen CJ, Klibanski A (2009) Increased bone marrow fat in anorexia nervosa. J Clin Endocrinol Metab 94:2129–2136

46.

Fazeli PK, Klibanski A (2014) Bone metabolism in anorexia nervosa. Curr Osteoporos Rep 12:82–89

47.

Misra M, Klibanski A (2014) Endocrine consequences of anorexia nervosa. Lancet Diabetes Endocrinol 2:581–592
Funding
The study was supported by the National Institute of Arthritis and Musculoskeletal and Skin Diseases (R03 AR064016), the United States Food and Drug Administration (FDA) Orphan Products Clinical Trials Grants Program (R01 FD003902), the National Institute of Diabetes and Digestive and Kidney Diseases (P30 DK26687), the Simon-Strauss Foundation, and the Thomas L. Kempner, Jr. and Katheryn C. Patterson Foundation. Eli Lilly, USA, supplied teriparatide and identical placebo.
Ethics declarations
Ethics approval
Institutional Review Boards at both Columbia University, New York, NY and Creighton University, Omaha, NE approved the parent and ancillary studies.
Consent to participate
All participants provided their written informed consent.
Conflict of interest
AC, ES, RRR, and JML receive research support from Amgen and Eli Lilly. DWD receives research support and consulting fees from Amgen, Eli Lilly, and Radius Health.
Additional information
Publisher's note
Springer Nature remains neutral with regard to jurisdictional claims in published maps and institutional affiliations.
Supplementary Information
Below is the link to the electronic supplementary material.
Supplemental Table: Comparison of GH and IGF-1, and non-skeletal measures of IGF-1 action (fat distribution and cardiovascular risk markers) between subjects with Low vs. High BFR on biopsy (median (IQR)). Groups are compared via Mann-Whitney U (Wilcoxan Rank Sum) Test
Supplementary file1 (DOCX 17 KB)
About this article
Cite this article
Goetz, T., Nair, N., Shiau, S. et al. In premenopausal women with idiopathic osteoporosis, lower bone formation rate is associated with higher body fat and higher IGF-1. Osteoporos Int (2021). https://doi.org/10.1007/s00198-021-06196-8
Received:

Accepted:

Published:
Keywords
Body composition

Bone biopsy

Bone turnover markers

Marrow adiposity

Premenopausal osteoporosis

Teriparatide