Abstract
Summary
This study analyzed characteristics of hip fracture patients who did not undergo surgery within 24 hours after hospitalization, as recommended by the Belgian quality standards. Reasons for delay were analyzed. Delay in surgery for hip fracture was related to the medical condition of the patients.
Introduction
To compare patients with optimal timing to patients with a delay in hip surgery, with respect to outcome (complications (postoperative) and mortality) and reasons for delay.
Methods
A retrospective analysis of medical records compared patients operated on within 24h (Group A) to patients operated on more than 24h after admission (Group B). A follow-up period of 5 years after release or up to the time of data collection was used. Reasons for delay in relation with mortality were analyzed descriptively. Descriptive statistics were used for patient demographics and complications. Relationships causing a delayed surgery and mortality were analyzed using binary logistic regression. Additionally, a survival analysis was provided for overall mortality.
Results
Respectively, 536 and 304 patients were included in Group A and B. The most prominent reason for delaying surgery was the patient not being medically fit (20.7%). Surgical delay was associated with more cardiovascular (p = 0.010), more pulmonary (p < 0.001), and less hematologic complications (p=0.037). Thirty-day mortality was higher with increasing age (p < 0.001), with hematologic (p < 0.001) or endocrine-metabolic complications (p = 0.001), and lower when no complications occurred (p = 0.004). Mortality at the end of data collection was higher for patients with delayed surgery (OR = 2.634, p < 0.001), an increased age (p = 0.006), male gender (p < 0.001), institutionalized patients (p = 0.009), pulmonary complication (p = 0.002), and having no endocrine-metabolic complications (p = 0.003). Survival analysis showed better survival for patients operated on within 24h (p < 0.001).
Conclusions
Delayed surgery for patients with hip fractures was associated with bad additional medical conditions. Survival was higher for patients operated on within 24h of admission.
Access options
Buy single article
Instant access to the full article PDF.
US$ 39.95
Tax calculation will be finalised during checkout.
Subscribe to journal
Immediate online access to all issues from 2019. Subscription will auto renew annually.
US$ 119
Tax calculation will be finalised during checkout.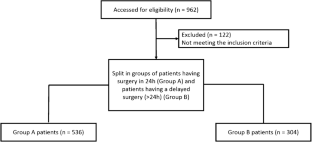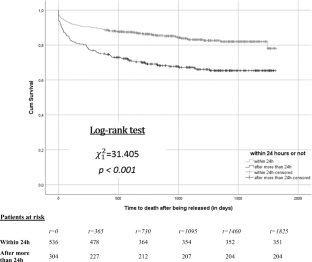 References
1.

Kanis JA, Odén A, McCloskey EV, Johansson H, Wahl DA, Cooper C (2012) A systematic review of hip fracture incidence and probability of fracture worldwide. Osteoporos Int 23(9):2239–2256. https://doi.org/10.1007/s00198-012-1964-3

2.

Kannus P, Parkkari J, Sievanen H, Heinonen A, Vuori I, Jarvinen M (1996) Epidemiology of hip fractures. Bone 18(1 Suppl):57s–63s. https://doi.org/10.1016/8756-3282(95)00381-9

3.

Zuckerman JD (1996) Hip fracture. N Engl J Med 334(23):1519–1525. https://doi.org/10.1056/nejm199606063342307

4.

Lyons AR (1997) Clinical outcomes and treatment of hip fractures. Am J Med 103(2a):51S–63S. https://doi.org/10.1016/s0002-9343(97)90027-9

5.

Jain R, Basinski A, Kreder HJ (2003) Nonoperative treatment of hip fractures. Int Orthop 27(1):11–17. https://doi.org/10.1007/s00264-002-0404-y

6.

Griffiths R, Alper J, Beckingsale A, Goldhill D, Heyburn G, Holloway J et al (2012) Management of proximal femoral fractures 2011: Association of Anaesthetists of Great Britain and Ireland. Anaesthesia. 67(1):85–98. https://doi.org/10.1111/j.1365-2044.2011.06957.x

7.

Sciard D, Cattano D, Hussain M, Rosenstein A (2011) Perioperative management of proximal hip fractures in the elderly: the surgeon and the anesthesiologist. Minerva Anestesiol 77(7):715–722

8.

Carpintero P, Caeiro JR, Carpintero R, Morales A, Silva S, Mesa M (2014) Complications of hip fractures: a review. World J Orthop 5(4):402–411. https://doi.org/10.5312/wjo.v5.i4.402

9.

Villar RN, Allen SM, Barnes SJ (1986) Hip fractures in healthy patients: operative delay versus prognosis. Br Med J (Clin Res Ed) 293(6556):1203–1204. https://doi.org/10.1136/bmj.293.6556.1203

10.

Al-Ani AN, Samuelsson B, Tidermark J, Norling A, Ekstrom W, Cederholm T et al (2008) Early operation on patients with a hip fracture improved the ability to return to independent living. A prospective study of 850 patients. J Bone Joint Surg Am 90(7):1436–1442. https://doi.org/10.2106/jbjs.G.00890

11.

Simunovic N, Devereaux PJ, Sprague S, Guyatt GH, Schemitsch E, Debeer J et al (2010) Effect of early surgery after hip fracture on mortality and complications: systematic review and meta-analysis. Cmaj. 182(15):1609–1616. https://doi.org/10.1503/cmaj.092220

12.

Shiga T, Wajima Z, Ohe Y (2008) Is operative delay associated with increased mortality of hip fracture patients? Systematic review, meta-analysis, and meta-regression. Can J Anaesth 55(3):146–154. https://doi.org/10.1007/bf03016088

13.

Lefaivre KA, Macadam SA, Davidson DJ, Gandhi R, Chan H, Broekhuyse HM (2009) Length of stay, mortality, morbidity and delay to surgery in hip fractures. J Bone Joint Surg (Br) 91(7):922–927. https://doi.org/10.1302/0301-620x.91b7.22446

14.

Bottle A, Aylin P (2006) Mortality associated with delay in operation after hip fracture: observational study. Bmj. 332(7547):947–951. https://doi.org/10.1136/bmj.38790.468519.55

15.

Grimes JP, Gregory PM, Noveck H, Butler MS, Carson JL (2002) The effects of time-to-surgery on mortality and morbidity in patients following hip fracture. Am J Med 112(9):702–709. https://doi.org/10.1016/s0002-9343(02)01119-1

16.

Manninger J, Kazar G, Fekete G, Fekete K, Frenyo S, Gyarfas F, Salacz T, Varga A (1989) Significance of urgent (within 6h) internal fixation in the management of fractures of the neck of the femur. Injury. 20(2):101–105. https://doi.org/10.1016/0020-1383(89)90152-6

17.

Orosz GM, Magaziner J, Hannan EL, Morrison RS, Koval K, Gilbert M, McLaughlin M, Halm EA, Wang JJ, Litke A, Silberzweig SB, Siu AL (2004) Association of timing of surgery for hip fracture and patient outcomes. Jama. 291(14):1738–1743. https://doi.org/10.1001/jama.291.14.1738

18.

Perez JV, Warwick DJ, Case CP, Bannister GC (1995) Death after proximal femoral fracture--an autopsy study. Injury. 26(4):237–240. https://doi.org/10.1016/0020-1383(95)90008-l

19.

Rogers FB, Shackford SR, Keller MS (1995) Early fixation reduces morbidity and mortality in elderly patients with hip fractures from low-impact falls. J Trauma 39(2):261–265. https://doi.org/10.1097/00005373-199508000-00012

20.

Bergeron E, Lavoie A, Moore L, Bamvita JM, Ratte S, Gravel C, Clas D (2006) Is the delay to surgery for isolated hip fracture predictive of outcome in efficient systems? J Trauma 60(4):753–757. https://doi.org/10.1097/01.ta.0000214649.53190.2a

21.

Hommel A, Ulander K, Bjorkelund KB, Norrman PO, Wingstrand H, Thorngren KG (2008) Influence of optimised treatment of people with hip fracture on time to operation, length of hospital stay, reoperations and mortality within 1 year. Injury. 39(10):1164–1174. https://doi.org/10.1016/j.injury.2008.01.048

22.

Roche JJ, Wenn RT, Sahota O, Moran CG (2005) Effect of comorbidities and postoperative complications on mortality after hip fracture in elderly people: prospective observational cohort study. Bmj. 331(7529):1374. https://doi.org/10.1136/bmj.38643.663843.55

23.

Papadimitropoulos EA, Coyte PC, Josse RG, Greenwood CE (1997) Current and projected rates of hip fracture in Canada. Cmaj. 157(10):1357–1363

24.

Magaziner J, Hawkes W, Hebel JR, Zimmerman SI, Fox KM, Dolan M, Felsenthal G, Kenzora J (2000) Recovery from hip fracture in eight areas of function. J Gerontol A Biol Sci Med Sci 55(9):M498–M507. https://doi.org/10.1093/gerona/55.9.m498

25.

Weller I, Wai EK, Jaglal S, Kreder HJ (2005) The effect of hospital type and surgical delay on mortality after surgery for hip fracture. J Bone Joint Surg (Br) 87(3):361–366. https://doi.org/10.1302/0301-620x.87b3.15300

26.

McGuire KJ, Bernstein J, Polsky D, Silber JH (2004) The Marshall Urist award: delays until surgery after hip fracture increases mortality. Clin Orthop Relat Res 2004(428):294–301. https://doi.org/10.1097/01.blo.0000146743.28925.1c

27.

Bredahl C, Nyholm B, Hindsholm KB, Mortensen JS, Olesen AS (1992) Mortality after hip fracture: results of operation within 12 h of admission. Injury. 23(2):83–86. https://doi.org/10.1016/0020-1383(92)90037-s

28.

Zeltzer J, Mitchell RJ, Toson B, Harris IA, Close J (2014) Determinants of time to surgery for patients with hip fracture. ANZ J Surg 84(9):633–638. https://doi.org/10.1111/ans.12671

29.

Smektala R, Schleiz W, Fischer B, Bonnaire F, Schulze-Raestrup U, Siebert H, Boy O, Kötting J (2014) Medial femoral neck fractures: possible reasons for delayed surgery. Part 2: Results of data from external inpatient quality assurance within the framework of secondary data evaluation. Unfallchirurg. 117(2):128–137. https://doi.org/10.1007/s00113-012-2295-8

30.

Fantini MP, Fabbri G, Laus M, Carretta E, Mimmi S, Franchino G, Favero L, Rucci P (2011) Determinants of surgical delay for hip fracture. Surgeon. 9(3):130–134. https://doi.org/10.1016/j.surge.2010.11.031

31.

Schulz C, König HH, Rapp K, Becker C, Rothenbacher D, Büchele G (2020) Analysis of mortality after hip fracture on patient, hospital, and regional level in Germany. Osteoporos Int 31(5):897–904. https://doi.org/10.1007/s00198-019-05250-w

32.

Novack V, Jotkowitz A, Etzion O, Porath A (2007) Does delay in surgery after hip fracture lead to worse outcomes? A multicenter survey. Int J Qual Health Care 19(3):170–176. https://doi.org/10.1093/intqhc/mzm003

33.

Sasabuchi Y, Matsui H, Lefor AK, Fushimi K, Yasunaga H (2018) Timing of surgery for hip fractures in the elderly: A retrospective cohort study. Injury. 49(10):1848–1854. https://doi.org/10.1016/j.injury.2018.07.026

34.

Hossain M, Neelapala V, Andrew JG (2009) Results of non-operative treatment following hip fracture compared to surgical intervention. Injury. 40(4):418–421. https://doi.org/10.1016/j.injury.2008.10.001

35.

Lizaur-Utrilla A, Gonzalez-Navarro B, Vizcaya-Moreno MF, Miralles Munoz FA, Gonzalez-Parreno S, Lopez-Prats FA (2019) Reasons for delaying surgery following hip fractures and its impact on one year mortality. Int Orthop 43(2):441–448. https://doi.org/10.1007/s00264-018-3936-5

36.

Daugaard C, Pedersen AB, Kristensen NR, Johnsen SP (2019) Preoperative antithrombotic therapy and risk of blood transfusion and mortality following hip fracture surgery: a Danish nationwide cohort study. Osteoporos Int 30(3):583–591. https://doi.org/10.1007/s00198-018-4786-0

37.

Stitgen A, Poludnianyk K, Dulaney-Cripe E, Markert R, Prayson M (2015) Adherence to preoperative cardiac clearance guidelines in hip fracture patients. J Orthop Trauma 29(11):500–503. https://doi.org/10.1097/bot.0000000000000381

38.

Ruffing T, Klein D, Huchzermeier P, Winkler H, Muhm M (2013) Proximal femoral fractures in the German external quality assurance module 17/1: reasons for delay in surgery. Unfallchirurg. 116(9):806–812. https://doi.org/10.1007/s00113-013-2436-8

39.

Accelerated care versus standard care among patients with hip fracture: the HIP ATTACK pilot trial (2014) Cmaj 186(1):E52–E60. https://doi.org/10.1503/cmaj.130901

40.

Ho V, Hamilton BH, Roos LL (2000) Multiple approaches to assessing the effects of delays for hip fracture patients in the United States and Canada. Health Serv Res 34(7):1499–1518

41.

Adie S, Harris IA, Thorn L, McEvoy L, Naylor JM (2009) Non-emergency management of hip fractures in older patients. J Orthop Surg (Hong Kong) 17(3):301–304. https://doi.org/10.1177/230949900901700311

42.

Moran CG, Wenn RT, Sikand M, Taylor AM (2005) Early mortality after hip fracture: is delay before surgery important? J Bone Joint Surg Am 87(3):483–489. https://doi.org/10.2106/jbjs.D.01796

43.

White SM, Griffiths R, Holloway J, Shannon A (2010) Anaesthesia for proximal femoral fracture in the UK: first report from the NHS Hip Fracture Anaesthesia Network. Anaesthesia. 65(3):243–248. https://doi.org/10.1111/j.1365-2044.2009.06208.x

44.

Sund R, Liski A (2005) Quality effects of operative delay on mortality in hip fracture treatment. Qual Saf Health Care 14(5):371–377. https://doi.org/10.1136/qshc.2004.012831

45.

Vidan M, Serra JA, Moreno C, Riquelme G, Ortiz J (2005) Efficacy of a comprehensive geriatric intervention in older patients hospitalized for hip fracture: a randomized, controlled trial. J Am Geriatr Soc 53(9):1476–1482. https://doi.org/10.1111/j.1532-5415.2005.53466.x

46.

Fisher AA, Davis MW, Rubenach SE, Sivakumaran S, Smith PN, Budge MM (2006) Outcomes for older patients with hip fractures: the impact of orthopedic and geriatric medicine cocare. J Orthop Trauma 20(3):172–178; discussion 9-80. https://doi.org/10.1097/01.bot.0000202220.88855.16

47.

Chong C, Christou J, Fitzpatrick K, Wee R, Lim WK (2008) Description of an orthopedic-geriatric model of care in Australia with 3 years data. Geriatr Gerontol Int 8(2):86–92. https://doi.org/10.1111/j.1447-0594.2008.00453.x

48.

Chong CP, Savige JA, Lim WK (2010) Medical problems in hip fracture patients. Arch Orthop Trauma Surg 130(11):1355–1361. https://doi.org/10.1007/s00402-009-1038-y

49.

Marsland D, Colvin PL, Mears SC, Kates SL (2010) How to optimize patients for geriatric fracture surgery. Osteoporos Int 21(Suppl 4):S535–S546. https://doi.org/10.1007/s00198-010-1418-8
Ethics declarations
Human and animal rights and informed consent
All procedures performed in studies involving human participants were in accordance with the ethical standards of the institutional research committee and with the 1964 Helsinki declaration and its later amendments or comparable ethical standards.
Conflicts of interest
None
Additional information
Publisher's note
Springer Nature remains neutral with regard to jurisdictional claims in published maps and institutional affiliations.
About this article
Cite this article
Lieten, S., Herrtwich, A., Bravenboer, B. et al. Analysis of the effects of a delay of surgery in patients with hip fractures: outcome and causes. Osteoporos Int (2021). https://doi.org/10.1007/s00198-021-05990-8
Received:

Accepted:

Published:
Keywords
Delayed surgery

Hip fractures

Patient outcomes

Reasons for delay

Retrospective