Abstract
Summary
We describe the physical function in adults with osteogenesis imperfecta (OI) and explored clinical and non-clinical factors related to its impairment. Our data showed that physical dysfunction is a common feature of adults with OI, varying by OI severity, and mediated by the presence and quality of pain and fatigue symptoms.
Introduction
There is a paucity of data describing physical function in adults with osteogenesis imperfecta (OI). We investigated the effects of OI and its severity on physical function and explored the relationship between physical function and number of fractures and symptomatology.
Methods
Adults with OI of different types were recruited from the RUDY study, an ongoing UK-based prospective cohort study. Participants completed demographic and clinical questions and questionnaires. These assessed physical function (SF-36), mobility (EQ-5D-5L and NEADL), fatigue (FACIT-F), and pain (SF-MQ-2). Scores were compared using parametric or non-parametric statistical analyses, whereas correlations between outcomes were examined using univariate and multivariate regression analysis.
Results
Seventy-eight adults with OI aged 43.5 ± 14.5 years were enrolled (type I, 32; type III, 11; type IV, 10; unknown type, 26). Physical function (PCS, SF-36) was significantly lower in all participants than normative values (p < 0.001) and in type III than type I (p = 0.008). Mobility was significantly different across the types (EQ-5D-EL, p = 0.007; NEADL, p < 0.001), with type III having more severe problems, followed by types IV, unknown, and I. Physical function was associated with OI type (r = 0.26; p = 0.021), presence and quality of pain (r = − 0.57; p < 0.0001), and fatigue (r = − 0.51; p < 0.0001). Multivariate analysis revealed that physical function correlated independently with age, OI type, fatigue, and non-neuropathic pain.
Conclusions
Individuals with OI display a marked deterioration in physical function during adulthood. This impairment varies in severity according to the OI phenotype and is associated with the presence of non-neuropathic pain and fatigue.
Access options
Buy single article
Instant access to the full article PDF.
USD 39.95
Price excludes VAT (USA)
Tax calculation will be finalised during checkout.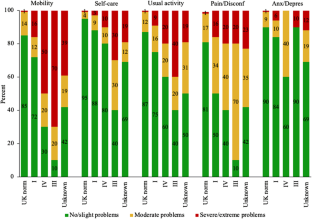 References
Marini JC (2018) Osteogenesis imperfecta. Prim Metab Bone Dis Disord Miner Metab 3:871–877. https://doi.org/10.1002/9781119266594.ch113

Martin E, Shapiro JR (2007) Osteogenesis imperfecta:epidemiology and pathophysiology. Curr Osteoporos Rep 5:91–97. https://doi.org/10.1136/jcp.49.8.627

Roberts TT, Cepela DJ, Uhl RL, Lozman J (2016) Orthopaedic considerations for the adult with osteogenesis imperfecta. J Am Acad Orthop Surg 24:298–308. https://doi.org/10.5435/JAAOS-D-15-00275

Tosi LL, Oetgen ME, Floor MK, Huber MB, Kennelly AM, McCarter RJ, Rak MF, Simmonds BJ, Simpson MD, Tucker CA, McKiernan FE (2015) Initial report of the osteogenesis imperfecta adult natural history initiative. Orphanet J Rare Dis 10:1–12. https://doi.org/10.1186/s13023-015-0362-2

Veilleux LN, Trejo P, Rauch F (2017) Muscle abnormalities in osteogenesis imperfecta. J Musculoskelet Neuronal Interact 17:1–7

Widmann RF, Bitan FD, Laplaza FJ, Burke SW, DiMaio MF, Schneider R (1999) Spinal deformity, pulmonary compromise, and quality of life in osteogenesis imperfecta. Spine (Phila Pa 1976) 24:1673–1678. https://doi.org/10.1097/00007632-199908150-00008

Hald JD, Folkestad L, Harsløf T, Brixen K, Langdahl B (2017) Health-related quality of life in adults with osteogenesis imperfecta. Calcif Tissue Int 101:473–478. https://doi.org/10.1007/s00223-017-0301-4

Kruger KM, Caudill A, Rodriguez Celin M, Nagamani SCS, Shapiro JR, Steiner RD, Bober MB, Hart T, Cuthbertson D, Krischer J, Byers PH, Durigova M, Glorieux FH, Rauch F, Sutton VR, Lee B, Rush ET, Smith PA, Harris GF (2019) Mobility in osteogenesis imperfecta: a multicenter North American study. Genet Med 21:1–8. https://doi.org/10.1038/s41436-019-0491-4

Javaid MK, Forestier-Zhang L, Watts L, Turner A, Ponte C, Teare H, Gray D, Gray N, Popert R, Hogg J, Barrett J, Pinedo-Villanueva R, Cooper C, Eastell R, Bishop N, Luqmani R, Wordsworth P, Kaye J (2016) The RUDY study platform - a novel approach to patient driven research in rare musculoskeletal diseases. Orphanet J Rare Dis 11:1–9. https://doi.org/10.1186/s13023-016-0528-6

Ismail AA, O'Neill TW, Cockerill W et al (2000) Validity of self-report of fractures: results from a prospective study in men and women across Europe. Osteoporos Int 11:248–254. https://doi.org/10.1007/s001980050288

Ware JE, Sherbourne CD (1992) The MOS 36-item short-form health survey (Sf-36): I. conceptual framework and item selection. Med Care 30:473–483. https://doi.org/10.1097/00005650-199206000-00002

Jenkinson C, Coulter A, Wright L (1993) Short form 36 (SF36) health survey questionnaire: normative data for adults of working age. BMJ 306:1437–1440. https://doi.org/10.1136/bmj.306.6890.1437

Jenkinson C (1999) Comparison of UK and US methods for weighting and scoring the SF-36 summary measures. J Public Health Med 21:372–376. https://doi.org/10.1093/pubmed/21.4.372

Rabin R, de Charro F (2001) EQ-SD: a measure of health status from the EuroQol group. Ann Med 33:337–343. https://doi.org/10.3109/07853890109002087

Feng Y, Devlin N, Herdman M (2015) Assessing the health of the general population in England: how do the three- and five-level versions of EQ-5D compare? Health Qual Life Outcomes 13:171. https://doi.org/10.1186/s12955-015-0356-8

Melzack R (1975) The McGill pain questionnaire: major properties and scoring methods. Pain 1:277–299. https://doi.org/10.1016/0304-3959(75)90044-5

Yellen SB, Cella DF, Webster K, Blendowski C, Kaplan E (1997) Measuring fatigue and other anemia-related symptoms with the functional assessment of cancer therapy (FACT) measurement system. J Pain Symptom Manag 13:63–74. https://doi.org/10.1016/S0885-3924(96)00274-6

Cella D, Lai JS, Chang CH, Peterman A, Slavin M (2002) Fatigue in cancer patients compared with fatigue in the general United States population. Cancer 94:528–538. https://doi.org/10.1002/cncr.10245

Green J, Young J (2001) A test-retest reliability study of the Barthel index, the Rivermead mobility index, the Nottingham extended activities of daily living scale and the Frenchay activities index in stroke patients. Disabil Rehabil 23:670–676. https://doi.org/10.1080/09638280110045382

Engelbert RHH, Uiterwaal CSPM, Gulmans VAM, Pruijs H, Helders PJM (2000) Osteogenesis imperfecta in childhood: prognosis for walking. J Pediatr 137:397–402. https://doi.org/10.1067/mpd.2000.107892

Wekre LL, Frøslie KF, Haugen L, Falch JA (2010) A population-based study of demographical variables and ability to perform activities of daily living in adults with osteogenesis imperfecta. Disabil Rehabil 32:579–587. https://doi.org/10.3109/09638280903204690

Harsevoort AGJ, Gooijer K, van Dijk FS, van der Grijn DAFM, Franken AAM, Dommisse AMV, Janus GJM (2020) Fatigue in adults with osteogenesis imperfecta. BMC Musculoskelet Disord 21:6. https://doi.org/10.1186/s12891-019-3000-7

Metsios GS, Stavropoulos-Kalinoglou A, van Zanten JJCSV et al (2008) Rheumatoid arthritis, cardiovascular disease and physical exercise: a systematic review. Rheumatology 47:239–248. https://doi.org/10.1093/rheumatology/kem260

Focht BC (2006) Effectiveness of exercise interventions in reducing pain symptoms among older adults with knee osteoarthritis: a review. J Aging Phys Act 14:212–235. https://doi.org/10.1123/japa.14.2.212

Lafage-Proust MH, Courtois I (2019) The management of osteogenesis imperfecta in adults: state of the art. Jt Bone Spine 86:1–5. https://doi.org/10.1016/j.jbspin.2019.02.001
Ethics declarations
Conflicts of interest
G.O. was funded by a research grant from the Brittle Bone Society, R.P.V. receives consulting fees from Mereo Biopharma, all outside of the scope of this project. M.K.J. is a component of advisory board fee of Mereo Biopharma.
Ethical approval and consent to participate
This study was approved by the South Central Research Ethics committee UK after review (LREC 14/SC/0126) and participants gave informed consent.
Additional information
Publisher's note
Springer Nature remains neutral with regard to jurisdictional claims in published maps and institutional affiliations.
About this article
Cite this article
Orlando, G., Pinedo-Villanueva, R., Reeves, N.D. et al. Physical function in UK adults with osteogenesis imperfecta: a cross-sectional analysis of the RUDY study. Osteoporos Int 32, 157–164 (2021). https://doi.org/10.1007/s00198-020-05537-3
Received:

Accepted:

Published:

Issue Date:

DOI: https://doi.org/10.1007/s00198-020-05537-3
Keywords