Abstract
Summary
Chronic kidney disease (CKD)-related osteoporosis is a major complication in patients with CKD, conferring a higher risk of adverse outcomes. We found that among those with diabetic kidney disease, this complication increased the risk of incident frailty, an important mediator of adverse outcomes.
Introduction
Renal osteodystrophy and chronic kidney disease (CKD)-related osteoporosis increases complications for patients with diabetic kidney disease (DKD). Since musculoskeletal degeneration is central to frailty development, we investigated the relationship between baseline osteoporosis and the subsequent frailty risk in patients with DKD.
Methods
From the Longitudinal Cohort of Diabetes Patients in Taiwan (n = 840,000), we identified 12,027 patients having DKD with osteoporosis and 24,054 propensity score-matched controls having DKD but without osteoporosis. The primary endpoint was incident frailty on the basis of a modified FRAIL scale. Patients were prospectively followed-up until the development of endpoints or the end of this study. The Kaplan-Meier technique and Cox proportional hazard regression were used to analyze the association between osteoporosis at baseline and incident frailty in these patients.
Results
The mean age of the DKD patients was 67.2 years, with 55.4% female and a 12.6% prevalence of osteoporosis at baseline. After 3.5 ± 2.2 years of follow up, the incidence rate of frailty in patients having DKD with osteoporosis was higher than that in DKD patients without (6.6 vs. 5.7 per 1000 patient-year, p = 0.04). A Cox proportional hazard regression showed that after accounting for age, gender, obesity, comorbidities, and medications, patients having DKD with osteoporosis had a significantly higher risk of developing frailty (hazard ratio, 1.19; 95% confidence interval, 1.02–1.38) than those without osteoporosis.
Conclusions
CKD-related osteoporosis is associated with a higher risk of incident frailty in patients with DKD.
Access options
Buy single article
Instant access to the full article PDF.
USD 39.95
Price excludes VAT (USA)
Tax calculation will be finalised during checkout.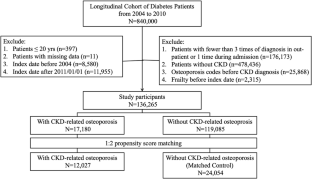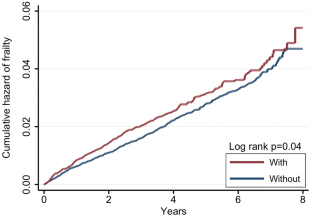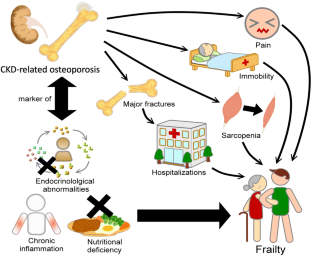 Data availability
The dataset generated during and/or analyzed during the current study are not publicly available but are available from the corresponding author on reasonable request.
References
KDIGO (2009) Clinical practice guideline for the diagnosis, evaluation, prevention, and treatment of chronic kidney disease–mineral and bone disorder (CKD–MBD). Chapter 1: introduction and definition of CKD–MBD and the development of the guideline statements. Kidney Int 76:S3–S8

Bellasi A, Mandreoli M, Baldrati L, Corradini M, Di Nicolo P, Malmusi G, Santoro A (2011) Chronic kidney disease progression and outcome according to serum phosphorus in mild-to-moderate kidney dysfunction. Clin J Am Soc Nephrol 6:883–891

Chen Z, Qureshi AR, Ripsweden J, Wennberg L, Heimburger O, Lindholm B, Barany P, Haarhaus M, Brismar TB, Stenvinkel P (2016) Vertebral bone density associates with coronary artery calcification and is an independent predictor of poor outcome in end-stage renal disease patients. Bone 92:50–57

Chao CT, Yuan TH, Yeh HY, Chen HY, Huang JW, Chen HW (2019) Risk factors associated with altered circulating microRNA-125b and their influences on uremic vascular calcification among patients with end-stage renal disease. J Am Heart Assoc 8:e010805

Block GA, Kilpatrick RD, Lowe KA, Wang W, Danese MD (2013) CKD–mineral and bone disorder and risk of death and cardiovascular hospitalization in patients on hemodialysis. Clin J Am Soc Nephrol 8:2132–2140

Naylor KL, Garg AX, Zou G, Langsetmo L, Leslie WD, Fraser LA, Adachi JD, Morin S, Goltzman D, Lentle B, Jackson SA, Josse RG, Jamal SA (2015) Comparison of fracture risk prediction among individuals with reduced and normal kidney function. Clin J Am Soc Nephrol 10:646–653

Schwartz A, Sellmeyer D (2007) Diabetes, fracture, and bone fragility. Curr Osteoporos Rep 5:105–111

Moseley KF (2012) Type 2 diabetes and bone fractures. Curr Opin Endocrinol Diabetes Obes 19:128–135

Arévalo-Lorido JC, Carretero-Gómez J, García-Sánchez F, Macia-Botejara E, Ramiro-Lozano JM, Masero-Carretero A, Robles NR, Bureo-Dacal JC (2016) Secondary hyperparathyroidism prevalence and profile, between diabetic and non-diabetic patients with stage 3 to 4 chronic kidney disease attended in internal medicine wards. MiPTH study. Diabetes Metab Syndr 10:S16–S21

Winocour PH (2018) Diabetes and chronic kidney disease: an increasingly common multi-morbid disease in need of a paradigm shift in care. Diabet Med 35:300–305

Chao C-T, Hsu Y-H, Chang P-Y, He Y-T, Ueng R-S, Lai C-F, Chiang C-K, Huang J-W, Huang S-J (2015) Simple self-report FRAIL scale might be more closely associated with dialysis complications than other frailty screening instruments in rural chronic dialysis patients. Nephrology 20:321–328

Vermeiren S, Vella-Azzopardi R, Beckwée D, Habbig AK, Scafoglieri A, Jansen B, Bautmans I (2016) Frailty and the prediction of negative health outcomes: a meta-analysis. J Am Med Dir Assoc 17:1163.e1–1163.e17

Chao C-T, Chiang C-K, Huang J-W, Chan D-C, COGENT study group (2016) Effect of frail phenotype on bone mass and vertebral compression fracture in individuals undergoing dialysis. J Am Geriatr Soc 64:e19–e21

Kakio Y, Uchida HA, Takeuchi H, Okuyama Y, Okuyama M, Umebayashi R, Wada K, Sugiyama H, Sugimoto K, Rakugi H, Kasahara S, Wada J (2018) Diabetic nephropathy is associated with frailty in patients with chronic hemodialysis. Geriatr Gerontol Int 18:1597–1602

Chao C-T, Wang J, Chien K-L, COGENT study group (2018) Both pre-frailty and frailty increase healthcare utilization and adverse health outcomes in patients with type 2 diabetes mellitus. Cardiovasc Diabetol 17:130

Chao C-T, Wang J, Wu H-Y, Huang J-W, Chien K-L (2018) Age modifies the risk factor profiles for acute kidney injury among recently diagnosed type 2 diabetic patients: a population-based study. GeroScience 40:201–217

Chao C-T, Wang J, Huang J-W, Chien K-L (2018) Acarbose use and liver injury in diabetic patients with severe renal insufficiency and hepatic diseases: a propensity score-matched cohort study. Front Pharmacol 9:860

Chang H, Weiner J, Richards T, Bleich S, Segal J (2012) Predicting costs with diabetes complications severity index in claims data. Am J Manag Care 18:213–219

Ott SM (2017) Renal osteodystrophy—time for common nomenclature. Curr Osteoporos Rep 15:187–193

Ketteler M, Block GA, Evenepoel P, Fukagawa M, Herzog CA, McCann L, Moe SM, Shroff R, Tonelli MA, Toussaint ND, Vervloet MG, Leonard MB (2017) Executive summary of the 2017 KDIGO chronic kidney disease–mineral and bone disorder (CKD-MBD) guideline update: what's changed and why it matters. Kidney Int 92:26–36

West SL, Lok CE, Langsetmo L, Cheung AM, Szabo E, Pearce D, Fusaro M, Wald R, Weinstein J, Jamal SA (2015) Bone mineral density predicts fractures in chronic kidney disease. J Bone Miner Res 30:913–919

Moe SM (2017) Renal osteodystrophy or kidney-induced osteoporosis? Curr Osteoporos Rep 15:194–197

Damasiewicz MJ, Nickolas TL (2018) Rethinking bone disease in kidney disease. JBMR Plus 2:309–322

Cancienne JM, Brockmeier SF, Kew ME, Deasey MJ, Werner BC (2019) The association of osteoporosis and bisphosphate use with revision shoulder surgery after rotator cuff repair. Arthroscopy 35:2314–2320

Rice JB, White AG, Johnson M, Wagh A, Qin Y, Bartels-Peculis L, Ciepielewska G, Nelson WW (2018) Quantitative characterization of the relationship between levels of extended corticosteroid use and related adverse events in a US population. Curr Med Res Opin 34:1519–1527

Khairallah P, Nickolas TL (2018) Updates in CKD-associated osteoporosis. Curr Osteoporos Rep 16:712–723

Wang W-J, Chao C-T, Huang Y-C, Wang C-Y, Chang C-H, Huang T-M, Lai C-F, Huang H-Y, Shiao C-C, Chu T-S, Chen Y-M, Wu V-C, Ko W-J, Wu K-D (2014) The impact of acute kidney injury with temporary dialysis on the risk of fracture. J Bone Miner Res 29:676–684

Ray S, Beatrice AM, Ghosh A, Pramanik S, Bhattacharjee R, Ghosh S, Raychaudhury A, Mukhopadhyay S, Chowdhury S (2017) Profile of chronic kidney disease related-mineral bone disorders in newly diagnosed advanced predialysis diabetic kidney disease patients: a hospital based cross-sectional study. Diabetes Metab Syndr 11:S931–S937

Huang J-H, Cheng F-C, Wu H-C (2015) Low magnesium exacerbates osteoporosis in chronic kidney disease patients with diabetes. Int J Endocrinol 2015:380247

Rigalleau V, Lasseur C, Raffaitin C, Perlemoine C, Barthe N, Chauveau P, Aparicio M, Combe C, Gin H (2007) Bone loss in diabetic patients with chronic kidney disease. Diabet Med 24:91–93

Feng Z, Lugtenberg M, Franse C, Fang X, Hu S, Jin C, Raat H (2017) Risk factors and protective factors associated with incident or increase of frailty among community-dwelling older adults: a systematic review of longitudinal studies. PLoS One 12:e0178383

Johansen KL, Dalrymple LS, Delgado C, Chertow GM, Segal MR, Chiang J, Grimes B, Kaysen GA (2017) Factors associated with frailty and its trajectory among patients on hemodialysis. Clin J Am Soc Nephrol 12:1100–1108

Noori N, Sharma Parpia A, Lakhani R, Janes S, Goldstein MB (2018) Frailty and the quality of life in hemodialysis patients: the importance of waist circumference. J Ren Nutr 28:101–109

Yoneki K, Kitagawa J, Hoshi K, Harada M, Watanabe T, Shimoda T, Matsuzawa R, Yoshida A, Matsunaga Y, Takeuchi Y, Kamiya K, Matsunaga A (2019) Association between frailty and bone loss in patients undergoing maintenance hemodialysis. J Bone Miner Metab 37:81–89

Milte R, Crotty M (2014) Musculoskeletal health, frailty and functional decline. Best Pract Res Clin Rheumatol 28:395–410

McNerny EMB, Nickolas TL (2017) Bone quality in chronic kidney disease: definitions and diagnostics. Curr Osteoporos Rep 15:207–213

Rodríguez-Sánchez I, García-Esquinas E, Rodríguez-Artalejo F, Mesas AE, Martín-Moreno JM, Rodríguez-Mañas L (2019) Frequency, intensity and localization of pain as risk factors for frailty in older adults. Age Ageing 48:74–80

Malafarina V, Úriz-Otano F, Iniesta R, Gil-Guerrero L (2012) Sarcopenia in the elderly: diagnosis, physiopathology and treatment. Maturitas 71:109–114

Chao C-T, Yang R-S, Huang W-J, Tsai K-S, Chan D-C (2019) Risk factors for poor functional recovery, mortality, recurrent fractures, and falls among patients participating in a fracture liaison service program. J Am Med Dir Assoc 20:1129–1136

Beben T, Ix JH, Shlipak MG, Sarnak MJ, Fried LF, Hoofnagle AN, Chonchol M, Kestenbaum BR, de Boer IH, Rifkin DE (2016) Fibroblast growth Factor-23 and frailty in elderly community-dwelling individuals: the cardiovascular health study. J Am Geriatr Soc 64:270–276

Tartaglione L, Mazzaferro S, Guglielmo C, Urena Torres PA, Bover J, Tartaglione L, Pasquali M, La Manna G (2018) Bone, inflammation and the bone marrow niche in chronic kidney disease: what do we know? Nephrol Dial Transplant 33:2092–2100

Mac Way F, Lessard M, Lafage-Proust M-H (2012) Pathophysiology of chronic kidney disease-mineral and bone disorder. Joint Bone Spine 79:544–549

Bruyère O, Cavalier E, Buckinx F, Reginster J-Y (2017) Relevance of vitamin D in the pathogenesis and therapy of frailty. Curr Opin Clin Nutr Metab Care 20:26–29

Lang CC, Muo CH, Wang IK, Chang CT, Chou CY, Liu JH, Yen TH, Huang CC, Chung CJ (2014) Peptic ulcer disease risk in chronic kidney disease: ten-year incidence, ulcer location, and ulcerogenic effect of medications. PLoS One 9:e87952

Chen DY, Wang SH, Mao CT, Tsai ML, Lin YS, Chou CC, Wen MS, Wang CC, Hsieh IC, Hung KC, Chen TH (2015) Sitagliptin and cardiovascular outcomes in diabetic patients with chronic kidney disease and acute myocardial infarction: a nationwide cohort study. Int J Cardiol 181:200–206
Acknowledgments
We are grateful for the assistance of the Second Core Laboratory, Department of Medical Research of National Taiwan University Hospital and the Genomic Center of National Taiwan University College of Medicine, Taipei, Taiwan.
Funding
The study is financially sponsored by Ministry of Science and Technology, Taiwan (MOST-108-2314-B-002-055-).
Ethics declarations
This study has been approved by the institutional review board of National Taiwan University Hospital (NO. 201802063W). Its protocol adhered to the Declaration of Helsinki. Informed consent was waived due to data anonymity based on the recommendation of the institutional review board.
Conflicts of interest
None.
Disclaimer
The sponsors have no role in the study design, data collection, analysis, and result interpretation of this study.
Additional information
Publisher's note
Springer Nature remains neutral with regard to jurisdictional claims in published maps and institutional affiliations.
Electronic supplementary material
About this article
Cite this article
Chao, CT., Wang, J., Huang, JW. et al. Chronic kidney disease–related osteoporosis is associated with incident frailty among patients with diabetic kidney disease: a propensity score–matched cohort study. Osteoporos Int 31, 699–708 (2020). https://doi.org/10.1007/s00198-020-05353-9
Received:

Accepted:

Published:

Issue Date:

DOI: https://doi.org/10.1007/s00198-020-05353-9
Keywords
Chronic kidney disease

Chronic kidney disease-mineral bone disorder

Fracture

Frailty

Frail phenotype

Osteoporosis

Renal osteodystrophy