Abstract
Summary
In this prospective cohort of 6120 participants aged 50+, nitrogen-bisphosphonates but not non-nitrogen bisphosphonates were associated with a significant 34% mortality risk reduction compared to non-treated propensity score matched controls. These findings open new avenues for research into mechanistic pathways.
Introduction
Emerging evidence suggests that bisphosphonates (BP), first-line treatment of osteoporosis, are associated with reduced risks for all-cause mortality. This study aimed to determine the association between different BP types and mortality risk in participants with or without a fracture.
Methods
A prospective cohort study of users of different BPs matched to non-users by propensity score (age, gender, co-morbidities, fragility fracture status) and time to starting the BP medication from the population-based Canadian Multicentre Osteoporosis Study from nine Canadian centres followed from 1995 to 2013. Mortality risk for bisphosphonate users vs matched non-users was assessed using pairwise multivariable Cox proportional hazards models.
Results
There were 2048 women and 308 men on BP and 1970 women and 1794 men who did not receive medication for osteoporosis. The relationship between BP and mortality risk was explored in three separate 1:1 propensity score-matched cohorts of BP users and no treatment (etidronate, n = 599, alendronate, n = 498, and risedronate n = 213). Nitrogen BP (n-BP) (alendronate and risedronate) was associated with lower mortality risks [pairwise HR, 0.66 (95% CI, 0.48–0.91)] while the less potent non-n-BP, etidronate, was not [pairwise HR: 0.89 (95% CI, 0.66–1.20)]. A direct comparison between n-BP and etidronate (n = 340 pairs) also suggested a better survival for n-BP [paired HR, 0.47 (95%CI, (95% CI, 031–0.70)] for n-BP vs. etidronate].
Conclusion
Compared to no treatment, nitrogen but not non-nitrogen bisphosphonates appear to be associated with better survival.
Access options
Buy single article
Instant access to the full article PDF.
USD 39.95
Price excludes VAT (USA)
Tax calculation will be finalised during checkout.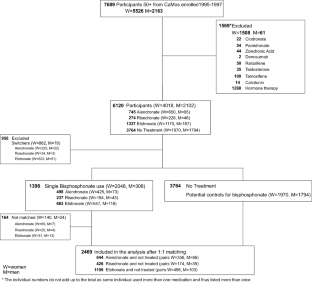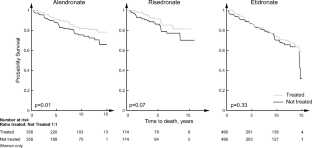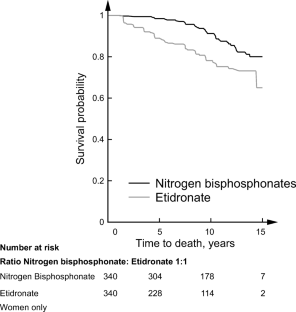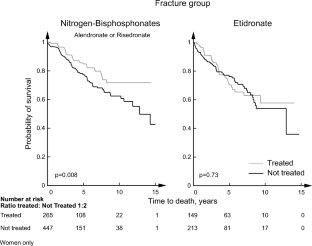 References
Nguyen ND, Ahlborg HG, Center JR, Eisman JA, Nguyen TV (Jun 2007) Residual lifetime risk of fractures in women and men. J Bone Miner Res 22(6):781–788

Center JR, Bliuc D, Nguyen TV, Eisman JA (2007) Risk of subsequent fracture after low-trauma fracture in men and women. JAMA 297(4):387–394

Kanis JA, Johnell O, De Laet C et al (2004) A meta-analysis of previous fracture and subsequent fracture risk. Bone 35(2):375–382

Klotzbuecher CM, Ross PD, Landsman PB, Abbott TA 3rd, Berger M (2000) Patients with prior fractures have an increased risk of future fractures: a summary of the literature and statistical synthesis. J Bone Miner Res 15(4):721–739

Bliuc D, Nguyen ND, Milch VE, Nguyen TV, Eisman JA, Center JR (2009) Mortality risk associated with low-trauma osteoporotic fracture and subsequent fracture in men and women. JAMA 301(5):513–521

Center JR, Nguyen TV, Schneider D, Sambrook PN, Eisman JA (1999) Mortality after all major types of osteoporotic fracture in men and women: an observational study. Lancet 353(9156):878–882

Cauley JA, Thompson DE, Ensrud KC, Scott JC, Black D (2000) Risk of mortality following clinical fractures. Osteoporos Int 11(7):556–561

Chen JS, Sambrook PN (2012) Antiresorptive therapies for osteoporosis: a clinical overview. Nat Rev Endocrinol 8(2):81–91

Reginster JY (2011) Antifracture efficacy of currently available therapies for postmenopausal osteoporosis. Drugs 71(1):65–78

Zhou J, Ma X, Wang T, Zhai S (2016) Comparative efficacy of bisphosphonates in short-term fracture prevention for primary osteoporosis: a systematic review with network meta-analyses. Osteoporos Int 27(11):3289–3300

Lyles KW, Colon-Emeric CS, Magaziner JS et al (2007) Zoledronic acid and clinical fractures and mortality after hip fracture. N Engl J Med 357(18):1799–1809

Bolland MJ, Grey AB, Gamble GD, Reid IR (Mar 2010) Effect of osteoporosis treatment on mortality: a meta-analysis. J Clin Endocrinol Metab 95(3):1174–1181

Beaupre LA, Morrish DW, Hanley DA, et al. (2010) Oral bisphosphonates are associated with reduced mortality after hip fracture. Osteoporos Int

Brozek W, Reichardt B, Zwerina J, Dimai HP, Klaushofer K, Zwettler E (2016) Antiresorptive therapy and risk of mortality and refracture in osteoporosis-related hip fracture: a nationwide study. Osteoporos Int 27(1):387–396

Bondo L, Eiken P, Abrahamsen B (2013) Analysis of the association between bisphosphonate treatment survival in Danish hip fracture patients-a nationwide register-based open cohort study. Osteoporos Int 24(1):245–252

Center JR, Bliuc D, Nguyen ND, Nguyen TV, Eisman JA (2011) Osteoporosis medication and reduced mortality risk in elderly women and men. J Clin Endocrinol Metab

Cree MW, Juby AG, Carriere KC (Sep 2003) Mortality and morbidity associated with osteoporosis drug treatment following hip fracture. Osteoporos Int 14(9):722–727

Lee P, Ng C, Slattery A, Nair P, Eisman JA, Center JR (2016) Preadmission bisphosphonate and mortality in critically ill patients. J Clin Endocrinol Metab

van Geel T, Bliuc D, Geusens PPM et al (2018) Reduced mortality and subsequent fracture risk associated with oral bisphosphonate recommendation in a fracture liaison service setting: a prospective cohort study. PLoS One 13(6):e0198006

Ian Reid HA, Borislav M, Angela S, Liz G, Mark B, Sonja B, Greg G (2018) Abstracts of the ECTS Congress 2018. Calcif Tissue Int 102(1):1–159

Brennan MB, Huang ES, Lobo JM et al (2018) Longitudinal trends and predictors of statin use among patients with diabetes. J Diabetes Complicat 32(1):27–33

Russell RG, Watts NB, Ebetino FH, Rogers MJ (2008) Mechanisms of action of bisphosphonates: similarities and differences and their potential influence on clinical efficacy. Osteoporos Int 19(6):733–759

Rogers MJ (2003) New insights into the molecular mechanisms of action of bisphosphonates. Curr Pharm Des 9(32):2643–2658

Gulson B, Mizon K, Smith H, Eisman J, Palmer J, Korsch M, Donnelly J, Waite K (2002) Skeletal lead release during bone resorption: effect of bisphosphonate treatment in a pilot study. Environ Health Perspect 110(10):1017–1023

Khalil N, Wilson JW, Talbott EO, Morrow LA, Hochberg MC, Hillier TA, Muldoon SB, Cummings SR, Cauley JA (2009) Association of blood lead concentrations with mortality in older women: a prospective cohort study. Environ Health 8:15

Rossini M, Adami S, Viapiana O, Fracassi E, Ortolani R, Vella A, Zanotti R, Tripi G, Idolazzi L, Gatti D (2012) Long-term effects of amino-bisphosphonates on circulating γδ T cells. Calcif Tissue Int 91(6):395–399

Musso A, Catellani S, Canevali P, Tavella S, Vene R, Boero S, Pierri I, Gobbi M, Kunkl A, Ravetti JL, Zocchi MR, Poggi A (Jan 2014) Aminobisphosphonates prevent the inhibitory effects exerted by lymph node stromal cells on anti-tumor Vdelta 2 T lymphocytes in non-Hodgkin lymphomas. Haematologica 99(1):131–139

Kalyan S, Quabius ES, Wiltfang J, Monig H, Kabelitz D (2013) Can peripheral blood gammadelta T cells predict osteonecrosis of the jaw? An immunological perspective on the adverse drug effects of aminobisphosphonate therapy. J Bone Miner Res 28(4):728–735

Ugur Ural A, Avcu F, Ozturk K (Jul 2008) Bisphosphonates may retrieve endothelial function in vascular diseases similar to statins' effects. Eur J Haematol 81(1):77–78

Conti L, Casetti R, Cardone M et al (2005) Reciprocal activating interaction between dendritic cells and pamidronate-stimulated gammadelta T cells: role of CD86 and inflammatory cytokines. J Immunol 174(1):252–260

Clezardin P, Ebetino FH, Fournier PG (2005) Bisphosphonates and cancer-induced bone disease: beyond their antiresorptive activity. Cancer Res 65(12):4971–4974

Kreiger N, Tenenhouse A, Joseph L, Mackenzie T, Poliquin S, Brown JP, Prior JC, Rittmaster RS (1999) The Canadian multicentre osteoporosis study (CaMos): background, rationale, methods. Can J Aging 18(3):376–387

Austin PC (2011) An introduction to propensity score methods for reducing the effects of confounding in observational studies. Multivar Behav Res 46(3):399–424

Nguyen ND, Frost SA, Center JR, Eisman JA, Nguyen TV (2008) Development of prognostic nomograms for individualizing 5-year and 10-year fracture risks. Osteoporos Int 19(10):1431–1444

Azur MJ, Stuart EA, Frangakis C, Leaf PJ (2011) Multiple imputation by chained equations: what is it and how does it work? Int J Methods Psychiatr Res 20(1):40–49

Rogers MJ, Gordon S, Benford HL, Coxon FP, Luckman SP, Monkkonen J, Frith JC (2000) Cellular and molecular mechanisms of action of bisphosphonates. Cancer 88(S12):2961–2978

Schulman RC, Moshier EL, Rho L, et al. (2016) Intravenous pamidronate is associated with reduced mortality in patients with chronic critical illness. Endocrine practice : official journal of the American College of Endocrinology and the American Association of Clinical Endocrinologists 22(7):799–808

Sambrook PN, Cameron ID, Chen JS, et al. Oral bisphosphonates are associated with reduced mortality in frail older people: a prospective five-year study. Osteoporos Int. 2010

Colon-Emeric CS, Mesenbrink P, Lyles KW et al (2010) Potential mediators of the mortality reduction with zoledronic acid after hip fracture. J Bone Miner Res 25(1):91–97

Cauley JA, Lui LY, Barnes D, Ensrud KE, Zmuda JM, Hillier TA, Hochberg MC, Schwartz AV, Yaffe K, Cummings SR, Newman AB (2009) Successful skeletal aging: a marker of low fracture risk and longevity. The study of osteoporotic fractures (SOF). J Bone Miner Res 24(1):134–143

Bliuc D, Nguyen ND, Alarkawi D, Nguyen TV, Eisman JA, Center JR (2015) Accelerated bone loss and increased post-fracture mortality in elderly women and men. Osteoporos Int 26(4):1331–1339

Kado DM, Browner WS, Blackwell T, Gore R, Cummings SR (2000) Rate of bone loss is associated with mortality in older women: a prospective study. J Bone Miner Res 15(10):1974–1980

Nguyen ND, Center JR, Eisman JA, Nguyen TV (2007) Bone loss, weight loss, and weight fluctuation predict mortality risk in elderly men and women. J Bone Miner Res 22(8):1147–1154

Freemantle N, Marston L, Walters K, Wood J, Reynolds MR, Petersen I (2013) Making inferences on treatment effects from real world data: propensity scores, confounding by indication, and other perils for the unwary in observational research. BMJ 347:f6409
Contributors
DB, TT, TvG, JAE and JRC designed the study. DB, TT, JAE and JRC analysed the data. DB, TT and JRC drafted the manuscript. All authors contributed to the interpretation of the data and revision of the manuscript. JRC had primary responsibility for final content and acts as guarantor. All authors read and approved the final manuscript. The funding sources had no role in the design and conduct of the study; collection, management, analysis and interpretation of the data; nor did they have a role in preparation, review, or approval of the manuscript and the decision to submit for publication.
Funding
The Canadian Multicentre Osteoporosis Study was funded by the Canadian Institutes of Health Research (CIHR); Merck Frosst Canada Ltd.; Eli Lilly Canada Inc.; Novartis Pharmaceuticals Inc.; The Alliance: Sanofi-Aventis & Procter and Gamble Pharmaceuticals Canada Inc.; Servier Canada Inc.; Amgen Canada Inc.; The Dairy Farmers of Canada and The Arthritis Society.
This work was supported by the National Health Medical Research Council Australia Projects 1070187, 1008219, and 1073430. Other funding bodies were an Osteoporosis Australia-Amgen grant; the Bupa Health Foundation (formerly MBF Foundation); the Mrs. Gibson and Ernst Heine Family Foundation; and untied grants from Amgen, Merck Sharp & Dohme, Sanofi-Aventis, Servier and Novartis. DB was supported by an ANZBMS mid-career gap fellowsip.
Ethics declarations
Conflicts of interest
DB, TT, TvG, CB, DG, RGJ, LL, CSK, SMK and JCP have no competing interests to declare. JDA has received research grants and/or personal fees from Amgen, Eli Lilly, Merck, Actavis and AgNovos. JvdB has received grants and/or personal fees from Amgen, MSD and Eli Lilly. JAE has consulted for and/or received research funding from Amgen, deCode, Merck Sharp and Dohme and Sanofi-Aventis. PG was advisory member for Amgen, has received speaker fee and/or research grants from Amgen, Pfizer, MSD, UCB, Abbott, Lilly, BMS, Novartis, Roche and Will Pharma. DAH has consulted for and/or received speaker fee and/or research funding from Amgen, Merck and Eli Lilly. TVN has received honoraria for consulting and symposia from Merck Sharp and Dohme, Roche, Servier, Sanofi-Aventis and Novartis. JRC has consulted for and/or given educational talks for Merck Sharp and Dohme, Amgen, Actavis and Sanofi-Aventis.
Additional information
Publisher's Note
Springer Nature remains neutral with regard to jurisdictional claims in published maps and institutional affiliations.
Electronic supplementary material
About this article
Cite this article
Bliuc, D., Tran, T., van Geel, T. et al. Mortality risk reduction differs according to bisphosphonate class: a 15-year observational study. Osteoporos Int 30, 817–828 (2019). https://doi.org/10.1007/s00198-018-4806-0
Received:

Accepted:

Published:

Issue Date:

DOI: https://doi.org/10.1007/s00198-018-4806-0
Keywords