Abstract
Summary
Impaired functional movement may occur after spinal surgery, which increases risk of fall episode and hip fracture. Patients with long-segment thoracolumbar spine fusions had a significantly higher risk of hip fracture than those with only discectomies. Fall prevention is necessary due to the highly increased hip fracture risk.
Introduction
Spinal surgeries are performed to treat spondylolisthesis, fractures, scoliosis, or other deformities. Impaired balance mechanisms and functional movement may occur after spinal surgery. Fall episodes may cause hip fractures, which have negative impacts on quality of life and increase mortality. The incidence of hip fracture after spinal surgery is still unknown. The aim of this study was to examine the association between various types of spinal surgeries and hip fractures in the elderly by using a nationwide database. We hypothesized that the spinal surgeries may increase hip fracture risk in the elderly.
Methods
We used the National Health Insurance Research Database (NHIRD) to identify 3345 patients undergoing spinal surgery and a random dataset to identify 6690 age-, sex- and Charlson comorbidity index (CCI)-matched controls to compare the incidence of hip fractures in an 11-year follow-up period. We also enrolled 82,730 patients with spinal surgeries from the inpatient dataset to investigate the impact of different types of spinal surgeries.
Results
Patients who received spinal surgeries had higher risks of hip fractures, especially patients aged 60 to 79 years and female patients. The patients with long-segment thoracolumbar spinal fusions had a significantly higher risk of hip fracture than those with only discectomies. Short segmental lumbar spine fusions also slightly increased the risk of hip fracture compared with discectomies.
Conclusion
Fall prevention for the elderly undergoing lumbar spinal surgery is necessary due to the highly increased hip fracture risk.
Access options
Buy single article
Instant access to the full article PDF.
USD 39.95
Price excludes VAT (USA)
Tax calculation will be finalised during checkout.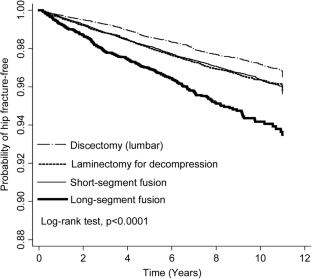 References
Haentjens P, Magaziner J, Colón-Emeric CS, Vanderschueren D, Milisen K, Velkeniers B, Boonen S (2010) Meta-analysis: excess mortality after hip fracture among older women and men. Ann Intern Med 152:380–390

Cauley JA, Thompson DE, Ensrud KC, Scott JC, Black D (2000) Risk of mortality following clinical fractures. Osteoporos Int 11:556–561

Roche JJ, Wenn RT, Sahota O, Moran CG (2005) Effect of comorbidities and postoperative complications on mortality after hip fracture in elderly people: prospective observational cohort study. BMJ 331:1374

Haentjens P, Autier P, Collins J, Velkeniers B, Vanderschueren D, Boonen S (2003) Colles fracture, spine fracture, and subsequent risk of hip fracture in men and women. J Bone Joint Surg 85-A(10):1936–1943

Law MR, Hackshaw AK (1997) A meta-analysis of cigarette smoking, bone mineral density and risk of hip fracture: recognition of a major effect. BMJ 315:841–846

Black DM, Arden NK, Palermo L, Pearson J, Cummings SR (1999) Prevalent vertebral deformities predict hip fractures and new vertebral deformities but not wrist fractures. J Bone Miner Res 14:821–828

Hothersall EJ, Livingstone SJ, Ahmed SF Looker HC, Cleland S, Leese GP, Lindsay RS, McKnight J, Pearson D, Philip S, Wild SH, Colhoun HM (2014) Contemporary risk of hip fracture in type 1 and type 2 diabetes: a National Registry Study from Scotland. J Bone Miner Res 29:1054–1060

Vestergaard P, Rejnmark L, Mosekilde L (2005) Relative fracture risk in patients with diabetes mellitus, and the impact of insulin and oral antidiabetic medication on relative fracture risk. Diabetologia 48:1292–1299

Van Staa TP, Leufkens HG, Abenhaim L, Zhang B, Cooper C (2000) Use of oral corticosteroids and risk of fractures. J Bone Miner Res 15:993–1000

Yang YX, Lewis JD, Epstein S, Metz DC (2006) Long-term proton pump inhibitor therapy and risk of hip fracture. JAMA 296:2947–2953

Lauritzen JB, Lund B (1993) Risk of hip fracture after osteoporosis fractures: 451 women with fracture of lumbar spine, olecranon, knee or ankle. Acta Orthop Scand 64:297–300

Butt DA, Mamdani M, Austin PC, Tu K, Gomes T, Glazier RH (2012) The risk of hip fracture after initiating antihypertensive drugs in the elderly. Arch Intern Med 172:1739–1744

Morcuende JA, Arauz S, Weinstein SL (2000) Stress fracture of the hip and pubic rami after fusion to the sacrum in an adult with scoliosis: a case report. Iowa Orthop J 20:79–84

Park P, Garton HJ, Gala VC, Hoff JT, McGillicuddy JE (2004) Adjacent segment disease after lumbar or lumbosacral fusion: review of the literature. Spine 29:1938–1944

Hsing AW, Ioannidis JP (2015) Nationwide population science lessons from the Taiwan National Health Insurance Research Database. JAMA Intern Med 175:1527–1529

Ho Chan WS (2010) Taiwan's healthcare report 2010. EPMA J 1:563–585

Hsu CC, Wahlqvist ML, Lee MS, Tsai HN (2011) Incidence of dementia is increased in type 2 diabetes and reduced by the use of sulfonylureas and metformin. J Alzheimers Dis 24:485–493

Romano PS, Roos LL, Jollis JG (1993) Adapting a clinical comorbidity index for use with ICD-9-CM administrative data: differing perspectives. J Clin Epidemiol 46:1075–1079 discussion 1081-1090

Chie WC, Yang RS, Liu JP, Tsai KS (2004) High incidence rate of hip fracture in Taiwan: estimated from a nationwide health insurance database. Osteoporos Int 15:998–1002

Aizawa T, Sato T, Ozawa H, Morozumi N, Matsumoto F, Sasaki H, Hoshikawa T, Kawahara C, Itoi E Kokubun S (2008) Sagittal alignment changes after thoracic laminectomy in adults. J Neurosurg Spine 8:510–516

Barrey C, Roussouly P, Le Huec JC, D'Acunzi G, Perrin G (2013) Compensatory mechanisms contributing to keep the sagittal balance of the spine. Eur Spine J 22:834–841

Albert TJ, Vacarro A (1998) Postlaminectomy kyphosis. Spine 23:2738–2745

Cuttler SJ, Barr-Walker J, Cuttler L (2017) Reducing medical-surgical inpatient falls and injuries with videos, icons and alarms. BMJ Open Qual 6:e000119
Ethics declarations
Conflict of interest
None.
About this article
Cite this article
Li, CY., Chang, CL. & Tai, TW. Incidence and risk factors for hip fracture in elderly patients undergoing lumbar spine surgery: a nationwide database study with 11-year follow-up. Osteoporos Int 29, 2717–2723 (2018). https://doi.org/10.1007/s00198-018-4734-z
Received:

Accepted:

Published:

Issue Date:

DOI: https://doi.org/10.1007/s00198-018-4734-z
Keywords