Abstract
Summary
Bone loss following a fracture could increase the risk of future fractures. In this study, we found that elderly women who had an upper body fracture or multiple fractures lost more bone at the hip than those who did not fracture. This suggests a possible systemic bone loss response initiated by fracture.
Introduction
A prior fracture is one of the strongest predictors of subsequent fracture risk, but the etiology of this phenomenon remains unclear. Systemic bone loss post-fracture could contribute to increased risk of subsequent fractures. Therefore, in this study, we investigated whether incident fractures, including those distant to the hip, are associated with accelerated loss of hip bone mineral density (BMD) in elderly women.
Methods
We analyzed data from 3956 Caucasian women aged ≥ 65 years who were enrolled in the Study of Osteoporotic Fractures and completed hip BMD measurements at study visit 4 (year 6) and visit 6 (year 10). Clinical fractures between visits 4 and 6 were ascertained from triannual questionnaires and centrally adjudicated by review of community radiographic reports. Subjects provided questionnaire information and clinical variables at examinations for known and potential covariates. Generalized linear models were used to calculate average annual percent change in total hip BMD between visits 4 and 6 for each incident fracture type and for upper body and lower body fractures combined. A subset of women (n = 3783) was analyzed for annual total hip BMD change between study visits 4 and 5 and between study visits 5 and 6 to evaluate change in total hip BMD during these 2-year intervals.
Results
Women with incident upper body fracture or incident lower body fracture exhibited reductions in total hip BMD of 0.89 and 0.77% per year, respectively, while women who did not fracture exhibited reductions in total hip BMD of 0.66% per year during the 4-year period. Accelerated loss of hip BMD was isolated to the 2-year time interval that included the fracture. Loss of total hip BMD was not affected by the number of days from fracture to follow up DXA.
Conclusions
Systemic bone loss following fracture may increase the risk of future fractures at all skeletal sites. There is a need for improved understanding of mechanisms leading to apparent accelerated bone loss following a fracture in order to reduce subsequent fracture risk.
Access options
Buy single article
Instant access to the full article PDF.
US$ 39.95
Tax calculation will be finalised during checkout.
Subscribe to journal
Immediate online access to all issues from 2019. Subscription will auto renew annually.
US$ 119
Tax calculation will be finalised during checkout.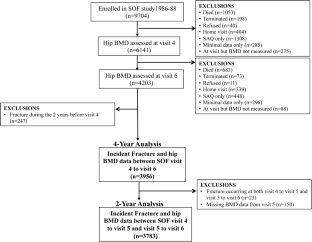 References
1.

Clinton J, Franta A, Polissar NL, Neradilek B, Mounce D, Fink HA, Schousboe JT, Matsen FA III (2009) Proximal humeral fracture as a risk factor for subsequent hip fractures. J Bone Joint Surg Am 91(3):503–511

2.

Klotzbuecher CM, Ross PD, Landsman PB, Abbott TA 3rd, Berger M (2000) Patients with prior fractures have an increased risk of future fractures: a summary of the literature and statistical synthesis. J Bone Miner Res 15(4):721–739

3.

Wu F, Mason B, Horne A, Ames R, Clearwater J, Liu M, Evans MC, Gamble GD, Reid IR (2002) Fractures between the ages of 20 and 50 years increase women's risk of subsequent fractures. Arch Intern Med 162(1):33–36

4.

Haentjens P, Autier P, Collins J, Velkeniers B, Vanderschueren D, Boonen S (2003) Colles fracture, spine fracture, and subsequent risk of hip fracture in men and women. A meta-analysis. J Bone Joint Surg Am 85-A(10):1936–1943

5.

Lauritzen JB, Schwarz P, McNair P, Lund B, Transbol I (1993) Radial and humeral fractures as predictors of subsequent hip, radial or humeral fractures in women, and their seasonal variation. Osteoporos Int 3(3):133–137

6.

Robinson CM, Royds M, Abraham A, McQueen MM, Court-Brown CM, Christie J (2002) Refractures in patients at least forty-five years old: a prospective analysis of twenty-two thousand and sixty patients. J Bone Joint Surg Am 84-A(9):1528–1533

7.

Johnell O, Kanis JA, Oden A, Sernbo I, Redlund-Johnell I, Petterson C et al (2004) Fracture risk following an osteoporotic fracture. Osteoporos Int 15(3):175–179

8.

Black DM, Arden NK, Palermo L, Pearson J, Cummings SR (1999) Prevalent vertebral deformities predict hip fractures and new vertebral deformities but not wrist fractures. Study of Osteoporotic Fractures Research Group. J Bone Miner Res 14(5):821–828

9.

Amin S, Melton LJ 3rd, Achenbach SJ, Atkinson EJ, Dekutoski MB, Kirmani S et al (2013) A distal forearm fracture in childhood is associated with an increased risk for future fragility fractures in adult men, but not women. J Bone Miner Res 28(8):1751–1759

10.

Melton LJ 3rd, Ilstrup DM, Beckenbaugh RD, Riggs BL (1982) Hip fracture recurrence. A population-based study. Clin Orthop Relat Res (167):131–8

11.

Silman AJ (1995) The patient with fracture: the risk of subsequent fractures. Am J Med 98(2A):12S–16S

12.

Goulding A, Cannan R, Williams SM, Gold EJ, Taylor RW, Lewis-Barned NJ (1998) Bone mineral density in girls with forearm fractures. J Bone Miner Res 13(1):143–148

13.

Lindsay R, Silverman SL, Cooper C, Hanley DA, Barton I, Broy SB, Licata A, Benhamou L, Geusens P, Flowers K, Stracke H, Seeman E (2001) Risk of new vertebral fracture in the year following a fracture. JAMA 285(3):320–323

14.

Whooley MA, Kip KE, Cauley JA, Ensrud KE, Nevitt MC, Browner WS (1999) Depression, falls, and risk of fracture in older women. Study of Osteoporotic Fractures Research Group. Arch Intern Med 159(5):484–490

15.

Ensrud KE, Ewing SK, Taylor BC, Fink HA, Stone KL, Cauley JA, Tracy JK, Hochberg MC, Rodondi N, Cawthon PM, for the Study of Osteoporotic Fractures Research Group (2007) Frailty and risk of falls, fracture, and mortality in older women: the study of osteoporotic fractures. J Gerontol A Biol Sci Med Sci 62(7):744–751

16.

Bliuc D, Alarkawi D, Nguyen TV, Eisman JA, Center JR (2015) Risk of subsequent fractures and mortality in elderly women and men with fragility fractures with and without osteoporotic bone density: the Dubbo Osteoporosis Epidemiology Study. J Bone Miner Res 30(4):637–646

17.

Szulc P, Feyt C, Chapurlat R (2016) High risk of fall, poor physical function, and low grip strength in men with fracture-the STRAMBO study. J Cachexia Sarcopenia Muscle 7(3):299–311

18.

Christiansen BA, Emami AJ, Fyhrie DP, Satkunananthan PB, Hardisty MR (2015) Trabecular bone loss at a distant skeletal site following noninvasive knee injury in mice. J Biomech Eng 137(1):011005

19.

Emami AJ, Toupadakis CA, Telek SM, Fyhrie DP, Yellowley CE, Christiansen BA (2018) Age dependence of systemic bone loss and recovery following femur fracture in mice. bioRxiv. https://doi.org/10.1101/291906

20.

Dirschl DR, Henderson RC, Oakley WC (1997) Accelerated bone mineral loss following a hip fracture: a prospective longitudinal study. Bone 21(1):79–82

21.

Karlsson M, Nilsson JA, Sernbo I, Redlund-Johnell I, Johnell O, Obrant KJ (1996) Changes of bone mineral mass and soft tissue composition after hip fracture. Bone 18(1):19–22

22.

Petersen MM, Gehrchen PM, Nielsen PK, Lund B (1997) Loss of bone mineral of the hip assessed by DEXA following tibial shaft fractures. Bone 20(5):491–495

23.

Magaziner J, Wehren L, Hawkes WG, Orwig D, Hebel JR, Fredman L, Stone K, Zimmerman S, Hochberg MC (2006) Women with hip fracture have a greater rate of decline in bone mineral density than expected: another significant consequence of a common geriatric problem. Osteoporos Int 17(7):971–977

24.

Rathbun AM, Shardell M, Orwig D, Hebel JR, Hicks GE, Beck T, Hochberg MC, Magaziner J (2016) Differences in the trajectory of bone mineral density change measured at the total hip and femoral neck between men and women following hip fracture. Arch Osteoporos 11:9

25.

Rathbun AM, Magaziner J, Shardell MD, Yerges-Armstrong LM, Orwig D, Hicks GE, Hochberg MC (2018) Older men who sustain a hip fracture experience greater declines in bone mineral density at the contralateral hip than non-fractured comparators. Osteoporos Int 29(2):365–373

26.

Cummings SR, Black DM, Nevitt MC, Browner WS, Cauley JA, Genant HK, Mascioli SR, Scott JC, Seeley DG, Steiger P (1990) Appendicular bone density and age predict hip fracture in women. The Study of Osteoporotic Fractures Research Group. JAMA 263(5):665–668

27.

Paffenbarger RS Jr, Wing AL, Hyde RT (1978) Physical activity as an index of heart attack risk in college alumni. Am J Epidemiol 108(3):161–175

28.

Gregg EW, Cauley JA, Stone K, Thompson TJ, Bauer DC, Cummings SR, Ensrud KE, Study of Osteoporotic Fractures Research Group (2003) Relationship of changes in physical activity and mortality among older women. JAMA 289(18):2379–2386

29.

Ensrud KE, Nevitt MC, Yunis C, Cauley JA, Seeley DG, Fox KM, Cummings SR (1994) Correlates of impaired function in older women. J Am Geriatr Soc 42(5):481–489

30.

Pahor M, Chrischilles EA, Guralnik JM, Brown SL, Wallace RB, Carbonin P (1994) Drug data coding and analysis in epidemiologic studies. Eur J Epidemiol 10(4):405–411

31.

Beardsley C, Marsh JL, Brown T (2004) Quantifying comminution as a measurement of severity of articular injury. Clin Orthop Relat Res 423:74–78

32.

Beardsley CL, Anderson DD, Marsh JL, Brown TD (2005) Interfragmentary surface area as an index of comminution severity in cortical bone impact. J Orthop Res 23(3):686–690
Funding
The Study of Osteoporotic Fractures (SOF) is supported by the National Institutes of Health funding. The National Institute on Aging (NIA) provides support under the following grant numbers: R01 AG005407, R01 AR35582, R01 AR35583, R01 AR35584, R01 AG005394, R01 AG027574, and R01 AG027576. Dr. Christiansen is supported by K01 AR062603 and R01 AR071459. Dr. Lane is supported by the SCOR P50 AR063043 and R01 AR043052 and Endowment to the Center for Musculoskeletal Health, UC Davis.
Ethics declarations
Conflicts of interest
None.
About this article
Cite this article
Christiansen, B.A., Harrison, S.L., Fink, H.A. et al. Incident fracture is associated with a period of accelerated loss of hip BMD: the Study of Osteoporotic Fractures. Osteoporos Int 29, 2201–2209 (2018). https://doi.org/10.1007/s00198-018-4606-6
Received:

Accepted:

Published:

Issue Date:
Keywords
Bone loss

Cohort study

DXA

Fracture healing

Fracture risk assessment

Osteoporosis