Abstract
Summary
This study examines the association of the levels of different airborne pollutants on the incidence of osteoporotic hip fracture in a southern European region. Association was detected between SO2 and NO2 and hospital admissions due to hip fracture.
Introduction
To examine the short-term effects of outdoor air pollution on the incidence of osteoporotic hip fracture in a southern European region.
Methods
This is an ecological retrospective cohort study based on data obtained from three databases. In a time-series analysis, we examined the association between hip fracture incidence and different outdoor air pollutants (sulfur dioxide (SO2), monoxide (NO), nitrogen dioxide (NO2), ozone (O3), and particulate matter in suspension < 2.5 (PM2.5) and < 10-μm (PM10) conditions by using general additive models (Poisson distribution). The incidence rate ratio (IRR), crude and adjusted by season and different weather conditions, was estimated for all parameters. Hip incidence was later analyzed by sex and age (under or over age 75) subgroups. The main outcome measure was daily hospital admissions due to fracture.
Results
Hip fracture incidence showed association with SO2 (IRR 1.11 (95% CI 1.04–1.18)), NO (IRR 1.01 (95% CI 1.01–1.02)), and NO2 (IRR 1.02 (95% CI 1.01–1.04)). For O3 levels, this association was negative (IRR 0.97 (95% CI 0.95–0.99)). The association persisted for SO2 and NO2 when the models were adjusted by season. After adjusting by season and weather conditions, the association persisted for NO2. When participants were stratified by age and sex, associations persisted only in women older than 75 years.
Conclusions
A short-term association was observed with several indicators of air pollution on hip fracture incidence. This is the first study that shows these associations.
Access options
Buy single article
Instant access to the full article PDF.
USD 39.95
Price excludes VAT (USA)
Tax calculation will be finalised during checkout.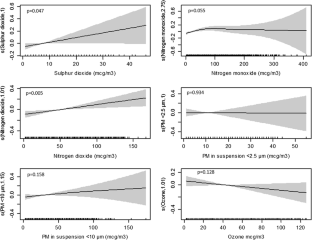 References
Cohen AJ, Brauer M, Burnett R, Anderson HR, Frostad J, Estep K, Balakrishnan K, Brunekreef B, Dandona R, Dandona L, Feigin V, Freedman G, Hubbell B, Jobling A, Kan H, Knibbs L, Liu Y, Martin R, Morawska L, Pope CA, Shin H, Straif K, Shaddick G, Thomas M, van Dingenen R, van Donkelaar A, Vos T, Murray CJL, Forouzanfar MH (2017) Estimates and 25-year trends of the global burden of disease attributable to ambient air pollution: an analysis of data from the Global Burden of Diseases Study 2015. Lancet 389:1907–1918. https://doi.org/10.1016/S0140-6736(17)30505-6

Landrigan PJ (2017) Air pollution and health. Lancet Public Health 2:e4–e5

Brook RD, Newby DE, Rajagopalan S (2017) Air pollution and cardiometabolic disease: an update and call for clinical trials. Am J Hypertens

Kinney PL, Ozkaynak H (1991) Associations of daily mortality and air pollution in Los Angeles County. Environ Res 54:99–120

Peters A, Dockery DW, Muller JE, Mittleman MA (2001) Increased particulate air pollution and the triggering of myocardial infarction. Circulation 103:2810–2815

Peters A, von Klot S, Heier M, Trentinaglia I, Hormann A, Wichmann HE, Lowel H, Cooperative health research in the region of Augsburg Study Group (2004) Exposure to traffic and the onset of myocardial infarction. N Engl J Med 351:1721–1730

Dominici F, Peng RD, Bell ML, Pham L, McDermott A, Zeger SL, Samet JM (2006) Fine particulate air pollution and hospital admission for cardiovascular and respiratory diseases. JAMA 295:1127–1134

Wellenius GA, Burger MR, Coull BA, Schwartz J, Suh HH, Koutrakis P, Schlaug G, Gold DR, Mittleman MA (2012) Ambient air pollution and the risk of acute ischemic stroke. Arch Intern Med 172:229–234

Chang KH, Chang MY, Muo CH, Wu TN, Hwang BF, Chen CY, Lin TH, Kao CH (2015) Exposure to air pollution increases the risk of osteoporosis: a nationwide longitudinal study. Medicine (Baltimore) 94:e733

Alvaer K, Meyer HE, Falch JA, Sogaard AJ (2010) Outdoor air pollution, bone density and self-reported forearm fracture: the Oslo Health Study. Osteoporos Int 21:1751–1760

Alvaer K, Meyer HE, Falch JA, Nafstad P, Sogaard AJ (2007) Outdoor air pollution and bone mineral density in elderly men—the Oslo Health Study. Osteoporos Int 18:1669–1674

Prada D, Zhong J, Colicino E, Zanobetti A, Schwartz J, Dagincourt N, Fang SC, Kloog I, Zmuda JM, Holick M, Herrera LA, Hou L, Dominici F, Bartali B, Baccarelli AA (2017) Association of air particulate pollution with bone loss over time and bone fracture risk: analysis of data from two independent studies. Lancet Planet Health 1:e347. https://doi.org/10.1016/S2542-5196(17)30136-5

Roman Ortiz C, Tenias JM, Estarlich M, Ballester F (2015) Systematic review of the association between climate and hip fractures. Int J Biometeorol 59:1511–1522

Pasco JA, Henry MJ, Kotowicz MA, Sanders KM, Seeman E, Pasco JR, Schneider HG, Nicholson GC (2004) Seasonal periodicity of serum vitamin D and parathyroid hormone, bone resorption, and fractures: the Geelong Osteoporosis Study. J Bone Miner Res 19:752–758

Bernal-Delgado E, Garcia-Armesto S, Peiro S, Atlas VPM Group (2014) Atlas of variations in medical practice in Spain: the Spanish National Health Service under scrutiny. Health Policy 114:15–30

Mazzucchelli R, Perez-Fernandez E, Crespi N, Garcia-Vadillo A, Rodriguez Caravaca G, Gil de Miguel A, Carmona L (2017) Second hip fracture: incidence, trends, and predictors. Calcif Tissue Int. https://doi.org/10.1007/s00223-017-0364-2

Anonymus. (2015) Estat. gof—Pearson or Hosmer–Lemeshow goodness-of-fit test. Stata Base Reference Manual, Release 14. 14th ed.: Stata Press Publication; 2015. p. 639-647. Stata Base Reference Manual, Release 14 14th ed: Stata Press Publication :639

Zeger SL, Irizarry R, Peng RD (2006) On time series analysis of public health and biomedical data. Annu Rev Public Health 27:57–79. https://doi.org/10.1146/annurev.publhealth.26.021304.144517

European Environment Agency Air quality in Europe 2016 report. European Environment Agency

Rice MB, Ljungman PL, Wilker EH, Dorans KS, Gold DR, Schwartz J, Koutrakis P, Washko GR, O'Connor GT, Mittleman MA (2015) Long-term exposure to traffic emissions and fine particulate matter and lung function decline in the Framingham Heart Study. Am J Respir Crit Care Med 191:656–664

Kunzli N, Bridevaux PO, Liu LJ, Garcia-Esteban R, Schindler C, Gerbase MW, Sunyer J, Keidel D, Rochat T, Swiss Cohort Study on Air Pollution and Lung Diseases in Adults (2009) Traffic-related air pollution correlates with adult-onset asthma among never-smokers. Thorax 64:664–670

Jacquemin B, Siroux V, Sanchez M, Carsin AE, Schikowski T, Adam M, Bellisario V, Buschka A, Bono R, Brunekreef B, Cai Y, Cirach M, Clavel-Chapelon F, Declercq C, de Marco R, de Nazelle A, Ducret-Stich RE, Ferretti VV, Gerbase MW, Hardy R, Heinrich J, Janson C, Jarvis D, Al Kanaani Z, Keidel D, Kuh D, Le Moual N, Nieuwenhuijsen MJ, Marcon A, Modig L, Pin I, Rochat T, Schindler C, Sugiri D, Stempfelet M, Temam S, Tsai MY, Varraso R, Vienneau D, Vierkotter A, Hansell AL, Kramer U, Probst-Hensch NM, Sunyer J, Kunzli N, Kauffmann F (2015) Ambient air pollution and adult asthma incidence in six European cohorts (ESCAPE). Environ Health Perspect 123:613–621

Brook RD, Rajagopalan S, Pope CA, Brook JR, Bhatnagar A, Diez-Roux AV, Holguin F, Hong Y, Luepker RV, Mittleman MA, Peters A, Siscovick D, Smith SC, Whitsel L, Kaufman JD, American Heart Association Council on Epidemiology and Prevention, Council on the Kidney in Cardiovascular Disease (2010) Particulate matter air pollution and cardiovascular disease: an update to the scientific statement from the American Heart Association. Circulation 121:2331–2378

Raaschou-Nielsen O, Andersen ZJ, Beelen R, Samoli E, Stafoggia M, Weinmayr G, Hoffmann B, Fischer P, Nieuwenhuijsen MJ, Brunekreef B, Xun WW, Katsouyanni K, Dimakopoulou K, Sommar J, Forsberg B, Modig L, Oudin A, Oftedal B, Schwarze PE, Nafstad P, De Faire U, Pedersen NL, Ostenson CG, Fratiglioni L, Penell J, Korek M, Pershagen G, Eriksen KT, Sorensen M, Tjonneland A, Ellermann T, Eeftens M, Peeters PH, Meliefste K, Wang M, Bueno-de-Mesquita B, Key TJ, de Hoogh K, Concin H, Nagel G, Vilier A, Grioni S, Krogh V, Tsai MY, Ricceri F, Sacerdote C, Galassi C, Migliore E, Ranzi A, Cesaroni G, Badaloni C, Forastiere F, Tamayo I, Amiano P, Dorronsoro M, Trichopoulou A, Bamia C, Vineis P, Hoek G (2013) Air pollution and lung cancer incidence in 17 European cohorts: prospective analyses from the European Study of Cohorts for Air Pollution Effects (ESCAPE). Lancet Oncol 14:813–822

Wang B, Xu D, Jing Z, Liu D, Yan S, Wang Y (2014) Effect of long-term exposure to air pollution on type 2 diabetes mellitus risk: a systemic review and meta-analysis of cohort studies. Eur J Endocrinol 171:173

Ailshire JA, Crimmins EM (2014) Fine particulate matter air pollution and cognitive function among older US adults. Am J Epidemiol 180:359–366

Carre J, Gatimel N, Moreau J, Parinaud J, Leandri R (2017) Does air pollution play a role in infertility?: a systematic review. Environ Health 16:8

Izzotti A, Parodi S, Quaglia A, Fare C, Vercelli M (2000) The relationship between urban airborne pollution and short-term mortality: quantitative and qualitative aspects. Eur J Epidemiol 16:1027–1034

Babadjouni RM, Hodis DM, Radwanski R, Durazo R, Patel A, Liu Q, Mack WJ (2017) Clinical effects of air pollution on the central nervous system; a review. J Clin Neurosci 43:16–24

Lorentzon M, Mellstrom D, Haug E, Ohlsson C (2007) Smoking is associated with lower bone mineral density and reduced cortical thickness in young men. J Clin Endocrinol Metab 92:497–503

Ishimi Y (2015) Osteoporosis and lifestyle. J Nutr Sci Vitaminol (Tokyo) 61(Suppl):139

Calderon-Garciduenas L, Mora-Tiscareno A, Francolira M, Torres-Jardon R, Pena-Cruz B, Palacios-Lopez C, Zhu H, Kong L, Mendoza-Mendoza N, Montesinoscorrea H, Romero L, Valencia-Salazar G, Kavanaugh M, Frenk S (2013) Exposure to urban air pollution and bone health in clinically healthy six-year-old children. Arh Hig Rada Toksikol 64:23–34

Berry, SD, Kiel, DP (2013) Falls as risk factors for fracture, In Marcus R (ed) Osteoporosis. Copyright© 2013, 2008, 2001, 1996 Elsevier Inc., pp 803–15

Tinetti ME (2003) Clinical practice. Preventing falls in elderly persons. N Engl J Med 348:42–49

Lipsitz LA (1989) Altered blood pressure homeostasis in advanced age: clinical and research implications. J Gerontol 44:179

Kario K, Tobin JN, Wolfson LI, Whipple R, Derby CA, Singh D, Marantz PR, Wassertheil-Smoller S (2001) Lower standing systolic blood pressure as a predictor of falls in the elderly: a community-based prospective study. J Am Coll Cardiol 38:246–252. https://doi.org/10.1016/S0735-1097(01)01327-4

Wang C, Tu Y, Yu Z, Lu R (2015) PM2.5 and cardiovascular diseases in the elderly: an overview. Int J Environ Res Public Health 12:8187–8197

Liao D, Duan Y, Whitsel EA, Zheng ZJ, Heiss G, Chinchilli VM, Lin HM (2004) Association of higher levels of ambient criteria pollutants with impaired cardiac autonomic control: a population-based study. Am J Epidemiol 159:768–777

Pieters N, Plusquin M, Cox B, Kicinski M, Vangronsveld J, Nawrot TS (2012) An epidemiological appraisal of the association between heart rate variability and particulate air pollution: a meta-analysis. Heart 98:1127–1135

Devlin RB, Ghio AJ, Kehrl H, Sanders G, Cascio W (2003) Elderly humans exposed to concentrated air pollution particles have decreased heart rate variability. Eur Respir J 40(Suppl):80s

Alvarez-Nebreda ML, Jimenez AB, Rodriguez P, Serra JA (2008) Epidemiology of hip fracture in the elderly in Spain. Bone 42:278–285

Tenias JM, Mifsut Miedes D (2004) Hip fracture incidence: trends, seasonality, and geographic distribution in a health district in the autonomous community of Valencia, Spain (1994–2000). Rev Esp Salud Publica 78:539–546

Tenias JM, Estarlich M, Crespo E, Roman-Ortiz C, Arias-Arias A, Ballester F (2015) Short-term relationship between hip fracture and weather conditions in two Spanish health areas with different climates. J Environ Public Health 2015:395262

Pine M, Norusis M, Jones B, Rosenthal GE (1997) Predictions of hospital mortality rates: a comparison of data sources. Ann Intern Med 126:347–354

Jollis JG, Ancukiewicz M, DeLong ER, Pryor DB, Muhlbaier LH, Mark DB (1993) Discordance of databases designed for claims payment versus clinical information systems. Implications for outcomes research. Ann Intern Med 119:844–850

Morgenstern H (1995) Ecologic studies in epidemiology: concepts, principles, and methods. Annu Rev Public Health 16:61–81
Acknowledgements
The authors would like to thank the personnel of the Ministry of Environment and the Madrid Community Government for providing data on air pollution and their contribution to the discussion on results. We would also like to thank Beatriz Gonzalez Piñeiro for her valuable help with our hospital information system. Additionally, the authors give thanks to the personnel of the Research Unit of the Spanish Society of Rheumatology (SER, by its Spanish acronym) for their support in the editing and translation of the manuscript. To my good friend Caligula who faithfully accompanies me in my research work.
Ethics declarations
Conflicts of interest
None.
About this article
Cite this article
Mazzucchelli, R., Crespi Villarias, N., Perez Fernandez, E. et al. Short-term association between outdoor air pollution and osteoporotic hip fracture. Osteoporos Int 29, 2231–2241 (2018). https://doi.org/10.1007/s00198-018-4605-7
Received:

Accepted:

Published:

Issue Date:

DOI: https://doi.org/10.1007/s00198-018-4605-7
Keywords