Abstract
Summary
We conducted a nested case–control study to study the association between antidiabetic treatments (alone or in combination) use and fracture risk among incident type 2 Diabetes mellitus patients. We found an increased risk of bone fracture with insulin therapy compared to metformin monotherapy.
Introduction
Patients with type 2 diabetes mellitus (T2DM) have an increased risk of fragility fractures, to which antidiabetic therapies may contribute. We aimed to characterize the risk of fracture associated with different antidiabetic treatments as usually prescribed to T2DM patients in actual practice conditions.
Methods
A case–control study was nested within a cohort of incident T2DM patients registered in 2006–2012 in the Information System for Research Development in Primary Care (Catalan acronym, SIDIAP), a database which includes records for > 5.5 million patients in Catalonia (Spain). Each case (incident major osteoporotic fracture) was risk-set matched with up to five same-sex controls by calendar year of T2DM diagnosis and year of birth (± 10 years). Study exposure included previous use of all antidiabetic medications (alone or in combination), as dispensed in the 6 months before the index date, with metformin (MTF) monotherapy, the most commonly used drug, as a reference group (active comparator).
Results
Data on 12,277 T2DM patients (2049 cases and 10,228 controls) were analyzed. Insulin use was associated with increased fracture risk (adjusted OR 1.63 (95% CI 1.30–2.04)), as was the combination of MTF and sulfonylurea (SU) (adjusted OR 1.29 (1.07–1.56)), compared with MTF monotherapy. Sensitivity analyses suggest possible causality for insulin therapy but not for the MTF + SU combination association. No significant association was found with any other antidiabetic medications.
Conclusions
Insulin monotherapy was associated with an increased fracture risk compared to MTF monotherapy in T2DM patients. Fracture risk should be taken into account when starting a glucose-lowering drug as part of T2DM treatment.
Access options
Buy single article
Instant access to the full article PDF.
USD 39.95
Price excludes VAT (USA)
Tax calculation will be finalised during checkout.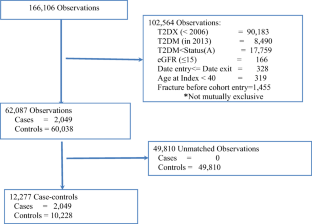 References
Vestergaard P, Rejnmark L, Mosekilde L (2005) Relative fracture risk in patients with diabetes mellitus, and the impact of insulin and oral antidiabetic medication on relative fracture risk. Diabetologia 48:1292–1299

Janghorbani M, Van Dam RM, Willett WC, Hu FB (2007) Systematic review of type 1 and type 2 diabetes mellitus and risk of fracture. Am J Epidemiol 166:495–505

Martinez-Laguna D, Tebe C, Javaid MK, Nogues X, Arden NK, Cooper C, Diez-Perez A, Prieto-Alhambra D (2015) Incident type 2 diabetes and hip fracture risk: a population-based matched cohort study. Osteoporos Int 26:827–833

Janghorbani M, Feskanich D, Willett WC, Hu F (2006) Prospective study of diabetes and risk of hip fracture: the nurses' health study. Diabetes Care 29:1573–1578

Melton LJ III, Leibson CL, Achenbach SJ, Therneau TM, Khosla S (2008) Fracture risk in type 2 diabetes: update of a population-based study. J Bone Miner Res 23:1334–1342

Schwartz AV, Vittinghoff E, Bauer DC, Hillier TA, Strotmeyer ES, Ensrud KE, Donaldson MG, Cauley JA, Harris TB, Koster A, Womack CR, Palermo L, Black DM (2011) Study of osteoporotic fractures (SOF) research group; osteoporotic fractures in men (MrOS) research group; health, aging, and body composition (health ABC) research group. Association of BMD and FRAX score with risk of fracture in older adults with type 2 diabetes. JAMA 305:2184–2192

Ma L, Oei L, Jiang L, Estrada K, Chen H, Wang Z, Yu Q, Zillikens MC, Gao X, Rivadeneira F (2012) Association between bone mineral density and type 2 diabetes mellitus: a meta-analysis of observational studies. Eur J Epidemiol 27:319–332

Farr JN, Drake MT, Amin S, Melton LJ 3rd, McCready LK, Khosla S (2014) In vivo assessment of bone quality in postmenopausal women with type 2 diabetes. J Bone Miner Res 29:787–795

Saito M, Morume K (2013) Bone quality in diabetes. Front Endocrinol 4:72

van Daele PL, Tolk RP, Burger H, Algra D, Grobbee DE, Hofman A, Birkenhäger JC, Pols HA (1995) Bone density in non-insulin-dependent diabetes mellitus. The Rotterdam study. Ann Intern Med 122:409–414

Ivers RQ, Cumming RG, Mitchell P, Peduto AJ (2001) Diabetes and risk of fracture: the Blue Mountains eye study. Diabetes Care 24:1198–1203

Yoshinari M, Wakisaka M, Nakamura U, Yoshioka M, Uchizono Y, Iwase M (2001) Orthostatic hypotension in patients with type 2 diabetes. Diabetes Care 24:1783–1786

Johnston SS, Conner C, Aagren M, Ruiz K, Bouchard J (2012) Association between hypoglycaemic events and fall-related fractures in Medicare-covered patients with type 2 diabetes. Diabetes Obes Metab 14:634–643

Oei L, Zillikens MC, Dehghan A, Buitendijk GH, Castaño-Betancourt MC, Estrada K, Stolk L, Oei EH, van Meurs JB, Janssen JA, Hofman A, van Leeuwen JP, Witteman JC, Pols HA, Uitterlinden AG, Klaver CC, Franco OH, Rivadeneira F (2013) High bone mineral density and fracture risk in type 2 diabetes as skeletal complications of inadequate glucose control: the Rotterdam study. Diabetes Care 36:1619–1628

American Diabetes Association. Standards of Medical Care in Diabetes (2018) Diabetes Care 41:S1–S155

Vestergaard P, Rejnmark L, Mosekilde L (2009) Diabetes and its complications and their relationship with risk of fractures in type 1 and 2 diabetes. Calcif Tissue Int 84:45–55

Kahn SE, Zinman B, Lachin JM, Haffner SM, Herman WH, Holman RR, Kravitz BG, Yu D, Heise MA, Aftring RP, Viberti G (2008) Diabetes outcome progression trial (ADOPT) study group. Rosiglitazone-associated fractures in type 2 diabetes: an analysis from a diabetes outcome progression trial (ADOPT). Diabetes Care 31:845–851

Monami M, Cresci B, Colombini A, Pala L, Balzi D, Gori F, Chiasserini V, Marchionni N, Rotella CM (2008) Bone fractures and hypoglycemic treatment in type 2 diabetic patients. Diabetes Care 31:199–203

Bilik D, McEwen LN, Brown MB, Pomeroy NE, Kim C, Asao K, Crosson JC, Duru OK, Ferrara A, Hsiao VC, Karter AJ, Lee PG, Marrero DG, Selby JV, Subramanian U, Herman WH (2010) Thiazolidinediones and fractures: evidence from translating research into action for diabetes. J Clin Endocrinol Metab 95:4560–4565

Dormuth CR, Carney G, Carleton B, Bassett K, Wright JM (2009) Thiazolidinediones and fractures in men and women. Arch Intern Med 169:1395–1402

Loke YK, Singh S, Furberg CD (2009) Long-term use of thiazolidinediones and fractures in type 2 diabetes: a meta-analyses. CMAJ 180:32–39

Starup-Linde J, Gregersen S, Frost M, Vestergaard P (2017) Use of glucose-lowering drugs and risk of fracture in patients with type 2 diabetes. Bone 95:136–142

Rajpathak SN, Fu C, Brodovicz KG, Engel SS, Lapane K (2015) Sulfonylurea use and risk of hip fractures among elderly men and women with type 2 diabetes. Drugs Aging 32:321–327

Losada-Grande E, Hawley S, Soldevila B, Martinez-Laguna D, Nogues X, Diez-Perez A, Puig-Domingo M, Mauricio D, Prieto-Alhambra D (2017) Insulin use and excess fracture risk in patients with type 2 diabetes: a propensity-matched cohort study. Sci Rep 7:3781

Mabilleau G, Mieczowska A, Chappard D (2014) Use of glucagon-like peptide-1 receptor agonists and bone fractures: a meta-analysis of randomized clinical trials. J Diabetes 6:260–266

Driessen JH, de Vries F, van Onzenoort H, Harvey NC, Neef C, van den Bergh JP, Vestergaard P, Henry RM (2017) The use of incretins and fractures—a meta-analysis on population-based real-life data. Br J Clin Pharmacol 83:923–926

Su B, Sheng H, Zhang M, Bu L, Yang P, Li L, Li F, Sheng C, Han Y, Qu S, Wang J (2015) Risk of bone fractures associated with glucagon-like peptide-1 receptor agonists' treatment: a meta-analysis of randomized controlled trials. Endocrine 48:107–115

Monami M, Dicembrini I, Antenore A, Mannucci E (2011) Dipeptidyl peptidase-4 inhibitors and bone fractures: a meta-analysis of randomized clinical trials. Diabetes Care 34:2474–2476

Garcia-Gil M, Hermosilla E, Prieto-Alhambra D, Fina D, Rosell M, Ramos R, Rodriguez J, Williams T, Van Staa T, Bolívar B (2011) Construction and validation of scoring a system for the selection of high-quality data in a Spanish population primary care database (SIDIAP). Inform Prim Care 19:135–145

Pagès-Castellà A, Carbonell-Abella C, Avilés FF, Alzamora M, Baena-Díez JM, Laguna DM, Nogués X, Díez-Pérez A, Prieto-Alhambra D (2012) Burden of osteoporotic fractures in primary health care in Catalonia (Spain) a population-based. BMC Musculoskelet Disord 13:79

Domíngeux-Berjón MF, Borrell C, Cano-Serral G, Esnaola S, Nolasco A, Pasarín MI, Ramis R, Saurina C, Escolar-Pujolar A (2008) Constructing a deprivation index based on census data in large Spanish cities (the MEDEA project). Gac Sanit 22:179–187

Gilbert MP, Pratley RE (2015) The impact of diabetes and diabetes medications on bone health. Endocr Rev 36:194–213

Srikanthan P, Crandall CJ, Miller-Martinez D, Seeman TE, Greendale GA, Binkley N, Karlamangla AS (2014) Insulin resistance and bone strength findings from the study of midlife in the United States. J Bone Miner Res 29:796–803

Mauricio D, Meneghini L, Seufert J, Liao L, Wang H, Tong L, Cali A, Stella P, Carita P, Khunti K (2017) Glycaemic control and hypoglycaemia burden in patients with type 2 diabetes initiating basal insulin in Europe and the USA. Diabetes Obes Metab 19:1155–1164

Overbeek JA, Heintjes EM, Prieto-Alhambra D, Blin P, Lassalle R, Hall GC, Lapi F, Bianchini E, Hammar N, Bezemer ID, Herings RMC (2017) Type 2 diabetes mellitus treatment patterns across Europe: a population-based multi database study. Clin Ther 39:759–770

Mata-Cases M, Franch-Nadal J, Real J, Mauricio D (2016) Glycaemic control and antidiabetic treatment trends in primary care centres in patients with type 2 diabetes mellitus during 2007–2013 in Catalonia: a population-based study. BMJ Open 6:e012463

Josse RG, Majumdar SR, Zheng Y, Adler A, Bethel MA, Buse JB, Green JB, Kaufman KD, Rodbard HW, Tankova T, Westerhout CM, Peterson ED, Holman RR, Armstrong PW, TECOS Study Group (2017) Sitagliptin and risk of fractures in type 2 diabetes: results from the TECOS trial. Diabetes Obes Metab 19:78–86

Mosenzon O, ei C, Davidson J, Scirica BM, Yanuv I, Rozenberg A, Hirshberg B, Cahn A, Stahre C, Strojek K, Bhatt DL, Raz I (2015) Incidence of fractures in patients with type 2 diabetes in the SAVOR-TIMI 53 trial. Diabetes Care 38:2142–2150

Martínez-Laguna D, Soria-Castro A, Carbonell-Abella C, Orozco-López P, Estrada-Laza P, Conesa-García A et al (2014) P-58: Estudio de incidencia de fracturas por fragilidad registradas en pacientes atendidos en la Atención Primaria de salud. Rev Osteoporos Metab Min 6:36–44
Acknowledgments
This work has been carried out as a part of the PhD program of the Department of Medicine, Universitat Autònoma de Barcelona. CIBER of Diabetes and Associated Metabolic Diseases (CIBERDEM) is an initiative from Instituto de Salud Carlos III, Spain.
The authors thank Elaine Lilly, Ph.D., for revising the manuscript for English language usage.
Ethics declarations
Conflict of interest
D.P.A. declares that his department/research group has received unrestricted research grants from Amgen, Servier Laboratoires, and Bioiberica; XN has been paid by Amgen and Lilly for developing and delivering educational presentations; D.M. declares receipt of honoraria from Abbott, Astra Zeneca, Boehringer Ingelheim, Bristol-Myers Squibb, Ferrer, GlaxoSmithKline, Eli Lilly, Medtronic, Merck Sharp & Dohme, Novartis, Novo Nordisk, and Sanofi for consulting and presentations. ADP has been a speaker or advisory board member for Lilly, Amgen, GSK, and UCB and owns stocks of Active Life Scientific; E.L.G., B.S., M.S.A., M.P.D., and D.M.L. have no conflicts of interest.
About this article
Cite this article
Losada, E., Soldevila, B., Ali, M. et al. Real-world antidiabetic drug use and fracture risk in 12,277 patients with type 2 diabetes mellitus: a nested case–control study. Osteoporos Int 29, 2079–2086 (2018). https://doi.org/10.1007/s00198-018-4581-y
Received:

Accepted:

Published:

Issue Date:

DOI: https://doi.org/10.1007/s00198-018-4581-y
Keywords