Abstract
Summary
The anti-oxidative effects of vitamin D3 (Vd3) on mesenchymal stem cells (MSCs) have not been studied before. The present study suggested that Vd3 could not only promote the osteogenic differentiation of MSCs under normal condition but also partly protect it from oxidative stress damage by activating the endogenous antioxidant system.
Introduction
Evolving evidence proved that oxidative stress caused by reactive oxygen species (ROS) overproduction might lead to bone loss. Vd3, a commonly used osteogenic induction drug, was proved to exhibit potent anti-oxidative effects on other cell types. The present study aims to investigate the protective effects of Vd3 on oxidative stress-induced dysfunctions of MSCs, as well as its underlying mechanisms.
Methods
The H2O2 was used as exogenous reactive oxygen species (ROS). The influence of ROS and anti-oxidative protection of Vd3 on MSCs were analyzed too. Multi-techniques were used to assess the beneficial effects of Vd3 on MSCs under oxidative stress condition.
Results
The results demonstrated that Vd3 could significantly attenuate the H2O2-induced cell injury of MSCs via Sirt1/FoxO1 signaling pathway, and reduced the H2O2 exposure-induced intracellular oxidative stress status of MSCs. What's more, the H2O2 exposure resulted in the decreased osteogenic differentiation of MSCs, as evidenced by decreased alkaline phosphatase activity, calcium deposition level, and osteogenic differentiation gene mRNA levels, but the injury was restored via Vd3 administration.
Conclusions
The results suggested that Vd3 could not only promote the osteogenic differentiation of osteoblastic cells under normal condition but also partly protect the cell from oxidative stress damage by activating endogenous antioxidant system. The study shed light on the new roles of Vd3 in bone modeling and remodeling regulation.
This is a preview of subscription content, log in to check access.
Access options
Buy single article
Instant access to the full article PDF.
US$ 39.95
Price includes VAT for USA
Subscribe to journal
Immediate online access to all issues from 2019. Subscription will auto renew annually.
US$ 199
This is the net price. Taxes to be calculated in checkout.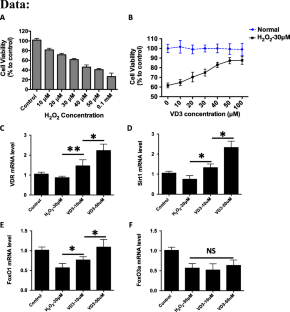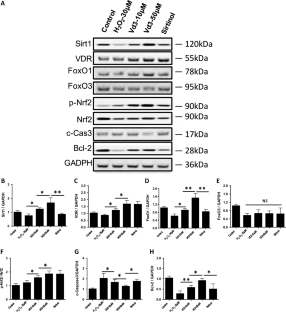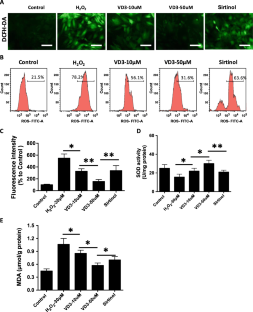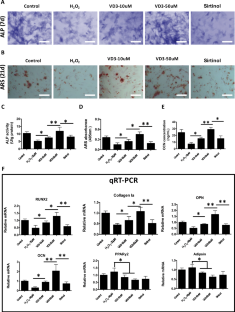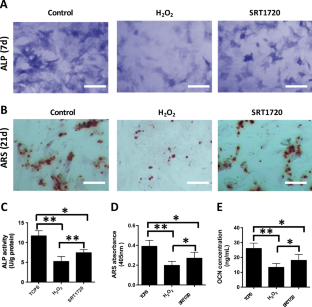 References
1.

Hadjidakis DJ, Androulakis II (2006) Bone remodeling. Ann N Y Acad Sci 1092:385–396

2.

Xiao W, Li S, Pacios S, Wang Y, Graves DT (2016) Bone remodeling under pathological conditions. Front Oral Biol 18:17

3.

Neve A, Corrado A, Cantatore FP (2011) Osteoblast physiology in normal and pathological conditions. Cell Tissue Res 343:289–302

4.

Li K, Xie Y, You M, Huang L, Zheng X (2016) Cerium oxide-incorporated calcium silicate coating protects MC3T3-E1 osteoblastic cells from H2O2-induced oxidative stress. Biol Trace Elem Res 174:1–10

5.

Arai M, Shibata Y, Pugdee K, Abiko Y, Ogata Y (2007) Effects of reactive oxygen species (ROS) on antioxidant system and osteoblastic differentiation in MC3T3-E1 cells. IUBMB Life 59:27–33

6.

Chen W, Shen X, Hu Y, Xu K, Ran Q, Yu Y, Dai L, Yuan Z, Huang L, Shen T (2017) Surface functionalization of titanium implants with chitosan-catechol conjugate for suppression of ROS-induced cells damage and improvement of osteogenesis. Biomaterials 114:82–96

7.

Arakaki N, Yamashita A, Niimi S, Yamazaki T (2013) Involvement of reactive oxygen species in osteoblastic differentiation of MC3T3-E1 cells accompanied by mitochondrial morphological dynamics. Biomed Res 34:161–166

8.

Zhou H, Newnum AB, Martin JR, Li P, Nelson MT, Moh A, Fu XY, Yokota H, Li J (2011) Osteoblast/osteocyte-specific inactivation of Stat3 decreases load-driven bone formation and accumulates reactive oxygen species. Bone 49:404–411

9.

Galli C, Passeri G, Macaluso GM (2011) FoxOs, Wnts and oxidative stress-induced bone loss: new players in the periodontitis arena? J Periodontal Res 46:397–406

10.

Kondo H, Yumoto K, Alwood JS, Mojarrab R, Wang A, Almeida EA, Searby ND, Limoli CL, Globus RK (2010) Oxidative stress and gamma radiation-induced cancellous bone loss with musculoskeletal disuse. J Appl Physiol 108:152–161

11.

Ohnishi T, Bandow K, Kakimoto K, Machigashira M, Matsuyama T, Matsuguchi T (2009) Oxidative stress causes alveolar bone loss in metabolic syndrome model mice with type 2 diabetes. J Periodontal Res 44:43–51

12.

Wang L, Zhao X, Wei BY, Liu Y, Ma XY, Wang J, Cao PC, Zhang Y, Yan YB, Lei W (2015) Insulin improves osteogenesis of titanium implants under diabetic conditions by inhibiting reactive oxygen species overproduction via the PI3K-Akt pathway. Biochimie 108:85–93

13.

Zhang JK, Yang L, Meng GL, Yuan Z, Fan J, Li D, Chen JZ, Shi TY, Hu HM, Wei BY (2013) Protection by salidroside against bone loss via inhibition of oxidative stress and bone-resorbing mediators. PLoS One 8:e57251

14.

Tang X, Meng H (2009) Osteogenic induction and 1,25-dihydroxyvitamin D3 oppositely regulate the proliferation and expression of RANKL and the vitamin D receptor of human periodontal ligament cells. Arch Oral Biol 54:625–633

15.

Kumar R (1995) Calcium transport in epithelial cells of the intestine and kidney. J Cell Biochem 57:392–398

16.

Nagaya T, Fujieda M, Ohtsuka G (1998) Inhibition of vitamin D3-dependent induction of osteocalcin and osteopontin gene expression by TNFα in osteoblastic cell. 42

17.

Paredes R, Arriagada G, Cruzat F, Olate J, Van WA, Lian J, Stein G, Stein J, Montecino M (2004) The Runx2 transcription factor plays a key role in the 1alpha,25-dihydroxy vitamin D3-dependent upregulation of the rat osteocalcin (OC) gene expression in osteoblastic cells. J Steroid Biochem Mol Biol 89-90:269–271

18.

Ke C-Y, Yang F-L, Wu W-T, Chung C-H, Lee R-P, Yang W-T, Subeq Y-M, Liao K-W (2016) Vitamin D3 reduces tissue damage and oxidative stress caused by exhaustive exercise. Int J Med Sci 13:147–153

19.

Polidoro L, Properzi G, Marampon F, Gravina G, Festuccia C, Di Cesare E, Scarsella L, Ciccarelli C, Zani B, Ferri C (2013) Vitamin D protects human endothelial cells from H2O2 oxidant injury through the Mek/Erk-Sirt1 axis activation. J Cardiovasc Transl Res 6:221–231

20.

Kassi E, Adamopoulos C, Basdra EK, Papavassiliou AG (2013) Role of vitamin D in atherosclerosis. Circulation 128:2517–2531

21.

Wauquier F, Leotoing L, Coxam V, Guicheux J, Wittrant Y (2009) Oxidative stress in bone remodelling and disease. Trends Mol Med 15:468–477

22.

Iorio EL (2008) Oxidative stress, free radicals and bone remodeling. Clin Chem Lab Med

23.

Matés JM, Segura JA, Alonso FJ, Márquez J (2008) Intracellular redox status and oxidative stress: implications for cell proliferation, apoptosis, and carcinogenesis. Arch Toxicol 82:273–299

24.

Dar I, Barzilai A (2009) Cellular responses to oxidative stress. Springer, Netherlands

25.

Sheweita SA, Khoshhal KI (2007) Calcium metabolism and oxidative stress in bone fractures: role of antioxidants. Curr Drug Metab 8:519–525

26.

Sharma T, Islam N, Ahmad J, Akhtar N, Beg M (2015) Correlation between bone mineral density and oxidative stress in postmenopausal women. Indian J Endocrinol Metab 19:491

27.

Lin AM, Chen K, Chao P (2005) Antioxidative effect of vitamin D3 on zinc-induced oxidative stress in CNS. Ann N Y Acad Sci 1053:319–329

28.

Lin L, Peng F, Liu Y, Chai D, Ning R, Xu C, Lin J (2016) Coadministration of VDR and RXR agonists synergistically alleviates atherosclerosis through inhibition of oxidative stress: an in vivo and in vitro study. Atherosclerosis 251:273–281

29.

Purdomdickinson SE, Sheveleva EV, Sun H, Chen QM (2007) Translational control of nrf2 protein in activation of antioxidant response by oxidants. Mol Pharmacol 72:1074–1081
Ethics declarations
Conflicts of interest
None.
Electronic supplementary material
About this article
Cite this article
Zhou, J., Wang, F., Ma, Y. et al. Vitamin D3 contributes to enhanced osteogenic differentiation of MSCs under oxidative stress condition via activating the endogenous antioxidant system. Osteoporos Int 29, 1917–1926 (2018). https://doi.org/10.1007/s00198-018-4547-0
Received:

Accepted:

Published:

Issue Date:
Keywords
Osteogenic differentiation

Oxidative stress

Protective effects

Vitamin D3