Abstract
Summary
The association between adherence to Mediterranean diet (MD) and hip fracture incidence is not yet established. In a diverse population of elderly, increased adherence to MD was associated with lower hip fracture incidence. Except preventing major chronic diseases, adhering to MD might have additional benefits in lowering hip fracture risk.
Introduction
Hip fractures constitute a major public health problem among older adults. Latest evidence links adherence to Mediterranean diet (MD) with reduced hip fracture risk, but still more research is needed to elucidate this relationship. The potential association of adherence to MD with hip fracture incidence was explored among older adults.
Methods
A total of 140,775 adults (116,176 women, 24,599 men) 60 years and older, from five cohorts from Europe and the USA, were followed-up for 1,896,219 person-years experiencing 5454 hip fractures. Diet was assessed at baseline by validated, cohort-specific, food-frequency questionnaires, and hip fractures were ascertained through patient registers or telephone interviews/questionnaires. Adherence to MD was evaluated by a scoring system on a 10-point scale modified to be applied also to non-Mediterranean populations. In order to evaluate the association between MD and hip fracture incidence, cohort-specific hazard ratios (HR), adjusted for potential confounders, were estimated using Cox proportional-hazards regression and pooled estimates were subsequently derived implementing random-effects meta-analysis.
Results
A two-point increase in the score was associated with a significant 4% decrease in hip fracture risk (pooled adjusted HR 0.96; 95% confidence interval (95% CI) 0.92–0.99, pheterogeneity = 0.446). In categorical analyses, hip fracture risk was lower among men and women with moderate (HR 0.93; 95% CI 0.87–0.99) and high (HR 0.94; 95% CI 0.87–1.01) adherence to the score compared with those with low adherence.
Conclusions
In this large sample of older adults from Europe and the USA, increased adherence to MD was associated with lower hip fracture incidence.
This is a preview of subscription content, log in to check access.
Access options
Buy single article
Instant access to the full article PDF.
US$ 39.95
Price includes VAT for USA
Subscribe to journal
Immediate online access to all issues from 2019. Subscription will auto renew annually.
US$ 199
This is the net price. Taxes to be calculated in checkout.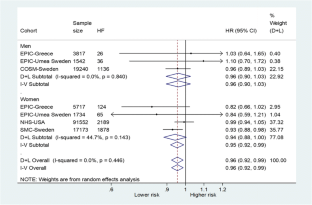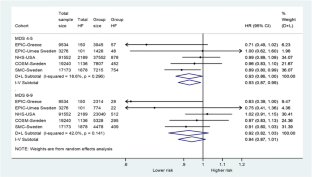 References
1.

Kanis JA, Odén A, EV MC, Johansson H, Wahl DA, Cooper C, IOF Working Group on Epidemiology and Quality of Life (2012) A systematic review of hip fracture incidence and probability of fracture worldwide. Osteoporos Int 23(9):2239–2256

2.

Odén A, McCloskey EV, Kanis JA, Harvey NC, Johansson H (2015) Burden of high fracture probability worldwide: secular increases 2010-2040. Osteoporos Int 26(9):2243–2248

3.

Ward KA, Prentice A, Kuh DL, Adams JE, Ambrosini GL (2016) Life course dietary patterns and bone health in later life in a British birth cohort study. J Bone Miner Res 31(6):1167–1176

4.

Hardcastle AC, Aucott L, Fraser WD, Reid DM, Macdonald HM (2011) Dietary patterns, bone resorption and bone mineral density in early post-menopausal Scottish women. Eur J Clin Nutr 65(3):378–385

5.

McNaughton SA, Wattanapenpaiboon N, Wark JD, Nowson CA (2011) An energy-dense, nutrient-poor dietary pattern is inversely associated with bone health in women. J Nutr 141(8):1516–1523

6.

McTiernan A, Wactawski-Wende J, Wu L, Rodabough RJ, Watts NB, Tylavsky F, Women's Health Initiative Investigators et al (2009) Low-fat, increased fruit, vegetable, and grain dietary pattern, fractures, and bone mineral density: the Women's Health Initiative Dietary Modification Trial. Am J Clin Nutr 89(6):1864–1876

7.

Langsetmo L, Hanley DA, Prior JC, Barr SI, Anastassiades T, Towheed T, Goltzman D, Morin S, Poliquin S, Kreiger N, CaMos Research Group (2011) Dietary patterns and incident low-trauma fractures in postmenopausal women and men aged ≥ 50 y: a population-based cohort study. Am J Clin Nutr 93(1):192–199

8.

Benetou V, Orfanos P, Pettersson-Kymmer U, Bergström U, Svensson O, Johansson I, Berrino F, Tumino R, Borch KB, Lund E, Peeters PHM, Grote V, Li K, Altzibar JM, Key T, Boeing H, von Ruesten A, Norat T, Wark PA, Riboli E, Trichopoulou A (2013) Mediterranean diet and incidence of hip fractures in a European cohort. Osteoporos Int 24(5):1587–1598

9.

Fung TT, Feskanich D (2015) Dietary patterns and risk of hip fractures in postmenopausal women and men over 50 years. Osteoporos Int 26(6):1825–1830

10.

Feart C, Lorrain S, Ginder Coupez V, Samieri C, Letenneur L, Paineau D et al (2013) Adherence to a Mediterranean diet and risk of fractures in French older persons. Osteoporos Int 2013;24(12):3031–3041

11.

Haring B, Crandall CJ, Wu C, LeBlanc ES, Shikany JM, Carbone L et al (2016) Dietary patterns and fractures in postmenopausal women: results from the Women's Health Initiative. JAMA Intern Med 176(5):645–652

12.

Byberg L, Bellavia A, Larsson SC, Orsini N, Wolk A, Michaëlsson K (2016) Mediterranean diet and hip fracture in Swedish men and women. J Bone Miner Res 31(12):2098–2105

13.

Hu FB (2002) Dietary pattern analysis: a new direction in nutritional epidemiology. Curr Opin Lipidol 13:3–9

14.

Millen BE, Abrams S, Adams-Campbell L, Anderson CA, Brenna JT, Campbell WW et al (2016) The 2015 dietary guidelines advisory committee scientific report: development and major conclusions. Adv Nutr 7(3):438–444

15.

Tapsell LC, Neale EP, Satija A, Hu FB (2016) Foods, nutrients, and dietary patterns: interconnections and implications for dietary guidelines. Adv Nutr 7(3):445–454

16.

Trichopoulou A, Lagiou P (1997) Healthy traditional Mediterranean diet: an expression of culture, history and lifestyle. Nutr Rev 55:383–389

17.

Sofi F, Macchi C, Abbate R, Gensini GF, Casini A (2014) Mediterranean diet and health status: an updated meta-analysis and a proposal for a literature-based adherence score. Public Health Nutr 17(12):2769–2782

18.

Schwingshackl L, Missbach B, König J, Hoffmann G (2015) Adherence to a Mediterranean diet and risk of diabetes: a systematic review and meta-analysis. Public Health Nutr 18(7):1292–1299

19.

van de Rest O, Berendsen AA, Haveman-Nies A, de Groot LC (2015) Dietary patterns, cognitive decline, and dementia: a systematic review. Adv Nutr 6(2):154–168

20.

Valls-Pedret C, Sala-Vila A, Serra-Mir M, Corella D, de la Torre R, Martínez-González MÁ, Martínez-Lapiscina EH, Fitó M, Pérez-Heras A, Salas-Salvadó J, Estruch R, Ros E (2015) Mediterranean diet and age-related cognitive decline: a randomized clinical trial. JAMA Intern Med 175(7):1094–1103

21.

Trichopoulou A, Orfanos P, Norat T, Bueno-de-Mesquita B, Ocké MC, Peeters PH et al (2005) Modified Mediterranean diet and survival: EPIC-elderly prospective cohort study. BMJ 330(7498):991

22.

Harmon BE, Boushey CJ, Shvetsov YB, Ettienne R, Reedy J, Wilkens LR, le Marchand L, Henderson BE, Kolonel LN (2015) Associations of key diet-quality indexes with mortality in the Multiethnic Cohort: the Dietary Patterns Methods Project. Am J Clin Nutr 101(3):587–597

23.

Boffetta P, Bobak M, Borsch-Supan A, Brenner H, Eriksson S, Grodstein F, Jansen E, Jenab M, Juerges H, Kampman E, Kee F, Kuulasmaa K, Park Y, Tjonneland A, van Duijn C, Wilsgaard T, Wolk A, Trichopoulos D, Bamia C, Trichopoulou A (2014) The Consortium on Health and Ageing: network of cohorts in Europe and the United States (CHANCES) project—design, population and data harmonization of a large-scale, international study. Eur J Epidemiol 29(12):929–936

24.

Kuulasmaa K, Palosaari T (2014) Editors. Contributors from partners of the Consortium on Health and Ageing: Network of Cohorts in Europe and the United States (CHANCES). CHANCES cohort descriptions, assessment of the availability and quality data and definitions of variables. MORGAM Project e-publications [internet]; URT: http://www.thl.fi/publications/morgam/chances_d9/index.html

25.

Harris H, Håkansson N, Olofsson C, Julin B, Åkesson A, Wolk A (2013) The Swedish mammography cohort and the cohort of Swedish men: study design and characteristics of two population-based longitudinal cohorts. OA Epidemiol 1(2):16

26.

Colditz GA, Hankinson SE (2005) The nurses' health study: lifestyle and health among women. Nat Rev Cancer 5(5):388–396

27.

Gedeborg R, Engquist H, Berglund L, Michaelsson K (2008) Identification of incident injuries in hospital discharge registers. Epidemiology 19(6):860–867

28.

Ludvigsson JF, Andersson E, Ekbom A, Feychting M, Kim JL, Reuterwall C et al (2011) External review and validation of the Swedish national inpatient register. BMC Public Health 9(11):450

29.

Colditz GA, Martin P, Stampfer MJ, Willett WC, Sampson L, Rosner B et al (1986) Validation of questionnaire information on risk factors and disease outcomes in a prospective cohort study of women. Am J Epidemiol 123(5):894–900

30.

Margetts BM, Pietinen P (1997) European prospective investigation into cancer and nutrition: validity studies on dietary assessment methods. Int J Epidemiol 26(Suppl 1):S1–S5

31.

Slimani N, Deharveng G, Unwin I, Southgate DA, Vignat J, Skeie G et al (2007) The EPIC nutrient database project (ENDB): a first attempt to standardize nutrient databases across the 10 European countries participating in the EPIC study. Eur J Clin Nutr 61(9):1037–1056

32.

Khani BR, Ye W, Terry P, Wolk A (2004) Reproducibility and validity of major dietary patterns among Swedish women assessed with a food-frequency questionnaire. J Nutr 134(6):1541–1545

33.

Messerer M, Johansson S-E, Wolk A (2004) The validity of questionnaire-based micronutrient intake estimates is increased by including dietary supplement use in Swedish men. J Nutr 134(7):1800–1805

34.

Rautiainen S, Serafini M, Morgenstern R, Prior RL, Wolk A (2008) The validity and reproducibility of food-frequency questionnaire-based total antioxidant capacity estimates in Swedish women. Am J ClinNutr 87(5):1247–1253

35.

Feskanich D, Rimm EB, Giovannucci EL, Colditz GA, Stampfer MJ, LitinLB, Willett WC (1993) Reproducibility and validity of food intake measurements from a semiquantitative food frequency questionnaire. J Am Diet Assoc 93(7):790–796

36.

Trichopoulou A, Costacou T, Bamia C, Trichopoulos D (2003) Adherence to a Mediterranean diet and survival in a Greek population. N Engl J Med 348:2599–2608

37.

Der Simonian R, Laird N (1986) Meta-analysis in clinical trials. Control Clin Trials 7(3):177–188

38.

Schulman RC, Weiss AJ, Mechanick JI (2011) Nutrition, bone, and aging: an integrative physiology approach. Curr Osteoporos Rep 9(4):184–195

39.

Nieves JW (2013) Skeletal effects of nutrients and nutraceuticals, beyond calcium and vitamin D. Osteoporos Int 24(3):771–786

40.

Nutrition and bone health. Michael F Holick, Jeri W. Nieves Editors. Second Edition, 2015. Humana Press

41.

Sahni S, Mangano KM, McLean RR, Hannan MT, Kiel DP (2015) Dietary approaches for bone health: lessons from the Framingham Osteoporosis Study. Curr Osteoporos Rep 13(4):245–255

42.

García-Martínez O, Rivas A, Ramos-Torrecillas J, De Luna-Bertos E, Ruiz C (2014) The effect of olive oil on osteoporosis prevention. Int J Food Sci Nutr 65(7):834–840

43.

Jacobs DR Jr, Steffen LM (2003) Nutrients, foods, and dietary patterns as exposures in research: a framework for food synergy. Am J Clin Nutr 78(3Suppl):508S–513S

44.

Riley RD, Lambert PC, Abo-Zaid G (2010) Meta-analysis of individual participant data: rationale, conduct, and reporting. BMJ 340:c221

45.

Schousboe JT, Paudel ML, Taylor BC, Virnig BA, Cauley JA, Curtis JR, Ensrud KE (2013) Magnitude and consequences of misclassification of incident hip fractures in large cohort studies: the study of osteoporotic fractures and Medicare claims data. Osteoporos Int 24(3):801–810

46.

Willett WC (2016) Mediterranean diet and fracture risk. JAMA Intern Med 176(5):652–653

47.

Feskanich D, Flint AJ, Willett WC (2014) Physical activity and inactivity and risk of hip fractures in men. Am J Public Health 104(4):e75–e81

48.

Benetou V, Orfanos P, Benetos IS, Pala V, Evangelista A, Frasca G, Giurdanella MC, Peeters PHM, van der Schouw YT, Rohrmann S, Linseisen J, Boeing H, Weikert C, Pettersson U, van Guelpen B, Bueno-de-Mesquita HB, Altzibar J, Boffetta P, Trichopoulou A (2011) Anthropometry, physical activity and hip fractures in the elderly. Injury 42(2):188–193
Funding
This work, derived from the CHANCES project, was supported by the FP7 framework program of DG-RESEARCH in the European Commission (grant number: HEALTH-F3-2010-242244). The national cohorts were supported by: EPIC-Elderly Greece: the Hellenic Health Foundation; EPIC-Elderly Umea, Sweden: the Swedish Cancer Society and the Swedish Research Council; COSM and SMC, Karolinska Institutet, Sweden: the Swedish Research Council Karolinska Institutet's Strategic Foundation and Uppsala University, and the Swedish Cancer Society; NHS: the National Cancer Institute (grant UM1 CA186107).
Ethics declarations
Conflicts of interest
Francine Grodstein declares unrestricted research gift from California Walnut Commission. Other authors declare no conflict of interest.
Ethical approval
All procedures performed in studies involving human participants were in accordance with the ethical standards of the institutional and/or national research committees and with the 1964 Helsinki declaration and its later amendments or comparable ethical standards.
Electronic supplementary material
About this article
Cite this article
Benetou, V., Orfanos, P., Feskanich, D. et al. Mediterranean diet and hip fracture incidence among older adults: the CHANCES project. Osteoporos Int 29, 1591–1599 (2018). https://doi.org/10.1007/s00198-018-4517-6
Received:

Accepted:

Published:

Issue Date:
Keywords
Aging

Bone health

CHANCES

Dietary patterns

Hip fractures

Mediterranean diet