Abstract
Summary
The study aimed to determine whether neck circumference is associated with bone metabolism markers among adult Arab women and found modest but significant associations with bone resorption markers, suggesting that neck circumference, a surrogate measure of upper subcutaneous fat, influences bone turnover expression among adult females.
Introduction
Body fat distribution is associated with decreased bone resorption and neck circumference (NC), a surrogate measure for upper body fat, has never been tested as a marker that can reflect bone turnover. This is the first study aimed to analyze the associations between NC and several bone biomarkers among adult Saudi women.
Methods
This cross-sectional study included a total of 265 middle-aged Saudi women [86 non-obese (mean age 52.7 ± 8.1; mean BMI 26.9 ± 2.3) and 179 obese (mean age 50.6 ± 7.5; mean BMI 35.7 ± 4.5)] recruited from primary care centers in Riyadh, Saudi Arabia. Anthropometrics included BMI, NC, waist and hip circumferences, total body fat percentage (%), and blood pressure. Biochemical parameters included glucose and lipid profile which were measured routinely. Serum levels of 25(OH) D, parathyroid hormone, RANKl, sclerostin, C-terminal telopeptide of collagen I (CTX-I), Dkk1, IL1β, osteoprotegerin, osteopontin, and osteocalcin were measured using commercially available assays.
Results
In all groups, NC was inversely associated with PTH (R = − 0.22; p < 0.05) and positively associated with osteoprotegerin (R = 0.20; p < 0.05) even after adjustments for age and BMI. Using all anthropometric indices as independent variables showed that only NC explained the variance perceived in CTX-I (p = 0.049). In the non-obese, waist-hip ratio (WHR) was significantly associated with sclerostin (R = 0.40; p < 0.05) and body fat was significantly associated with osteopontin (R = 0.42; p < 0.05).
Conclusion
NC is modestly but significantly associated with bone biomarkers, particularly the bone resorption markers, among adult Arab women. The present findings highlight the importance of NC as measure of upper body subcutaneous fat in influencing bone biomarker expression in adult females.
This is a preview of subscription content, log in to check access.
Access options
Buy single article
Instant access to the full article PDF.
US$ 39.95
Price includes VAT for USA
Subscribe to journal
Immediate online access to all issues from 2019. Subscription will auto renew annually.
US$ 199
This is the net price. Taxes to be calculated in checkout.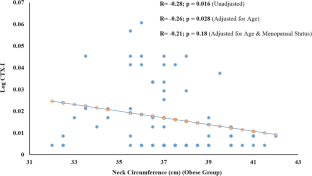 References
1.

Al-Lawati JA, Jousilahti P (2007) Body mass index, waist circumference and waist-to-hip ratio cut-off points for categorisation of obesity among Omani Arabs. Public Health Nutr 11:102–108

2.

Greco EA, Lenzi A, Migliaccio S (2015) The obesity of bone. Ther Adv Endocrinol Metab 6(6):273–286

3.

Lopez-Gomez JJ, Perez-Castrillon JL, de Luis Roman DA (2016) Impact of obesity on bone metabolism. Endocrinol Nutr 63(10):551–559

4.

Sharpses SA, Pop LC, Wang Y (2017) Obesity is a concern for bone health and aging. Nutr Res 39:1–13

5.

Yang S, Center JR, Eisman JA, Nguyen TV (2015) Association between fat mass, lean mass, and bone loss: the Dubbo osteoporosis epidemiology study. Osteoporos Int 26(4):1381–1386

6.

Wang J, Yan D, Hou X, Chen P, Sun Q, Bao Y, hu C, Zhang Z, Jia W (2017) Association of adiposity indices with bone mineral density and bone turnover in Chinese population. Osteoporos Int 28(9):2645–2652

7.

Vague J (1956) The degree of masculine differentiation of obesities: a factor determining predisposition to diabetes, atherosclerosis, gout and uric calculous disease. Am J Clin Nutr 4:20–34

8.

Sjostrom CD, Hakangard AC, Lissner L, Sjostrom L (1995) Body compartment and subcutaneous adipose tissue distribution – risk factor patterns in obese subjects. Obes Res 3:9–22

9.

Sjostrom CD, Lissner L, Sjostrom L (1997) Relationship between changes in body composition and changes in cardiovascular risk factors: the SOS intervention study: Swedish obese subjects. Obes Res 5:519–530

10.

Namazi N, Larijani B, Surkan PJ, Azadbakht L (2018) The association of neck circumference with risk of metabolic syndrome and its components in adults. A systematic review and meta-analysis. Nutr Metab Cardiovasc Dis 28(7):657–674

11.

Zhao LJ, Jiang H, Papasian CJ, Maulik D, Drees B, Hamilton J, Deng HW (2008) Correlation of obesity and osteoporosis: effect of fat mass on the determination of osteoporosis. J Bone Miner Res 23(1):17–29

12.

Andreozzi P, Verrusio W, Viscogliosi G, Summa ML, Gueli N, Cacciafesta M, Albanese CV (2016) Relationship between vitamin D and body fat distribution evaluated by DXA in postmenopausal women. Nutrition 32(6):687–692

13.

Shetty S, Kapoor N, Bondu JD, Thomas N, Paul TV (2016) Bone turnover markers: emerging tool in the management of osteoporosis. Indian J Endocrinol Metab 20(6):846–852

14.

Terreni A, Pezzati P (2012) Biochemical markers in the follow-up of osteoporotic patients. Clin Cases Miner Bone Metab 9(2):80–84

15.

Poggiogalle E, Jamshed H, Peterson CM (2018) Circadian regulation of glucose, lipid and energy metabolism in humans. Metabolism 84:11–27

16.

Pacifici R (2008) Estrogen deficiency, T cells and bone loss. Cell Immunol 252(1–2):68–80

17.

Baud'huin M, Duplomb L, Teletchea S, Lamoureux F, Ruiz-Velasco C, Maillasson M, Redini F, Heymann MF, Heymann D (2013) Osteoprotegerin: multiple partners for multiple functions. Cytokine Growth Factor Rev 24(5):401–409

18.

Perez de Ciriza C, Lawrie A, Varo N (2015) Osteoprotegerin in cardiometabolic disorders. Int J Endocrinol 2015:564934

19.

Rochette L, Meloux A, Rigal E, Zeller M, Cottin Y, Vergely C (2018) The role of osteoprotegerin in the crosstalk between vessels and bone: its potential utility as a marker of cardiometabolic diseases. Pharmacol Ther 182:115–132

20.

De Fusco C, Messina A, Monda V, Viggiano E, Moscatelli F, Valenzano A, Esposito T, Sergio C, Cibelli G, Monda M, Messina G (2017) Osteopontin: relation between adipose tissue and bone homeostasis. Stem Cells Int 2017:4045238

21.

Fuster JJ, Zuriaga MA, Ngo DT, Farb MG, Aprahamian T, Yamaguchi TP, Gokce N, Walsh K (2015) Noncanonical Ent signaling promotes obesity-induced adipose tissue inflammation and metabolic dysfunction independent of adipose-tissue expansion. Diabetes 64(4):1235–1248

22.

Lu H, Li X, Mu P, Qian B, Jiang W, Zeng L (2016) Dickkopf-1 promotes the differentiation and adipocytokines secretion via canonical Wnt signaling pathway in primary cultured human preadipocytes. Obes Res Clin Pract 10(4):454–464

23.

Popovic DS, Mitrovic M, Tomic-Naglic D, Icin T, Bajkin I, Vukovic B, Benc D, Zivanovic Z, Kovacev-Zavisic B, Stokic E (2017) The Wnt/β-catenin signaling pathway sclerostin is a biomarker for early atherosclerosis in obesity. Curr Neurovasc Res 14(3):200–206

24.

Formisano A, Bammann K, Fraterman A, Hadjigeorgiou C, Hermann D, Iacoviello L, Marild S, Moreno LA, Nagy P, Van Den Bussche K, Veidebaum T, Lauria F, Siani A (2016) Efficacy of neck circumference to identify metabolic syndrome in 3-10 year-old European children: results from IDEFICS study. Nutr Metab Cardiovasc Dis 26(6):510–516

25.

Baena CP, Lotufo PA, Fonseca MG, Santos IS, Goulart AC, Bansenor IM (2016) Neck circumference is independently associated with cardiometabolic risk factors: cross-sectional analysis from ELSA-Brasil. Metab Syndr Relat Disord 14(3):145–153

26.

Alfadhli EM, Sandokji AA, Zahid BN, Makkawi MA, Alshenaifi RF, Thani TS, Habeeb HA (2017) Neck circumference as a marker of obesity and a predictor of cardiometabolic risk among Saudi subjects. Saudi Med J 38(12):1219–1223

27.

Pei X, Liu L, Imam MU, Lu M, Chen Y, Sun P, Guo Y, Xu Y, Ping Z, Fu X (2018) Neck circumference may be a valuable tool for screening individuals with obesity: findings from a young Chinese population and meta-analysis. BMC Public Health 18(1):529

28.

Fantin F, Comellato G, Rossi AP, Grison E, Zoico E, Mazzali G, Zamboni M (2017) Relationship between neck circumference, insulin resistance and arterial stiffness in overweight and obese subjects. Eur J Prev Cardiol 24(14):1532–1540

29.

Kim H, Lee SH, Kim BJ, Koh JM (2017) Association between obesity and femoral neck strength according to age, sex, and fat distribution. Osteoporos Int 28(7):2137–2146

30.

Kim NL, Jang HM, Sim HK, Ko KD, Hwang IC, Suh I (2014) Association of arterial stiffness and osteoporosis in healthy men undergoing screening medical examination. J Bone Metab 21(2):133–141

31.

Sowers MR, Zheng H, Greendale GA, Neer RM, Cauley JA, Ellis J, Johnson S, Finkelstein JS (2013) Changes in bone resorption across menopause transition: effects of reproductive hormones, body size, and ethnicity. J Clin Endocrinol Metab 98(7):2854–2863

32.

Sukumar D, Schlussel Y, Riedt CS, Gordon C, Stahl T, Shapses SA (2011) Obesity alters cortical and trabecular bone density and geometry in women. Osteoporos Int 22(2):635–645

33.

Cifuentes M, Johnson MA, Lewis RD, Heymsfield SB, Chowdhury HA, Modlesky CM, Shapses SA (2003) Bone turnover and body weight relationships differ in normal-weight compared with heavier postmenopausal women. Osteoporos Int 14(2):116–122
Funding
The Chair for Biomarkers of Chronic Diseases and the International Scientific Partnership Program (ISPP#0111) at King Saud University, Riyadh, Saudi Arabia, funded the study.
Ethics declarations
Written informed consent was obtained from each participant prior to inclusion. Ethical approval was obtained from the Ethics Committee of the College of Science in KSU, Riyadh, KSA.
Conflicts of interest
None.
Additional information
Publisher's Note
Springer Nature remains neutral with regard to jurisdictional claims in published maps and institutional affiliations.
About this article
Cite this article
Albassam, R., Sabico, S., Alnaami, A. et al. Bone metabolism markers are associated with neck circumference in adult Arab women. Osteoporos Int 30, 845–852 (2019). https://doi.org/10.1007/s00198-018-04830-6
Received:

Accepted:

Published:

Issue Date:
Keywords
Bone turnover markers

Neck

Obesity

Women